Can Ferguson's Black Community Claim Political Power?
Rev. and Missouri state Rep. Tommie Pierson, who has found himself in the eye of the storm, reflects on Ferguson's recent elections and the DOJ report.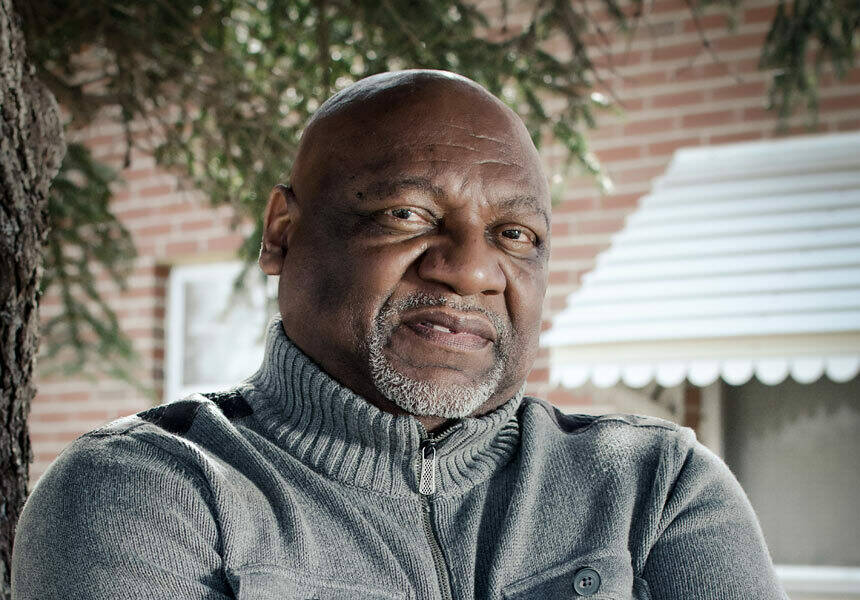 Until last year, Rev. Tom­mie Pierson's Greater St. Mark Fam­i­ly Church was an out-of-the-way place of wor­ship, on top of a small hill on the out­skirts of St. Louis, just across the bor­der from Fer­gu­son, Mis­souri. Then, on August 9, 2014, less than two miles from St. Mark's front door, offi­cer Dar­ren Wil­son shot and killed Michael Brown. With­in a week, St. Mark's had become a stag­ing ground for civ­il unrest. In August and Sep­tem­ber, thou­sands of activists passed through the church.
'The people that you pay to protect you, instead they prey on you.'
Pier­son nev­er expect­ed to find him­self in the eye of such a storm. He moved to St. Louis in 1962, at age 16, from his fam­i­ly farm in Rip­ley, Ten­nessee, then worked at Gen­er­al Motors for 32 years before retir­ing. He has been a pas­tor for 38 years and a Demo­c­ra­t­ic state leg­is­la­tor for four. Pre­vi­ous­ly rel­e­gat­ed to the back bench­es of the minor­i­ty par­ty, he has now joined the push for statewide police reform.
That push gained momen­tum in March after the Depart­ment of Jus­tice (DOJ) released a damn­ing report on the Fer­gu­son police depart­ment. Six city employ­ees — includ­ing the police chief — have since resigned or been fired. The DOJ has threat­ened to rebuild the police depart­ment from scratch if it's not prompt­ly reformed.
All eyes then turned to the April 7 elec­tions for Ferguson's city coun­cil, the body that would choose the next police chief. The 70percent black city infa­mous­ly was over­seen by a near­ly all-white gov­ern­ment. Vot­er turnout soared — 29 per­cent of eli­gi­ble vot­ers par­tic­i­pat­ed, more than dou­ble the 12 per­cent in Ferguson's last munic­i­pal elec­tion — and the vic­to­ry of two African-Amer­i­can reform can­di­dates edged the coun­cil toward more accu­rate­ly reflect­ing the city's demo­graph­ics, with three of six seats now belong­ing to black representatives.
This was wel­come news to Pier­son, a vocal advo­cate for African-Amer­i­can elec­toral engage­ment and polit­i­cal rep­re­sen­ta­tion. He sat down with In These Times to reflect on recent events.
What role did you play dur­ing the Fer­gu­son protests, as a pas­tor and a com­mu­ni­ty leader?
Every­body was com­ing here, so I got a chance to address the pro­test­ers. Some of them com­plained that the old preach­ers were not out there at night dur­ing the tear gas. I told them: ​"I'm 69 years old. You ain't going to have me out there at night. I don't have the ener­gy or the strength I had when I was your age." Shoot, for me, night's for sleep­ing. Dur­ing the day, yeah. I lost almost 20 pounds sweat­ing out there that summer.
The DOJ report had this shock­ing sta­tis­tic: Over the last four years, 90,000 munic­i­pal vio­la­tion war­rants were issued in Fer­gu­son, a town of 21,000.
Well, it was no shock to the aver­age low-income per­son. They're just glad some­body found it out. It may be shock­ing to some. Fer­gu­son, like oth­er com­mu­ni­ties, has pock­ets of the poor and pock­ets of afflu­ent peo­ple, and they don't mix.
Do you think you'd find the same lev­els of abuse in oth­er towns?
I think in neigh­bor­hoods that are com­pa­ra­ble, you'd find the same thing. In St. Louis, there is a divide between police and com­mu­ni­ties — espe­cial­ly black, poor com­mu­ni­ties. Police don't want no fel­low­ship with you. You wave at them, they won't wave back. It's that ​"us against them" men­tal­i­ty. They don't want to know that I got a wife and three kids, all of them edu­cat­ed. They want to see me as a rob­ber and a rapist.
As a pas­tor and leg­is­la­tor, are you at all insu­lat­ed from police harassment?
I get the tick­ets, too. The dif­fer­ence is I take them to the may­or. I put them on his desk and I say, ​"They belong to you now."
The way the DOJ report put it is that Fer­gu­son police view the com­mu­ni­ty as a source of rev­enue rather than a com­mu­ni­ty they serve.
The peo­ple that you pay to pro­tect you, instead they prey on you.
Was there any pre­vi­ous effort to make the state gov­ern­ment aware of these police abuses?
When you neglect peo­ple long enough, they tend to tol­er­ate it. That's what hap­pened in Fer­gu­son, and what's hap­pen­ing in my town, Belle­fontaine Neigh­bors, Mis­souri. The city and the police prey on black com­mu­ni­ties, and rather than orga­nize and do some­thing about it, they don't. They strug­gle, try to get out of jail and stay out of jail, try to just survive.
African Amer­i­cans have not been taught how to live in a democ­ra­cy. And that's by design. If you don't know how to live in a democ­ra­cy, you're not going to vote. You don't run for noth­ing. You think all politi­cians are crooks.
I tried to get Riverview Gar­dens School Dis­trict to send stu­dents up to the House of Rep­re­sen­ta­tives to let these kids see what we do and how it affects their lives. We're the ones who appro­pri­ate monies for their schools, we're the ones that make laws that gov­ern their lives every day. You're fight­ing for them every­day, but they don't know it. Then they label you with every­body else.
Is it enough to teach them, when the soci­ety they're grad­u­at­ing into seems hell bent on tak­ing their mon­ey and keep­ing them shut out?
An orga­ni­za­tion called MADD, Moth­ers Against Drunk Dri­ving, was start­ed because this moth­er lost her son, and she set out to change the law to change the cir­cum­stances. That's what you do in a democ­ra­cy. That's what rich peo­ple do. They change the law. I get phone calls all the time from my white con­stituents. They say there's a bill com­ing up and it's going to have this kind of effect on me, and I would like you to vote against it or vote for it, whichev­er way. I don't get calls like that from African Amer­i­cans, you know? They don't track bills. Had [the peo­ple of Fer­gu­son] under­stood liv­ing in a democ­ra­cy, they could have changed things any­time they want­ed to — but they didn't. My town is the same way: 73 per­cent of the pop­u­la­tion is black, but the mayor's white, and only one of the four wards is con­trolled by blacks. Yet, when I ran for may­or some years back, they didn't come out and vote.
You were pes­simistic about turnout in Fer­gu­son in the April 7 munic­i­pal elec­tions. But par­tic­i­pa­tion more than dou­bled, and two black can­di­dates were elect­ed. Are you pleased?
I'm very pleased. It's dif­fi­cult to tell what a peo­ple are going to do when they've nev­er done it before.
Are you opti­mistic that the new­ly elect­ed mem­bers of the city coun­cil will make mean­ing­ful change?
I think they will. I think it will be slow, and it depends on whether they want to make waves or whether they're look­ing toward win­ning again. And it depends on whether they have the courage.
What about at the state lev­el — are there bills in the works to address the polic­ing prob­lems that came to light after Michael Brown's killing?
One of the bills that came out of the edu­ca­tion com­mit­tee was to cre­ate a mech­a­nism in our schools that fos­ters a bet­ter rela­tion­ship between stu­dents and the police — to teach them that the police are not their ene­my, and teach the police that these kids are not their ene­mies. That the job of police is to fight crime in our com­mu­ni­ty. I don't know how far that's going to go, but I thought it was a good start.
I filed a bill on police shoot­ings. It just says if a police offi­cer shoots an unarmed per­son who's 20 feet or more away, he should be sus­pend­ed with­out pay pend­ing an inves­ti­ga­tion. That's the crux of the bill. [It's had a hear­ing and] it's work­ing its way through.
There seems to be this frus­tra­tion and desire to reject elec­toral pol­i­tics: ​"I vot­ed for Oba­ma and he turned out just like the rest of them, so I'm not par­tic­i­pat­ing in that any more."
I had a broth­er from Wash­ing­ton, D.C., sit­ting in this room, a Ph.D., a Howard pro­fes­sor, and we're talk­ing about vot­ing. And he said he votes but he doesn't tell nobody else to vote because he doesn't believe in it. That blew my mind. I mean, you should be smart enough to know that that's how we live in Amer­i­ca and your not par­tic­i­pat­ing doesn't help you any. And if you don't teach oth­ers to par­tic­i­pate, it does not help your community.
Emmett Rensin
is an essay­ist in Chica­go. His pre­vi­ous work has appeared in the
New Repub­lic
, Vox,
The Atlantic
, the
Los Ange­les Review of Books
(where is a con­tribut­ing edi­tor) and else­where. Fol­low him on Twit­ter: @revemmettrensin.