This Christmas, Go See a German Comedy About Consulting. No, Really.
Filmmaker Maren Ade's Toni Erdmann takes a wise and whimsical look at the struggles women face in the corporate world.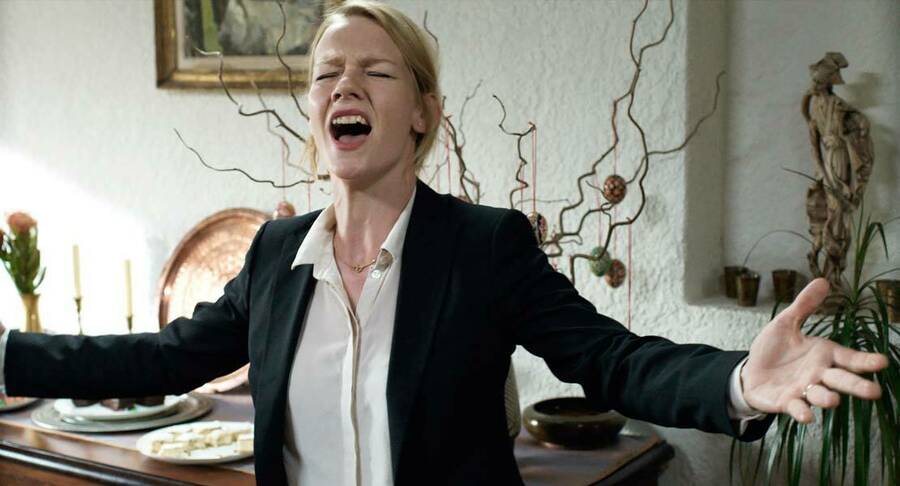 Toni Erd­mann, from Ger­man direc­tor Maren Ade, emerged from the Cannes Film Fes­ti­val this spring as per­haps the most lav­ish­ly praised Euro­pean film of mod­ern times. The crit­ics fil­ing from the front lines could bare­ly keep from implod­ing with awe. Kent Jones rhap­sodized in Film Com­ment that the movie ​"encom­pass­es so many strands of expe­ri­ence that it eats the mate­r­i­al of sev­er­al decades of movies for break­fast," while Nick James, edi­tor of Sight & Sound, report­ed that it is ​"prob­a­bly the best film at blind­sid­ing the audi­ence I can remem­ber see­ing. The press screen­ing was nois­i­ly appre­cia­tive to a lev­el I've hard­ly ever expe­ri­enced here." Every­one agreed it should have won every prize (it received only the Inter­na­tion­al Fed­er­a­tion of Film Crit­ics' award). It broke the record for the most stars (3.8 of 4) in ScreenDaily's Cannes crit­ics' poll.
It's certainly fearless and one-of-a-kind, despite a narrative template that smacks of Hollywood.
For a com­e­dy, from Ger­many? Hype, from even the wis­est crit­ics, can dull the expe­ri­ence of any film, so ide­al­ly Ade's eccen­tric, will­ful­ly impul­sive com­e­dy would be allowed to trun­dle out into the cul­tur­al mar­ket­place undu­ly bur­dened by expec­ta­tions. It may not be a life-chang­er, but it's cer­tain­ly fear­less and one-of-a-kind, despite a nar­ra­tive tem­plate that smacks of Hol­ly­wood. Win­fried (Peter Simonis­chek) is a bear­ish, 60-some­thing music teacher and sloven­ly child of a man devot­ed to anar­chic irrev­er­ence. He can't keep him­self from wear­ing fake Mor­timer Snerd teeth in pub­lic and mak­ing up absurd iden­ti­ties for him­self every time he meets some­one new. An aging, divorced ves­tige of the pro­gres­sive Willy Brandt era, Win­fried is an agent of non­con­formist chaos, but in a genial, shrug­ging way that no one in the film can ever find irritating.
That is, except his semi-estranged daugh­ter, Ines (San­dra Hüller), a but­toned-up, lean-in cor­po­rate lon­er, mar­ried only to her career as a man­age­ment con­sul­tant, work­ing in a sea of suit­ed men. Upon the death of Winfried's beloved dog (named Willy, natch), he fol­lows Ines to Bucharest, where her firm is busy man­ag­ing lay­off strate­gies for a Roman­ian oil com­pa­ny. His aim is mys­te­ri­ous, but seems to have some­thing to do with dis­rupt­ing Ines' cold-blood­ed pro­fes­sion­al life and there­by sav­ing her soul. Win­fried infil­trates Ines' work­place sit­u­a­tion under the nom de prank ​"Toni Erd­mann," mas­querad­ing as an ambas­sador or con­sul­tant (depend­ing on whom he talks to), but always in a cretinous rock-star wig every­one just agrees not to acknowledge.
But then Toni Erd­mann evolves, and grows both in its capac­i­ty for embar­rass­ing its char­ac­ters, which is near­ly epic, and in its organ­ic warmth for these char­ac­ters, whose mutu­al his­to­ry seeps out of the action like humid­i­ty. There are entire set pieces you nev­er see com­ing that tran­scend what you thought the sto­ry was — moments of neu­rot­ic unrav­el­ing, of col­lec­tive near-mad­ness, of father-daugh­ter con­nec­tion echo­ing long-gone fam­i­ly moments we're nev­er told about. To know more — to know how Whit­ney Hous­ton fig­ures into this, not to men­tion a hir­sute Bul­gar­i­an kuk­eri cos­tume — might dim the film's fab­u­lous whim­si­cal spark.
Built into its DNA is a deft cri­tique of cor­po­rate cap­i­tal­ism and the roles women have to play to suc­ceed with­in it, act­ed out on Hüller's tight­ly pinched, Lau­ra Lin­ney-on-ice coun­te­nance, as Ines nav­i­gates a man's world while simul­ta­ne­ous­ly side­step­ping her father's inva­sive pres­ence. The punch it packs regard­ing father-daugh­ter issues is more ambigu­ous, though unde­ni­able. Simonis­chek, with his sham­bling body lan­guage and sad eyes, is almost icon­ic, but Hüller is the movie's quick­ly beat­ing heart, han­dling scenes (the par­ty that quick­ly devolves into a nud­ist exper­i­ment) that would chal­lenge any thes­pi­an on the planet.
This is Ade's third film, and it dwarfs her oth­er work, if for no oth­er rea­son than it seems to have a life of its own. It's easy to imag­ine the movie ​"just hap­pen­ing" — as a free-form psy­chol­o­gy exper­i­ment, per­haps, rather than script­ed. It may not be the great­est fes­ti­val film of the new cen­tu­ry, quite. But I'll say this: Movies this inven­tive­ly gen­er­ous and organ­i­cal­ly unpre­dictable should be, in a prop­er world, pro­duced dozens of times a year, as a mat­ter of routine.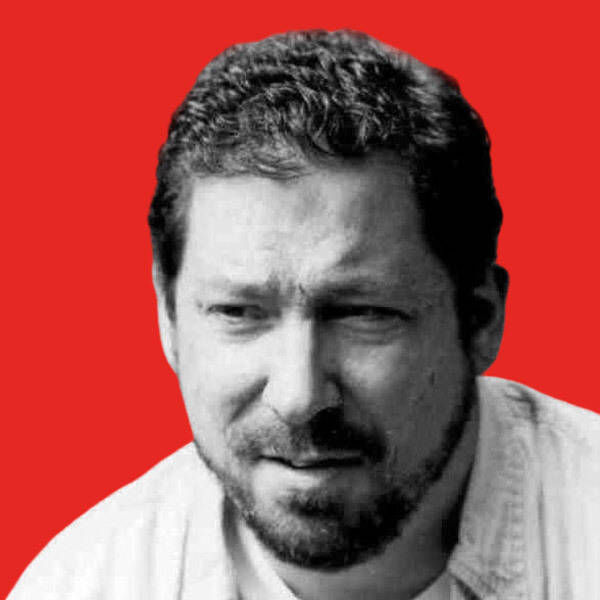 Michael Atkin­son
is a film review­er for
In These Times.
He has writ­ten or edit­ed many books, includ­ing
Exile Cin­e­ma: Film­mak­ers at Work Beyond Hol­ly­wood
(
2008
) and the mys­tery nov­els
Hem­ing­way Dead­lights
(
2009
) and
Hem­ing­way Cut­throat
(
2010
). He blogs at
Zero For Con­duct
.