Lobbyists Deceptively Claim the Public Favors Fast-Tracking Trade Agreements
Critics say the much-hyped opinion polls relied on tricky phrasing to create an impression of voter support.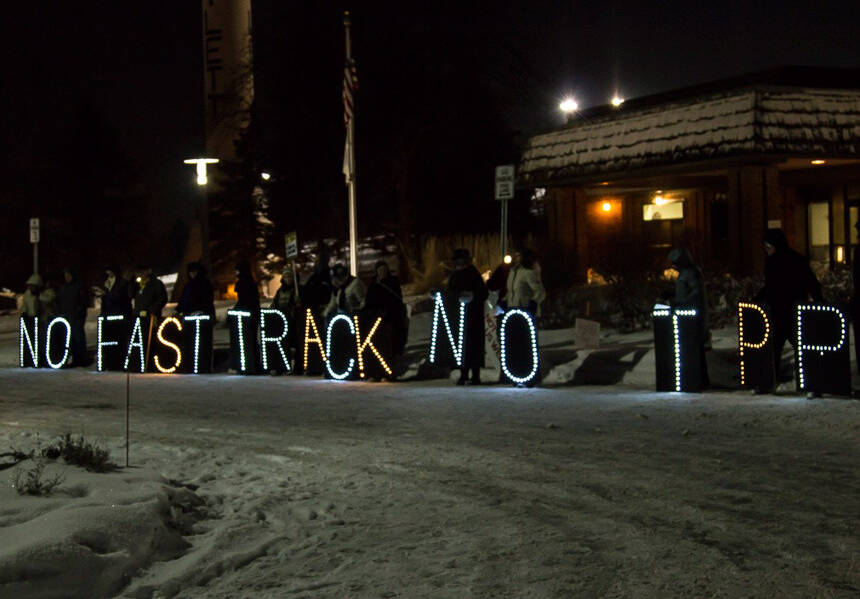 Crit­ics of the Trans-Pacif­ic Part­ner­ship (TPP) — a mas­sive trade agree­ment being nego­ti­at­ed by the Unit­ed States, Cana­da, Japan, Sin­ga­pore and oth­er Pacif­ic Rim coun­tries — say that pro-trade busi­ness lob­by­ists have rolled out mis­lead­ing polling data in an attempt to demon­strate pub­lic sup­port for the deal that isn't there.
Neither of the corporate prompts got to the core of what trade promotion authority actually entails—Congress giving up its ability to amend completed trade agreements.
​"When you design a poll, you can design a poll to plumb what Amer­i­cans are think­ing, or you can design a poll and a set of ques­tions to prove that you're right and then trum­pet that basi­cal­ly," says George Kohl, senior direc­tor at the Com­mu­ni­ca­tions Work­ers of Amer­i­ca (CWA), which oppos­es the trade deal in its cur­rent form. ​"In the dis­cus­sion around trade, busi­ness want­ed to say the Amer­i­can peo­ple are with us. So rather than writ­ing ques­tions to deter­mine what peo­ple thought, they wrote ques­tions to get [cer­tain] answers."
Recent polls com­mis­sioned by the Nation­al Asso­ci­a­tion of Man­u­fac­tur­ers and Busi­ness Round­table, two pro-TPP lob­by­ing pow­er­hous­es, appear to show wide­spread pub­lic back­ing for ​"trade pro­mo­tion author­i­ty," or ​"fast-track." Favored by the Oba­ma admin­is­tra­tion but fac­ing major oppo­si­tion on Capi­tol Hill, fast-track would lim­it Con­gress to a sim­ple up-or-down vote on the ver­sion of the TPP that trade nego­tia­tors com­plete. Fast-track is a wonky — some might say nefar­i­ous — pet cause of TPP sup­port­ers. But no mat­ter how one looks at it, it's not the kind of issue that receives approval rat­ings hov­er­ing around 80 per­cent. And fast-track oppo­nents say cor­po­rate lob­by­ists juiced up the ques­tions to pro­duce those figures.
​"It's clear­ly in the inter­est of mul­ti-nation­al cor­po­ra­tions and oth­er sup­port­ers of the Trans-Pacif­ic Part­ner­ship agree­ment to cre­ate the impres­sion that there's more sup­port for fast-track than actu­al­ly exists," says Ilana Solomon, direc­tor of the Sier­ra Club's Respon­si­ble Trade Program.
A Feb­ru­ary poll com­mis­sioned by NAM nev­er actu­al­ly used the terms ​"fast-track" or ​"trade pro­mo­tion author­i­ty." It observed that ​"the Pres­i­dent has Con­sti­tu­tion­al author­i­ty to nego­ti­ate inter­na­tion­al agree­ments and Con­gress has Con­sti­tu­tion­al author­i­ty to reg­u­late trade with for­eign nations." It then asked respon­dents whether they believed that ​"Con­gress and the Pres­i­dent should work togeth­er so that Amer­i­ca can nego­ti­ate and put in place trade agree­ments that elim­i­nate bar­ri­ers and lev­el the play­ing field." The result: 80 per­cent said yes.
A sep­a­rate Busi­ness Round­table poll released in ear­ly March char­ac­ter­ized fast-track in a sim­i­lar­ly round­about fash­ion. ​"By pass­ing Trade Pro­mo­tion Author­i­ty leg­is­la­tion, Con­gress can set goals for trade agree­ments and require the Pres­i­dent to con­sult with it dur­ing their nego­ti­a­tion," the prompt read. ​"Con­gress must then approve each final trade agreement."
It then asked respon­dents whether or not they sup­port­ed ​"pas­sage of Trade Pro­mo­tion Author­i­ty to help Con­gress and the Pres­i­dent put in place trade agree­ments that open for­eign mar­kets." 78 per­cent said yes.
The polls have been cov­ered by The Hill and Politi­co, and cit­ed by pro-TPP colum­nists writ­ing in a range of out­lets that includes Real Clear Pol­i­cy and the con­ser­v­a­tive Dai­ly Caller.
Both polls were also cit­ed in a March press release from an umbrel­la pro-TPP lob­by­ing orga­ni­za­tion—the Trade Ben­e­fits Amer­i­ca Coali­tion, which includes the NAM, Busi­ness Round­table and the Cham­ber of Com­merce. That unit­ed front of cor­po­rate behe­moths, which has received sup­port from AT&T, Dow Chem­i­cal, Gen­er­al Elec­tric, Gold­man Sachs, IBM, Wal­mart and oth­er dom­i­nant forces from across the econ­o­my, lob­bies Con­gress in sup­port of fast-track.
But crit­ics charge that nei­ther of the cor­po­rate prompts got to the core of what trade pro­mo­tion author­i­ty actu­al­ly entails — Con­gress giv­ing up its abil­i­ty to amend com­plet­ed trade agree­ments. When the Sier­ra Club, CWA and U.S. Busi­ness and Indus­try Coun­cil framed it that way in a poll they released in Jan­u­ary, they obtained dras­ti­cal­ly dif­fer­ent results.
Car­ried out joint­ly by lib­er­al-lean­ing Hart Research Asso­ciates and con­ser­v­a­tive-lean­ing Chesa­peake Beach Con­sult­ing, the poll found that peo­ple opposed fast-track by a 62 – 28 mar­gin. In marked con­trast to the cor­po­rate-designed ques­tions, the prompt explained that fast-track ​"could mean that once the administration's nego­ti­a­tions are com­plet­ed, Con­gress must take an up-or-down vote on the agree­ment as a whole, and could not make any amend­ments or changes in the agreement."
The polling ruse played by indus­try is evi­dence of grow­ing des­per­a­tion on the part of TPP sup­port­ers, says the Sier­ra Club's Solomon. ​"I think the deceiv­ing poll ques­tions and results are real­ly about try­ing to breathe some life into the dis­cus­sion on the trade agree­ment, when real­ly the trade pact and the fast-track process itself is floun­der­ing, if not failing."
It's been a chal­leng­ing year for the Office of the Unit­ed States Trade Rep­re­sen­ta­tive (USTR), the agency that ham­mers out trade pol­i­cy. Nego­tia­tors were sup­posed to be putting the final touch­es on the TPP by the end of last year. And when Pres­i­dent Obama's April trip to Asia was first con­ceived, it was sup­posed to be a kind of TPP vic­to­ry lap, a cel­e­bra­tion of the pend­ing pas­sage of the largest region­al trade agree­ment in his­to­ry. Instead, nego­ti­a­tions are stalled and fast-track faces an open revolt in Con­gress. Sen­ate Major­i­ty Leader Har­ry Reid and House Minor­i­ty Leader Nan­cy Pelosi are both on record against the mea­sure — thanks, in no small part, to a groundswell of pres­sure from below.
Fast-track isn't dead yet though: TPP sup­port­ers in Con­gress could intro­duce an alter­na­tive, more com­pro­mis­ing ver­sion of trade pro­mo­tion author­i­ty designed to assuage Demo­c­ra­t­ic unease — or sim­ply wait until after the midterm elec­tions to tack­le the issue.
In These Times reached out to Busi­ness Round­table and the Nation­al Asso­ci­a­tion of Man­u­fac­tur­ers to respond to crit­i­cism of their polling.
​"We believe the results speak for them­selves and are not mis­lead­ing," says Aman­da DeBard, spokesper­son for the Busi­ness Roundtable.
A spokesper­son for NAM did not com­ment and includ­ed a link to the press release from the Trade Ben­e­fits Amer­i­ca Coalition.
It should be heart­en­ing news for TPP skep­tics that a major­i­ty of Amer­i­cans don't actu­al­ly sup­port fast-track — they are just being mis­led. But the fact that polling varies so much depend­ing on how one frames the ques­tion high­lights what's arguably the biggest chal­lenge for the agreement's oppo­nents — most Amer­i­cans remain woe­ful­ly unfa­mil­iar with the specifics of trade deals.
Oppo­nents of the deal have long main­tained the key to defeat­ing fast-track lies in bet­ter edu­cat­ing leg­is­la­tors and the gen­er­al pub­lic alike. Lori Wal­lach, direc­tor of Pub­lic Citizen's Glob­al Trade Watch, calls it the ​"Drac­u­la strat­e­gy" — one need only to drag the TPP out into the light and let it self-destruct. There's no way that such a cor­po­rate pow­er grab — not to men­tion the unde­mo­c­ra­t­ic leg­isla­tive pro­ce­dure that its suc­cess hinges on — could sur­vive the test of pub­lic scruti­ny, the argu­ment goes.
​"What we find time and time again is as soon as you explain what both fast-track and the TPP mean for safe­guards on the envi­ron­ment and jobs and food and water qual­i­ty, it's actu­al­ly been very easy to get the pub­lic engaged and to get peo­ple real­ly angry and upset," says Solomon of the Sier­ra Club.
The lat­est episode over polling, though, sug­gests that TPP crit­ics still have a long way to go.
Full dis­clo­sure: The CWA is a web­site spon­sor of In These Times. Spon­sors have no role in edi­to­r­i­al content.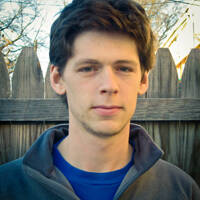 Cole Stan­gler
writes about labor and the envi­ron­ment. His report­ing has also appeared in The Nation, VICE, The New Repub­lic and Inter­na­tion­al Busi­ness Times. He lives in Paris, France. He can be reached at cole[at]inthesetimes.com. Fol­low him
@colestangler
.