Robert Reich: Trump and the GOP's New Tax Plan Is a Giant Gift to the 1%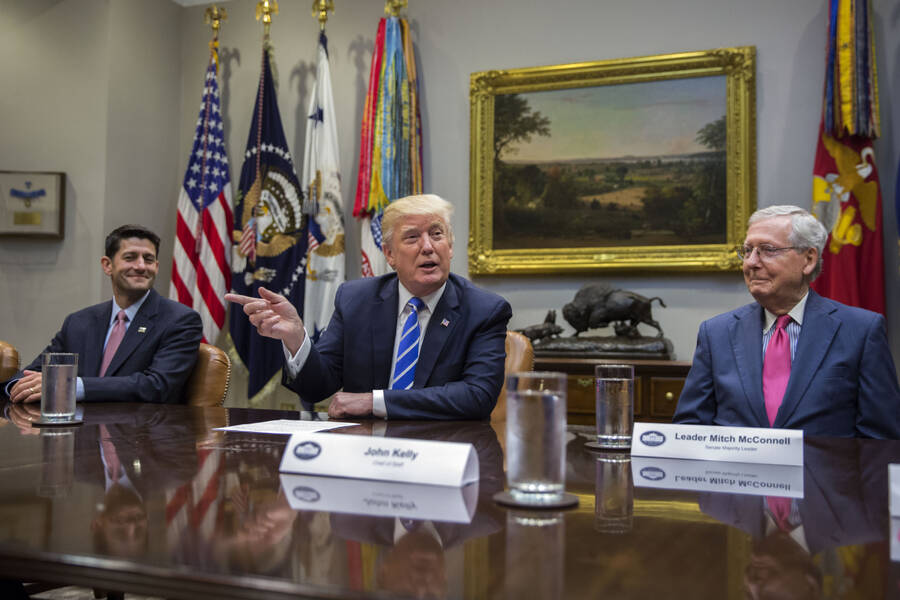 When Barack Oba­ma was pres­i­dent, con­gres­sion­al Repub­li­cans were deficit hawks. They opposed almost every­thing Oba­ma want­ed to do by argu­ing it would increase the fed­er­al bud­get deficit.
But now that Repub­li­cans are plan­ning giant tax cuts for cor­po­ra­tions and the wealthy, they've stopped wor­ry­ing about deficits.
Sen­ate Repub­li­cans have agreed to cut tax­es by $1.5 tril­lion over the next decade, which means giant bud­get deficits.
Unless Repub­li­cans want to cut Social Secu­ri­ty, Medicare, and defense, that is. Even if Repub­li­cans elim­i­nat­ed every­thing elsein the fed­er­al bud­get – from edu­ca­tion to Meals on Wheels – they wouldn't have near­ly enough to pay for tax cuts of the mag­ni­tude Repub­li­cans are now touting.
But Repub­li­cans won't cut Social Secu­ri­ty or Medicare because the pro­grams are over­whelm­ing­ly pop­u­lar. And rather than cut defense, Sen­ate Repub­li­cans want to increase defense spend­ing by a whop­ping $80 bil­lion (enough to fund free pub­lic high­er edu­ca­tion that Bernie Sanders pro­posed in last year's Demo­c­ra­t­ic pri­ma­ry, which deficit hawks in both par­ties mocked as being ridicu­lous­ly expensive).
There's also the cleanup from Hur­ri­canes Har­vey and Irma, esti­mat­ed to be least $190 bil­lion. And Trump's ​"wall" – which the Depart­ment of Home­land Secu­ri­ty esti­mates will cost about $22 bil­lion.
Oh, and don't for­get infra­struc­ture. It's just about the only major spend­ing bill that could be passed by bipar­ti­san majori­ties in both hous­es. Giv­en the state of the nation's high­ways, byways, pub­lic tran­sit, water treat­ment facil­i­ties, and sew­ers, it's des­per­ate­ly need­ed. Trump cam­paigned on spend­ing $1 tril­lion on it.
So how do Repub­li­cans pro­pose to pay for any of this, and a big tax cut for cor­po­ra­tions and the wealthy – with­out explod­ing the fed­er­al deficit?
Easy. Just pre­tend the tax cuts will cause the econ­o­my to grow so fast – 3 per­cent a year on aver­age – that they'll pay for them­selves, and the ben­e­fits will trick­le down to every­one else.
If you believe this, I have sev­er­al past Repub­li­can bud­gets to sell you, extend­ing all the way back to Ronald Reagan's mag­ic asterisks.
The Con­gres­sion­al Bud­get Office and the Joint Com­mit­tee on Tax­a­tion don't believe it. They real­is­ti­cal­ly assume that the econ­o­my won't grow over 2 per­cent a year on aver­age over the next decade.
The Fed­er­al Reserve esti­mates the fastest sus­tain­able rate of eco­nom­ic growth will be 1.8 per­cent, giv­en how slow­ly America's work­ing-age pop­u­la­tion is grow­ing as well as the slow rate of pro­duc­tiv­i­ty gains.
But Trump has already made a fetish out of dis­cred­it­ing any­one that comes up with facts he doesn't like, and oth­er Repub­li­cans seem ready to join him.
Sen­a­tor Bob Cork­er, a Ten­nessee Repub­li­can who sits on the bud­get com­mit­tee, says he doesn't want to rely on esti­mates com­ing from econ­o­mists at the CBO and the Joint Tax Com­mit­tee. He'd rather rely on sup­ply-side econ­o­mists out­side gov­ern­ment. ​"I do think it is time for us to have a real debate and to have real econ­o­mists weigh­ing in and we should take oth­er things into account oth­er than Joint Tax and C.B.O," Cork­er said last week.
Unfor­tu­nate­ly for the Repub­li­can tax cut­ters who used to be deficit hawks, we already have real-world his­tor­i­cal evi­dence of what hap­pens after mas­sive tax cuts. Ronald Rea­gan and George W. Bush both cut tax­es on the wealthy and end­ed up with hugebud­get deficits.
Besides, there's no rea­son to cut tax­es on big cor­po­ra­tions and the wealthy. If any­thing, their tax­es should be raised.
Trump says we're ​"the high­est taxed nation in the world." Rub­bish. The most mean­ing­ful mea­sure is tax­es paid as a per­cent­age of GDP. On this score, the Unit­ed States has the 4th low­est tax­es of any major econ­o­my. (Only South Korea, Chile, and Mex­i­co rank­ing lower.)
Amer­i­can cor­po­ra­tions aren't over­taxed. After tak­ing deduc­tions and tax cred­its, the typ­i­cal U.S. cor­po­ra­tion today pays an effec­tive tax rate of 24 per­cent. That's only a tad high­er than the aver­age of 21 per­cent among advanced nations.
The rich aren't over­taxed. The wealth­i­est 1 per­cent in the U.S. pay the low­est tax­es as a per­cent of their income and total wealth of the top 1 per­cent in any major coun­try – and far low­er than they paid in the U.S. dur­ing the first three decades after World War II, when the Amer­i­can econ­o­my grew faster than it's been grow­ing since the Rea­gan tax cuts.
But we do have a deficit in pub­lic invest­ment – espe­cial­ly in edu­ca­tion and infra­struc­ture. And we do have a nation­al debt that topped $20 tril­lion this year and is expect­ed to grow by an addi­tion­al $10 tril­lion over the next decade.
What's the answer? Raise tax­es on big cor­po­ra­tions and the wealthy. That's what ratio­nal politi­cians would do if they weren't in the pock­ets of big cor­po­ra­tions and the wealthy.
This piece first appeared at RobertRe​ich​.org.
Robert B. Reich, Chancellor's Pro­fes­sor of Pub­lic Pol­i­cy at the Uni­ver­si­ty of Cal­i­for­nia at Berke­ley, was Sec­re­tary of Labor in the Clin­ton admin­is­tra­tion.
Time
mag­a­zine named him one of the ten most effec­tive cab­i­net sec­re­taries of the
20
th
cen­tu­ry. He has writ­ten thir­teen books, includ­ing the best­sellers
After­shock
and
The Work of Nations.
His lat­est,
Beyond Out­rage
, is now out in paper­back. He is also a found­ing edi­tor of the
Amer­i­can Prospect
and chair­man of Com­mon Cause. His new film,
Inequal­i­ty for All
, is now avail­able on Net­flix, iTunes, DVD and On Demand.