How Trump's Anti-Immigrant Rhetoric Has Heightened the Barriers to a Black-Brown Coalition
The "taking our jobs" myth continues to sow division in Chicago's working-class communities.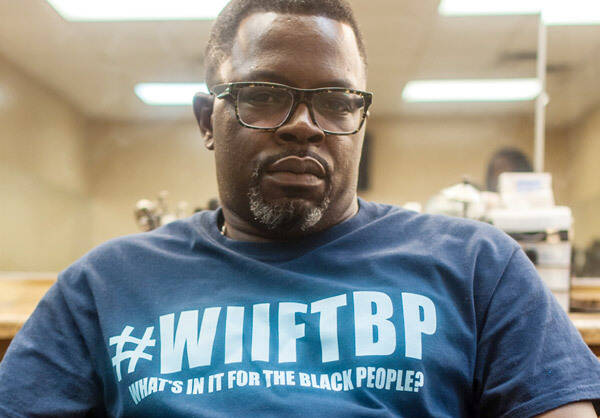 The online fly­er is a mock-pub­lic notice. ​"SEE JUAN, SAY SOME­THING" jumps out in bold black let­ters, fol­lowed by ​"ICE ​'em." Below that is a num­ber to call U.S. Immi­gra­tion and Cus­toms Enforce­ment (ICE) ​"to report ille­gals." ​"The unions and ille­gals," the fly­er claims, ​"have teamed up to lock us (black peo­ple) out of all jobs." Mark Carter of Voic­es of the Ex-Offend­er, a group that advo­cates for for­mer­ly incar­cer­at­ed African-Amer­i­can men, is known for his anti-immi­grant rhetoric. The fly­er isn't his, but he's hap­pi­ly post­ed it on Facebook.
But Puente believes it's a mistake for low-income workers to fight for scraps. The real issue, she says, is "how African-American and Latino communities continue to be exploited."
Carter is a proud Don­ald Trump sup­port­er. ​"A lot of things he talks about ben­e­fit the low- and very-low income black peo­ple," he says. ​"We've been push­ing ICE to come in and inves­ti­gate these con­struc­tion sites and do what needs to be done to stop this flow of ille­gal immi­grants into this city and country."
Carter lives in North Lawn­dale, a black neigh­bor­hood on Chicag's West Side with high pover­ty and dis­in­vest­ment. Neigh­bor­ing South Lawn­dale is most­ly Lati­no and boasts a thriv­ing com­mer­cial dis­trict on 26th Street, with a panoply of small busi­ness­es. The stark con­trast has no doubt mold­ed Carter's views.
"For low-income peo­ple, there is no black and brown rela­tion­ship in this city — that's why there's a North Lawn­dale and South Lawn­dale," Carter says.
Chica­go is one of the most seg­re­gat­ed major cities in the nation. It's also the sec­ond-most seg­re­gat­ed along black-brown lines, after Detroit.
Dur­ing the Great Migra­tion a cen­tu­ry ago, hun­dreds of thou­sands of black South­ern­ers ven­tured to Chica­go in search of a bet­ter life. Racist hous­ing poli­cies con­fined them to an area known as ​"the Black Belt," set­ting the stage for ongo­ing segregation.
Thou­sands of Mex­i­cans arrived in Chica­go as low-wage labor­ers through the fed­er­al bracero pro­gram in the 1940s, many even­tu­al­ly set­tling on the city's Near West Side. Sub­se­quent waves of gen­tri­fi­ca­tion have forced Lati­no com­mu­ni­ties far­ther from the city's cen­ter, but the pop­u­la­tion has grown steadi­ly to about 790,000, or 29 per­cent of Chicago's population.
Mean­while, dur­ing the past three decades, black flight — dri­ven in part by a lack of jobs and strong pub­lic schools — has reduced Chicago's African-Amer­i­can pop­u­la­tion by more than a quar­ter, from about 1.2 mil­lion in 1980 to 850,000 today. The exo­dus of black fam­i­lies who could afford to leave trig­gered a vicious cycle, leav­ing black neigh­bor­hoods ever poor­er and under­pop­u­lat­ed. The medi­an fam­i­ly income of black Chicagoans has declined since 1960 (from $37,121 to $36,720 in 2015), even as the medi­an income for Lati­no fam­i­lies has risen (from $41,942 to $47,308).
When African Amer­i­cans came to Chica­go, whites accused them of steal­ing jobs. Now, some black Chicagoans have that atti­tude toward Lati­no immigrants.
George Blake­more is an old­er black man and polit­i­cal gad­fly who shows up at var­i­ous city agency meet­ings. He is seri­ous about max­i­miz­ing his allot­ted two min­utes dur­ing the pub­lic com­ment peri­od. At a June Chica­go Hous­ing Author­i­ty board meet­ing, Blake­more com­plained about ​"ille­gals."
"Many ille­gals are work­ing in these con­struc­tion jobs," he said. ​"They don't even belong here. It's the neg­a­tive effect on the black com­mu­ni­ty. My peo­ple were born here. Black peo­ple need a sanc­tu­ary city." A smat­ter­ing of black audi­ence mem­bers cheered him on.
Chica­go has been at the fore­front of cities proud­ly pro­claim­ing them­selves ​"sanc­tu­ar­ies" and pledg­ing to lim­it coop­er­a­tion with fed­er­al immi­gra­tion author­i­ties. Carter, like Blake­more, chafes at the idea of sanc­tu­ary, argu­ing that low-wage undoc­u­ment­ed labor­ers under­mine black achievement.
Blake­more and Carter's oppo­si­tion is by no means main­stream. There's a vocal local oppo­si­tion to Trump's immi­gra­tion agen­da, from City Hall to grass­roots activists. Mean­while, a num­ber of social jus­tice orga­ni­za­tions, includ­ing Black Youth Project 100 (BYP100), Lati­no Pol­i­cy Forum and Orga­nized Com­mu­ni­ties Against Depor­ta­tions, are seiz­ing this moment to build coali­tions between black and brown com­mu­ni­ties on like­mind­ed issues. ​"We're real­ly work­ing to tear down bar­ri­ers to sol­i­dar­i­ty," says Ais­linn Pul­ley, 37, lead orga­niz­er for Black Lives Mat­ter in Chicago.
But orga­niz­ers like Pul­ley acknowl­edge that much work needs to be done to fos­ter trust, com­bat xeno­pho­bia and reimag­ine a sanc­tu­ary city that's safe for everyone.
The big­ger pic­ture, says Sylvia Puente, exec­u­tive direc­tor of the Lati­no Pol­i­cy Forum in Chica­go, is that the Unit­ed States crim­i­nal­izes undoc­u­ment­ed immi­grants who pro­vide low-wage labor but often does not penal­ize the employ­ers who exploit that work — whether it is pluck­ing birds at a chick­en pro­cess­ing plant or pour­ing water at a restau­rant. ​"We have an upper-class econ­o­my built on low-wage labor," she says. ​"It's unfor­tu­nate that a sec­tor in the African-Amer­i­can com­mu­ni­ty is now say­ing, ​'These peo­ple are tak­ing our jobs.' "
Puente believes such argu­ments have lit­tle basis in fact. She points to a Sep­tem­ber 2016 report by the Nation­al Acad­e­mies of Sci­ences, Engi­neer­ing and Med­i­cine that found the impact of immi­gra­tion on wages and the labor mar­ket to be ​"very small."
But the report con­tains a caveat: ​"To the extent that neg­a­tive impacts occur, they are most like­ly to be found for pri­or immi­grants or native-born work­ers who have not com­plet­ed high school — who are often the clos­est sub­sti­tutes for immi­grant work­ers with low skills."
In 2016, the grad­u­a­tion rate for black male stu­dents in Chica­go pub­lic high schools was only 57 per­cent, far low­er than any oth­er group. And the job prospects for young black men in the city are slim. One report found that 47 per­cent of 20 to 24-year-old black men in Chica­go are nei­ther in school nor employed. Lati­nos in that brack­et fared much bet­ter, with only 20 per­cent out of school and work (but still not as well as white men, at 10 percent).
"There's no ques­tion" that dis­crim­i­na-tion plays a role in these sta­tis­tics, says Christo­pher Williams of the Work­ers' Law Office. His firm has brought three recent suits against Chica­go temp agen­cies and the employ­ers they serve, charg­ing dis­crim­i­na­tion against black work­ers in favor of Lati­nos. For­mer dis­patch­ers for the agen­cies tes­ti­fied that employ­ers used racist codes, request­ing feos (Lati­no labor­ers who will do ​"dirty" work) rather than gua­pos ("pret­ty boys," refer­ring to young black men).
Williams says Chicago's low-wage fac­to­ries and ware­hous­es have shift­ed from full-time to tem­po­rary work­ers in a delib­er­ate ploy to ​"avoid or evade labor laws" and keep costs down. Sim­i­lar­ly, they pre­fer undoc­u­ment­ed work­ers, who are seen as less like­ly to com­plain about violations.
Williams describes these jobs as ​"the bot­tom of the bar­rel" — work that can be obtained by those with a crim­i­nal record or with­out a high school degree. In oth­er words, employ­ment for the oth­er­wise unemployable.
All of this might seem to prove Mark Carter's point.
But Puente believes it's a mis­take for low-income work­ers to fight for scraps. The real issue, she says, is ​"how African-Amer­i­can and Lati­no com­mu­ni­ties con­tin­ue to be exploited."
White com­mu­ni­ties in Chica­go receive far more invest­ment than their black and Lati­no counter-parts. For exam­ple, a WBEZ analy­sis found that un-der May­or Rahm Emanuel, three-quar­ters of $650 mil­lion invest­ed in pub­lic school expan­sion went to dis­pro­por­tion­ate­ly white schools, even though Lati­no stu­dents are most like­ly to be affect­ed by over­crowd­ing. And the city has invest­ed twice as much in TIF funds — mon­ey ear­marked for job cre­ation and devel­op­ment in poor neigh­bor­hoods — in white Chica­go neigh­bor­hoods as in black or Lati­no ones.
South Side activist L. Anton Seals Jr. scratch­es his head over why a major­i­ty black-and-brown city allows a white choke­hold on polit­i­cal pow­er. The City Coun­cil is major­i­ty non-white, but it has served as a rub­ber stamp for a pro­ces­sion of white may­ors who divert the city's resources to white con­stituents. In the­o­ry, a black-brown elec­toral alliance could trans­form the city.
At moments, that has seemed pos­si­ble. A mul­tira­cial alliance elect­ed Chicago's first black may­or, Harold Wash­ing­ton, in 1983. He launched a com­mis­sion on Lati­no affairs and, before his death at the start of his sec­ond term, placed Lati­nos in posi­tions of pow­er in City Hall. But by 2015, when Jesus ​"Chuy" Gar­cia ran for may­or, he didn't get the black turnout need­ed to defeat Emanuel in a runoff. Fifty-sev­en per­cent of vot­ers in major­i­ty-black wards went for Emanuel.
Seals says that black-brown sol­i­dar­i­ty is under­mined by ​"this notion of one group being the sub­group under the white peo­ple: ​'Who gets the resources to be clos­er to the king?' "
My first pri­or­i­ty is black folk," says Maze Jack­son, polit­i­cal strate­gist and flame-throw­ing host of the morn­ing dri­ve show on WVON, a long-stand­ing black AM talk-radio sta­tion. He uses his bul­ly pul­pit to rant against the con­cept of a sanc­tu­ary city.
But he first makes a disclaimer.
"Peo­ple like to char­ac­ter­ize me as anti-Lati­no," Jack­son says. ​"I'm not. I real­ly have some great rela­tion­ships with Latinos."
Jack­son assures me of this repeat­ed­ly in per­son. We meet in the back office of a black-owned bar­ber­shop in the his­toric black neigh­bor­hood of Bronzeville, on the South Side. This is where Jack­son likes to have his seri­ous meet­ings or inter­views. He's donned cam­ou­flage pants and a tan T‑shirt with a zinger of a hash­tag he coined: #WIIFTBP, or, ​"What's In It For The Black People."
"The lib­er­al white agen­da would have black peo­ple bury how we feel," he says. ​"I could be for a sanc­tu­ary city if you show me the ben­e­fit for black people."
Jack­son says black folk com­pete with Lati­nos for low-skill, low-wage jobs, whether in fast food, grass cut­ting or as hotel valets. He asks: How can the may­or be on TV pro­mot­ing undoc­u­ment­ed chil­dren going to col­lege, while clos­ing pub­lic schools?
"I am not mad at any Lati­nos at all," Jack­son says. ​"But I'm in a com­pe­ti­tion for resources. Lati­nos have become the pre­ferred minor­i­ty in Illi­nois. As they look to assert their pow­er, they aren't look-ing to take from white folk, but from black folk."
Uni­ver­si­ty of Illi­nois-Chica­go his­to­ri­an Bar­bara Rans­by says those who hold such sen­ti­ments are falling prey to ​"the old­est trick in the book."
As opposed to look­ing for where the wealth ends up — which is not in poor Lati­no com­mu­ni­ties — peo­ple fall into a divide-and-con­quer trap, she says. ​"It's an effec­tive tool to under­mine coali­tion efforts at col­lec­tive resis­tance. But what I'm see­ing is greater and greater collaboration."
There's a flip side to the anti-immi­grant bom­bas­tic talk from Mark Carter.
Lati­no immi­grants arrive here with racial bag­gage and swal­low up stereo­types about black Amer­i­cans, says Adri­ana Díaz, who works with a pub­lic land trust in Chica­go. ​"Con­ver­sa­tions about our own anti-black­ness are dif­fi­cult, but we have to have them in order to build trust with oth­er com­mu­ni­ties," she says.
Diaz was one of 24 fel­lows — all African Amer­i­cans or Lati­nos engaged in pub­lic sec­tor or social jus­tice work — brought togeth­er by the Lati­no Poli-cy Forum to bridge black-brown divides. They had tough con­ver­sa­tions about stereo­types like ​"Mex­i­cans are tak­ing our jobs" and explored the era­sure of black and indige­nous roots on both sides of the aisle. In the process, they formed bonds.
"We just got to know each oth­er," says Analía Rodríguez, exec­u­tive direc­tor of Lati­no Union of Chica­go. ​"Now some of us are con­tin­u­ing the work."
Else­where in the city, oth­er mul­tira­cial col­lab­o­ra­tions are afoot. On a warm week­day June morn­ing, hun­dreds of peo­ple — black, white, Lati­no — gath­er across the street from City Hall. They are here for a ral­ly: Defy Trump, Defend Sanc­tu­ary for All. Their signs read, ​"One Wel­com­ing City for All."
In the months since Trump moved into the White House, the mean­ing of ​"sanc­tu­ary city" has expand­ed. Police vio­lence, activists argue, is just as much a threat to the safe­ty of black and Lati­no youth as ICE raids are to undoc­u­ment­ed immi­grants. And a lack of hous­ing, health­care or schools is anti­thet­i­cal to com­mu­ni­ty safety.
Activists are fight­ing to close loop­holes in the city's Wel­com­ing City ordi­nance, which restricts local author­i­ties' coop­er­a­tion with fed­er­al immi­gra­tion author­i­ties. One such loop­hole allows police to hand over any­one in the city's con­tro­ver­sial gang data­base to immi­gra­tion officials.
"There's ram­pant label­ing of black and brown res­i­dents as alleged gang mem­bers and affil­i­ates with no account­abil­i­ty, due process or way to chal­lenge the accu­ra­cy," says Janaé Bon­su of BYP100.
Berto Aguayo, 22, a South­west Side com­mu­ni­ty orga­niz­er, sees the gang data­base as a nat­ur­al issue for black-brown coali­tion-build­ing. ​"Both com­mu­ni­ties want to know who gets on this list and make sure no one is pro­filed," he says.
Asked what he thinks of the efforts to expand sanc­tu­ary, Maze Jack­son says, ​"I think they are find­ing out their views are not aligned with most of the black com­mu­ni­ty. They need a face save."
It's been shock­ing to me how many of my African-Amer­i­can clients vot­ed for Trump — sole­ly on the basis of immi­gra­tion," says Christo­pher Williams of the Work­ers' Law Office. ​"When I talk to one of my clients, their sto­ries are always the same. They go into a temp agency in the morn­ing. The room starts out about two-thirds Lati­no, one-third black. By the end of the morn­ing, when the assign­ments have been made, it's 100 per­cent African-American."
The per­cep­tion, then, is that the most­ly Lati­no dis­patch­ers are dis­crim­i­nat­ing against black job­seek­ers. ​"But it's the com­pa­nies," Williams says. In fact, ​"the dis­patch­ers didn't like what they were told to do."
Williams believes there are plen­ty of jobs to go around. "[Dis­patch­ers are] hav­ing dif­fi­cul­ty fill­ing orders because they get com­plaints when they send black work­ers," he says.
Lati­no dis­patch­ers' tes­ti­mo­ny was crit­i­cal to the suc­cess of a class-action dis­crim­i­na­tion suit filed by black work­ers against Fer­rara Can­dy Com­pa­ny and two temp agen­cies. The com­pa­nies denied wrong­do­ing, but set­tled for $1.5 mil­lion in 2015. Black work­ers tell Williams that temp agen­cies are now giv­ing them more assignments.
One of the Fer­rara work­ers, Antho­ny Stew­art, says that when he sat down and talked with Lati­no work­ers, the two sides stopped false­ly blam­ing each oth­er and real­ized the can­dy company's role.
"They want­ed to cre­ate a hos­tile envi­ron­ment by seg­re­gat­ing the black and Lati­no work­ers," Stew­art says. ​"Telling the blacks the Lati­nos are tak­ing their jobs and telling the Lati­nos the blacks are tak­ing their jobs. It's not true. We had to talk to peo­ple and hear their sto­ries. You see there are a lot of sim­i­lar­i­ties. It gets easier."
In 2016, Stew­art helped orga­nize Black Work­ers Mat­ter to fight anti-black work­place dis­crim­i­na­tion. Now they are doing some­thing to mutu­al­ly serve black and Lati­no work­ers — advo­cat­ing for a high­er min­i­mum wage.
At a ral­ly this spring, Black Work­ers Mat­ter mem­bers held signs in Eng­lish and Span­ish that read, ​"Fight for 15 — Lucha por 15."