Trump Chides Puerto Rico Expenses While U.S. Gives $15 Billion a Year to Fossil Fuel Companies
The president's upside-down priorities were on full display during his visit to Puerto Rico on Tuesday.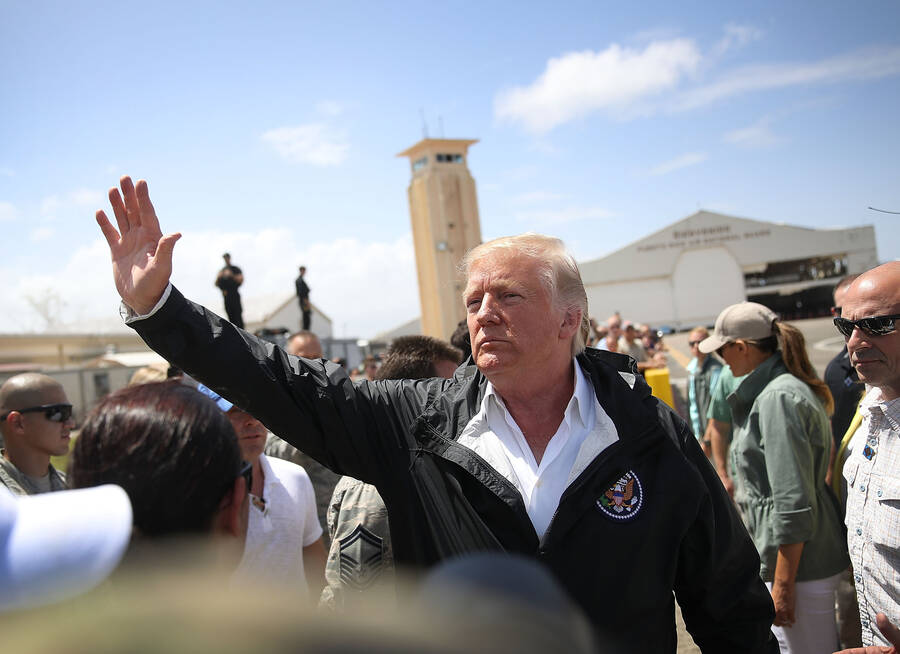 Speak­ing in front of an audi­ence in Puer­to Rico on Tues­day, Trump — sit­ting between his wife Mela­nia and the island's gov­er­nor Ricar­do Rossel­ló — motioned to White House Bud­get Direc­tor Mick Mul­vaney, who, as he said, ​"is in charge of a thing called budget."
Trump doesn't care about Puerto Rico.
"I hate to tell you, Puer­to Rico," Trump spat, ​"but you've thrown our bud­get a lit­tle out of whack, because we've spent a lot of mon­ey on Puer­to Rico, and that's fine." He also sug­gest­ed that Hur­ri­cane Maria — which has left 3.4 mil­lion U.S. cit­i­zens with­out pow­er and strug­gling to meet basic needs — didn't qual­i­fy as a ​"real cat­a­stro­phe" like Hur­ri­cane Kat­ri­na. Lat­er on, he told a fam­i­ly of Maria vic­tims to ​"have a good time."
Trump doesn't care about Puer­to Rico. He also doesn't care much about spend­ing, which is what makes the remarks he gave on Tues­day so disin­gen­u­ous. Like the rest of the par­ty, Trump's main con­cern is that fed­er­al mon­ey is spent on the things he likes.
He didn't moan about the bud­get when Con­gress passed a $700 bil­lion defense bill last week. The Com­mit­tee for a Respon­si­ble Fed­er­al Bud­get esti­mat­ed that the White House's tax plan would add rough­ly $2.2 tril­lion to the fed­er­al deficit, a charge top eco­nom­ic advi­sor and tax reform archi­tect Gary Cohn found easy enough to dis­miss as imma­te­r­i­al in a White House press brief­ing last week. Talk­ing about the bud­get this past Sun­day, Mul­vaney him­self said, ​"We need … deficits. If we sim­ply look at this as being deficit-neu­tral, you're nev­er going to get the type of tax reform and tax reduc­tions that you need to get to sus­tain 3 per­cent eco­nom­ic growth."
Giv­en that he kicked off his tax reform push in front of an oil refin­ery in North Dako­ta, Trump also like­ly also doesn't care much about the results of a study released Tues­day from Oil Change Inter­na­tion­al, which finds that Con­gress each year extends $14.7 bil­lion in fed­er­al sub­si­dies and $5.8 bil­lion in year­ly state-lev­el incen­tives to the fos­sil fuel indus­try. Accord­ing to the report's find­ings, the cost of annu­al fed­er­al fos­sil fuel pro­duc­tion sub­si­dies equals the pro­ject­ed 2018 bud­get cuts from Trump's pro­pos­als to slash 10 pub­lic pro­grams and ser­vices. ​"Mis­placed pri­or­i­ties, not a scarci­ty of resources," authors write, ​"are dri­ving this administration's efforts to bal­ance the nation­al bud­get at the expense of the most vulnerable."
Janet Red­man, U.S. pol­i­cy direc­tor of Oil Change Inter­na­tion­al and prin­ci­pal author of the report, told In These Times that Trump's state­ments about the bud­get impacts of Hur­ri­cane Maria in Puer­to Rico were ​"moral­ly offen­sive, espe­cial­ly at the same moment that the U.S. gov­ern­ment is still hand­ing out about $15 bil­lion a year in sub­si­dies to some of the most prof­itable indus­tries in the US."
"That he would have the gall to say there's not mon­ey for recov­ery for Amer­i­can fam­i­lies, tax­pay­ers and work­ers," she says, ​"real­ly shows Trump's pri­ma­ry agen­da: to serve the fos­sil fuel indus­try, not the Amer­i­can pub­lic — either here in the main­land or in parts of the coun­try that aren't right in front to this face."
The New York Times report­ed that the White House tax plan would bring ​"a poten­tial­ly huge wind­fall for the wealth­i­est Amer­i­cans." It would also be a major boon to the fos­sil fuel indus­try, cut­ting the cor­po­rate tax rate and mak­ing it eas­i­er for them to repa­tri­ate prof­its made from explo­ration abroad.
The Amer­i­can Petro­le­um Insti­tute (API), a trade lob­by for the oil indus­try, said in a state­ment that the pro­pos­al would ​"strength­en" the U.S. ​"ener­gy renais­sance." API Pres­i­dent and CEO Jack Ger­ard beamed: ​"Our indus­try sup­ports pro-growth tax reform, and today lead­ers in Con­gress and the admin­is­tra­tion demon­strat­ed their com­mit­ment to achiev­ing this shared goal."
Red­man says that her group's new study con­sid­ers the def­i­n­i­tion of sub­si­dies used by the World Trade Orga­ni­za­tion and Orga­ni­za­tion for Eco­nom­ic Co-oper­a­tion and Devel­op­ment, includ­ing ​"any gov­ern­ment action that would either low­er the cost of pro­duc­tion or con­sump­tion, or raise the price received by pro­duc­ers." These sorts of poli­cies range from indus­try-spe­cif­ic tax breaks like the ​"intan­gi­ble drilling costs deduc­tion" to pref­er­en­tial leas­ing rates on resource-rich pub­lic lands. And because new fos­sil fuel infra­struc­ture tends to last for 30 or 40 years — well beyond when cli­mate sci­en­tists warn many of the world's economies should be mov­ing to decar­bonize, Red­man says, ​"We're most con­cerned about the sub­si­dies that dri­ve deci­sion-mak­ing on the pro­duc­er side."
End­ing fos­sil fuel sub­si­dies is some­thing of a shib­bo­leth for world lead­ers: The G20 first pledged to phase them out in 2009, with lit­tle motion made since in that direc­tion. Even coun­tries con­sid­ered lead­ers in renew­able ener­gy, like Ger­many, still get large parts of their fuel from coal.
A study released in Jan­u­ary by the non-prof­it Stock­holm Envi­ron­men­tal Insti­tute (SEI) found that sub­si­dies can be the make-or-break fac­tor for whether a drilling project moves for­ward. In the absence of these fed­er­al and state incen­tives, researchers note that an esti­mat­ed 45 per­cent of U.S. oil pro­duc­tion would be unprof­itable. Exam­in­ing more than 800 unde­vel­oped U.S. oil fields, the SEI team con­clud­ed that — sans sub­si­dies — near­ly half would nev­er be set up for production.
That the oil indus­try has been strug­gling of late isn't news to cor­po­ra­tions like Tran­sCana­da, the com­pa­ny behind the Key­stone XL that's grown increas­ing­ly ambiva­lent about whether the con­tro­ver­sial infra­struc­ture project should be built at all. For many rea­sons, the col­lapse of oil prices in the last sev­er­al years has left the indus­try weak­er than in its hey­day before the crash. Cut­ting sub­si­dies could be a way to kick it while it's down, and spur the tran­si­tion to renewables.
"There's more than enough mon­ey for sup­port for Puer­to Rico to rebuild, and rebuild in a way that makes it a mod­el for a new ener­gy sys­tem," Red­man empha­sized. ​"Trump could find that mon­ey imme­di­ate­ly if he want­ed to."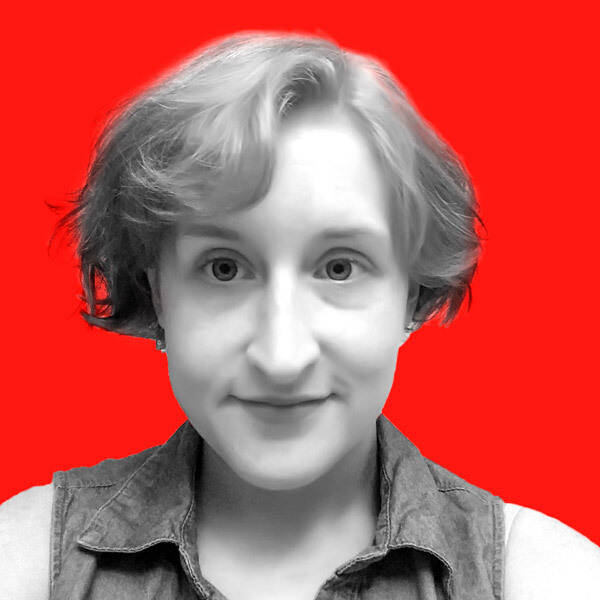 Kate Aronoff
is a Brook­lyn-based jour­nal­ist cov­er­ing cli­mate and U.S. pol­i­tics, and a con­tribut­ing writer at The Inter­cept. Fol­low her on Twit­ter @katearonoff.