In Davos, Trump Is Right at Home with the Global Financial Elite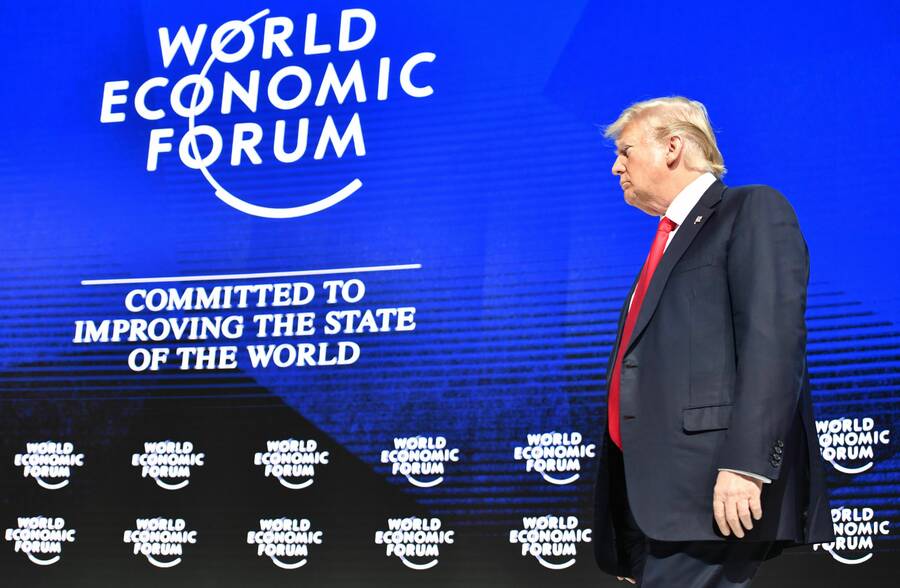 Read­ing main­stream cov­er­age of Pres­i­dent Trump's trip to the World Eco­nom­ic Forum (WEF) in Davos, Switzer­land this week, you'd think he were an out­sider com­ing to shake-up the glob­al elites that fre­quent the annu­al sum­mit — an anti-estab­lish­ment ​"kid from Queens", as the New York Times put it. Trump's vis­it marks the first time a sit­ting U.S. pres­i­dent has attend­ed the 1% con­fab since Bill Clin­ton made the trek in 2000, though there's nev­er before been an Amer­i­can pres­i­dent whose admin­is­tra­tion fit quite so com­fort­ably in the Swiss Alps.
"We are all stronger when free, sov­er­eign nations coop­er­ate towards shared goals and they coop­er­ate toward shared dreams," Trump said in a much-antic­i­pat­ed and unchar­ac­ter­is­ti­cal­ly script­ed address Fri­day morn­ing, sound­ing every bit like the head of a glob­al brand­ing empire that he is.
While it's been fash­ion­able for oth­er Davos atten­dees to skew­er Trump over issues such as his pro­tec­tion­ist stances and his deci­sion to pull out of the Paris Cli­mate Agree­ment, there actu­al­ly isn't much day­light between him and the rest of the glob­al elite when it comes to finan­cial tax­a­tion or reg­u­la­tion, which Trump called ​"stealth tax­a­tion" Fri­day morning.
Trump's pres­i­den­cy up to this point has offend­ed some of the Davos crowd's sen­si­bil­i­ties, on the issue of trade espe­cial­ly. But com­pared to the xeno­pho­bic wel­fare chau­vin­ism of France's Front Nation­al, for instance, Trump's admin­is­tra­tion has fol­lowed a much more clas­si­cal­ly neolib­er­al script. Above all, cap­tains of indus­try of the sort Trump par­tied with this week want as few bar­ri­ers to accu­mu­lat­ing cap­i­tal as pos­si­ble. On that front, this White House has deliv­ered in droves.
As events kicked off ear­li­er this week, Gold­man Sachs CEO Lloyd Blank­fein — who's issued spo­radic anti-Trump mis­sives on Twit­ter — voiced his sup­port for Trump's eco­nom­ic plan. ​"The ani­mal spir­its are out there and a lit­tle bit more vital than they would have been oth­er­wise," he told CNBC's Squawk Box of Trump's first year in office. ​"I'd say I like a lot more stuff than I don't like, and some of the stuff I don't like I real­ly don't like," Blank­fein added, sit­ting atop the moun­tain­top resort in Davos. ​"I think he's going out of his way to be very, very sup­port­ive of the sys­tem and I don't want to be antag­o­nis­tic to that. Frankly, I want to hon­or that."
J.P Mor­gan Chase head Jamie Dimon — also speak­ing from Davos — said he's ​"bulled up…that pol­i­cy­mak­ers are mak­ing good pol­i­cy deci­sions in the U.S. about tax­es, about prop­er reg­u­la­to­ry reform." Trump, mean­while, has packed his cab­i­net with Wall Street alum­ni, and he brought a coterie of them to Switzer­land this week.
Speak­ing to WEF founder Klaus Schwab after his remarks on Fri­day, Trump began by thank­ing him for the great time he's had: ​"We had din­ner last night with about 15 lead­ers of indus­try … I think I have 15 new friends." Most of these titans of cap­i­tal began the evening by com­pli­ment­ing Trump on his busi­ness-friend­ly tax bill, accord­ing to CNBC.
It's not just pol­i­cy pri­or­i­ties that Trump shares with the Davos elites, but a belief in how change hap­pens. He spoke Fri­day about the plight of ​"hard­work­ing men and women" of Amer­i­ca with the same noblesse oblige that oth­er world lead­ers fre­quent­ly use when speak­ing about cli­mate change — cast­ing the prob­lem as one that can be solved by throw­ing enough well-mean­ing rich peo­ple at it.
And like much of the rest of the Davos crowd, Trump him­self is a wealthy busi­ness own­er who stands to ben­e­fit enor­mous­ly from loose finan­cial reg­u­la­tions and cuts to cor­po­rate tax rates.
A report from Oxfam Inter­na­tion­al in Jan­u­ary 2017 found that just eight men own the same amount of wealth as half the world, or 3.6 bil­lion peo­ple. A 2015 report from Oxfam found that the rich­est 10 per­cent of the world — indi­vid­u­als with the high­est income and con­sump­tion lev­els — accounts for near­ly half of per­son­al con­sump­tion-based car­bon emis­sions, while the poor­est 50 per­cent are respon­si­ble for about 10 per­cent. What's more, just 100 cor­po­ra­tions — head­ed by the wealthy — have been respon­si­ble for about 71 per­cent of all car­bon emis­sions since the Indus­tri­al Revolution.
The Davos crowd are noth­ing if not mate­ri­al­ists. For them, Don­ald Trump isn't a threat. Being forced to rein in their mass con­sump­tion and hunger for prof­its would be.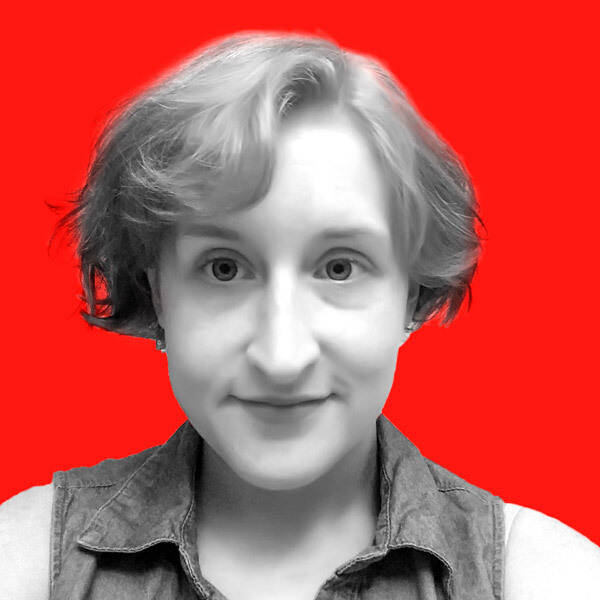 Kate Aronoff
is a Brook­lyn-based jour­nal­ist cov­er­ing cli­mate and U.S. pol­i­tics, and a con­tribut­ing writer at The Inter­cept. Fol­low her on Twit­ter @katearonoff.