If You Think Trump's at War With the Deep State, Take Another Look at His Policies
The president is no populist, and he'll only strengthen the influence of illiberal extra-constitutional power structures.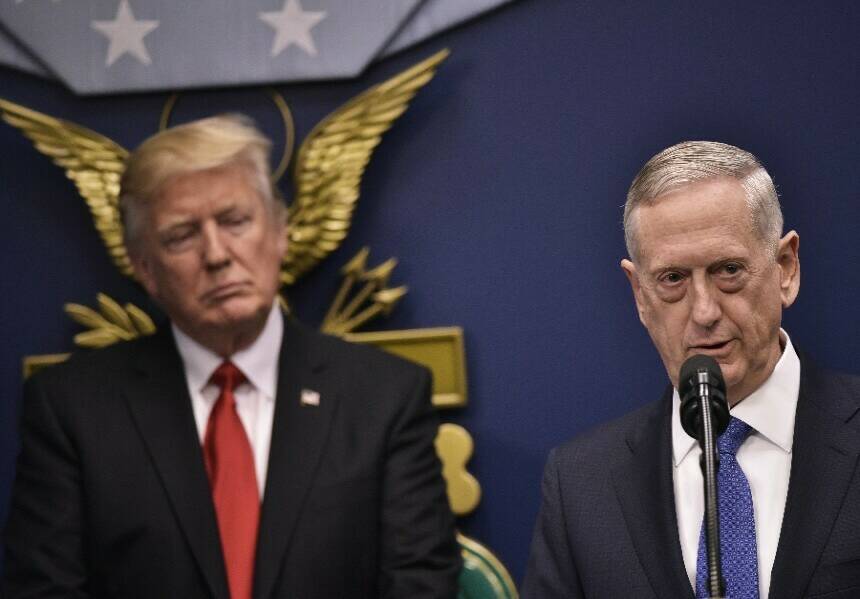 This piece first appeared at Bill​Moy​ers​.com.
Despite their windfall from Trump's tax policies, the rich will only be able to consume so many filet mignons, Sub-Zero refrigerators and Patek-Philippe watches before reaching satiation.
The prospect of four years of Don­ald J. Trump's non­stop rants about imag­i­nary con­spir­a­cies against his daugh­ter, whole­sale slan­der against the judi­cial branch and attacks on the press as ene­mies of the peo­ple has caused some Amer­i­cans to slip into a com­fort­ing form of denial. He will be a blip in our his­to­ry, they say, because our for­mal insti­tu­tions, and the Amer­i­can peo­ple, will ulti­mate­ly pre­vail against a rogue disruptor.
Oth­ers, more hard-boiled, appeal to the pow­ers-that-be that they believe actu­al­ly run the coun­try regard­less of elec­toral results: the Wise Men, the Pow­er Elite or what I have called the Deep State. These infor­mal pow­er group­ings, accord­ing to spec­u­la­tion, will attempt to gen­tly but firm­ly pry Trump's tiny fin­gers from the wheel before he sails the ship of state into an iceberg.
A third camp sees Trump as a less­er evil than the Deep State. Some of these voic­es are more restrained warn­ings, while oth­ers, most­ly Trump defend­ers on the right, become near­ly hys­ter­i­cal in attribut­ing the demise of Gen. Michael Fly­nn as nation­al secu­ri­ty advis­er to the Deep State's revenge against the pres­i­dent. This odd hypoth­e­sis has cul­mi­nat­ed in one of Fox News' ankle-biters, Andrew ("Judge") Napoli­tano, depict­ing Trump and Fly­nn as inno­cent snowflakes beset by the dark, remorse­less forces of the state-within-a-state.
As I have described in greater detail else­where, a far more rea­son­able case can be made that Gen. Flynn's down­fall was caused by his own reck­less bad judg­ment and mis­lead­ing of Vice Pres­i­dent Pence rather than by the machi­na­tions of an invis­i­ble government.
There is lit­tle evi­dence that Amer­i­ca will be saved by con­cealed and pow­er­ful forces in the man­ner of the shad­owy Caped Cru­sad­er res­cu­ing Gotham City from the deranged Jok­er, or, alter­na­tive­ly, that the rough-hewn pop­ulist good guy Trump is in mor­tal com­bat with the Deep State. It is true that he ran as a pop­ulist against elite insti­tu­tions: the pow­er cen­ters of the 1 per­cent — Wall Street, Sil­i­con Val­ley and the mil­i­tary-indus­tri­al com­plex — most­ly sup­port­ed his oppo­nent. But his actions so far have strong­ly rein­forced rather than weak­ened their position.
A glance at the mem­ber­ship of the president's Strate­gic and Pol­i­cy Forum shows they are flock­ing to his side, with mas­ters of finan­cial buc­ca­neer­ing like Stephen Schwarz­man of the Black­stone Group and Jamie Dimon of JPMor­gan Chase, along with Doug McMil­lon of retail giant Wal­mart. There is even an ex-gov­er­nor of the Fed­er­al Reserve Board, Bush appointee Kevin Warsh. This is hard­ly a pop­ulist rev­o­lu­tion of the kind preached by John Steinbeck's Tom Joad.
Trump's senior gov­ern­ment appoint­ments rein­force this impres­sion: his Cab­i­net, filled with moguls from Big Oil, mega-bank­ing, invest­ment and retail, makes George W. Bush's Cab­i­net look like a Bol­she­vik work­ers' coun­cil. Even Steve Ban­non, Trump's ​"alt-right" Sven­gali, is an alum­nus of Gold­man Sachs, whose stock has surged 38 per­cent since the elec­tion. The fact that America's pre­mier cor­po­rate raider, Carl Icahn, will be spe­cial advis­er on reg­u­la­to­ry reform, and that Trea­sury Sec­re­tary Steve Mnuchin was a Gold­man exec­u­tive for 16 years, does not inspire con­fi­dence that eco­nom­ic man­age­ment will be dif­fer­ent from that which pilot­ed us into the 2008 crash.
Trump's $6.2 tril­lion in planned tax cuts are the Bush pol­i­cy on steroids, and are poten­tial­ly three times the mag­ni­tude of the 10-year cost of Bush's cuts. Because they are heav­i­ly tar­get­ed at the rich—47 per­cent of the cuts will go to the top 1 per­cent—they will exac­er­bate income inequal­i­ty, which is already at its high­est lev­el since the 1920s. The tax-relief crumbs for low-income earn­ers will be nul­li­fied or made worse by an assault on the min­i­mum wage. Assis­tance to the poor and near-poor could be fur­ther erod­ed by a reduc­tion in Med­ic­aid ben­e­fits (already in the works, cour­tesy of Speak­er Paul Ryan and the Repub­li­can Con­gress). These actions will exac­er­bate the ongo­ing trend toward jobs with­out ben­e­fits.
Despite their wind­fall from Trump's tax poli­cies, the rich will only be able to con­sume so many filet mignons, Sub-Zero refrig­er­a­tors and Patek-Philippe watch­es before reach­ing sati­a­tion. The rest of their tax cut div­i­dend will go into lift­ing the equi­ties mar­ket to stratos­pher­ic lev­els or build­ing pala­tial mon­u­ments in Glen Cove, Palm Beach or Palo Alto. Since the tax cuts will be much greater than Bush's own prodi­gious fis­cal mis­man­age­ment, the poten­tial equi­ties and real estate bub­ble could be a thing to behold. This is any­thing but a pop­ulist eco­nom­ic policy.
Can­di­date Trump's crit­i­cism of the inva­sion of Iraq and promise of bet­ter rela­tions with Rus­sia also appealed to the grow­ing pop­ulist back­lash against the for­eign pol­i­cy elite's prac­tice of mil­i­tary inter­ven­tion. He was regard­ed as less hawk­ish than his oppo­nent, Hillary Clin­ton, which led some to regard him as the default peace can­di­date of the two major-par­ty nom­i­nees. One peace activist and for­mer Demo­c­rat even said in cor­re­spon­dence to me that "[f]or my grand­chil­dren, Trump's my only real­is­tic hope." This premise was spec­tac­u­lar­ly mis­tak­en and ignored what lay in plain sight.
Trump had always claimed, in line with con­ven­tion­al Repub­li­can dog­ma, that America's mil­i­tary was ​"deplet­ed," and that he would increase its bud­get to ​"rebuild" it. No mat­ter that this was a myth, as DOD in 2016 spent, in con­stant dol­lars, com­fort­ably more than the Cold War aver­age. And, sure enough, after the elec­tion defense stocks rose in the expec­ta­tion that he would open the mon­ey spig­ot even wider. This expec­ta­tion is bol­stered by the fact that Con­gress is con­trolled by Repub­li­cans, whose reflex is to throw mon­ey at defense. The mil­i­tary-indus­tri­al com­plex, a core com­po­nent of the Deep State, will grow even fat­ter, as his request for a 10-per­cent Pen­ta­gon bud­get increase plain­ly telegraphs.
After denounc­ing for­eign pol­i­cy activism, the pres­i­dent and his team are now on a col­li­sion course with Iran, threat­en­ing to tear up that country's nuclear agree­ment with our­selves and five oth­er world pow­ers, engag­ing in bel­li­cose rhetoric about putting it ​"on notice," and even fan­ta­siz­ing a Gulf of Tonkin-like inci­dent between US and Iran­ian war­ships. His blus­ter about rein­stat­ing tor­ture appears to have sub­sided — for now — but Trump is report­ed­ly con­sid­er­ing reopen­ing CIA ​"black sites," one of the Deep State's sin­is­ter symbols.
Don­ald Trump will not dis­man­tle the extra-con­sti­tu­tion­al pow­er struc­tures that have grown more influ­en­tial in the last decades of near-per­pet­u­al war, increas­ing­ly intru­sive sur­veil­lance, finan­cial dereg­u­la­tion and widen­ing inequal­i­ty. He will fur­ther entrench them. This has con­found­ed those in the media, who once regard­ed him as a vul­gar but basi­cal­ly harm­less jack­ass who prob­a­bly wouldn't win but who in any case increased rat­ings and cir­cu­la­tion, as well as those Amer­i­cans des­per­ate for sil­ver lin­ings who saw him a change agent that would shake up a polar­ized polit­i­cal sys­tem and slaugh­ter a few sacred cows.
The pow­ers-that-be prob­a­bly nev­er liked Trump's vul­gar­i­ty, but they had in any case a hedged bet dur­ing the cam­paign: Hillary Clin­ton, a firm friend of Wall Street, was denounced as such by an oppo­nent who was an even big­ger friend of the Street. It was a no-lose proposition.
In the post-2008 age of pop­ulism the elites have flex­i­bly adapt­ed to the angry rhetoric of anti-estab­lish­ment pol­i­tics while expand­ing the very same poli­cies that led to that pop­ulism in the first place. Trump's taste­less­ness and com­plete lack of qual­i­fi­ca­tions, which at first seemed like seri­ous defects, may in ret­ro­spect have been his tac­tic to save their polit­i­cal agen­da by mask­ing it in a façade of fake pop­ulism and real­i­ty-TV stage management.
The Deep State is an out­growth of the illib­er­al ten­den­cies in lib­er­al democ­ra­cy, ten­den­cies which have giv­en dis­pro­por­tion­ate influ­ence to a mil­i­ta­rized for­eign pol­i­cy, secre­cy and sur­veil­lance at home and entrenched dis­par­i­ties of wealth. But, while it has been a grave defect of our gov­ern­men­tal sys­tem, it was not the worst think­able per­mu­ta­tion of that sys­tem. What is now evolv­ing in the West Wing under the troi­ka of Don­ald Trump, Steve Ban­non and Jared Kush­n­er is some­thing much more sinister.