Trump Dept. of Labor Rule Would Legalize Employers Stealing Workers' Tips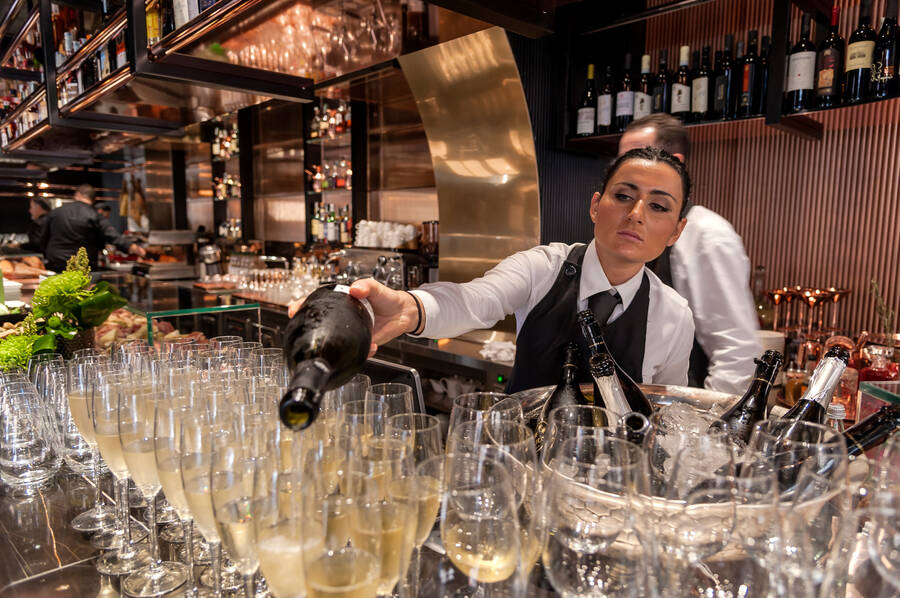 Last week, the Trump admin­is­tra­tion launched yet anoth­er front in its war on work­ers when the Depart­ment of Labor (DOL) pro­posed a new rule that would allow restau­rants and oth­er employ­ers of tipped work­ers to begin legal­ly pock­et­ing their work­ers' tips.
The DOL's pro­posed rule would osten­si­bly allow restau­rants to take the tips that servers and bar­tenders earn and share them with untipped employ­ees, such as cooks and dish­wash­ers. This may sound like as a rea­son­able change, since kitchen staff are essen­tial to the din­ing expe­ri­ence. Indeed, we do need to reform how restau­rant work­ers gen­er­al­ly and tipped work­ers specif­i­cal­ly are paid, includ­ing reduc­ing pay dis­par­i­ties between ​"front of the house" work­ers and kitchen staff.
But this pro­posed rule is not real­ly aimed at fix­ing these prob­lems. How do we know? Because, crit­i­cal­ly, the rule does not actu­al­ly require that employ­ers dis­trib­ute ​"pooled" tips to work­ers. Under the administration's pro­posed rule, as long as tipped work­ers earn the min­i­mum wage, employ­ers could legal­ly pock­et those tips for themselves.
Evi­dence shows that even now, when employ­ers are pro­hib­it­ed from pock­et­ing tips, many still do. Research on work­ers in three large U.S. cities — Chica­go, Los Ange­les, and New York—finds that 12 per­cent of tipped work­ers had their tips stolen by their employ­er or super­vi­sor. Recent research also shows that work­ers in restau­rants and bars are much more like­ly to suf­fer min­i­mum wage vio­la­tions — mean­ing being paid less than min­i­mum wage — than work­ers in oth­er indus­tries. In the 10 most pop­u­lous states, near­ly one out of every sev­en restau­rant work­ers reports being paid less than the min­i­mum wage.
In some cas­es, this is the result of employ­ers ille­gal­ly con­fis­cat­ing tips. In oth­ers, it may be the result of employ­ers ask­ing staff to work off the clock, tak­ing ille­gal deduc­tions from pay­checks or pay­ing less than min­i­mum wage to work­ers who may feel they can­not speak up — such as for­mer­ly incar­cer­at­ed indi­vid­u­als, undoc­u­ment­ed work­ers or for­eign guest work­ers. These vio­la­tions amount to more than $2.2 bil­lion in stolen wages annu­al­ly — and that's just in the 10 largest states.
With that much ille­gal wage theft occur­ring, it should be clear that when employ­ers can legal­ly pock­et the tips earned by their employ­ees, many will. And while the bulk of tipped employ­ees work in restau­rants, tipped work­ers out­side the restau­rant indus­try — such as nail salon work­ers, casi­no deal­ers, bar­bers and hair styl­ists — could also see their boss­es begin tak­ing a cut from their tips.
The Eco­nom­ic Pol­i­cy Insti­tute esti­mates that under the Trump administration's pro­posed rule, employ­ers would pock­et near­ly $6 bil­lion in tips earned by tipped work­ers each year. Trump's DOL even acknowl­edges that this could occur, stat­ing ​"The pro­posed rule rescinds those por­tions of the 2011 reg­u­la­tions that restrict employ­er use of cus­tomer tips when the employ­er pays at least the full Fed­er­al min­i­mum wage." In oth­er words, so long as servers, bar­tenders and oth­er tipped work­ers are being paid the measly fed­er­al min­i­mum wage of $7.25 per hour, employ­ers can do what­ev­er they please with those work­ers' tips. The DOL claims that this is actu­al­ly a ben­e­fit of the pro­posed rule because it ​"may result in a reduc­tion in lit­i­ga­tion" — that is, few­er tipped work­ers being able to sue employ­ers who steal their pay.
The fact that Trump's DOL would so brazen­ly work to under­mine pro­tec­tions for one of the low­est-paid, most pover­ty-strick­en seg­ments of the work­force says a lot about this administration's val­ues. The fed­er­al DOL is many work­ers' pri­ma­ry source of pro­tec­tion when mis­treat­ed by an employ­er. In fact, 14 states effec­tive­ly defer their wage and hour enforce­ment capac­i­ty to fed­er­al offi­cials — mean­ing that out­side of a pri­vate law­suit, the fed­er­al DOL is these work­ers' only option for recourse.
An admin­is­tra­tion that gen­uine­ly cared about work­ing peo­ple would crack down on employ­ers steal­ing from work­ers, not pro­pose to legal­ize it.
David Coop­er is a Senior Eco­nom­ic Ana­lyst at the Eco­nom­ic Pol­i­cy Institute