Trump Gaslights Farmers on Trade War, But They're Catching On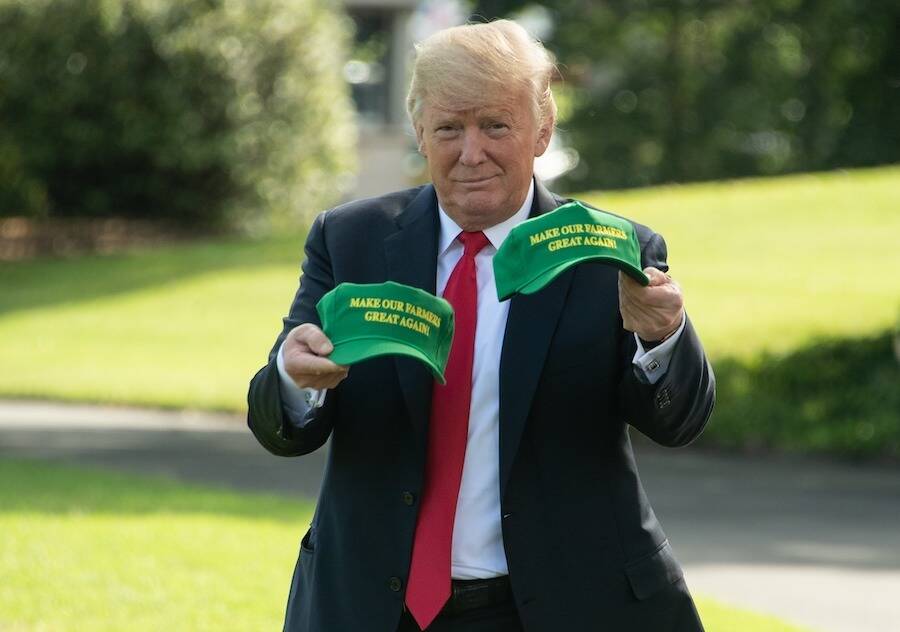 This sto­ry was orig­i­nal­ly pub­lished on The Mid­west Cen­ter for Inves­tiga­tive Reporting
The nexus for defin­ing gaslight­ing comes from Ingrid Bergman's bril­liant per­for­mance as Paula in George Cuko­r's 1944 film Gaslight. In the movie Bergman's char­ac­ter wit­nessed the mur­der of her aunt as a child. Years lat­er she mar­ries Gre­go­ry who, in a twist of fate, returns with her to live in the very house where her aunt was killed. As it turns out Gre­go­ry isn't a lov­ing hus­band, but rather a cold and cal­cu­lat­ed abuser whose insid­i­ous and chill­ing lies and actions have Paula com­ing unhinged and doubt­ing her sanity.
Over sev­en decades lat­er, gaslight­ing has become a White House weapon of choice in try­ing to con­vince indi­vid­ual Amer­i­can farm­ers all is well while they suf­fer finan­cial­ly from the POTUS agri­cul­tur­al pol­i­cy choic­es. (By the way, as ear­ly as Feb­ru­ary 2017 I cau­tioned in a blog that farm­ers need­ed to be on alert.)
So what is gaslight­ing? We'll define it as manip­u­la­tive behav­ior designed to sow seeds of uncer­tain­ty in vic­tims with the objec­tive of gain­ing pow­er and con­trol. Over time, gaslight­ing cre­ates self-doubt, which caus­es the vic­tims to ques­tion their real­i­ty. The POTUS and his toad­ies have been gaslight­ing farm­ers in gen­er­al and soy­bean farm­ers in par­tic­u­lar with his trade war against China.
The tools of gaslight­ing include:
• Bla­tant lying. In tar­get­ing Chi­na with bil­lions of dol­lars of import tar­iffs POTUS tweet­ed to farm­ers that ​"trade wars are good, and easy to win." Of course, that is utter nonsense.
• Deny, Deny, Deny. Now that Amer­i­ca is more than a year into the trade war and it has­n't yet been resolved (how can that be … yeah I'm being snarky) POTUS has denied ever say­ing that trade wars are easy to win. The goal is to make farm­ers doubt their mem­o­ries and ulti­mate­ly replace their real­i­ty with that of the POTUS.
As an aside, bla­tant lying works best when you can enlist oth­ers to lie as well. Enter The Fed­er­al­ist, a con­ser­v­a­tive pro-POTUS web­site and newslet­ter. Willis Krumholt's Aug. 20 arti­cle ​"Why Farm­ers Aren't Going To Aban­don Trump Over The Trade War" is chock full of gaslight­ing good­ies. For exam­ple, Krumholt claims Chi­na is buy­ing less soy­beans from the U.S. because their pig pop­u­la­tion is being dec­i­mat­ed by African Swine Fever. Well, actu­al­ly, Chi­nese soy­bean imports are sur­pris­ing­ly robust. It turns out numer­ous Chi­nese farm­ers noto­ri­ous for feed­ing their pigs table scraps are turn­ing to soy­beans. Chi­na is still buy­ing plen­ty of soy­beans … from South America.
Krumholt also puts the blame for farm­ers finan­cial prob­lems on the pre­vi­ous Admin­is­tra­tion. Krumholz says Barack Oba­ma's mon­e­tary poli­cies kept inter­est rates low: ​"Too many farm­ers took on too much debt, dan­ger­ous­ly overex­tend­ing themselves."
I can trace farmer cash flow prob­lems back to 2013 when huge corn and soy­bean crops reduced farmer's bot­tom lines. That, far more than low inter­est rates, is at the root of farmer woes.
• Flat­tery. Gaslighters' stock in trade is to tear down vic­tims, build them up, and repeat. The idea is to get vic­tims used to being torn down. The POTUS has con­stant­ly told farm­ers they need to take one for the team because it will all even­tu­al­ly work out, like this May 14 tweet: ​"Our great Patri­ot Farm­ers will be one of the biggest ben­e­fi­cia­ries of what is hap­pen­ing now. Hope­ful­ly Chi­na will do us the hon­or of con­tin­u­ing to buy our great farm prod­uct, the best, but if not your Coun­try will be mak­ing up the dif­fer­ence based on a very high Chi­na buy……"
• Words v. Actions. A gaslighter likes to talk … and talk … and talk. The hope is to over­whelm the vic­tim's real­i­ty. But the words mean absolute­ly noth­ing. Time and time again (and there are far too many to list here) the POTUS has told farm­ers that things are going swim­ming­ly in the Chi­na war when noth­ing is fur­ther from the truth.
Okay. Deep breath. Let me be blunt. All this gaslight­ing behav­ior demon­strates a pro­found lack of respect for the U.S. farmer. And for the most part, farm­ers sup­port of POTUS has­n't eroded.
In fact a pro­duc­er sur­vey from the Pur­due Cen­ter for Com­mer­cial Agri­cul­ture released in ear­ly August showed a record-high 78% of farm­ers believe the POTUS trade war will ulti­mate­ly ben­e­fit U.S. agriculture.
It reminds me of the fra­ter­ni­ty haz­ing in Ani­mal House: ​"Thank you sir, may I have another."
But times they may be a‑changing.
At last, indi­vid­ual farm­ers are pub­licly announc­ing their increased frus­tra­tion with the 19-month Chi­na trade war. A small sam­ple just since Aug. 1:
• ​"US farm­ers are slam­ming Trump — say­ing ​'trade pol­i­cy is not a game' and Chi­na tar­iffs will plague ranch­ers for ​'decades'"
• ​"Farm­ers' Frus­tra­tion With Trump Grows as U.S. Esca­lates Chi­na Fight"
• ​"Truck­ers and farm­ers who vot­ed for Trump are start­ing to blame his poli­cies for their eco­nom­ic woes"
And then there's this aston­ish­ing exchange between farm­ers and USDA sec­re­tary Son­ny Per­due from an August Farm­fest event in Min­neso­ta. Try­ing to deflect intense crit­i­cism from farm­ers toward the end of the event, Pur­due offered this up: ​"I had a farmer tell me this in Penn­syl­va­nia," Per­due told the audi­ence at a lis­ten­ing ses­sion host­ed by House Agri­cul­ture Com­mit­tee Chair Collin Peter­son (D‑MN). ​"He said ​'What do you call two farm­ers in a base­ment?' I said ​'I don't know, what do you call them?' He said ​'A whine cellar.'"
Call­ing farm­ers a bunch of whin­ers prob­a­bly won't keep farm­ers on board the Chi­na-trade-war express.
Here's a truth. The POTUS won the White House by the hair of his chin­ny-chin-chin by win­ning Wis­con­sin, Michi­gan, and Penn­syl­va­nia by a total of 79,646 votes.
Could that many farm­ers stay away from the polls in 2020 if they are not made whole by the Chi­na trade war? You bet they could.
The Mid­west Cen­ter for Inves­tiga­tive Report­ing is a non­prof­it, online news­room offer­ing inves­tiga­tive and enter­prise cov­er­age of agribusi­ness, Big Ag and relat­ed issues through data analy­sis, visu­al­iza­tions, in-depth reports and inter­ac­tive web tools. Vis­it us online at www​.inves​ti​gatemid​west​.org
Dave Dick­ey spent near­ly 30 years at Uni­ver­si­ty of Illi­nois at Urbana-Champaign's NPR mem­ber sta­tion WILL-AM 580 where he won a dozen Asso­ci­at­ed Press awards for his report­ing. For 13 years, he direct­ed Illi­nois Pub­lic Media's agri­cul­ture pro­gram­ming. His week­ly col­umn for the Mid­west Cen­ter cov­ers agri­cul­ture and relat­ed issues includ­ing pol­i­tics, gov­ern­ment, envi­ron­ment and labor.