Trump Is Making It Harder for Low-Wage Workers to Organize, But This Fast Food Union Could Win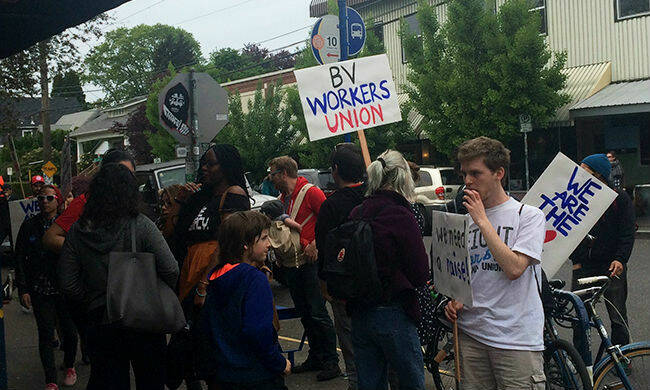 Work­ers at a Burg­erville in Port­land, Ore­gon declared on March 26 that they will file for a fed­er­al union elec­tion. If union cam­paign­ers win, the restau­rant will become the first fed­er­al­ly rec­og­nized fast food union shop in the Unit­ed States. The local effort, which has a sig­nif­i­cant chance of vic­to­ry, offers a pow­er­ful anti­dote to the Trump administration's aggres­sive anti-work­er agenda.
This move comes after years of work­er orga­niz­ing as part of the Burg­erville Work­ers Union (BVWU), which is an affil­i­ate of the Indus­tri­al Work­ers of the World (IWW). The work­ers gave Burg­erville 48 hours to vol­un­tar­i­ly acknowl­edge the union, which man­age­ment refused.
BVWU went pub­lic in 2016, seek­ing rais­es for hourly work­ers, afford­able health­care, a sus­tain­able work­place and con­sis­tent sched­ul­ing. In addi­tion to these demands, work­ers asked Burg­erville to stop using the E‑Verify sys­tem, which they say tar­gets undoc­u­ment­ed work­ers. E‑Verify com­pares employ­ee infor­ma­tion with Depart­ment of Home­land Secu­ri­ty and oth­er fed­er­al records to con­firm that peo­ple can legal­ly work in the Unit­ed States.
Today, six of the Wash­ing­ton-based company's 42 stores have pub­licly active unions, and work­ers say they've been fight­ing union bust­ing and resis­tance from man­age­ment through­out the entire process.
In an inter­view with the web­site It's Going Down, Luis Bren­nan, an employ­ee at Burgerville's Port­land Air­port loca­tion, alleged that the com­pa­ny retal­i­ates against orga­niz­ers by accus­ing them of minor infrac­tions that wouldn't oth­er­wise be enforced. He told the sto­ry of two Burg­erville work­ers who were recent­ly let go. One of them was alleged­ly fired for putting a small amount of ice cream in his cof­fee. The oth­er was alleged­ly fired for smelling like mar­i­jua­na. Accord­ing to Bren­nan, the lat­ter work­er nev­er admit­ted to smok­ing mar­i­jua­na and the com­pa­ny didn't ask him to take a drug test. The employ­ee, who is black, did have a med­ical pre­scrip­tion for mar­i­jua­na because of his epilep­sy. ​"They gave him a week's sus­pen­sion and then they fired him," said Bren­nan. ​"He's an active union sup­port­er, and the com­bi­na­tion of racism and anti-union­ism in that is pret­ty trans­par­ent to everybody."
Last year, Jor­dan Vaan­der­ing, a Burg­erville-employ­ee who had worked at the store's Van­cou­ver Plaza loca­tion for four­teen months, was alleged­ly fired for eat­ing a 70-cent bagel with­out pay­ing for it. Vaan­der­ing said a man­ag­er gave him the bagel dur­ing a paid-break and didn't ask him for any mon­ey. While the bagel was the pre­text for Vaandering's ter­mi­na­tion, he believes he was let go because he was recruit­ing co-work­ers to join the BVWU.
Asked about the alleged retal­i­a­tions ear­li­er this year, the com­pa­ny released the fol­low­ing state­ment: ​"Burg­erville does not com­ment on indi­vid­ual employ­ee mat­ters or inter­nal com­pa­ny policies."
Ear­li­er this year, in response to management's refusal to nego­ti­ate with the union and its alleged retal­i­a­tion against orga­niz­ers, BVWU called on con­sumers to boy­cott Burg­erville. The boy­cott call came dur­ing a three-day strike that start­ed at the company's North­east MLK Boule­vard loca­tion before spread­ing to its South­east Pow­ell and 26th store, two loca­tions in Portland.
Mark Med­i­na, an employ­ee at the South­east Port­land store and a mem­ber of BVWU, told In These Times that, while the union cam­paign has been active for more than 20, now is the per­fect time to file for a union elec­tion. ​"It took a lot of work to get where we are right now," said Med­i­na. ​"This was all built from the ground up: no mon­ey, all vol­un­teers. We've had major strikes and many shops, and now we'll have more lever­age dur­ing the process. Our lev­el of orga­ni­za­tion is con­crete now. It's better."
Burg­erville work­ers' call for a union elec­tion comes on the heels of a poten­tial­ly major defeat for fast-food work­ers at the fed­er­al lev­el. Trump's Nation­al Labor Rela­tions Board (NLRB) Gen­er­al Coun­sel Peter Robb recent­ly nego­ti­at­ed a ten­ta­tive set­tle­ment between McDonald's and the NLRB over a land­mark case pushed by the Ser­vice Employ­ees Inter­na­tion­al Union (SEIU)-backed Fight for $15 cam­paign that aimed to hold the com­pa­ny respon­si­ble for its indi­vid­ual fran­chis­es' labor vio­la­tions. The details of the ten­ta­tive set­tle­ment, which is pend­ing approval by an NLRB judge, remain undis­closed. But McDonald's admits to no wrong­do­ing, and the set­tle­ment allows the com­pa­ny to avoid the ​"joint employ­er" des­ig­na­tion that would allow groups like Fight for $15 to union­ize fast food loca­tions more effectively.
"In a real set­tle­ment, McDonald's would take respon­si­bil­i­ty for ille­gal­ly fir­ing and harass­ing work­ers fight­ing to get off food stamps and out of pover­ty," said Fight for $15 attor­ney Mic­ah Wissinger.
"We think a union con­tract is just one tool to help build the work­ing class we all deserve," Chris Merkel, who works at the Con­ven­tion Cen­ter Burg­ervil­lel, told In These Times, ​"The NLRB can change all the rules, but we still have to do the work on the floor and in our com­mu­ni­ties to get our basic needs met."
Med­i­na said he has ​"love and affec­tion" for unions like the SEIU and cam­paigns like Fight for $15. ​"Fight for $15 is great," said Med­i­na, ​"I sup­port rais­es, but a raise alone doesn't empow­er work­ers to change their own lives and community."
Despite the fact that the IWW is a rank-and-file union work­ing inde­pen­dent­ly from the big­ger labor orga­ni­za­tions, Med­i­na said he's been blown away by the sup­port it has received in Port­land. ​"You see the AFL-CIO at an IWW event," he explained. ​"SEIU has turned out. Car­pen­ters 503 has manned our pick­et lines. We've shown we're here to stay and the com­mu­ni­ty has shown so much support."
After BVWU announced their call for the elec­tion, Burgerville's Senior VP of Oper­a­tions Beth Brew­er released a state­ment: ​"Burg­erville respects the right of every employ­ee to sup­port or not sup­port the orga­ni­za­tion of a union. If there is enough sup­port, we antic­i­pate they will file a peti­tion with the NLRB. Burg­erville will abide by the NLRB's deci­sion and guidance."
Med­i­na told In These Times that he hopes the Burg­erville efforts inspire oth­ers through­out the coun­try. ​"You can orga­nize fast food work­ers," he said. ​"If you put in the effort to orga­nize them, you can. Take what we did and repli­cate it."
"
Michael Arria
is the U.S. cor­re­spon­dent for Mon­doweiss. Fol­low him on Twit­ter: @michaelarria.