On Inauguration Day, Don't Go to Work. Don't Buy Anything. We Need A National Strike to Stop Trump.
A call for a national "Sick Out" on Jan. 20, 2017.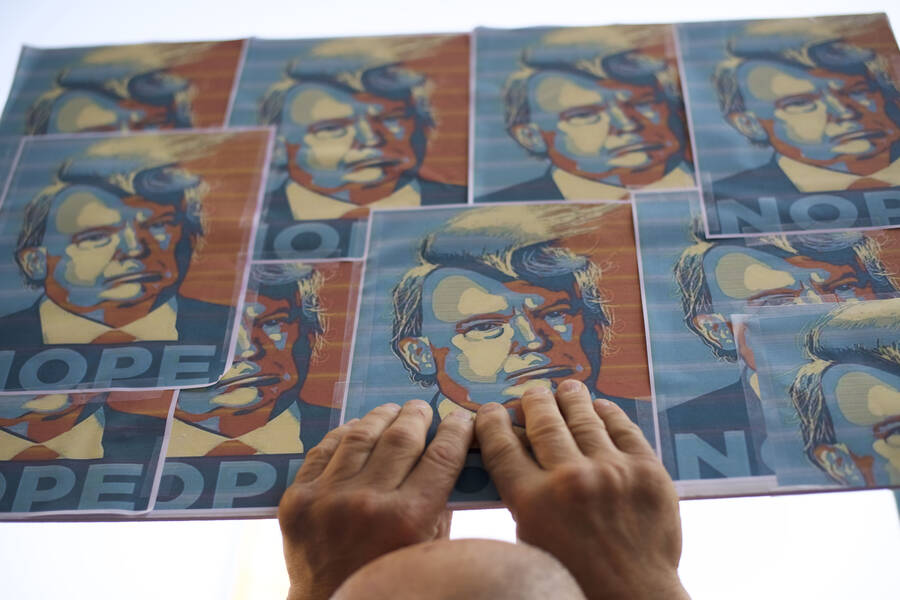 Edi­tor's note: Mar­i­anne Hast­ings is a pseu­do­nym. The author of this piece chose not to use her real name out of con­cern that she could face work­place retal­i­a­tion for speak­ing out against the Trump administration.
The message of a nationwide Sick Out on Inauguration Day will help prepare people for the multiple acts of resistance that will be required by us over the next four years. The only thing holding us back from engaging in this collective action is our hesitancy to believe that it is possible.
As protests against the elec­tion of Don­ald Trump con­tin­ue, many have called on demon­stra­tors to give the pres­i­dent-elect a chance, to ​"wait and see" what he does in office.
But those curi­ous about Trump's imme­di­ate pri­or­i­ties need look no fur­ther than his ​"Con­tract with the Amer­i­can Vot­er," which he released in Octo­ber. In it, he effec­tive­ly promised that by the end of April he would can­cel many of Pres­i­dent Obama's exec­u­tive orders that pro­tect work­ers, immi­grants and the envi­ron­ment; begin bar­ring mil­lions of Mus­lims from entry to the U.S.; imprison or deport mil­lions of undoc­u­ment­ed work­ers; can­cel all fed­er­al fund­ing to sanc­tu­ary cities and cli­mate change pro­grams; lift restric­tions on shale, oil, gas and coal extrac­tion; fast-track pipeline projects and kick mil­lions of peo­ple off their health insur­ance. Many of these promis­es are exec­u­tive actions that Trump will be able to enact with­out the coop­er­a­tion of Con­gress. These are what the Trump cam­paign has called the ​"First Day Project," which Trump based on sign­ing at least 25 exec­u­tive orders that would seek to ​"erase … the Oba­ma Presidency."
As indi­vid­u­als and groups that oppose this agen­da, there is no time to wait. Trump has been clear about his goals, and he has begun assem­bling a team to effec­tu­ate those goals. Resis­tance is already tak­ing var­i­ous shapes in com­mu­ni­ties across the coun­try, but we need a mass action that unites all those that oppose the Trump agen­da from day one. On Jan­u­ary 20, 2017, we need to launch a gen­er­al strike and boy­cott. Some are already call­ing it a ​"Sick Out" to cap­ture the spir­it of the rea­son behind not going to work on that day.
As indi­vid­u­als, we have three pri­ma­ry sources of pow­er: as vot­ers, as work­ers and as con­sumers. Don­ald Trump was vic­to­ri­ous at the polls and, despite the unde­mo­c­ra­t­ic nature of the elec­toral col­lege, he is enti­tled to assume the pres­i­den­cy. He is not, how­ev­er, enti­tled to car­ry out his destruc­tive agen­da unop­posed. Though we were not suc­cess­ful as vot­ers, we can stop him by using our pow­er as work­ers and consumers.
A gen­er­al strike and boy­cott, or Sick Out, would be a com­mit­ment not to go to work or buy any­thing on Jan­u­ary 20. It would not focus on any sin­gle cause or demand; instead, it would be a show of our col­lec­tive pow­er in oppo­si­tion to Trump's extremism.
This action will show the coun­try and the world that we will not par­tic­i­pate in Trump's Amer­i­ca as he has described it. It will do so in the most pow­er­ful way pos­si­ble — by shut­ting down, as much as pos­si­ble, the nation's econ­o­my. The goal will be to force cor­po­ra­tions and politi­cians to pub­licly dis­tance them­selves from Trump's agen­da. The U.S. econ­o­my is a mas­sive, com­pli­cat­ed machine that runs on pre­dictabil­i­ty and reg­u­lar­i­ty. Dis­rupt­ing it through a gen­er­al strike and boy­cott impos­es a cost on accept­ing Trump's extremism.
Amer­i­cans have an uncan­ny abil­i­ty to get used to the extreme in short order — we must take action before a sense of nor­mal­cy sets in.
Can we real­ly pull such off a nation­wide action? And what hap­pens if we try, and fail? At the very least, a nation­al Sick Out will show us where we stand. If true resources and orga­ni­za­tion are put into the endeav­or, and peo­ple go to work and con­tin­ue shop­ping as if noth­ing has changed, then it will be a show of weak­ness on our part. But that too can be use­ful. Not going to work or buy­ing any­thing is not a lot to ask of most indi­vid­u­als for some­thing they care deeply about. If, despite our best efforts, this can­not be done now — when the wounds are still fresh — all future orga­niz­ing will have to reflect this difficulty.
Fur­ther­more, a Sick Out does not fore­close oppor­tu­ni­ties for future actions in response to spe­cif­ic poli­cies that the Trump admin­is­tra­tion will intro­duce. But we'll be in a bet­ter posi­tion to do so if we mobi­lize now to show politi­cians and cor­po­ra­tions what is at stake if Trump fol­lows his stat­ed path, and show all par­tic­i­pants what is pos­si­ble in resist­ing. This is our strongest weapon, and wait­ing to dis­play it would be a mis­take. In the immor­tal words of Dr. Strangelove, ​"the whole point of a Dooms­day Machine is lost if you keep it a secret."
Jan­u­ary 20 is only 59 days away, and it has become increas­ing­ly appar­ent that there was no con­tin­gency plan for deal­ing with a Trump admin­is­tra­tion and a GOP-con­trolled House, Sen­ate and Supreme Court. Groups can engage in all oth­er man­ner of resis­tance on Inau­gu­ra­tion Day, from protests to sit-ins, but a gen­er­al strike and protest can bring all these actions under one uni­fied and pow­er­ful umbrel­la whose mes­sage can­not be misinterpreted.
There is a great deal of plan­ning and orga­niz­ing that must hap­pen in the next 59 days. First, all insti­tu­tions — from labor to civ­il rights groups, envi­ron­men­tal groups, immi­grant groups, church­es, syn­a­gogues, mosques, and all oth­ers who oppose the Trump agen­da — must work togeth­er to spread the word and coor­di­nate such a mas­sive undertaking.
At the same time, we must cre­ate struc­tures to make this action as inclu­sive as pos­si­ble. That means set­ting up child care cen­ters, mech­a­nisms for help­ing those that rely on ser­vices that might not be avail­able dur­ing the strike, devot­ing funds to sup­port those that can­not afford to miss a day of work, and coor­di­nat­ing a pub­lic strat­e­gy to pro­tect work­ers who may be dis­ci­plined or tar­get­ed for participating.
There should be no illu­sions that this will be easy or smooth, but it is nec­es­sary. We can­not allow Trump's extrem­ism to be nor­mal­ized and take shape in our insti­tu­tions of government.
The mes­sage of a nation­wide Sick Out on Inau­gu­ra­tion Day will help pre­pare peo­ple for the mul­ti­ple acts of resis­tance that will be required by us, in so many parts of our lives, if we are to avoid the worst over the next four years. The only thing hold­ing us back from engag­ing in this col­lec­tive action is our hes­i­tan­cy to believe that it is possible.

Mar­i­anne Hast­ings
is the pseu­do­nym of a work­er and orga­niz­er call­ing for a nation­al Sick Out on Jan.
20
,
2017
.