Trump Is a Sexist Horrorshow—But Mike Pence Would Also Be a Terrible President for Women
While there's no evidence Pence harasses women behind closed doors, he has waged a very public vendetta against them.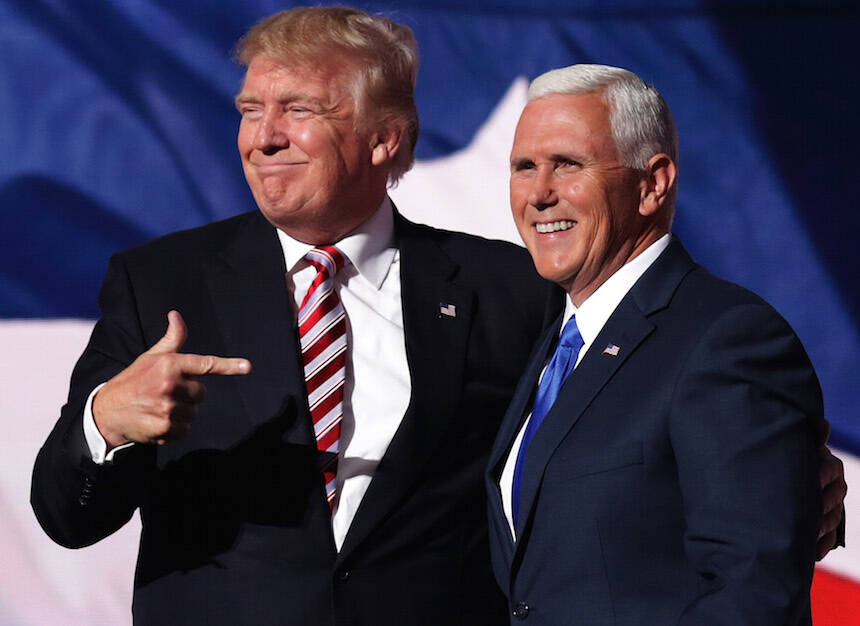 If any­thing can dis­grace Don­ald Trump, the damn­ing record­ing released last night might just do the trick. The tape — an out­take from a 2005 Access Hol­ly­wood seg­ment — finds Trump talk­ing to host Bil­ly Bush (a George W. Bush cousin) about forc­ing him­self on women and try­ing to ​"grab them by the pussy."
Pence signed a law mandating that women seek funerary services for aborted fetuses and that abortion providers foot the bill, driving up the cost of the procedure by about $2000.
"When you're a star," he says, ​"they let you do it. You can do any­thing." The com­ments aren't just ​"lewd," as head­lines claim. They're describ­ing assault, and exhibit­ing a deep-seat­ed enti­tle­ment to women's bod­ies. Trump issued a half-heart­ed apol­o­gy just after the news broke, call­ing the exchange ​"lock­er room ban­ter," and then tried to muster up more remorse in a filmed state­ment lat­er Fri­day night.
Repub­li­can House Speak­er Paul Ryan and RNC Chair Reince Preibus have con­demned Trump's con­duct, with more GOP heavy­weights join­ing them by the minute. ​"As the father of three daugh­ters," Sen­ate Major­i­ty Leader Mitch McConnell said, ​"I strong­ly believe that Trump needs to apol­o­gize direct­ly to women and girls every­where, and take full respon­si­bil­i­ty for the utter lack of respect for women shown in his com­ments on that tape."
The cho­rus of Repub­li­can denun­ci­a­tions has includ­ed calls for Trump to step aside in favor of his run­ning-mate, Indi­ana Gov­er­nor Mike Pence. ​"Don­ald Trump does not rep­re­sent me or my par­ty," Car­ly Fio­r­i­na wrote on Face­book , ​"Today I ask Don­ald Trump to step aside and for the RNC to replace him with Gov. Mike Pence."
As still more alle­ga­tions emerge, Trump's actions show him to be patent­ly unfit for the role of pres­i­dent (in case that wasn't already clear).
But Pence is no bet­ter when it comes to women — and in some ways, more dan­ger­ous. While there's no evi­dence Pence harass­es women behind closed doors, he has waged a pub­lic vendet­ta against them. In his quest to lim­it women's access to health­care, Pence is the stan­dard­bear­er for the GOP's long-run­ning war on women.
As a U.S. con­gress­man, Pence tried repeat­ed­ly to lim­it abor­tion access. The Hyde Amend­ment already pro­hibits fed­er­al fund­ing for abor­tion ser­vices, save in cas­es of rape or incest or life-threat­en­ing preg­nan­cy com­pli­ca­tions, but Pence tried to nar­row the rape exemp­tion to so-called ​"forcible rape" — essen­tial­ly redefin­ing rape itself. He also cospon­sored a bill allow­ing hos­pi­tals to turn away women in need of life-sav­ing abor­tion, as well as a mea­sure des­ig­nat­ing fer­til­ized eggs as peo­ple with legal rights.
Mean­while, Pence led six charges to deprive Planned Par­ent­hood of fed­er­al fund­ing. Since fund­ing for abor­tion ser­vices is already restrict­ed, Pence's cru­sade has been based on a kind of guilt by asso­ci­a­tion, set­ting out to starve Planned Par­ent­hood of the abil­i­ty to pro­vide STD test­ing and can­cer screen­ing because abor­tion is one of the many ser­vices it offers. He threat­ened in 2011 to shut down the Unit­ed States gov­ern­ment over it.
After Pence was elect­ed gov­er­nor of Indi­ana in 2012, he signed a law man­dat­ing that women seek funer­ary ser­vices for abort­ed fetus­es and that abor­tion providers foot the bill, dri­ving up the cost of the pro­ce­dure by about $2000. (A judge even­tu­al­ly struck it down.) Indi­ana then expe­ri­enced an explo­sion in HIV/AIDS cas­es in 2013 after Pence kneecapped one of the state's few providers of STD test­ing: that's right, Planned Parenthood.
Such mea­sures, of course, par­tic­u­lar­ly hurt poor and work­ing class com­mu­ni­ties, which rely on Planned Parenthood's slid­ing scale ser­vices. A recent report out of Texas also sug­gests that cuts to repro­duc­tive health ser­vices take a dis­pro­por­tion­ate toll on com­mu­ni­ties of col­or. After the state slashed fund­ing for fam­i­ly plan­ning in 2010, mater­nal mor­tal­i­ty rose sharply — and black women bore the brunt. They account­ed for just 11.4 per­cent of births in the state in 2011 and yet 28.8 per­cent of preg­nan­cy-relat­ed deaths. (Worth not­ing, too, is that these kinds of cuts hurt peo­ple of all gen­ders in need of STD screen­ing and oth­er sex­u­al health services.)
Unsur­pris­ing­ly, Pence also has some back­ward ideas about women who do become par­ents. In 1997, he blamed work­ing moth­ers for stunt­ing their children's emo­tion­al growth." Sure, you can have it all, but your day-care kids get the short end of the emo­tion­al stick," Pence wrote in a let­ter to the Indi­anapo­lis Star, echo­ing an ear­li­er state­ment from Trump: ""I think that putting a wife to work is a very dan­ger­ous thing."
Nei­ther Pence or Trump are out­liers in their par­ty, and many of their most rad­i­cal pro­pos­als made their way into the offi­cial GOP plat­form. Repub­li­cans in at least 23 states have tried to defund Planned Parenthood.
It's not just GOP cuts to repro­duc­tive ser­vices that hurt women. Women make up two-thirds of the country's 20 mil­lion low-wage work­ers, and are twice as like­ly as men to rely on food stamps. Where Pence has led a ​"one-man cru­sade" against abor­tion, his par­ty has led a near­ly 40-year quest — from union bust­ing to cuts to social ser­vices — to make women's lives hard­er. Though Gov. Scott Walk­er also con­demned Trump's words on the Access Hol­ly­wood tape, Walker's aus­ter­i­ty mea­sures have had a dis­as­trous toll on women, not least of which has been in gut­ting the pub­lic-sec­tor unions that pro­tect teach­ers and nurs­es — pro­fes­sions pre­dom­i­nat­ed by women.
Trump is a sex­ist, racist, vio­lent nar­cis­sist. Pence is an ide­o­logue. Both are grave threats to women, and no politi­cian that has sup­port­ed the GOP's agen­da in the last half-cen­tu­ry can claim much dis­tance from either.
Yes­ter­day, the RNC put a halt to all ​"vic­to­ry pro­gram" work for Trump, instruct­ing a ven­dor, ​"If some­thing is in pro­duc­tion or print it needs to stop. Will update you when to pro­ceed." At long last, Trump's cam­paign for pres­i­dent might be implod­ing. But one for Pence shouldn't take its place. Don­ald Trump should remain the Repub­li­can Party's nom­i­nee for pres­i­dent. With any hope — and to the ben­e­fit of mil­lions of women — he'll lead it into a death spiral.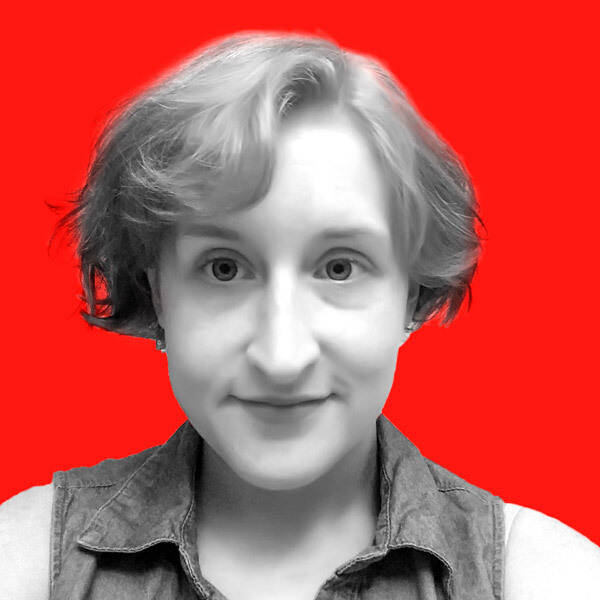 Kate Aronoff
is a Brook­lyn-based jour­nal­ist cov­er­ing cli­mate and U.S. pol­i­tics, and a con­tribut­ing writer at The Inter­cept. Fol­low her on Twit­ter @katearonoff.