Trump's NLRB Just Quietly Ruled to Make Union Pickets Illegal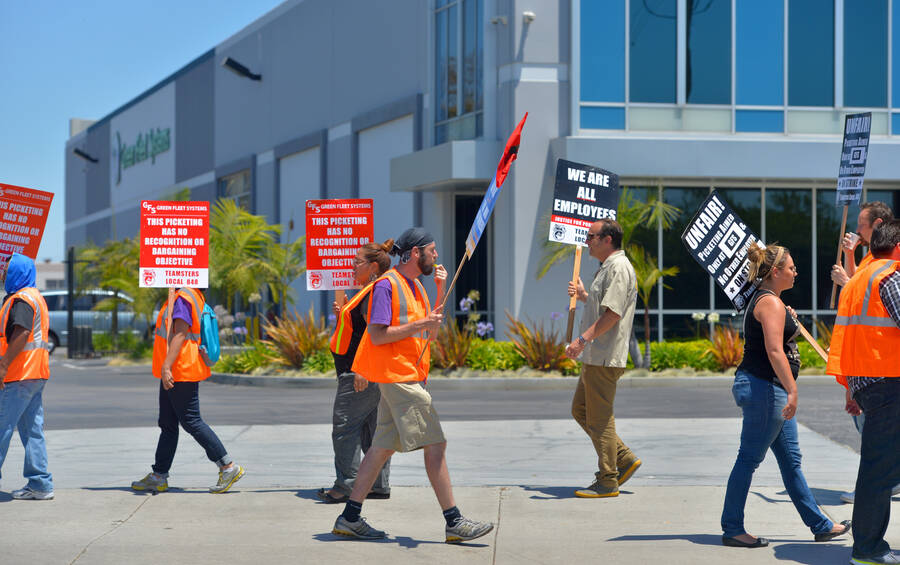 An all-Repub­li­can pan­el of Pres­i­dent Trump's Nation­al Labor Rela­tion Board (NLRB) recent­ly ruled that jan­i­tors in San Fran­cis­co vio­lat­ed the law when they pick­et­ed in front of their work­place to win high­er wages, bet­ter work­ing con­di­tions and free­dom from sex­u­al harass­ment in their work­place. The rul­ing could result in far-reach­ing restric­tions on pick­et­ing that lim­it the abil­i­ty of labor unions to put pub­lic pres­sure on management.
The NLRB reached its con­clu­sion by using the com­plex and con­vo­lut­ed employ­ment struc­ture cre­at­ed by the jan­i­tors' employ­ers. The jan­i­tors were tech­ni­cal­ly employed by one com­pa­ny, Ortiz Jan­i­to­r­i­al Ser­vices, which was sub­con­tract­ed by anoth­er com­pa­ny, Pre­ferred Build­ing Ser­vices, to work in the build­ing of a third company.
This type of con­fus­ing employ­ment rela­tion­ship is increas­ing­ly com­mon, result­ing in work­ers being put in a posi­tion where it's dif­fi­cult to nego­ti­ate high­er wages and bet­ter work­ing con­di­tions, or pro­tect their basic employ­ment rights.
The NLRB based its deci­sion on a par­tic­u­lar­ly oner­ous pro­vi­sion in fed­er­al labor law that pro­hibits employ­ees from engag­ing in boy­cotts, pick­ets or oth­er activ­i­ties that are aimed at a sec­ondary employ­er. The pro­vi­sion was added as part of the 1947 Taft-Hart­ley Act, tak­ing away one of labor's most pow­er­ful weapons.
In this case, the NLRB over­turned an admin­is­tra­tive law judge's rul­ing that because the sec­ond com­pa­ny had sig­nif­i­cant con­trol over the employ­ment rela­tion­ship, it con­sti­tut­ed a joint employ­er. The judge based her con­clu­sion on evi­dence that Pre­ferred Build­ing Ser­vices was involved in the hir­ing, fir­ing, dis­ci­plin­ing, super­vi­sion, direc­tion of work, and oth­er terms and con­di­tions of the jan­i­tors' employ­ment with Ortiz Jan­i­to­r­i­al Ser­vices. There­fore, both Ortiz and Pre­ferred act­ed as joint employ­ers to the janitors.
This mat­ters because if the var­i­ous com­pa­nies were joint employ­ers, there were no pro­hib­it­ed sec­ondary activ­i­ties. But the NLRB held that the jan­i­tors worked for the sub­con­trac­tor, and any actions aimed at any oth­er com­pa­ny was ille­gal under the law.
What is remark­able about this case is how it makes things much worse for work­ers by only sub­tly rein­ter­pret­ing the law. It takes a nar­row read on the joint employ­ment doc­trine and there­by lim­its work­ers' right to pick­et. And, as a result, many work­ers in what for­mer U.S. Depart­ment of Labor Wage and Hour Admin­is­tra­tor David Weil has termed ​"the fis­sured work­place" will find it dif­fi­cult to vin­di­cate their rights. Ulti­mate­ly, this case shows how many basic fun­da­men­tal rights asso­ci­at­ed with the First Amend­ment work­ers are pro­hib­it­ed from engag­ing in.
At their pick­et line in San Fran­cis­co, the jan­i­tors held signs demand­ing a munic­i­pal min­i­mum wage increase, com­plaints about the com­pa­nies' labor prac­tices and demands to stop sex­u­al harass­ment. If any per­son oth­er than the jan­i­tors had engaged in such a pick­et, their activ­i­ties would clear­ly be pro­tect­ed under the First Amend­ment. How­ev­er, because the NLRB found that these jan­i­tors ​"engaged in pick­et­ing with a sec­ondary object pro­hib­it­ed by Sec­tion 8(b)(4)(ii)(B)" of the NLRA, these work­ers had run afoul of the law.
In 1984, labor law schol­ar James Gray Pope used the imagery of a lad­der to high­light the absur­di­ty of how the law treats work­ers' pick­et­ing and speech rights as com­pared to how the law treats these activ­i­ties for every­one else. ​"On the lad­der of First Amend­ment val­ues," Pope explained, ​"polit­i­cal speech occu­pies the top rung, com­mer­cial speech rests on the rung below, and labor speech is rel­e­gat­ed to a ​'black hole' beneath the ladder."
The First Amend­ment ​"black hole" for labor rights has become more appar­ent with the Supreme Court's Janus deci­sion, which cre­at­ed an oner­ous free-speech carve­out break­ing with decades of prece­dent for how to treat pub­lic sec­tor work­ers' free speech.
Instead of fol­low­ing its long­stand­ing rule hold­ing that the First Amend­ment only applies when a pub­lic employ­ee speaks as a cit­i­zen on a mat­ter of pub­lic con­cern, the Court held that a sin­gle employee's com­plaint about union was a mat­ter of First Amend­ment con­cern. Although time will tell, it appears unlike­ly that the Supreme Court will extend such First Amend­ment pro­tec­tions to pub­lic employ­ees in cas­es that would help, rather than hurt labor.
The NLRB's recent case restrict­ing the pick­et­ing rights of sub­con­trac­tors, temps and oth­er work­ers who do not have a sin­gle direct employ­ment rela­tion­ship is a fur­ther sign that the labor board will con­tin­ue lim­it­ing its joint employ­er doc­trine. This will make it more dif­fi­cult or even impos­si­ble for many work­ers to have any mean­ing­ful voice in the work­place. But the case also high­lights some of the core prob­lems of labor law as it cur­rent­ly exists. By being includ­ed under the NLRA, work­ers lose basic rights that all oth­er Amer­i­cans enjoy.
In addi­tion to push­ing for the NLRB to pre­vent employ­ers from evad­ing lia­bil­i­ty through a com­plex web of sub­con­trac­tors, labor needs to push their way out of the First Amend­ment black hole that work­ers have been in for over 70 years.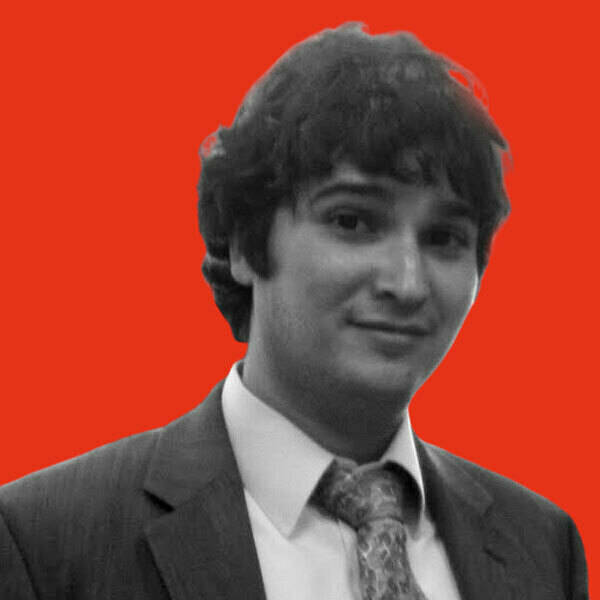 Moshe Z. Mar­vit is an attor­ney and fel­low with The Cen­tu­ry Foun­da­tion and the co-author (with Richard Kahlen­berg) of the book Why Labor Orga­niz­ing Should be a Civ­il Right.