We Can Criticize U.S. Imperialism and Oppose Putin, Too
The rise of fascism is not to be taken lightly.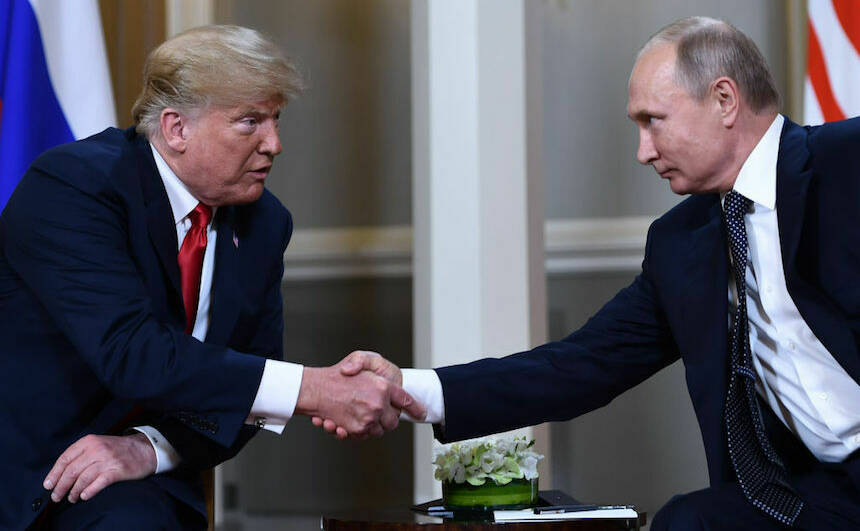 Some on the Amer­i­can Left feel the atten­tion giv­en to the Trump-Putin alliance and the ongo­ing Mueller inves­ti­ga­tion is prob­lem­at­ic. The incred­i­ble phe­nom­e­non of a pres­i­dent who behaves like a Russ­ian intel­li­gence asset — his inabil­i­ty in Helsin­ki to crit­i­cize Russ­ian inter­fer­ence in U.S. elec­tions when asked — makes for riv­et­ing tele­vi­sion. But crit­ics argue the out­rage expressed by many pro­gres­sives toward Putin is overblown and hyp­o­crit­i­cal. The wall-to-wall media cov­er­age, they say, dis­tracts from under­re­port­ed crises local­ly and glob­al­ly, includ­ing racist police vio­lence, nuclear pro­lif­er­a­tion, domes­tic vot­er sup­pres­sion, the war in Syr­ia and so on.
Putin is building an international alliance of autocrats, as evidenced by his partnerships with far-right nationalist parties in Europe.
Crit­ics also sug­gest the focus on the Mueller inves­ti­ga­tion comes at the expense of a poten­tial focus on Amer­i­can war­mon­ger­ing. They remind us that the Unit­ed States also inter­feres in oth­er coun­tries' elec­tions, and con­tend that peo­ple of col­or in the Unit­ed States are so besieged with oth­er con­cerns that Trump's Russ­ian con­nec­tions are of lit­tle inter­est or import. But as pro­gres­sives, we should be able to walk and chew gum at the same time.
It is true the lib­er­al media has obsessed about the Rus­sia sto­ry at the expense of oth­er com­pelling devel­op­ments, such as the rav­ages of glob­al warm­ing. But that's not the fault of the Left, which has a broad­er focus. The fact is, folks on the Left have con­sis­tent­ly con­demned U.S. inter­fer­ence in many parts of the world, includ­ing Cen­tral Amer­i­ca, Iran and Chile, to name just a few. Fur­ther­more, U.S. social move­ments have act­ed in sol­i­dar­i­ty with oppressed peo­ple around the world and sup­port­ed many in their quest for inde­pen­dence, includ­ing in South Africa, Zim­bab­we, El Sal­vador and Nicaragua. Those on the Left who crit­i­cize Russ­ian inter­fer­ence and Putin's author­i­tar­i­an pos­tur­ing — his xeno­pho­bia, racism, homo­pho­bia and sex­ism — are sim­ply being con­sis­tent, resist­ing the bad ​"camp­ist" habit of con­fus­ing prin­ci­pled anti-impe­ri­al­ism with reflex­ive sup­port for Washington's antagonists.
Putin, a self-enrich­ing reac­tionary, is build­ing an inter­na­tion­al alliance of auto­crats, as evi­denced by his part­ner­ships with far-right nation­al­ist par­ties in Hun­gary, France and Italy — part­ner­ships built around the pro­mo­tion of eth­no-nation­al­ism, xeno­pho­bia, racism, Islam­o­pho­bia and the rejec­tion of democ­ra­cy. In this endeav­or, he has also forged ties between Rus­sia and the Amer­i­can reli­gious Right, which shares his White Chris­t­ian nation­al­ist and anti-gay ideology.
It is an open ques­tion whether Russ­ian inter­fer­ence altered the out­come of the 2016 pres­i­den­tial elec­tion. But if the Rus­sians get more adept at hack­ing state vot­ing sys­tems, it could be a real prob­lem in the future. Unfor­tu­nate­ly, dis­count­ing that inter­fer­ence reflects a ten­den­cy on parts of the Left to not take elec­toral pol­i­tics seriously.
Such dis­missal also risks alien­at­ing the very peo­ple whose inter­ests the Left pur­ports to cham­pi­on — Black and Brown peo­ple, and immi­grants. The cru­el and gra­tu­itous sep­a­ra­tion of refugee fam­i­lies seek­ing asy­lum, the roll­back of Oba­macare, with­draw­al from the Paris cli­mate accord, a colos­sal tax bill that shift­ed wealth upward, and the fail­ure to raise the min­i­mum wage (which Democ­rats would have raised) — all these things are hap­pen­ing because Trump got elect­ed, and they are hurt­ing the least among us the most.
A tru­ly inter­na­tion­al­ist Left must per­sist in resist­ing reac­tionary glob­al actors every­where. As Bree New­some, the young woman who took down the Con­fed­er­ate flag in Colum­bia, S.C., warned, the sit­u­a­tion with Rus­sia is not a side issue or a dis­trac­tion: ​"The Trump-Putin alliance is part of the glob­al white suprema­cist fas­cist move­ment. Let's not for­get that."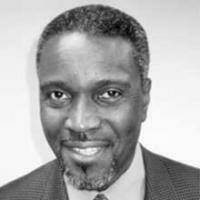 James Thind­wa
is a mem­ber of
In These Times
' Board of Direc­tors and a labor and com­mu­ni­ty activist.