Here's What's More Troubling About Rex Tillerson Than His Ties to Putin
As Secretary of State, Exxon's CEO could do enormous damage to the climate.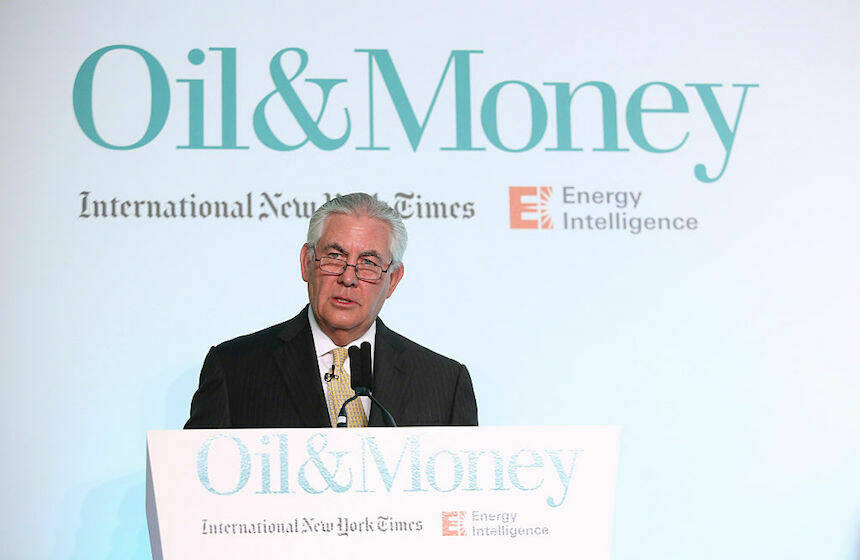 If Trump has his way, Exxon­Mo­bil CEO Rex Tiller­son will be the Unit­ed States' next Sec­re­tary of State. Ear­ly Tues­day morn­ing, it was offi­cial­ly announced that Tiller­son, who has only ever worked at Exxon, is the president-elect's choice to become the Unit­ed States' diplo­mat­ic face to the world — and fourth in line for the presidency.
The New York Times story announcing that Trump would be picking Tillerson Monday night skipped mentioning climate entirely.
Like the indus­try itself, Exxon­Mo­bil is engaged in trench war­fare with the poten­tial for a liv­able plan­et; for a like­ly shot at keep­ing warm­ing under 2 degrees cel­sius, near­ly 70 per­cent of known fos­sil fuels reserves must remain under­ground. The alter­na­tive is tru­ly cat­a­stroph­ic: ram­pant food inse­cu­ri­ty, increas­ing­ly dead­ly and fre­quent storms and untold lev­els of dis­place­ment. Nev­er mind that 5 mil­lion peo­ple world­wide are already dying each year from the non-cli­mate-relat­ed effects of burn­ing fos­sil fuels.
Despite all this, much of the cov­er­age of Tillerson's tran­si­tion into the State Depart­ment has either ignored or down­played poten­tial cli­mate impacts, instead focus­ing on his ties to Russ­ian Pres­i­dent Vladimir Putin (whose gov­ern­ment, U.S intel­li­gence sources claim, inter­fered with this year's elec­tion). The New York Times sto­ry announc­ing that Trump would be pick­ing Tiller­son Mon­day night skipped men­tion­ing cli­mate entirely.
His con­nec­tions to Rus­sia aren't insignif­i­cant: Tiller­son has spent years piv­ot­ing around the State Department's poli­cies toward Rus­sia, man­ag­ing Exxon's deal­ings there. He was award­ed the country's Order of Friend­ship in 2013. As Steve Coll, author of 2012's Pri­vate Empire: Exxon­Mo­bil and Amer­i­can Pow­er, put it, ​"Tiller­son has favored doing busi­ness in coun­tries that offer polit­i­cal sta­bil­i­ty, even if this sta­bil­i­ty was achieved through author­i­tar­i­an rule." Joe Romm at ThinkProgress points out that Tillerson's appoint­ment could also green light a $500 mil­lion plan between Russ­ian state-owned oil firm Ros­neft and Exxon to devel­op drilling oper­a­tions in the Arc­tic, a plot pre­vi­ous­ly squashed by sanc­tions. Romm also observes that if Trump and Tiller­son pull out of the Paris agree­ment, Rus­sia — the world's fifth largest emit­ter — may also refuse to rat­i­fy it.
Are Tillerson's ties to Rus­sia wor­ry­ing? Yes, and not least of which because they could lead to expand­ed fos­sil fuel extrac­tion and explo­ration. But arguably even more wor­ry­ing are the broad­er threats Tillerson's appoint­ment pos­es to the cli­mate, and to a future defined by any­thing oth­er than wide­spread polit­i­cal, eco­nom­ic and eco­log­i­cal crisis.
As Sec­re­tary of State, Tiller­son would be in charge of green-light­ing bor­der-cross­ing pipelines like Key­stone XL. He would also head the U.S. del­e­ga­tion to inter­na­tion­al cli­mate talks, tasked with nego­ti­at­ing a solu­tion to a cri­sis he has spent his career ignor­ing and exac­er­bat­ing, a cri­sis his new boss says doesn't exist. And with Tiller­son at the helm of U.S. for­eign pol­i­cy — and Bush-era neo­con John Bolton as his like­ly deputy — it could be time for anti­war pro­test­ers to dust off their ​"no more war for oil signs," as the lines between fed­er­al and cor­po­rate resource explo­ration become even more blurred.
Although Trump told Fox News this week­end that ​"nobody real­ly knows" if cli­mate change is real, Exxon itself has known exact­ly that for some time. As reports from Inside Cli­mate News have shown, Exxon con­duct­ed cut­ting-edge cli­mate research start­ing in the 1970s, and is now being accused of hav­ing lied to the pub­lic over the exis­tence of man-made warm­ing. The com­pa­ny is under inves­ti­ga­tion by the Mass­a­chu­setts and New York State Attor­neys General.
Exxon­Mo­bil has also donat­ed hun­dreds of thou­sands of dol­lars to cli­mate-deny­ing think tanks like the Heart­land Insti­tute, to which it gave $115,000 in 2006, when Tiller­son took over as CEO. The com­pa­ny has giv­en EPA tran­si­tion head Myron Ebell's Com­pet­i­tive Enter­prise Insti­tute, a lib­er­tar­i­an, anti-envi­ron­ment think tank, at least $2.1 mil­lion since 1997.
It's iron­ic, then, that Exxon­Mo­bil in recent years has been more amenable to the idea of cli­mate pol­i­cy, at least on paper, than Trump him­self. The com­pa­ny backed the Paris Agree­ment last month and sup­port­ed — along with 5 fel­low oil majors — the idea of a glob­al car­bon tax. Many sug­gest­ed the company's sup­port for a price on car­bon was a cyn­i­cal move, meant to set the stage for a big leg­isla­tive fight that would dis­tract from more intru­sive reg­u­la­tion. Though Tiller­son acknowl­edges that burn­ing fos­sil fuels con­tributes to ris­ing tem­per­a­tures, he down­plays its effects, say­ing sim­ply ​"We will adapt. … It's an engi­neer­ing prob­lem and there will be an engi­neer­ing solution."
With Trump and Tiller­son on their way to the Oval Office, how­ev­er, it remains to be seen whether Exxon will con­tin­ue back­ing cli­mate action in any form. Tiller­son may back down from his pri­or timid sup­port for cli­mate action — and in so doing could clash with the Depart­ment of Defense, which last year out­lined warm­ing as a grave threat to nation­al secu­ri­ty. (Trump's nom­i­nee for Sec­re­tary of Defense will be one of the few in the cab­i­net who might sup­port cli­mate mit­i­ga­tion policy.)
Before he gets into the Exec­u­tive Branch, how­ev­er, Tiller­son will have to under­go a Sen­ate con­fir­ma­tion hear­ing. It's there where cli­mate groups plan to try and stop him. ​"We're going to do every­thing we can to block this nom­i­na­tion," 350​.org​'s Lind­say Meiman tells In These Times. ​"We plan to turn the con­fir­ma­tion process into a hear­ing around what Exxon knew about cli­mate change, and Rex Tillerson's role in that," like­ly lean­ing on allies in the Sen­ate like Bernie Sanders (D‑VT), who has worked with 350​.org on a num­ber of occasions.
In recent months, the House Sci­ence com­mit­tee sub­poe­naed 350​.org and oth­er cli­mate orga­ni­za­tions around their role in the Mass­a­chu­setts and New York State Attor­neys Gen­er­als' inves­ti­ga­tions into the com­pa­ny, along with the AGs offices them­selves. Exxon, too, has direct­ly sub­poe­naed the group, which plans to not com­ply with orders to hand over inter­nal com­mu­ni­ca­tions and fundrais­ing documents.
Tillerson's appoint­ment is still more dis­turb­ing giv­en oth­er news from the tran­si­tion team this week. A ques­tion­naire has been cir­cu­lat­ed around the Depart­ment of Ener­gy ask­ing depart­ment employ­ees if they had dab­bled in cli­mate change issues, draw­ing obvi­ous com­par­isons to McCarthy-era witch hunts. (The Depart­ment of Ener­gy has said it won't give this infor­ma­tion.) And Okla­homa Attor­ney Gen­er­al Scott Pruitt was cho­sen to lead the EPA, like­ly because of his his­to­ry of bat­tling it in court. Pruitt has also defend­ed Exxon and crit­i­cized the New York and Mass­a­chu­setts Attor­neys Gen­er­al for inves­ti­gat­ing the cor­po­ra­tion. For­mer Texas Gov­er­nor Rick Per­ry, who sug­gest­ed 2010's dis­as­trous BP oil spill may have been an ​"act of god", was tapped to head the Depart­ment of Energy.
The prob­lem with Tiller­son as Sec­re­tary of State with regards to cli­mate is big­ger than his friend­ship with Putin, or his per­son­al beliefs on whether cli­mate change is or isn't hap­pen­ing: It's that the fos­sil fuel indus­try can­not exist if the plan­et has any chance of a remote­ly sta­ble future. And that indus­try is now poised to occu­py what may be its most pow­er­ful posi­tion in world his­to­ry. ​"The strat­e­gy we've seen from Exxon is intim­i­da­tion, delay and deceit," Meiman says. Should he get to the White House, Tiller­son could imbue that strat­e­gy with the full author­i­ty of the Unit­ed States gov­ern­ment — and put every­one else in seri­ous danger.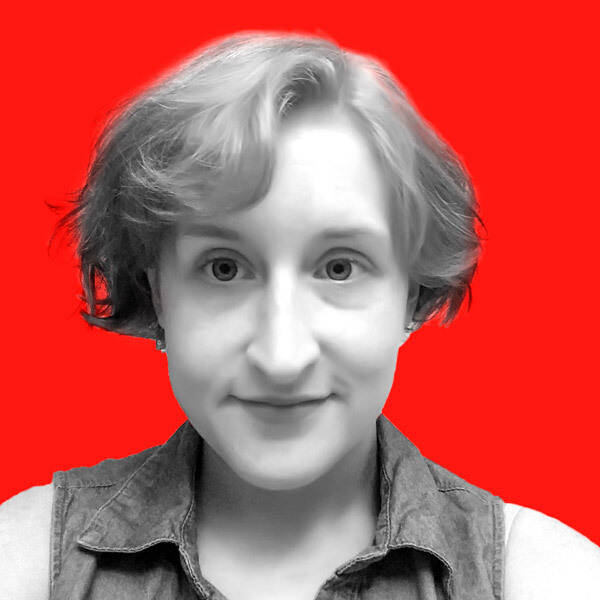 Kate Aronoff
is a Brook­lyn-based jour­nal­ist cov­er­ing cli­mate and U.S. pol­i­tics, and a con­tribut­ing writer at The Inter­cept. Fol­low her on Twit­ter @katearonoff.