Once Again, Corporate Media Unites To Support U.S. Escalation in the Middle East
Trump's latest aggression against the Assad regime has won him fans in editorial boards nationwide.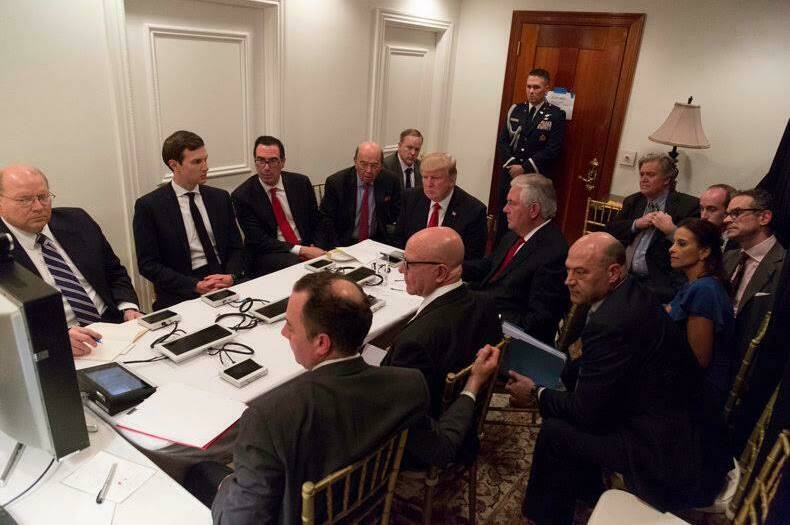 This arti­cle was first post­ed at Fair­ness and Accu­ra­cy in Reporting.
The New York Times insisted, "It was hard not to feel some sense of emotional satisfaction" at the attack.
Of the top 100 US news­pa­pers, 47 ran edi­to­ri­als on Pres­i­dent Don­ald Trump's Syr­ia airstrikes last week: 39 in favor, sev­en ambigu­ous and only one opposed to the mil­i­tary attack.
In oth­er words, 83 per­cent of edi­to­ri­als on the Syr­ia attack sup­port­ed Trump's bomb­ing, 15 per­cent took an ambiva­lent posi­tion and 2 per­cent said the attack shouldn't have hap­pened. Polls showed the US pub­lic being much more split: Gallup (4/7 – 8⁄17) and ABC/​Washington Post (4/7 – 9⁄17) each had 51 per­cent sup­port­ing the airstrikes and 40 per­cent opposed, while CBS (4/7 – 9⁄17) found 57 per­cent in favor and 36 per­cent opposed.
A list of the edi­to­ri­als with quotes show­ing sup­port or oppo­si­tion can be seen here. The list of the top 100 edi­to­r­i­al boards in the coun­try was tak­en from a 2016 Hill piece (10/5/16) on pres­i­den­tial elec­tion endorsements.
Eight out of the top ten news­pa­pers by cir­cu­la­tion backed the airstrikes; the Wall Street Jour­nal (4/7/17), New York Times (4/7/17), USA Today (4/7/17), New York Dai­ly News (4/8/17), Wash­ing­ton Post (4/7/17), New York Post (4/10/17), Chica­go Sun-Times (4/7/17) and Den­ver Post (4/7/17) all sup­port­ed the strikes with vary­ing degrees of qual­i­fi­ca­tion and concern.
The San Jose Mer­cury News (4/7/17) and LA Times (4/8/17) were ambigu­ous, high­light­ing Trump's past oppo­si­tion to bomb­ing Syr­ia and insist­ing, in the Mer­cury News' words, that he get ​"seri­ous about set­ting poli­cies and pur­su­ing diplomacy."
The one edi­to­r­i­al that express­ly opposed the attack, in the 15th-ranked Hous­ton Chron­i­cle (4/7/17), did so main­ly on con­sti­tu­tion­al — not moral or geopo­lit­i­cal — grounds, writ­ing, ​"As we said a year-and-a-half ago, the pres­i­dent can­not and should not use mil­i­tary force against Syr­ia with­out a leg­isla­tive framework."
The Chron­i­cle—like all of the edi­to­ri­als on the list — accept­ed the gov­ern­ment of Bashar al-Assad's guilt in the April 4 chem­i­cal attack on Khan Shaykhun, omit­ting qual­i­fiers such as ​"alleged" or ​"accused."
A con­sis­tent theme in the bulk of the edi­to­ri­als was that the airstrikes were nec­es­sary, but Trump need­ed a broad­er strat­e­gy as well as a con­sti­tu­tion­al or con­gres­sion­al ​"frame­work." As FAIR (4/7/17) not­ed last week, the edi­to­r­i­al and op-ed pages of top five news­pa­pers in the coun­try were uni­form­ly in sup­port of the airstrikes in the day after the attack, offer­ing up 18 pos­i­tive columns and zero critical.
Some spoke in emo­tion­al or vis­cer­al terms, most notably the New York Times (4/7/17), which insist­ed ​"it was hard not to feel some sense of emo­tion­al sat­is­fac­tion" at the attack. ​"The US deci­sion to launch cruise mis­siles at Syr­i­an Pres­i­dent Bashar Assad's air­field felt good," the Den­ver Post (4/7/17) wrote.
The Pitts­burgh Post-Gazette (4/9/17) seemed gid­dy to the point of inco­her­ence with Trump's new tough-guy pos­ture, pub­lish­ing this string of Nat­Sec bromides:
The mes­sage for the Russ­ian and Chi­nese lead­ers must be to stop using their mur­der­ous lit­tle prox­ies, Syr­ia and North Korea, to poke and prod us. We don't want any more wars, but we also showed with the attack on the Syr­i­an air base that we will not put up with being tri­fled with by their lit­tle friends doing awful things like killing chil­dren with chem­i­cal weapons and wav­ing mis­siles around. Rus­sia and Chi­na need to get busy and put the reins on the Syr­i­ans and the North Kore­ans, now. The game is lethal and dan­ger­ous, and there is no good rea­son for it to continue.
The over­whelm­ing sup­port for Trump's Syr­ia strikes — which open a whole new the­ater of poten­tial war in the Mid­dle East — is con­sis­tent with FAIR's stud­ies of media reac­tion to US mil­i­tary action. A 2003 FAIR sur­vey (3/18/03) of tele­vi­sion cov­er­age in the run-up to the inva­sion of Iraq, for exam­ple, found ​"just 6 per­cent of US sources were skep­tics about the need for war. Just 3 of 393 sources were iden­ti­fied with anti-war activism." As the US debat­ed inter­ven­ing in the civ­il war in Libya, pro-inter­ven­tion op-eds out­num­bered those opposed to or ques­tion­ing inter­ven­tion by 4‑to‑1 in the New York Times and Wash­ing­ton Post (Extra!, 5⁄11).
Adam H. John­son is a media ana­lyst for Fair­ness and Accu­ra­cy in Report­ing and co-host of the Cita­tions Need­ed podcast.