Trump Is Waging a War On Labor Unions, But You Wouldn't Know It from CNN's Dem Debate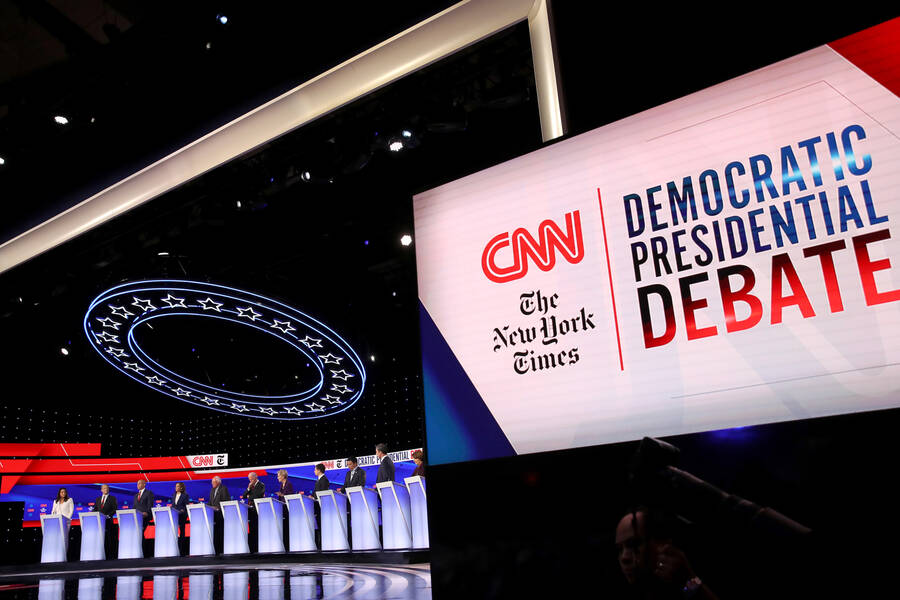 Last night, CNN and the New York Times co-host­ed a Demo­c­ra­t­ic debate in West­er­ville, Ohio — and even by the stan­dards of the main­stream media, the omis­sions were glar­ing. There were no ques­tions about police vio­lence, afford­able hous­ing, Israel, or the cli­mate cri­sis. How­ev­er, there was a soft­ball ques­tion about friend­ship inspired by the bond between Ellen DeGeneres and George W. Bush.
Key labor bat­tles were notably miss­ing from the dis­cus­sion. While a few of the can­di­dates men­tioned unions, the mod­er­a­tors didn't mean­ing­ful­ly press any of them about the many work stop­pages cur­rent­ly tak­ing place through­out the coun­try, except for a ques­tion about the Gen­er­al Motors (GM) strike, which most­ly focused on the death of the auto indus­try and how we might be jobs back. The mod­er­a­tors failed to inquire about plans to strength­en work­er pow­er, or ask any ques­tions about labor law, giv­ing the impres­sion that unions — and the entire work­ing class — are tan­gen­tial to the 2020 pres­i­den­tial race.
Sur­pris­ing­ly, there actu­al­ly was one ques­tion about the GM Strike, which has left 50,000 work­ers with­out a pay­check for over a month, with the mem­ber­ship poised to vote on a ten­ta­tive con­tract, accord­ing to break­ing news this morn­ing. But the ques­tion was framed in the con­text of a belea­guered indus­try that could poten­tial­ly be saved via eco­nom­ic nation­al­ism. The can­di­dates were sim­ply asked about the declin­ing pow­er of U.S. car com­pa­nies and whether or not they had a plan to bring back jobs from Mex­i­co. There was no men­tion of the fact that the cur­rent strike is direct­ly con­nect­ed to the restruc­tur­ing of the com­pa­ny and the con­ces­sions that were forced upon work­ers by the Oba­ma admin­is­tra­tion as part of the 2009 bailout, despite the fact that a lead­ing Demo­c­ra­t­ic can­di­date was Obama's vice president.
That ques­tion was field­ed by Sen­a­tor Cory Book­er and for­mer Con­gress­man Beto O'Rourke, who both ref­er­enced the impor­tance of unions. Book­er even said that he'd estab­lish sec­toral bar­gain­ing rights for work­ers. That promise might have come as a sur­prise to the Newark Teach­ers Union, whose pres­i­dent once declared that the goal of Booker's state edu­ca­tion plan was to ​"defang pub­lic teach­ers unions."
No oth­er cur­rent strike or work­er bat­tle was asked about or ref­er­enced in any of the CNN ques­tions. Noth­ing about the 20,000 Chica­go teach­ers who just vot­ed to autho­rize a strike, and noth­ing about the 2,000 strik­ing min­ers in Ari­zona or the san­i­ta­tion work­ers in Mass­a­chu­setts who have been on the pick­et line for a month. There was noth­ing about the many news­rooms that con­tin­ue to orga­nize, social work­ers fight­ing for a new con­tract in Cal­i­for­nia, Har­vard stu­dent work­ers cast­ing bal­lots in a strike autho­riza­tion vote, or the Amer­i­can Fed­er­a­tion of Musi­cians agi­tat­ing to receive resid­u­als from stream­ing programs.
There was also noth­ing asked about the Trump administration's war on labor unions. Noth­ing about Trump's NLRB push­ing a cor­po­rate agen­da for the last two years, its roll­back of Oba­ma-era employ­ee pro­tec­tions, its new anti-work­er Sec­re­tary of Labor, its inad­e­quate new over­time rules, or its dan­ger­ous deci­sion to speed up the pro­duc­tion lines of slaugh­ter­hous­es. There was noth­ing about the state of unions in the wake of Janus Supreme Court deci­sion, and noth­ing about how to strength­en them despite cur­rent legal restrictions.
There were ref­er­ences to the ​"mid­dle class," a term that has always pos­sessed a neb­u­lous def­i­n­i­tion and been used to flat­ten class divi­sions and erode work­ing-class sol­i­dar­i­ty. The only ref­er­ence to the ​"work­ing class" was made by Sen­a­tor Bernie Sanders.
After War­ren spoke elo­quent­ly about break­ing up tech com­pa­nies, she faced a cen­trist onslaught of onstage oppo­si­tion. O'Rourke even com­pared the plan to the poli­cies of Don­ald Trump. ​"We will be unafraid to break up big busi­ness­es if we have to do that — but I don't think it is the role of a pres­i­dent or a can­di­date for the pres­i­den­cy to specif­i­cal­ly call out which com­pa­nies will be bro­ken up," he said. ​"That's some­thing that Don­ald Trump has done in part because he sees ene­mies in the press and wants to dimin­ish their pow­er. It's not some­thing that we should do."
Near­ly every ques­tion posed to the can­di­dates not named Sanders or War­ren seemed to be punc­tu­at­ed with an explic­it instruc­tion: Tell us why the poli­cies being pushed by a Demo­c­ra­t­ic Social­ist and a New Deal Lib­er­al can't work and why they can't beat Trump.
How­ev­er, while the fix might have been in for cen­trism, it still failed to win the evening. War­ren was attacked as if she were the fron­trun­ner and Joe Biden did noth­ing to sug­gest the oth­er can­di­dates had picked the wrong tar­get. Despite his recent heart attack and polls that sug­gest he's under­per­form­ing his 2016 show­ing, Sanders was strong and con­cise. While some pun­dits admit­ted that the debate might have been his, it was announced Tues­day night that Rep. Alexan­dria Oca­sio-Cortez (D‑N.Y.) is endors­ing the Sen­a­tor. Short­ly after that bomb­shell, sources revealed that Rep. Rashi­da Tlaib (D‑Mich.) and Rep. Ilhan Omar (D‑Minn.) would also endorse. Bernie has now locked up 75% of The Squad.
Main­stream elec­tion cov­er­age may large­ly omit the sub­ject of labor orga­niz­ing, but its impor­tance can cur­rent­ly be felt in the labor bat­tles being waged through­out the coun­try. It's a key com­po­nent of defeat­ing Trump­ism, via the bal­lot box and beyond. The work­er pro­tec­tions that have been erod­ed must be rein­sti­tut­ed. The labor pow­er that's been dimin­ished must be built back up. The Demo­c­ra­t­ic can­di­date must be pushed hard on these issues, who­ev­er it ends up being.
"
Michael Arria
is the U.S. cor­re­spon­dent for Mon­doweiss. Fol­low him on Twit­ter: @michaelarria.