Defeating the Senate's Trumpcare Bill Is a Life-or-Death Fight
An organizer for Nevada's Working Families Party discusses the efforts in her state to block the Senate healthcare bill and push for single-payer.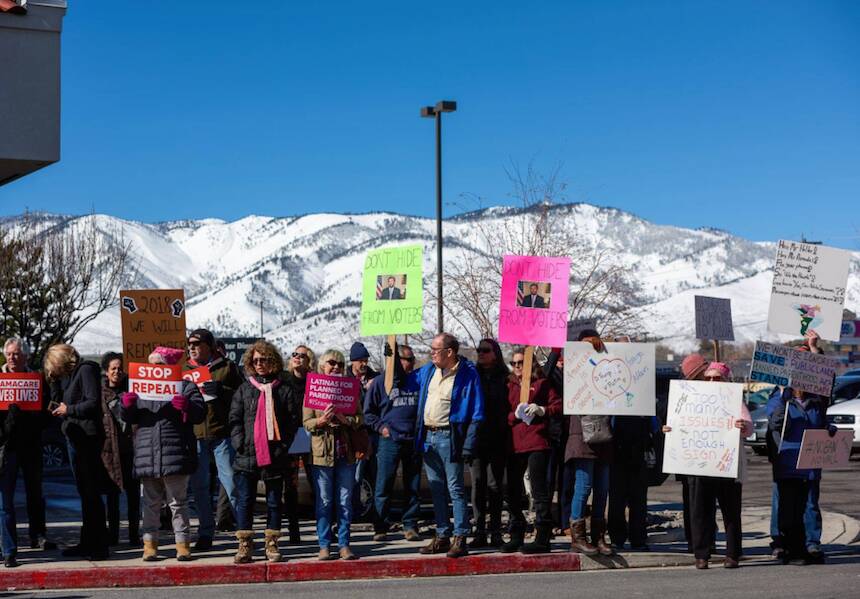 Since elec­tion night 2016, the streets of the U.S. have rung with resis­tance. Peo­ple all over the coun­try have wok­en up with the con­vic­tion that they must do some­thing to fight inequal­i­ty in all its forms. But many are won­der­ing what it is they can do. In this series, we'll be talk­ing with expe­ri­enced orga­niz­ers, trou­ble­mak­ers, and thinkers who have been doing the hard work of fight­ing for a long time. They'll be shar­ing their insights on what works, what does­n't, and what has changed, and what is still the same.
"When we really start talking about issues, in general, I think people are more closely aligned than not. When we get into cult of personality and politicians, that is where the breakdown really happens."
Sarah Jaffe: Can you intro­duce yourself?
Autumn Zemke: I'm the Co-Chair of North­ern Neva­da Work­ing Fam­i­lies Par­ty and have been since Novem­ber 8th. I live in Car­son City.
Sarah: You had an action this week­end at your Sen­a­tor Dean Heller's office around the Repub­li­can health­care bill. Tell us about it.
Autumn: We were plan­ning on doing a sit-in but were only allowed to enter the build­ing one per­son at a time. I went in with a group of three and we asked if we could go up togeth­er but were told, ​"No, no. Only one at a time." This is in the fed­er­al build­ing in Reno. I just said, ​"Well, what if we were men, lob­by­ists in nice suits? Then, would you say ​'Only one of us at a time?' What if we were lob­by­ists com­ing to speak to our senator?"
Secu­ri­ty couldn't answer my ques­tion, but I was film­ing and was told by them that I was rude for try­ing to get an answer about that.
Sen. Heller real­ly does lim­it access. He has only had one town hall in six years. So, he's not very inter­est­ed in what we have to say here in Nevada.
Sarah: Six years, that means he is com­ing up for re-elec­tion very soon.
Autumn: Very soon. His approval rat­ing has real­ly plum­met­ed. Neva­da is purplish/​reddish/​bluish. It is full of peo­ple who real­ly are not par­ti­san. I will be very sur­prised if he wins this elec­tion in Novem­ber. I will be shocked, espe­cial­ly because he will be in pub­lic at some meet­ing and say one thing and then with­in hours tell anoth­er group some­thing else. What I always find inter­est­ing about that is that in this day of tech­nol­o­gy, how can you still think you can get away with that and it won't be publicized?
Then, with Planned Par­ent­hood and the Oba­macare repeal, he has been say­ing that he was against it. A tweet from Gov. San­doval says some­thing like, ​"Dean Heller and I are work­ing to stop the repeal." I can't remem­ber the exact words. That is inter­est­ing because now you have a Repub­li­can gov­er­nor who is against the repeal and for expand­ed Med­ic­aid in Nevada.
When we were protest­ing at Sen. Heller's office, one of the things that we dis­cussed was the fact that the AB374 Med­ic­aid-For-All bill was still sit­ting on the governor's desk and he had until mid­night to veto it. If he didn't, it would have become law. Gov. San­doval didn't have to have his name on it, but he didn't have to kill it either. I had real hopes for the fact that he would just let it go through. Then, short­ly after we had left the senator's office, we got word that the gov­er­nor had vetoed it. Now, we are real­ly in this place that sav­ing the ACA is even more important.
I sup­port­ed the Med­ic­aid-For-All bill. I sup­port a sin­gle pay­er sys­tem. I per­son­al­ly don't have insur­ance, so last night was a dev­as­tat­ing blow for me. But just because I don't have insur­ance right now doesn't mean that I am going to say, ​"Well, just let [the ACA] be repealed. Oba­macare wasn't good enough for me, so let's just let 24 mil­lion peo­ple suf­fer. The 600,000 peo­ple on expand­ed Med­ic­aid in Neva­da, we don't care about them because I per­son­al­ly don't have insur­ance under that sys­tem." That is not right. We real­ly have to fight against the repeal, but we also have to talk about ideas like expand­ed Med­ic­aid, like Medicare-For-All and what that tru­ly would mean for this country.
Sarah: Tell us more about the Med­ic­aid-For-All pro­pos­al in Neva­da for peo­ple who don't know about it.
Autumn: I under­stand that health­care is com­plex and I am not an expert, but the way that I under­stood the bill is that it would mean that all Nevadans, all 2.9 mil­lion of us, would have been able to have the option to buy into the Med­ic­aid system.
You wouldn't be forced into the sys­tem and pri­vate insur­ance would still exist. Med­ic­aid would just be on the exchange so peo­ple could buy into it. For those peo­ple who still qual­i­fy for Med­ic­aid, they would get their Medicaid.
We have a doc­tor short­age what­ev­er sys­tem you are look­ing at. Take fam­i­ly care, espe­cial­ly in places like Neva­da which is very rur­al. You have Las Vegas, which is a pop­u­la­tion cen­ter, and Reno. We are grow­ing a lit­tle bit. But the major­i­ty of Neva­da is rur­al. Doc­tors don't exist in rur­al Neva­da anyway.
Sarah: Tell us a lit­tle bit more about what has been going on in Neva­da since Novem­ber, the work that you have been doing build­ing the orga­ni­za­tion out there.
Autumn: I real­ly want to focus on some pos­i­tives right now. Neva­da is an inter­est­ing state with our pol­i­tics. Neva­da went for Hillary Clin­ton and we formed Work­ing Fam­i­lies think­ing that Clin­ton would win. Then, she didn't. So we have this oth­er focus that we didn't nec­es­sar­i­ly think we were going to have.
But through that focus, we have this amaz­ing coali­tion of orga­ni­za­tions that have come togeth­er and we meet reg­u­lar­ly. We do actions togeth­er. It is Indi­vis­i­ble and North­ern Neva­da March­es For­ward, Planned Par­ent­hood, Pro­gres­sive Democ­rats of Amer­i­ca. We are all at the table togeth­er and we are hold­ing strong. We sup­port each other's actions and we real­ly push our mem­bers, and I think because we are such a strong coali­tion, that means some­thing dif­fer­ent than if we were each doing our own thing.
One of the first things we did was that we got wind of the fact that Sen­a­tor Heller and Con­gress­man Amod­ei were going to be the keynote speak­ers for the Car­son City Cham­ber of Com­merce. We, as a coali­tion, went togeth­er. I think there were close to 500 peo­ple there. We were able to turn peo­ple out and not only that, there were peo­ple who pur­chased tick­ets to be in the lun­cheon, peo­ple who had vot­ed for Amod­ei and Heller, too. They were there hold­ing them accountable.
That was the first time where Sen. Heller and Rep. Amod­ei were like, ​"No, we aren't going to vote for the repeal." Arti­cle after arti­cle [of the AHCAA] they respond­ed, ​"No. No. No. We are not going to vote for this." Then, we know what hap­pened with Amod­ei (he vot­ed for the bill in the House). They also addressed our joint leg­is­la­ture. They only meet every two years. They were in ses­sion and they addressed them, we showed up to hold Amod­ei account­able and to hold Heller accountable.
Then, every Tues­day since Jan­u­ary 24th, peo­ple have shown up at the fed­er­al build­ing in Reno where Sen. Heller's office is for our Resist Trump Tues­days. We don't even have to adver­tise it any­more. Peo­ple just know to show up and indi­vid­u­al­ly want to hold him account­able. I think that peo­ple are real­ly angry. We are not just angry; we are real­ly scared. Health­care, being able to go to the doc­tor, it is our lives. This is how we con­tin­ue to live. It can be real­ly dis­cour­ag­ing, but hav­ing the coali­tion does help because we can stand together.
Sarah: I have been talk­ing to a lot of peo­ple who have been orga­niz­ing around health­care and it seems like an issue that breaks down a lot of walls for peo­ple. Peo­ple find it eas­i­er to come togeth­er and talk about health­care than some oth­er issues.
Autumn: I also think that is an inter­est­ing point. I think when we real­ly start talk­ing about issues, in gen­er­al, I think peo­ple are more close­ly aligned than not. When we get into cult of per­son­al­i­ty and politi­cians, that is where the break­down real­ly hap­pens. But, on an indi­vid­ual lev­el — my Repub­li­can fam­i­ly, if we talk about issues we can come togeth­er more eas­i­ly than if we bring up a spe­cif­ic name.
I also have to say, my hus­band works for Med­ic­aid in Neva­da. Until he start­ed work­ing for Med­ic­aid, I did not real­ize that peo­ple died because they didn't have health­care. There was such a dis­con­nect between that real­i­ty. I am from Neva­da. My fam­i­ly has lived in Neva­da for 150 years. I always say that because there is this nar­ra­tive like ​"Well, these pro­gres­sive peo­ple are com­ing into our state from Cal­i­for­nia or oth­er places." No. I am Nevadan. I am chang­ing my state because it is my state.
We lived in Seat­tle and I nev­er under­stood that peo­ple died because they didn't have health­care. Seat­tle is a pret­ty pro­gres­sive place and, also, you have a med­ical school that is real­ly good. Peo­ple get tak­en care of. Not always, but more so. Then, mov­ing down here, peo­ple are denied Med­ic­aid for not being in a cer­tain finan­cial stra­tum. It doesn't mat­ter whether or not you have can­cer or if you have dia­betes or if you have any con­di­tion that is going to kill you. If you don't fit those para­me­ters, you find the cash or you die.
Then, there is this oth­er assump­tion, ​"Well, if peo­ple need treat­ment, they just go to the emer­gency room." That is not accu­rate. Peo­ple who go to the emer­gency room, if you are hav­ing a heart attack, they per­form life-sav­ing mea­sures and then you are in med­ical debt for the rest of your life. But, if you have a con­di­tion like dia­betes or can­cer or any­thing that needs treat­ment over a long peri­od of time, you don't live. They don't treat you. They will sta­bi­lize you, but they are not giv­ing you chemotherapy.
I think the Amer­i­can pub­lic needs that kind of real­iza­tion, that kind of wake-up that I had, and I just hap­pened to have it a lit­tle bit soon­er than some peo­ple are com­ing to it. I think it is impor­tant for us to tell that sto­ry, ​"This per­son died." There is this gen­tle­man who I just came across on Twit­ter and he was try­ing to crowd­fund his insulin. I think he was in Hous­ton, Texas and he was big in the arts scene and com­ic book scene. This man actu­al­ly died because he couldn't do it.
We shouldn't be crowd­fund­ing health­care. Not in the wealth­i­est coun­try. It is insan­i­ty. Plus, it just doesn't make finan­cial sense. The real­i­ty is we have to hold Sen. Heller account­able. ​"Why would you do this? Why would you take health­care away from us?" And hold them account­able to the fact that there is no finan­cial rea­son for it.
I have to add, the real­i­ty is that the peo­ple who are in the 1% got there off the backs of our labor. It is not like we are try­ing to take some­thing from them. They have that wealth because they have work­ers, they have employ­ees, they have peo­ple that have lift­ed them up to this point of extreme wealth. They got there because they have com­pa­nies where they have peo­ple work­ing for them. That is our wealth. We helped make that wealth. Ask­ing for health­care shouldn't be that big of a deal when we cre­ate the wealth as employ­ees, as workers.
Sarah: Did you suc­cess­ful­ly get to say any of this to Dean Heller or his aide yes­ter­day or did they just com­plete­ly block you all out?
Autumn: Peo­ple did go up. I always bring com­ment sheets with me. Peo­ple brought those up. It was kind of inter­est­ing because the staff lin­gered, like not real­ly engaged I would say, but lin­ger­ing. Like we were going to do some­thing. That's just not how you treat your con­stituents. You engage them. It just wasn't a dia­logue. The secu­ri­ty guard had a sheet with the law of why we weren't being allowed to be let in, because we would dis­rupt or block the ingress and egress. The thing is, like my co-chair Drew List said, we had no plans of dis­rupt­ing in that way. We just want­ed to come in as a group, as a unit­ed front, and speak with our senator's staff. That shouldn't be a big deal. If we were a group of lob­by­ists, we would have been let in.
Sarah: What comes next? The bill is still secret. What are you plan­ning for next steps?
Autumn: We have a week of actions planned. I think there is some­thing going on almost every day between now and next week­end. We are going to con­tin­ue try­ing to get through to Heller on the phone. A lot of us use Resist­bot, where you text and it fax­es your writ­ten com­ments, and then, con­tin­ue to go in per­son. Then, we will see what he does.
But, even now, espe­cial­ly with the Medicare-For-All being vetoed, we just have to con­tin­ue to hold our politi­cians in the state account­able, and long-term. Because if you vote to repeal our health­care, there is so much going on that peo­ple kind of for­get. We have a year and a half to get out the vote, to get Heller out if he is not lis­ten­ing to us. To con­tin­ue to hold him account­able regard­less of what hap­pens with health­care, because there are so many oth­er things. But this is our focus right now.
I hon­est­ly think he will prob­a­bly vote with his par­ty. I real­ly do. Sta­tis­ti­cal­ly, he used to be a lit­tle bit more inde­pen­dent, but he now just votes along par­ty line. He did for all Trump's nom­i­nees. He has just gone along. But, I was real­ly shocked about Amod­ei because he was so on the record [as being against the bill]. Long-term, we will con­tin­ue to hold Heller account­able, espe­cial­ly dur­ing the August recess when he will be here in Neva­da. The thing is, he has still yet to have a town hall in south­ern Neva­da. He is from where I live and he owns a ranch out where my fam­i­ly has lived for over a hun­dred years.
I think he needs to look his con­stituents in the eyes. We want to force him in the north to real­ly get down to Las Vegas and have a town hall down there, too. I think he is real­ly scared.
We are just going to keep push­ing, though. You see peo­ple kind of get­ting tired, but when it comes to the issues, I think some peo­ple are get­ting tired of the Trump/​Russia stuff and real­ly just want to focus on stuff that impacts everybody's dai­ly life, like healthcare.
Sarah: How can peo­ple keep up with you and with Work­ing Fam­i­lies in Nevada?
Autumn: We are on Face­book. We are right now Car­son City Work­ing Fam­i­lies Par­ty, we're merg­ing into North­ern Neva­da. Then, on Twit­ter it is @CCWFP. Then, I real­ly rec­om­mend, too, going to the Work­ing Fam­i­lies Par­ty nation­al orga­ni­za­tion and see­ing what we as a nation­al orga­ni­za­tion have to offer.
Inter­views for Resis­tance is a project of Sarah Jaffe, with assis­tance from Lau­ra Feuille­bois and sup­port from the Nation Insti­tute. It is also avail­able as a pod­cast on iTunes. Not to be reprint­ed with­out permission.
Sarah Jaffe
is a for­mer staff writer at
In These Times
and author of
Nec­es­sary Trou­ble: Amer­i­cans in Revolt
, which Robin D.G. Kel­ley called ​
"
The most com­pelling social and polit­i­cal por­trait of our age." You can fol­low her on Twit­ter
@sarahljaffe
.