The Victims of the Trump-Netanyahu Special Relationship
The flurry of favors the president did for Netanyahu could constrain U.S. policy — and hurt people in the region — for years to come.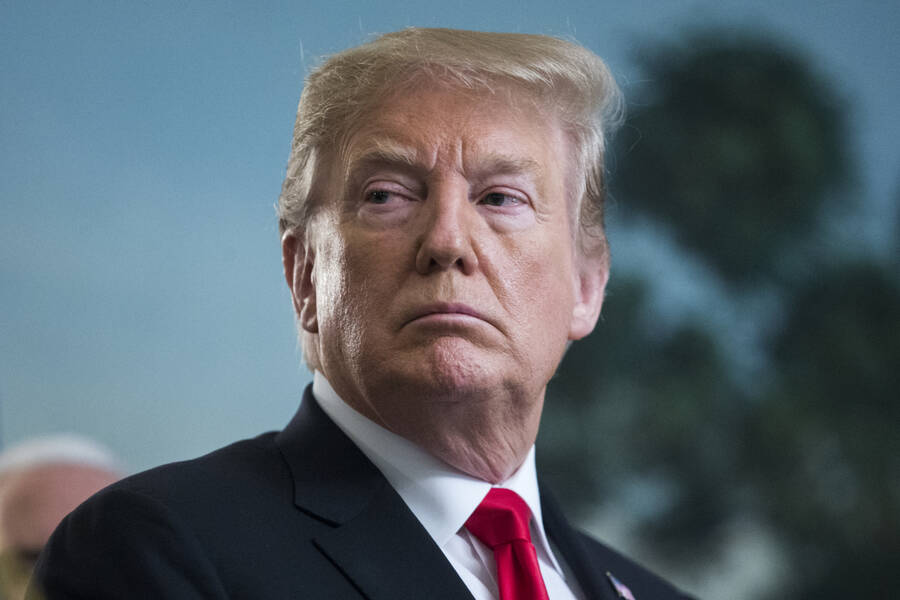 For Israelis, the ques­tions had been hov­er­ing for months.
Hypocrisy aside, the consequences of Trump's actions could be severe and long lasting.
Would the right-wing Prime Min­is­ter Ben­jamin Netanyahu claim vic­to­ry and a fifth term, mov­ing his far-right Likud gov­ern­ment coali­tion even fur­ther right? Or would the sup­pos­ed­ly ​"cen­trist" chal­lenger, for­mer army chief of staff Gen­er­al Ben­ny Gantz, ride to vic­to­ry among cor­rup­tion alle­ga­tions against Netanyahu?
Netanyahu faces three — and poten­tial­ly as many as five — sep­a­rate indict­ments for var­i­ous scan­dals. If his Likud par­ty forms the new gov­ern­ment, which now seems like­ly, will it pass a new law pro­hibit­ing the indict­ment of a sit­ting prime minister?
Those ques­tions remain cen­tral to Israeli polit­i­cal dis­cus­sion. But among Pales­tini­ans, there was lit­tle need to ask about what the elec­tion meant for them: What­ev­er gov­ern­ment emerged seemed guar­an­teed to main­tain cur­rent Israeli posi­tions in sup­port of occu­pa­tion and apartheid, against inter­na­tion­al law, for war with Iran, for full-throat­ed alliance with the U.S. pres­i­dent and U.S. mil­i­tary aid, and against human rights for Pales­tini­ans and equal­i­ty for all.
Dur­ing the cam­paign, Netanyahu not only vowed to annex ille­gal Israeli West Bank set­tle­ments in vio­la­tion of inter­na­tion­al law, but also express­ly dis­avowed the state of Israel's oblig­a­tions to its Pales­tin­ian cit­i­zens. Yet his chal­lenger Gantz was lit­tle bet­ter, run­ning ads brag­ging about how many Pales­tini­ans he killed bomb­ing Gaza ​"back to the stone age" while com­mand­ing Israel's 2014 mil­i­tary assault on Gaza.
What­ev­er the spe­cif­ic com­po­si­tion of the new gov­ern­ment tak­ing pow­er in com­ing weeks, the hor­rif­ic con­di­tions of Pales­tin­ian life will remain. While Netanyahu's polit­i­cal career may have sur­vived an anx­ious moment, the sys­tem of occu­pa­tion and apartheid he over­saw for decades was nev­er in any danger
Sup­port from Trump
And that, it should be said, is fine by Pres­i­dent Trump.
Its been clear for a while that Netanyahu's pow­er is thor­ough­ly bound up with his up-close and per­son­al alliance with the U.S. pres­i­dent. Trump's list of gifts to Netanyahu goes back a long time.
First was the uni­lat­er­al U.S. with­draw­al from the Iran nuclear deal, a long­stand­ing Israeli demand, despite the unan­i­mous agree­ment of U.S. intel­li­gence agen­cies that Iran remained in com­pli­ance with the agreement's terms. Next began the leaks of what Trump's ​"peace plan" (orches­trat­ed by his set­tle­ment-financ­ing son-in-law Jared Kush­n­er) would look like — a list of harsh con­di­tions imposed on the Pales­tini­ans with no Israeli con­ces­sions required.
Then came the U.S. recog­ni­tion of occu­pied Jerusalem as the ​"uni­fied" cap­i­tal of Israel and mov­ing the U.S. embassy to Jerusalem, vio­lat­ing in one fell swoop inter­na­tion­al law, UN Secu­ri­ty Coun­cil res­o­lu­tions that Wash­ing­ton itself had signed, and decades of U.S. and inter­na­tion­al diplomacy.
Next came Trump's embrace of Israel's new ​"nation-state" Basic Law, which rais­es the legal sta­tus of Israel's apartheid by decree­ing that only Jews have the right of self-deter­mi­na­tion in the coun­try. Then Trump end­ed long­stand­ing U.S. sup­port for the UN agency pro­vid­ing basic assis­tance to state­less Pales­tin­ian refugees — and used the occa­sion to announce Washington's posi­tion that vir­tu­al­ly none of the 5 mil­lion Pales­tin­ian refugees reg­is­tered with the Unit­ed Nations actu­al­ly are refugees at all, and there­fore have no rights that Israel must recognize.
More recent­ly, Trump rec­og­nized Israeli author­i­ty in the Syr­i­an Golan Heights, ille­gal­ly occu­pied by Israel since 1967.
And the pièce de résis­tance, less than 24 hours before the Israeli polls opened, Trump announced the unprece­dent­ed claim that part of the Iran­ian mil­i­tary, the Rev­o­lu­tion­ary Guard Corps, would now be con­sid­ered a for­eign ter­ror­ist orga­ni­za­tion sub­ject to crip­pling new sanc­tions, seri­ous­ly esca­lat­ing the threat of war.
Just in case his avid base didn't notice, Netanyahu imme­di­ate­ly claimed cred­it for Trump's lat­est anti-Iran move, explic­it­ly thank­ing the U.S. pres­i­dent ​"for respond­ing to anoth­er of my impor­tant requests."
And that was all on top of the ongo­ing U.S. sup­port for Israel and Netanyahu, includ­ing the $3.8 bil­lion a year in U.S. tax dol­lars sent direct­ly to the Israeli mil­i­tary, the unfail­ing pro­tec­tion of Israel in the Unit­ed Nations ensur­ing that no Israeli polit­i­cal or mil­i­tary offi­cials are ever held account­able for poten­tial war crimes, and the efforts to crim­i­nal­ize non-vio­lent boy­cott cam­paigns aimed at end­ing Israel's vio­la­tions of human rights.
Those go on all the time. But Trump's embrace of Israel has esca­lat­ed the already sup­port­ive rela­tion­ship far beyond any of those ear­li­er assump­tions. The whole run-up to the elec­tion was a tour de force of U.S. enabling of Netanyahu's reelec­tion and the rise and con­sol­i­da­tion of Israel's far right wing.
A pass on anti-Semitism
Final­ly, giv­en Trump's embrace of all things Israel, it's per­haps unsur­pris­ing that his per­son­al anti-Semi­tism pass­es by with­out a hint of pushback.
He's direct­ly — and explic­it­ly — invoked the exact same anti-Semit­ic tropes that he and so many oth­ers false­ly attrib­uted to Rep. Ilhan Omar. Speak­ing to the right-wing Repub­li­can Jew­ish Coali­tion two days before the Israeli elec­tion, he direct­ly sug­gest­ed that Jews har­bor secret dual alle­giances. Brag­ging about his grant of legit­i­ma­cy to Israel's occu­pa­tion of Syr­i­an ter­ri­to­ry, Trump said, ​"I stood with your prime min­is­ter at the White House to rec­og­nize Israeli sov­er­eign­ty over the Golan Heights."
None of the Amer­i­can Jews in the room called out Trump on his assump­tion that they viewed Israel's leader as ​"their" prime min­is­ter, and few in the main­stream press raised a hint of con­cern about the anti-Semi­tism inher­ent in the remark.
Trump went even fur­ther, brazen­ly acknowl­edg­ing that mov­ing the U.S. embassy to Jerusalem was designed to please Shel­don and Miri­am Adel­son, his biggest donors. ​"We got you some­thing that you want­ed. I can tell you, Shel­don and Miri­am, that is the most impor­tant thing, I think, that ever hap­pened in their life."
The pres­i­dent was brag­ging about vio­lat­ing inter­na­tion­al law and over­turn­ing decades of U.S. pol­i­cy in order to keep his donors hap­py. Yet this unequiv­o­cal anti-Semi­tism didn't lead to calls for his removal from office, even as Rep. Omar was dragged over the coals for dar­ing to sug­gest that mon­ey in pol­i­tics played a role in U.S. polit­i­cal sup­port for Israel.
Cast­ing a long shadow
Hypocrisy aside, the con­se­quences of Trump's actions could be severe and long lasting.
Pub­lic dis­course around Israel has shift­ed dra­mat­i­cal­ly in recent years, with peo­ple across the coun­try —espe­cial­ly the pro­gres­sives now mak­ing their pres­ence known in Wash­ing­ton — express­ing far more crit­i­cism of the Israeli government's actions and U.S. sup­port for them, and far more sup­port for Pales­tin­ian rights.
Yet even with these shifts, some of these recent actions will be extra­or­di­nar­i­ly dif­fi­cult to undo.
How long will it take before a future U.S. pres­i­dent decides it's final­ly polit­i­cal­ly viable to announce that Iran's Rev­o­lu­tion­ary Guard Corps is now not to be con­sid­ered a ter­ror­ist orga­ni­za­tion? That sud­den­ly Israel's occu­pa­tion of the Golan Heights real­ly is in vio­la­tion of inter­na­tion­al law? That Jerusalem does not belong sole­ly to Jews and that the U.S. embassy needs to be moved back to Tel Aviv?
Crit­i­cism of Israel is no longer polit­i­cal sui­cide. But any future pres­i­dent would still have to expend far more polit­i­cal cap­i­tal to reverse these dam­ag­ing changes.
U.S.-controlled ​"peace process­es" have failed in Israel-Pales­tine for more than a quar­ter of a cen­tu­ry, but Trump's actions will pre­vent the U.S. from play­ing any poten­tial­ly benign diplo­mat­ic role in the future. And they'll sig­nif­i­cant­ly raise the threat of a U.S. war with Iran for a long time to come.
Is Netanyahu worth all that?
This arti­cle was orig­i­nal­ly pub­lished in For­eign Pol­i­cy In Focus and The Nation. It is reprint­ed with permission.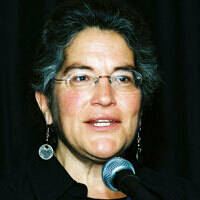 Phyl­lis Ben­nis
is a fel­low of the Insti­tute for Pol­i­cy Stud­ies. Her most recent book is the
2018
edi­tion of Under­stand­ing the Pales­tin­ian-Israeli Con­flict: A Primer.