The U.S. and Other Rich Countries Stonewalled $300 Billion Climate Relief Fund
Furious activists protested, but mandatory measures remained lacking as negotiations continue into the night on Friday.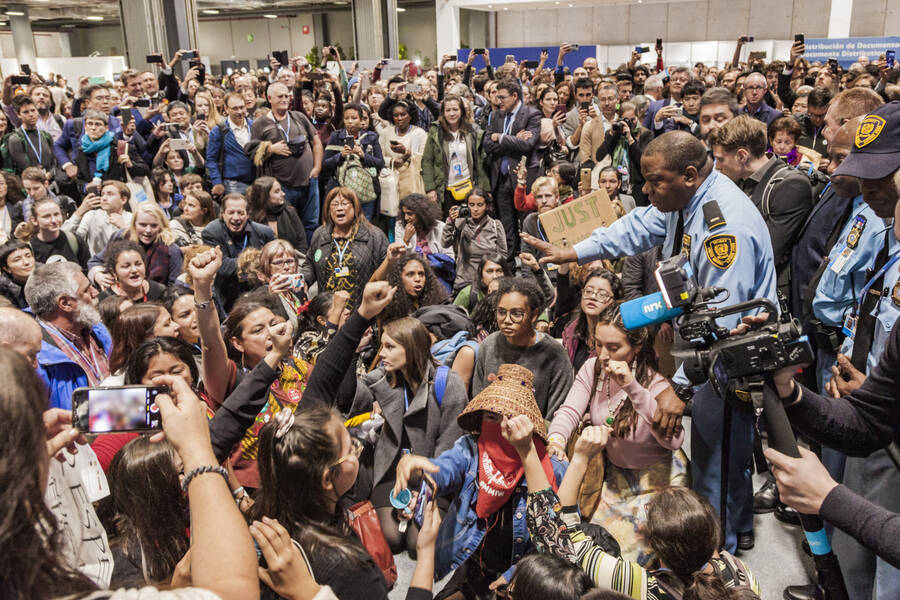 UPDATE: Observers called it the most bruis­ing — as well as inef­fec­tu­al — UN cli­mate sum­mit yet. Even UN Sec­re­tary-Gen­er­al Anto­nio Guter­res said he was dis­ap­point­ed with the out­come. Coun­tries were sup­posed to arrive at the annu­al meet­ing to dis­cuss plans for dra­mat­i­cal­ly ramp­ing up work to tran­si­tion to clean ener­gy and bring down emis­sions, but con­ver­sa­tions stalled over cre­ative car­bon account­ing loop­holes and devolved from there.
"It is the U.S., EU, Canada, Japan and Australia not allowing any progress."
As the last day of the con­fer­ence dawned on Sun­day, Decem­ber 15, the Unit­ed States and a few oth­er coun­tries had suc­ceed­ed in weak­en­ing lan­guage on ​"loss and dam­age" caused by cli­mate dis­as­ter, remov­ing even an unen­force­able men­tion of devel­oped coun­tries' respon­si­bil­i­ty to assist poor­er coun­tries to cope with cli­mate change. In nego­ti­at­ing ses­sions that went into the wee hours of the morn­ing, the Unit­ed States had got­ten the changes it want­ed, under­min­ing any future effort to assign cli­mate lia­bil­i­ty or make his­toric pol­luters pay more for their role in warm­ing the planet.
At one point in the final two-day marathon nego­ti­a­tions, the rep­re­sen­ta­tive from Tuvalu, an island in the Pacif­ic, sug­gest­ed that deny­ing cli­mate change could be inter­pret­ed as ​"a crime against humanity."
One sil­ver lin­ing: Coun­tries punt­ed on new car­bon trad­ing rules, for now.
MADRID — With cli­mate-relat­ed dis­as­ters hap­pen­ing ​"at the rate of one a week," accord­ing to the Unit­ed Nations, more than 150 civ­il soci­ety orga­ni­za­tions around the world are using the UN cli­mate nego­ti­a­tions this week to stand with the Glob­al South. They are push­ing for demands set out in an open let­ter to nego­tia­tors in Novem­ber, includ­ing a new glob­al cli­mate fund to aid poor coun­tries in the midst of cli­mate catastrophes.
The orga­ni­za­tions say it's about time for a rethink of cli­mate financ­ing as cli­mate-relat­ed dis­as­ters like extreme storms, droughts, floods and famines take a mount­ing eco­nom­ic toll on poor coun­tries. World­wide costs are esti­mat­ed to grow to between $300 and $700 bil­lion a year by 2030. To cov­er the costs, poor coun­tries must increas­ing­ly bor­row from devel­op­ment aid, which is ​"push­ing them into a debt trap," says Har­jeet Singh, glob­al lead on cli­mate change with Action­Aid Inter­na­tion­al, one of the 150-plus orga­ni­za­tions that signed the letter.
The Unit­ed States and oth­er wealthy coun­tries made a pledge in 2010 to com­mit $100 bil­lion annu­al­ly to assist poor­er coun­tries, but wealth­i­er coun­tries have con­sis­tent­ly failed to pay in. The new pro­pos­al calls for a com­pre­hen­sive and manda­to­ry new fund to help poor coun­tries recov­er that would make an addi­tion­al $50 bil­lion avail­able by 2022 and grad­u­al­ly increase the amount to $300 bil­lion a year by 2030.
The mon­ey would come from the wealthy coun­tries that are respon­si­ble for the vast major­i­ty of the emis­sions behind cli­mate change. Addi­tion­al funds could be raised from tax­es on air trav­el, fos­sil fuels and finan­cial trans­ac­tions. The mon­ey would go direct­ly to local orga­ni­za­tions work­ing in front­line com­mu­ni­ties in the Glob­al South to help with rebuild­ing, recov­ery and resilience efforts.
How­ev­er, with nego­ti­a­tions still going on as night­time fell in Madrid, all sug­ges­tion of addi­tion­al manda­to­ry cli­mate funds have met stiff resis­tance from wealthy coun­tries. The 47 mem­bers of the Least Devel­oped Coun­tries group pushed new ​"loss and dam­age" fund­ing com­mit­ments, using much of the lan­guage culled from the envi­ron­men­tal groups' pro­pos­al. But the rich coun­tries that would have to foot the bill, includ­ing the Unit­ed States, Singh says, ​"would not even engage."
Ear­li­er in the week, Singh expressed opti­mism about pro­pos­als for beef­ing up cli­mate recov­ery fund­ing through some­thing called The War­saw Inter­na­tion­al Mech­a­nism for Loss and Dam­age asso­ci­at­ed with Cli­mate Change Impacts, or WIM. But by late Thurs­day, a draft of WIM cir­cu­lat­ing among nego­tia­tors includ­ed no men­tion of addi­tion­al fund­ing but mere­ly urged devel­oped coun­tries and oth­ers to ​"scale up" their finan­cial com­mit­ments. The real­i­ty, Singh said, is that a fail­ure to man­date addi­tion­al fund­ing would mere­ly spread exist­ing funds around more thin­ly, thus ​"expos­ing more peo­ple to cli­mate disasters."
The lack of com­mit­ment to coun­tries in the Glob­al South has prompt­ed unprece­dent­ed protests this year, both inside of the nego­ti­at­ing halls, led by youth and indige­nous activists, and out­side on the streets, where an esti­mat­ed 500,000 peo­ple marched with Swedish teenag­er Gre­ta Thun­berg on Fri­day, Decem­ber 6. On Thurs­day more than 300 activists from around the globe protest­ed just out­side of the room where cli­mate talks were tak­ing place. Bang­ing on pots and pans in a ver­sion of what is known in Latin Amer­i­ca as a cacero­la­zo, they chant­ed slo­gans and yelled ​"Shame!" until secu­ri­ty guards round­ed them up, snatch­ing con­fer­ence IDs from around activists' necks and herd­ing them out of the building.
In response, UN offi­cials threat­ened to bar all inter­na­tion­al observers from the talks, say­ing the protests were ​"ille­gal" under the UN's code of con­duct. After tense nego­ti­a­tions, UN offi­cials agreed to let some but not all of the inter­na­tion­al observers back into the con­fer­ence after extract­ing promis­es not to car­ry out any more so-called ​"ille­gal protests." The Fri­days for Future orga­ni­za­tion respond­ed by call­ing an emer­gency cli­mate strike this after­noon worldwide.
Activists have denounced the UN for allow­ing oil com­pa­ny exec­u­tives to roam free while con­trol­ling the access of activists. ​"The UN should be kick­ing pol­luters out of the talks, but instead they are kick­ing peo­ple out," says Sara Shaw, inter­na­tion­al pro­gram coor­di­na­tor for cli­mate jus­tice and ener­gy at Friends of the Earth International.
Oil com­pa­nies and the U.S. gov­ern­ment have emerged as the biggest vil­lains of this year's con­fer­ence. Increas­ing­ly, com­pa­nies are look­ing to prof­itable approach­es like trad­ing in car­bon off­set projects. While win­ing and din­ing nego­tia­tors over drinks and canapes, indus­try experts, cor­po­rate friend­ly envi­ron­men­tal groups and cor­po­rate exec­u­tives have out­lined an array of ​"mar­ket-based solu­tions" to the cli­mate cri­sis — despite warn­ings from sci­en­tif­ic experts that it's mag­i­cal think­ing to assume the world can trade its way out of more than a frac­tion of the nec­es­sary emis­sions reduc­tions. This week's indus­try pro­pos­als include plans to launch broad new mar­kets in ​"nat­ur­al cli­mate solu­tions" that will involve invest­ing in every­thing from man­grove preser­va­tion to sus­tain­able farm­ing and more.
Mean­while, the Trump admin­is­tra­tion, which is in the process of with­draw­ing from the UN Paris cli­mate agree­ment, has tak­en advan­tage of its wan­ing nego­ti­at­ing pow­er to push for renewed assur­ances that the Unit­ed States and oth­er big pol­luters can't be held account­able for his­toric pol­lu­tion. This ​"lia­bil­i­ty" issue — the same one assail­ing the world's fos­sil fuel com­pa­nies — have been among the most con­tentious issues in past cli­mate nego­ti­a­tions, which is what led to the ​"loss and dam­age" pro­vi­sion being includ­ed to help poor coun­tries, in the first place. As nego­ti­a­tions con­tin­ued Fri­day, U.S. del­e­gates kept push­ing for a lia­bil­i­ty and com­pen­sa­tion waiv­er includ­ed in the final WIM doc­u­ment, a move that Tay­lor Billings of Cor­po­rate Account­abil­i­ty Inter­na­tion­al referred to in Buz­zfeed as ​"an ass-cov­er­ing maneuver."
"With this waiv­er, the U.S. is try­ing to torch crit­i­cal ele­ments of cli­mate action on its way out of the Paris Agree­ment — and cre­ate an escape hatch for pol­lut­ing coun­tries and poten­tial­ly cor­po­ra­tions," Billings told In These Times. ​"Across the nego­ti­a­tions, it's obvi­ous that the U.S. is attempt­ing to gut the Paris Agree­ment of any promise and poten­tial. That's what they've always done in these talks. Shame­ful­ly, it's not just the U.S. — the EU, Aus­tralia and Cana­da are help­ing the U.S. do its dirty work and cow­er­ing in Trump's shad­ow when ques­tioned about it."
"The U.S. is light­ing the house in fire as it's on its way out the door and Glob­al North gov­ern­ments like the EU, Aus­tralia and Cana­da are back­ing it every step of the way," said Billings' col­league Sri­ram Mad­hu­soodanan, deputy cam­paigns direc­tor of Cor­po­rate Account­abil­i­ty, at an Action­Aid press con­fer­ence on the final day of the cli­mate talks Friday.
Speak­ing on the con­di­tion of anonymi­ty because they were not autho­rized to talk on the record, one per­son involved in nego­ti­a­tions told In These Times that the Unit­ed States and oth­er devel­oped coun­tries have been unwill­ing to dis­cuss addi­tion­al fund­ing beyond the exist­ing com­mit­ments for cli­mate adap­ta­tion and resilience, in part because they don't want to open the door to fur­ther dis­cus­sion about cli­mate blame. It remains a thorny issue whether wealthy indus­tri­al­ized coun­tries should pay more to mit­i­gate the impacts of cli­mate change since they are respon­si­ble for the bulk of fos­sil fuel emis­sions, dat­ing back to the bring­ing of the Indus­tri­al Revolution.
"The U.S. has been very clear that it doesn't want any­thing more beyond adap­tion fund­ing, because if you start talk­ing about ​'loss and dam­age' it gets into the issue of who is respon­si­ble for the fos­sil fuel emis­sions that have cre­at­ed the cli­mate cri­sis," the nego­tia­tor says.
​"It is the U.S., EU, Cana­da, Japan and Aus­tralia that are not allow­ing any progress," con­curs Singh.
With poor and rich coun­tries still far apart, there's spec­u­la­tion that the nego­ti­a­tions may end with­out agree­ment on key issues. Some of the less cost­ly ideas out­lined in the open let­ter have found their way into the lat­est draft agree­ment. They include lan­guage stip­u­lat­ing a new ​"expert group" by 2020 to help poor coun­tries grap­pling with cli­mate dam­ages and the cre­ation of a ​"San­ti­a­go Net­work" for tech­ni­cal assis­tance, but with­out addi­tion­al fund­ing, those mea­sures are expect­ed to have lim­it­ed effect.
Orga­ni­za­tions that penned the open let­ter, which includ­ed 350​.org, Friends of the Earth Inter­na­tion­al and WWF Inter­na­tion­al, the Cen­ter for Bio­log­i­cal Diver­si­ty, the Indige­nous Envi­ron­men­tal Net­work and the Cli­mate Jus­tice Project, say they are not giv­ing up and will con­tin­ue to push a com­pre­hen­sive new approach to cli­mate finance even after this year's negotiation's wrap up. The pro­pos­al by Action­Aid and the oth­er 150-plus groups also backs a tem­po­rary inter­est-free mora­to­ri­um on for­eign debt pay­ments of poor coun­tries in the throes of cli­mate dis­as­ters. But that idea didn't even get dis­cussed by nego­tia­tors this year.
Dylan Hamil­ton, a Fri­days for Future activist from Scot­land, said in a press con­fer­ence in Madrid today that the UN process ​"has failed us again" and promis­ing to bring an even big­ger fight next year at the 26th annu­al con­fer­ence in Glas­gow, Scot­land, a half hour from where Hamil­ton lives.
"Get ready," she said. ​"We're going to be even big­ger next year."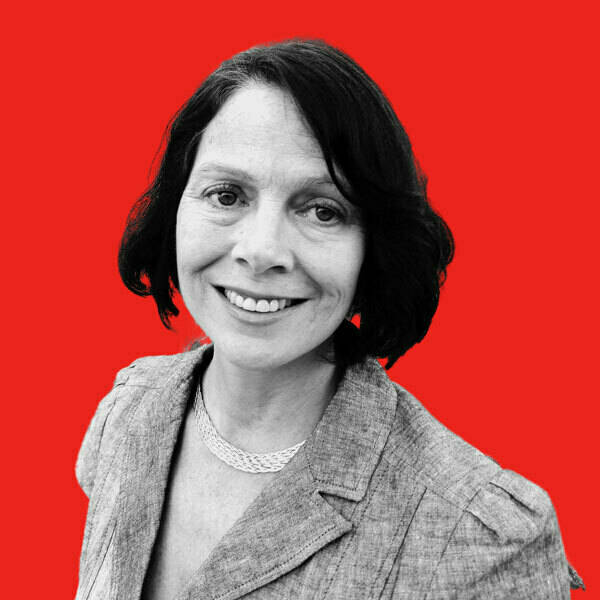 Chris­tine Mac­Don­ald is an inves­tiga­tive reporter and author, whose work focus­es cli­mate change, envi­ron­men­tal sus­tain­abil­i­ty and green­wash­ing. She was a 2019 – 2020 fel­low with the Leonard C. Good­man Insti­tute for Inves­tiga­tive Reporting.