Yes, the UAW Lost Again in Chattanooga. But a Rank-and-File Movement Could Win.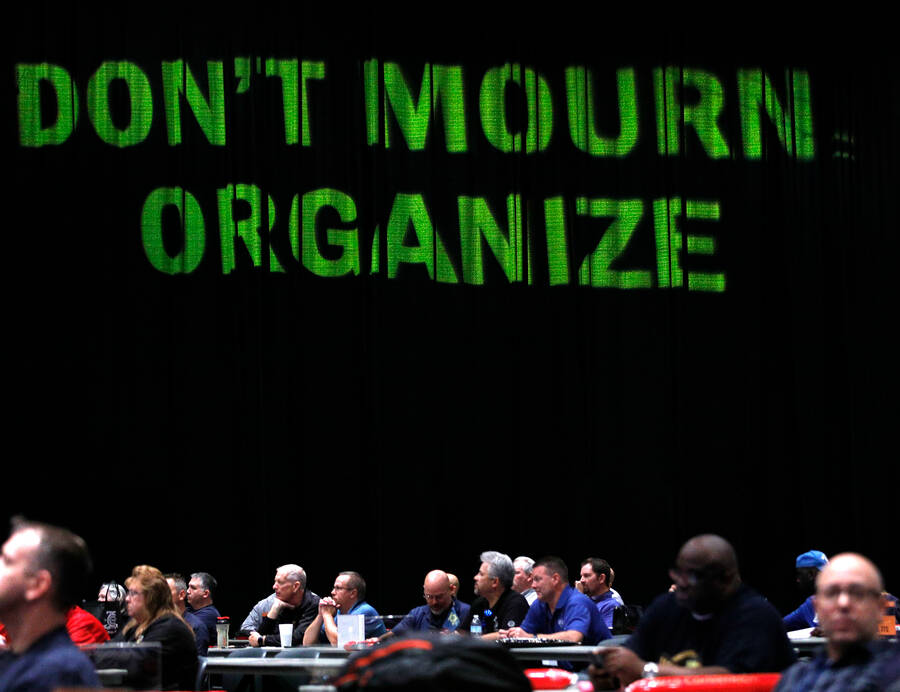 It was a bad sign. On the day vot­ing began at the Volk­swa­gen plant in Chat­tanooga, Ten­nessee, the shift change sud­den­ly turned blue.
Throngs of work­ers were pass­ing through the fac­to­ry turn­stiles in both direc­tions, as the day shift end­ed and the night shift began. On the pre­ced­ing days, hand­fuls of union sup­port­ers in bright green shirts were there to hand out fly­ers and ban­ter with their co-workers.
But on Wednes­day, instead of bustling union activists, a sea of work­ers passed qui­et­ly through the turn­stiles wear­ing the blue anti-union ​"One Team: I Am Volk­swa­gen" shirts pro­vid­ed by the company.
Only a few work­ers were wear­ing the Unit­ed Auto Work­ers shirts. Union sup­port­ers were vis­i­bly out­num­bered by as much as 20 to 1.
This scene was a warn­ing of what was to come. On Fri­day night, the votes were count­ed and the union lost in anoth­er heart­break­ing close vote, 776 yes to 833 no. Nine­ty-three per­cent of eli­gi­ble work­ers cast ballots.
MISSED OPPOR­TU­NI­TY
What went wrong? Most obvi­ous­ly, the 1,700 hourly pro­duc­tion work­ers vot­ing were sub­ject to a bru­tal employ­er cam­paign quite unlike VW's stud­ied neu­tral pos­ture in the 2014 dri­ve, which the union lost narrowly.
This time, although Volk­swa­gen con­tin­ued to claim neu­tral­i­ty, super­vi­sors inside the plant were hell-bent on scar­ing and cajol­ing work­ers into vot­ing no.
Mean­while out­side the plant, work­ers faced a rerun of the 2014 bar­rage of pres­sure. Busi­ness-backed astro­turf groups flood­ed the air­waves and tele­vi­sion with ads attack­ing the UAW. The state's politi­cians threat­ened to with­draw sup­port for state incen­tives tied to an upcom­ing plant expan­sion and pro­duc­tion of a new elec­tric vehicle.
As ter­ri­ble as these attacks on work­ers were, they were also pre­dictable. Why didn't the union have a plan to defeat them?
Based on con­ver­sa­tions with dozens of pro-union work­ers, it's clear that the union did not orga­nize a high-par­tic­i­pa­tion, in-plant cam­paign capa­ble of with­stand­ing a strong boss fight.
While the union spent tens of thou­sands of dol­lars on radio and tele­vi­sion ads, it also had no sub­stan­tive cam­paign to bring com­mu­ni­ty pres­sure on the com­pa­ny. Nor did it attempt to orga­nize and lever­age the much small­er num­ber of work­ers at Volkswagen's near­by parts sup­pli­ers, where a well-placed job action could bring the whole VW plant to a halt.
And while the boss's anti-union tac­tics were run-of-the-mill, work­ers weren't warned. Inoc­u­la­tion about what to expect, includ­ing a sud­den ​"Mr. Nice Guy" act from the com­pa­ny, should be stan­dard in any union drive.
VW'S U‑TURN
Volk­swa­gen made a U‑turn on union­iza­tion in 2015 after a cost­ly scandal.
It came out that the com­pa­ny had installed soft­ware on 11 mil­lion ​"clean diesel" vehi­cles, allow­ing them to pass emis­sions tests despite pump­ing out tox­ic gas up to 40 times beyond the legal limit.
Mul­ti­ple com­pa­ny exec­u­tives have since been tried crim­i­nal­ly, and the com­pa­ny paid a cumu­la­tive $30 bil­lion in fees after var­i­ous coun­tries brought legal action against it.
The aver­age pay and ben­e­fits for work­ers at the Chat­tanooga plant are the low­est of any U.S. auto plant, accord­ing to a 2015 study by the Cen­ter for Amer­i­can Research.
Reel­ing from the finan­cial wreck­age of ​"diesel­gate," Volk­swa­gen man­age­ment want­ed to keep it that way.
UNDER PRES­SURE
In ear­ly April, work­ers peti­tioned for a union elec­tion. The union hoped for an elec­tion by the end of April — but the machi­na­tions of the Trump Labor Board delayed the vote until mid-June.
VW had pre­vi­ous­ly hired the noto­ri­ous union-bust­ing law firm Lit­tler Mendel­son to put the brakes on a 2015 elec­tion of 160 skilled trades work­ers. The com­pa­ny refused to bar­gain with this new bar­gain­ing unit, and the case spent years wind­ing through the courts.
Even­tu­al­ly, the UAW aban­doned the skilled trades unit — but not before Lit­tler Mendel­son used it as the basis for a legal chal­lenge against the new union petition.
The com­pa­ny took full advan­tage of the extra six weeks to dole out both threats and rewards.
Man­agers made a series of improve­ments. They began cool­ing the plant ear­li­er in the week, changed the wardrobe pol­i­cy to allow shorts, adjust­ed the week­ly shift sched­ule from five eight-hour days to four 10-hour days, and boot­ed out mul­ti­ple man­agers, includ­ing the unpop­u­lar plant CEO Anto­nio Pinto.
The union should have trum­pet­ed these improve­ments as the first union vic­to­ries work­ers had won — look how pow­er­ful you are, and you haven't even got­ten to the table yet! It didn't.
Man­age­ment also began using manda­to­ry morn­ing meet­ings as an oppor­tu­ni­ty to pass out anti-union fly­ers. Work­ers who dared to wear pro-union stick­ers and UAW-brand­ed safe­ty glass­es were pres­sured to take them off, and did. Secu­ri­ty guards were sent out to harass work­ers hand­ing out fly­ers in the park­ing lot.
Ten­nessee Gov­er­nor Bill Lee led his own anti-union meet­ing in the plant on April 29, the orig­i­nal date that the UAW had hoped the elec­tion would be held. Two days lat­er, the newslet­ter that was read aloud stat­ed that the $50 mil­lion incen­tive deal tied to the plant's expan­sion and new elec­tric vehi­cle line was still ​"sub­ject to final agree­ment with Gov­er­nor Lee's admin­is­tra­tion." Work­ers took this as a threat.
Super­vi­sors also hand­ed out a fly­er insin­u­at­ing that a vote for the union was a vote to close the plant — a point that CEO Frank Fis­ch­er also ham­mered dur­ing all-plant cap­tive-audi­ence meet­ings he led at the end of May.
FAIL­URE TO LAUNCH
The company's anti-union tac­tics were hor­ri­ble — but also stan­dard fare. VW behaved the way most U.S. employ­ers do when work­ers try to orga­nize a union.
Attacks from out­side groups and politi­cians are not so com­mon. But this was round two, and the bar­rage looked an awful lot like what the union faced dur­ing its pre­vi­ous failed effort at this plant. The same thing hap­pened to the UAW's cam­paign at Nis­san in Mis­sis­sip­pi and the Machin­ists' cam­paign at Boe­ing in South Car­oli­na. At least in the South, we should expect it from now on.
In oth­er words, the UAW is not blame­less. The union didn't build a fight­ing orga­ni­za­tion at the shop floor lev­el — which is what it takes to win an elec­tion under that kind of pressure.
"There was no orga­ni­za­tion geared to bring­ing peo­ple togeth­er," said a pro­duc­tion work­er of sev­en years, who asked to remain anony­mous. ​"They said if we launch peti­tion cam­paigns and win on issues, then there would be less demand for a union.
"So it all boiled down to sup­port­ing the UAW's plan, not bring­ing work­ers togeth­er to sup­port one another."
The UAW's strat­e­gy hinged on get­ting a quick elec­tion — sup­port­ers hoped to vote with­in a few weeks after fil­ing the peti­tion. This would have min­i­mized the impact from the com­pa­ny and anti-union groups, which were caught off guard.
"Volk­swa­gen had done such a good job screw­ing up so many areas of the plant that there was a lot of reluc­tant momen­tum for a union," said the same work­er, ​"not because they love the UAW, but because they think a union is the only means to change things for the better."
But the sup­port wasn't strong enough to with­stand months of heat from the company.
NO ESCA­LA­TION PLAN
In a strong union cam­paign, orga­niz­ers help work­ers to iden­ti­fy the work­place lead­ers who oth­ers respect most, and recruit them to the orga­niz­ing committee.
The com­mit­tee iden­ti­fies work­place issues that are deeply and wide­ly felt in the plant — like the ram­pant injuries due to the high turnover and fast line speed — and move co-work­ers into col­lec­tive action to start chal­leng­ing the company.
For instance, dur­ing the 2008 UFCW cam­paign to orga­nize 5,000 work­ers at the Smith­field Food slaugh­ter­house in North Car­oli­na, activists used col­lec­tive action so the union would have a liv­ing pres­ence in the plant before it even won the election.
The orga­niz­ing com­mit­tee got over 1,000 work­ers to wear union shirts into the plant. They held pub­lic hear­ings where work­ers spoke about the harsh con­di­tions in the plant and the injuries they suf­fered. They built up to a job action where 1,000 work­ers walked off the job, shut down the lines, and led ral­lies with the com­mu­ni­ty in front of the plant.
A one-day strike in the live­stock depart­ment — a choke­point in the pro­duc­tion process that shut the rest of the com­pa­ny down — led to work­ers win­ning seri­ous con­ces­sions and spurred mil­i­tan­cy among the rest of the plant. Activists also led union meet­ings in the cafe­te­ria dur­ing lunch, where work­ers dis­cussed issues and chanted.
Actions like these help work­ers build con­fi­dence in them­selves and in one anoth­er, and a sense of col­lec­tive pow­er. They prove that man­age­ment and employ­ees do not have the same inter­ests, despite all the ​"one team" rhetoric — and that the boss doesn't hold all the cards.
They also pro­vide the orga­niz­ing com­mit­tee with a much more real­is­tic assess­ment of who will vote for the union. It's one thing to sign a card in the pri­va­cy of your liv­ing room, or tell an orga­niz­er on the phone what he or she wants to hear.
It's anoth­er thing to pub­licly wear a stick­er, hand out fly­ers in front of the turn­stiles, attend a union meet­ing in the cafe­te­ria dur­ing lunch, or sign a peti­tion and go with a group to deliv­er it to the boss. Some­one who does those things is far more like­ly to sus­tain their union sup­port under intense pressure.
Accord­ing to pro-union activists, the UAW believed it had a clear major­i­ty com­mit­ted to vote yes. But those assess­ments clear­ly didn't hold up. Most were based on con­ver­sa­tions, not backed up with col­lec­tive action.
SCAT­TERED PARTICIPATION
There were a hand­ful of actions, but no sys­tem­at­ic cam­paign. And par­tic­i­pa­tion was weak — which sent the wrong mes­sage, dis­play­ing the union's vulnerability.
"Some peo­ple wear shirts and but­tons and stick­ers, but it's not any­where close to the num­bers of peo­ple who signed cards," said assem­bly line work­er Mark Dougher­ty in an inter­view weeks before the election.
Mul­ti­ple orga­niz­ing com­mit­tee mem­bers told me that the peak action at the plant was when 30 to 40 work­ers hand­ed out fly­ers by the front entrance, then walked in together.
Some had hoped to break that record on Tues­day — the day before vot­ing began and the day after the company's last cap­tive-audi­ence meet­ing. Only about a dozen work­ers in UAW shirts showed up.
"Peo­ple around here get scared. They're scared of their super­vi­sors. Scared of the plant clos­ing," said anoth­er work­er who asked not to be iden­ti­fied because of fear of man­age­ment retal­i­a­tion. ​"Many think it's the best job they've ever had or could get. So I think most peo­ple can get scared into not voting."
ROADS NOT TAKEN
After the 2014 elec­tion, local orga­niz­ers and labor activists point­ed to anoth­er fac­tor that con­tributed to the union loss: the UAW had no seri­ous cam­paign to involve the com­mu­ni­ty in the union fight. The same was true this time around.
The only pro-union com­mu­ni­ty event was a ral­ly in down­town Chat­tanooga, pulled togeth­er hasti­ly and despite the UAW's reluc­tance. About 70 peo­ple showed up. In con­trast, management's ​"fam­i­ly day" at the plant drew 5,000 peo­ple the week before the election.
Pub­lic pres­sure on an employ­er can be a deter­rent, dis­cour­ag­ing some of the worst anti-union behavior.
For exam­ple, while teach­ers were get­ting their orga­niz­ing dri­ve going at a char­ter school chain in Chica­go, the union qui­et­ly approached influ­en­tial com­mu­ni­ty lead­ers who had ties to the CEO and board mem­bers, and lined up their support.
The day the teach­ers marched on their prin­ci­pals to announce their union dri­ve pub­licly, these allies start­ed call­ing the com­pa­ny with advice: Be rea­son­able. Don't go to war. With­in a few days, the CEO fired the union-buster he had hired.
At Smith­field, the union got local church­es, soc­cer clubs, and civ­il rights lead­ers to show the work­ers, ​"We are with you." It also held pub­lic hear­ings on the abus­es of work­ers, and large pub­lic ral­lies that gar­nered nation­al media atten­tion. The hor­ri­ble con­di­tions in the plant became syn­ony­mous with the Smith­field brand — hit­ting the com­pa­ny in its bot­tom line.
The UAW could have orga­nized a nation­al cam­paign for sol­i­dar­i­ty protests at Volk­swa­gen deal­er­ships, inform­ing poten­tial con­sumers about the company's envi­ron­men­tal scan­dal and anti-work­er record. The scruti­ny might have tem­pered VW's activ­i­ties, and the pub­lic sup­port might have giv­en work­ers a boost.
Instead, the union spent near­ly $50,000 in radio and tele­vi­sion ads to match the aggres­sive air war from the oth­er side. Dri­ving into the plant, you would pass bill­boards alter­nat­ing pro- and anti-union mes­sages. If you turned on your radio, you would hear com­mer­cials from both sides. The union even had video mes­sages run­ning on the pumps at gas sta­tions near the plant.
The total effect was deaf­en­ing; peo­ple just want­ed it all to end. That's not the atmos­phere that wins union elections.
MISSED LEVER­AGE
There was also no attempt to flex work­ers' struc­tur­al power.
Like oth­er for­eign-owned automak­ers, Volk­swa­gen relies on parts sup­pli­ers that are clus­tered near the plant (some are lit­er­al­ly a short walk away) to facil­i­tate quick trans­port. These sup­pli­ers don't ware­house parts; instead they pro­duce them quick­ly, on demand.
Through this just-in-time pro­duc­tion sys­tem, for­eign automak­ers have gained a tremen­dous com­pet­i­tive advan­tage over the Big Three domes­tic automak­ers. The Big Three aban­doned such a sys­tem because of its one crit­i­cal vul­ner­a­bil­i­ty: it can pro­vide work­ers with tremen­dous pow­er over the company.
"There are parts plants that pro­duce the huge bulk of parts for the cars being assem­bled," said Joshua Mur­ray, a schol­ar on cor­po­rate pow­er and behav­ior at Van­der­bilt Uni­ver­si­ty. ​"If you shut those plants down, then all of pro­duc­tion is affected."
What if the UAW had start­ed by orga­niz­ing these parts plants? The num­ber of work­ers there is much small­er. Col­lec­tive action there could bring pro­duc­tion at the whole Volk­swa­gen plant to a grind­ing halt and win con­ces­sions from the com­pa­ny. The real-life exam­ple of effec­tive mil­i­tan­cy would do more to inspire Volk­swa­gen work­ers than a hun­dred TV com­mer­cials ever could.
"What is impor­tant for work­ers to remem­ber is that the union is work­ers, and it is their lever­age in the sys­tem that gives them pow­er," said Mur­ray. ​"And even if the union lead­ers don't know it, you can take action with­out them.
"Busi­ness depends on work­ers to func­tion, and if you can fig­ure out the most effec­tive way to with­hold your coop­er­a­tion on that, you can beat anybody."
A LOS­ING RECORD
The UAW's con­tin­ued loss­es in the South are not a reflec­tion on the work­ers who live there.
Those loss­es are the result of high­ly sophis­ti­cat­ed and intense anti-union cam­paigns by employ­ers, busi­ness groups, and politicians.
They are also the result of the unso­phis­ti­cat­ed, shal­low orga­niz­ing approach of the UAW.
Even if the union had won the elec­tion, its weak and con­flict-averse orga­niz­ing approach rais­es seri­ous ques­tions about whether it could have won a first con­tract — or a good one.
The UAW should be approach­ing a union dri­ve like this as the fight of its life. It shouldn't leave any­thing to chance. It should fight with the same courage and tenac­i­ty as the work­ers who are organizing.
As the indict­ments in the Chrysler cor­rup­tion scan­dal have revealed, com­pa­ny exec­u­tives encour­aged union lead­ers to secret­ly fun­nel mon­ey from the joint­ly run train­ing cen­ter into their own pock­ets. Accord­ing to the Depart­ment of Jus­tice, the company's goal was to keep union lead­ers ​"fat, dumb and happy."
The UAW's long-term com­mit­ment to ​"labor-man­age­ment part­ner­ship" is the par­ent of not only the fes­ter­ing cor­rup­tion scan­dal, but also the union's tooth­less and inef­fec­tive orga­niz­ing. Both need to be washed away.
Unfor­tu­nate­ly, none of that is like­ly to hap­pen in the absence of a rank-and-file reform move­ment to trans­form the union from the bot­tom up.
This post first appeared at Labor Notes.
Chris Brooks
is a staff writer and labor edu­ca­tor at
Labor Notes,
where he cov­ers the Unit­ed Auto Work­ers. He is a mem­ber of the Nation­al Writ­ers Union (UAW Local
1981
).