Lipstick on a Gig: Why We Should Be Very Skeptical of Uber's New "Portable Benefits" Scheme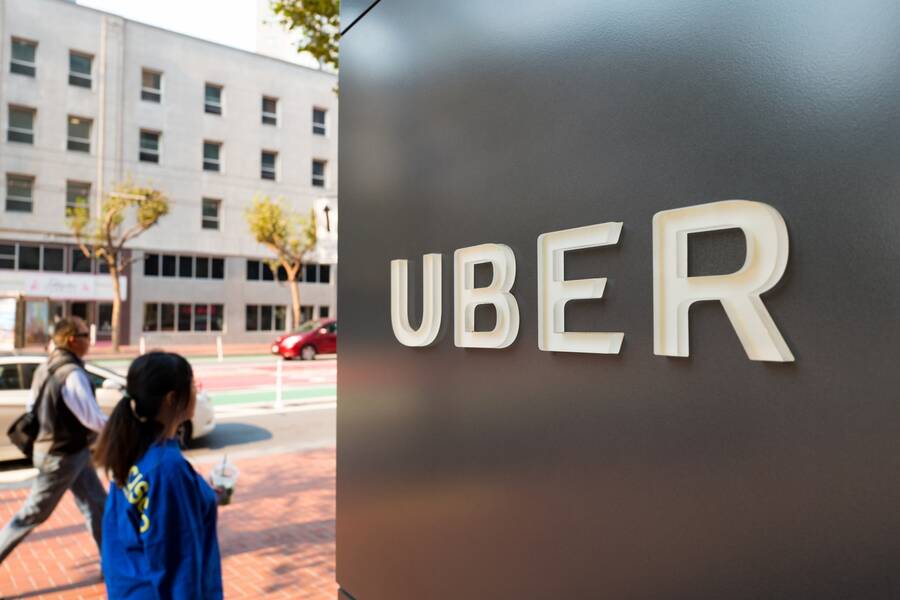 In 2016, the New York Taxi Work­ers Alliance (NYT­WA) filed a class-action law­suit against Uber, claim­ing the rideshare giant denied them ben­e­fits, even though they were full-time work­ers. The com­pa­ny accom­plished this, the suit charged, by clas­si­fy­ing work­ers who spent ​"six or sev­en" days a week ​"labor­ing for 12-plus-hour shifts" as inde­pen­dent contractors.
These griev­ances will like­ly sound famil­iar. Uber is wide­ly reviled for its instru­men­tal role in cre­at­ing a ten­u­ous 21st-cen­tu­ry gig econ­o­my fueled by a pre­cari­at of con­tract­ed dri­vers — a point count­less news out­lets have exhaus­tive­ly detailed. As a result of that neg­a­tive press, and a rash of addi­tion­al law­suits chal­leng­ing Uber's labor abus­es, the com­pa­ny now osten­si­bly seeks to mit­i­gate the dam­age it's done.
Last week, Uber float­ed the con­cept of a ​"portable ben­e­fits sys­tem" for its dri­vers in Wash­ing­ton state, where­in con­tract work­ers would be able to trans­fer ben­e­fits from job to job. While the plan's con­tours remain unknown, at least pub­licly, the com­pa­ny has used the ini­tia­tive to advance its image as a pro­tec­tor of labor rights. It is not imme­di­ate­ly appar­ent who would fund the sys­tem, but Uber indi­cat­ed in its state­ment that it aims to ​"cre­ate arrange­ments for social invest­ments from pri­vate and pub­lic sources." Uber acknowl­edges that work­ers need to ​"pro­tect them­selves and their loved ones" amid infir­mi­ty and retire­ment. The com­pa­ny vaunts its engage­ment with David Rolf, pres­i­dent of the Ser­vice Employ­ees Inter­na­tion­al Union (SEIU) 775, which rep­re­sents work­ers in Wash­ing­ton and Montana.
The propo­si­tion, how­ev­er, smacks of insin­cer­i­ty. Rather than an effort to improve work­ers' lives, it's like­ly a ploy to jus­ti­fy and obscure the volatile labor con­di­tions the com­pa­ny has cre­at­ed in the name of cut­ting costs.
There are many rea­sons to ques­tion Uber's sud­den sym­pa­thy with union orga­niz­ers and work­ers. The loca­tion choice of Wash­ing­ton state, for exam­ple, is reveal­ing. The announce­ment fol­lows the intro­duc­tion of a state bill that would require com­pa­nies to con­tribute funds to third-par­ty providers to offer such ben­e­fits as paid time off, health insur­ance, auto insur­ance, and retire­ment to con­trac­tors. It's thus prob­a­ble that, fear­ing the oblig­a­tion to spend more on work­ers and an onslaught of work­er-mis­clas­si­fi­ca­tion law­suits, Uber sim­ply seeks to obvi­ate any new finan­cial losses.
Fur­ther­more, Uber has vehe­ment­ly opposed work­er orga­niz­ing with­in the city of Seat­tle. In 2015, the Seat­tle City Coun­cil passed an unprece­dent­ed law allow­ing Uber and Lyft dri­vers to union­ize. The move incurred a law­suit from Uber, which has since adopt­ed an anti-union pro­pa­gan­da cam­paign fea­tur­ing tele­vi­sion com­mer­cials, pod­casts and a ​"dri­ver inde­pen­dence" ini­tia­tive known as Dri­ve For­ward Seat­tle. (Uber has not replied to a request for comment.)
While SEIU's Rolf has thrown his pub­lic sup­port behind the ini­tia­tive, his posi­tion doesn't rep­re­sent that of labor more broad­ly — or even of his inter­na­tion­al union. Hec­tor Figueroa, who serves as pres­i­dent of SEIU's East Coast prop­er­ty ser­vices affil­i­ate, told Bloomberg, ​"This is just a facelift by Uber to be able to look like they actu­al­ly care about the peo­ple who they hire for the ser­vices they pro­vide. I just can­not com­pre­hend how today, as a labor leader, I would be encour­ag­ing the spread of ​'inde­pen­dent' work."
NYT­WA direc­tor Bhairavi Desai added in an inter­view with Bloomberg, ​"This type of bogus agree­ment only gives them cov­er for exploita­tion. Sell­ing out to the boss­es is not inno­v­a­tive — It's as old as capitalism."
Rolf did not respond to a request for comment.
In unrolling the scheme, Uber also col­lab­o­rat­ed with Nick Hanauer, a Seat­tle ven­ture cap­i­tal­ist who's worked along­side Rolf in rais­ing the min­i­mum wage and sev­er­ing ties with Well Far­go. Hanauer, a yacht-own­ing bil­lion­aire who's invest­ed in the ruth­less­ly anti-work­er Ama­zon, has sought to make the case for ​"sav­ing Amer­i­can cap­i­tal­ism." Based on his writ­ings, Hanauer doesn't so much seek to ensure secu­ri­ty and morale for the mul­ti­tude as to stave off its pitch­forks. (Hanauer has not respond­ed to a request for comment.)
Such pro-busi­ness wran­gling of lim­it­ed work­er pro­tec­tions has become a trend among tech elites. Mark Zucker­berg, Sam Alt­man and oth­er indus­try exec­u­tives have ten­dered pub­licly-fund­ed basic-income schemes, puta­tive­ly seek­ing to hedge the impact of income inequal­i­ty. Yet, while Alt­man and oth­ers have sug­gest­ed an income floor, there is not an equal push for an income ceil­ing. Mean­while, as they out­source wages to the gov­ern­ment, these indi­vid­u­als con­tin­ue to sup­port a free-mar­ket sys­tem for hous­ing, health­care and oth­er essentials.
Uber insists that ​"the Amer­i­can social safe­ty sys­tem, which was designed in the 20th cen­tu­ry for a very dif­fer­ent econ­o­my, has not kept pace with today's work­force" and that a ben­e­fits sys­tem must accom­mo­date ​"more flex­i­ble, inde­pen­dent" forms of work. While it's true that the social-safe­ty net, or lack there­of, has failed vast num­bers of Amer­i­cans — regard­less of their employ­ment sta­tus — this isn't for the rea­sons Uber implies. The com­pa­ny would have the pub­lic believe that the tem­po­rary-work econ­o­my it's helped to shape is the way of the future, and that eco­nom­ic, polit­i­cal and social sys­tems must adapt. What it neglects to address, how­ev­er, is the unten­abil­i­ty of expect­ing work­ers to drift from one low-wage gig to anoth­er while their costs of liv­ing con­tin­ue to soar.
The eco­nom­ic and psy­cho­log­i­cal bur­dens on Uber dri­vers are far too heavy for any ven­ture cap­i­tal­ist or CEO to lift. Work­ers don't need cor­po­rate exploita­tion mas­querad­ing as inven­tive jus­tice. They need free, acces­si­ble neces­si­ties and lib­er­a­tion from demor­al­iz­ing labor. Far from solv­ing a prob­lem it's cre­at­ed, Uber is mere­ly chis­el­ing away at it, as lucra­tive­ly as it can, until the next law­suit sur­faces. If Hanauer and his cohorts tru­ly seek to quell the mass­es, it seems they'll have to find anoth­er way.
Julianne Tveten
writes about tech­nol­o­gy, labor, and cul­ture, among oth­er top­ics. Her work has appeared in The Nation, Cap­i­tal
&
Main, KPFK Paci­fi­ca Radio, and elsewhere.