"UC for the Many, Not the Few": Solidarity on the California Picket Lines, In Photos
Thanks to thousands of solidarity strikers, this was the largest strike of 2019.
NEARLY 40,000 WORKERS AT THE UNIVERSITY OF CALIFORNIA (UC) WENT OUT ON A 24-HOUR STRIKE MARCH 20.
The strike, which took place at all 10 campuses and 5 medical centers affiliated with the UC system, is the largest strike of 2019 to date, thanks to the significant number of solidarity strikers.
The strike was called by the University Professional and Technical Employees (UPTE), CWA 9119, which represents 10,000 research and technical workers. Joining them in a solidarity strike were 5,000 health care workers also represented by UPTE, as well as 27,000 patient care and service workers represented by UC's largest union, AFSCME 3299. All three groups of workers are currently working without a contract. Both unions have been in negotiations with UC for 22 months.
On the UC-Berkeley campus Wednesday, hundreds of striking cooks, custodians, gardeners, stage hands, social workers, lab techs and other workers picketed, often in pouring rain, in front of the university's main entrance.
Their rain-soaked picket signs read, "UC for the Many, Not for the Few," and picketers could be heard chanting "Education is a right, not just for the rich and white!"
Like thousands of other striking educational workers this year, the UC workers' strike raised concerns about how the privatization of education and the outsourcing of jobs drives deep race, class and gender inequalities for educational workers and the students, patients and communities they serve.
AFSCME 3299 Executive Director Liz Perlman, speaking to In These Times from the UCLA medical center picket line, explained, "There's a shadow workforce of thousands of workers who are paid half of what directly employed UC workers make, and who get no benefits, no health care, and have to rely on the state to survive. These workers are doing the exact same work, cleaning the exact same toilets, side by side our members for years at a time."
"The university is increasingly relying on those workers so they can use the money they save to reward those at the top. These workers—much like our members—are immigrants, people of color, and black and brown women who are the anchor in their family. When they are exploited, it exploits the entire community," continued Perlman.
In 2017, the California State Auditor found that the UC Office of the President was paying exorbitant salaries to top-level executives and had failed to disclose $175 million in budgetary reserves, trashed by many in the media as a secret slush fund for administrators' pet projects. At the the time of the report, UC had proposed a 3 percent hike in student tuition and was increasingly outsourcing once-career pathway jobs to private corporations that pay workers less.
According to a press release by UPTE, to try to curb this subcontracting and to defend full-time, living wage jobs, the union is demanding: "No more contracting out of University work to private companies, overtime-pay after 8 hours like other California workers, a path to full-time career positions, and no cuts to benefits."
Multiple calls to the UC public affairs office for comment were not returned by the time this was published.
Vermont Senator and 2020 presidential hopeful Bernie Sanders spoke in support of striking workers at the UC-Los Angeles campus on Wednesday. Workers were expected back at work today.
"Workers went back to work today feeling strong about yesterday and inspired by being joined in Los Angeles by Bernie Sanders," said Dan Russell, IT worker at UC Berkeley and Executive Vice President of UPTE, on March 21. "His presence helped reinforce that we're part of a nationwide movement against inequality and that we are on the right side of this struggle."
Here are some of the faces and voices of union members and their allies on the picket line at the UC Berkeley campus yesterday.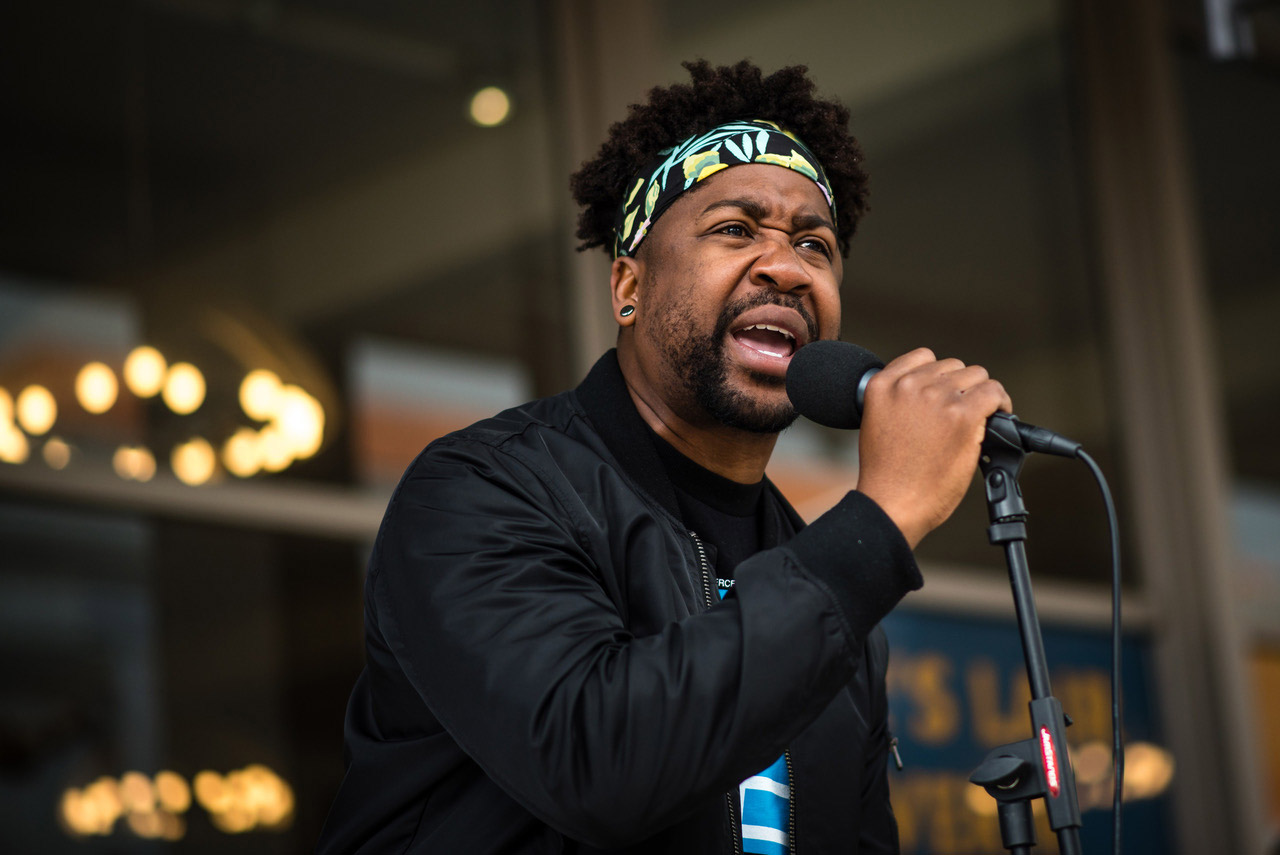 Tobirus Newby, a clinical social worker at UC Berkeley and Vice President of UPTE, speaks at a rally outside the UC Berkeley Student Union on Wednesday. Newby, who is on the bargaining team for the union, made a direct connection between workers' rights and support services for students. "One of the primary tactics of capitalist corporate structures is to compartmentalize and fracture us. But, as social workers, we have an ethic to care for people above all else. In all my years of being a therapist and working with trauma, substance use, and the heaviest of issues, I've learned that if I'm not cared for, I cannot care for. Students get that. That's why so many of them are here supporting us."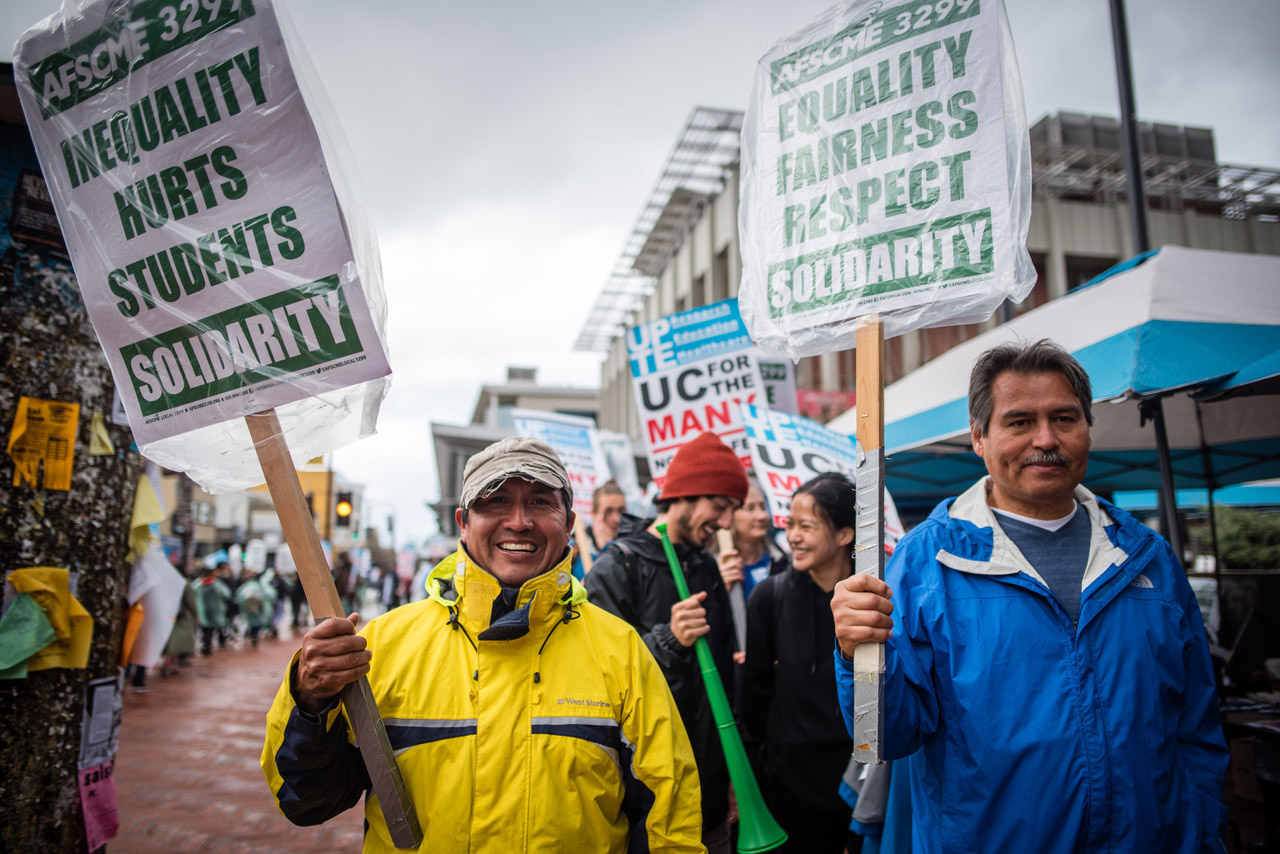 Abel Salas (left), a gardener of 20 years, and Constancio Gonzalez (right), a dining hall worker of 25 years—both UC Berkeley employees and members of AFSCME 3299—walk the picket line together. "We want a fair contract. The University's offer at the negotiating table last week was ridiculous. They're trying to subcontract our work, raise the retirement age, and increase our health care co-pays. We won't accept this. We also have to be alert about corruption at the university. We heard about scandals at other universities in which children of wealthier people were admitted unfairly. If you're to be evaluated, it should be on your studies, not your economic class. As working-class people, we won't accept this favoritism."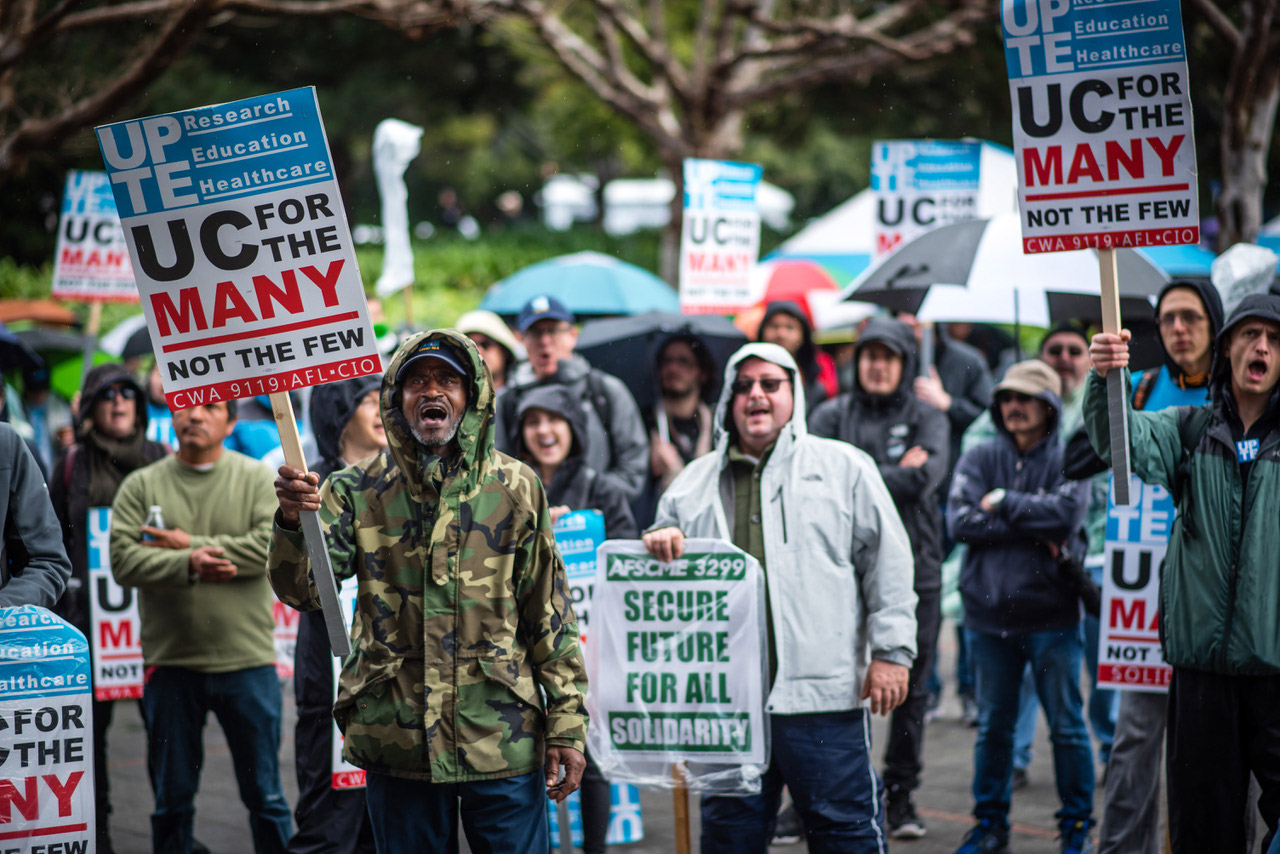 Tony Smith, an animal technician in cancer research at the Lawrence Berkeley National Laboratory at UC Berkeley, reacts to speeches at a noontime rally on campus. Smith has worked at the University for 24 years and is a member of UPTE.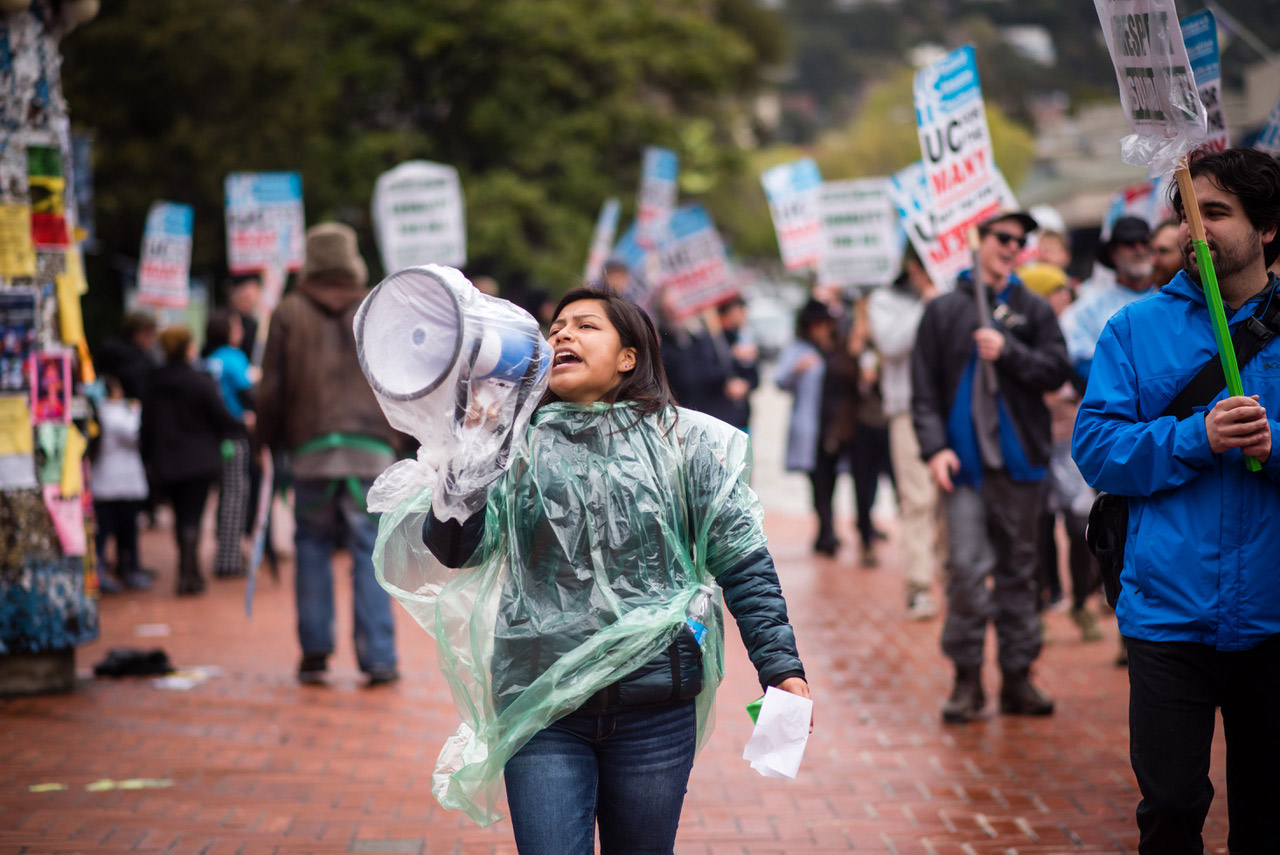 Jessica Gonzalez, a Junior at UC Berkeley, leads chants on the picket line. Gonzalez, who has been organizing other students to support the strike, said, "The workers are part of my community. My parents are custodians and kitchen staff at my high school, so I know the struggle. I saw them hustle too. Workers are hella exploited at this university. I go here, so it's my responsibility to stand up for the workers who make this place run."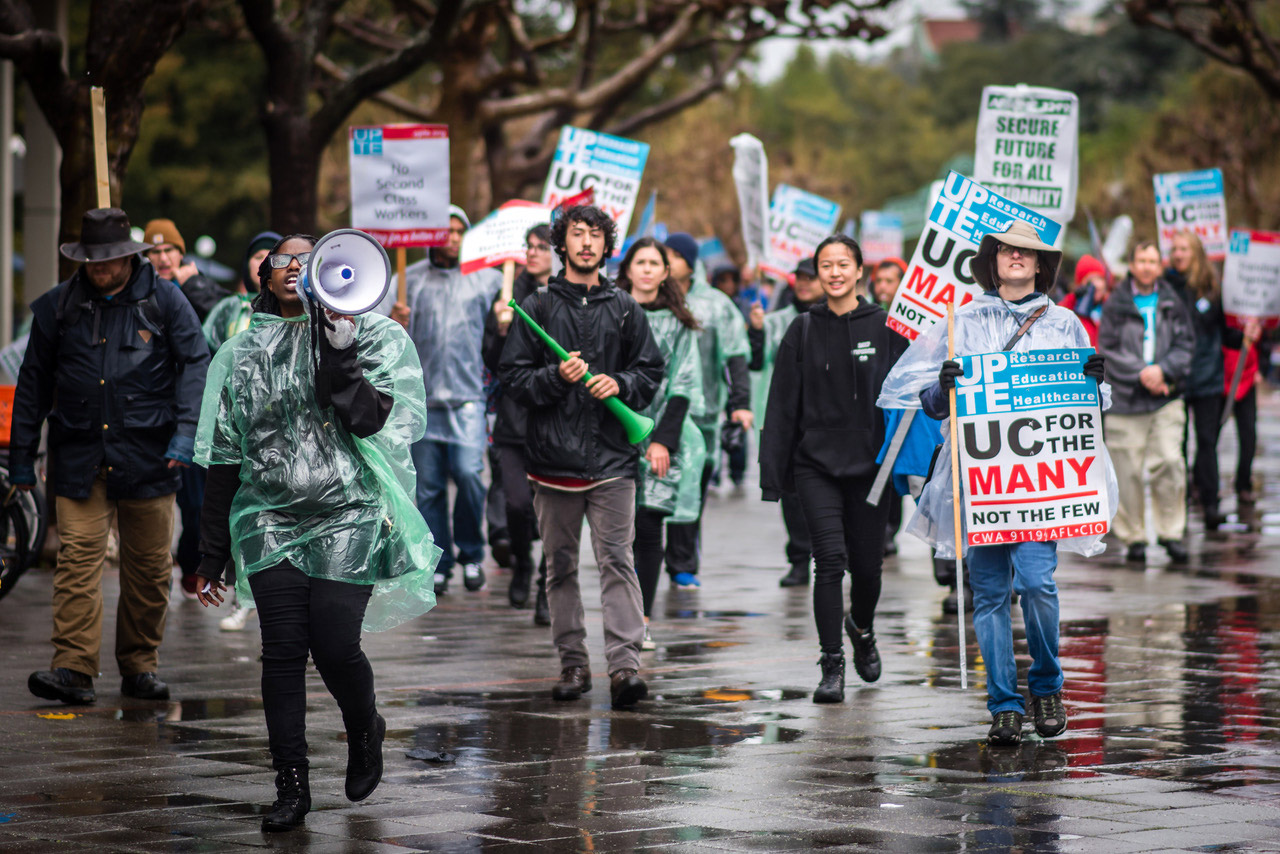 Giancarlo Tucci (middle, with horn), a Sophomore at UC Berkeley, marches with striking workers. In addition to his studies, Tucci works part time as an audio-visual technician. He says, "I work alongside custodial and food service staff at the university's International House. I see them go in and out of the bathrooms, and I say hi. Without these workers, our education would not be possible, so we have a student-labor coalition. Leading up the strike, we went into the classrooms ten minutes before class to tell students to come to the picket line and to ask professors to cancel class."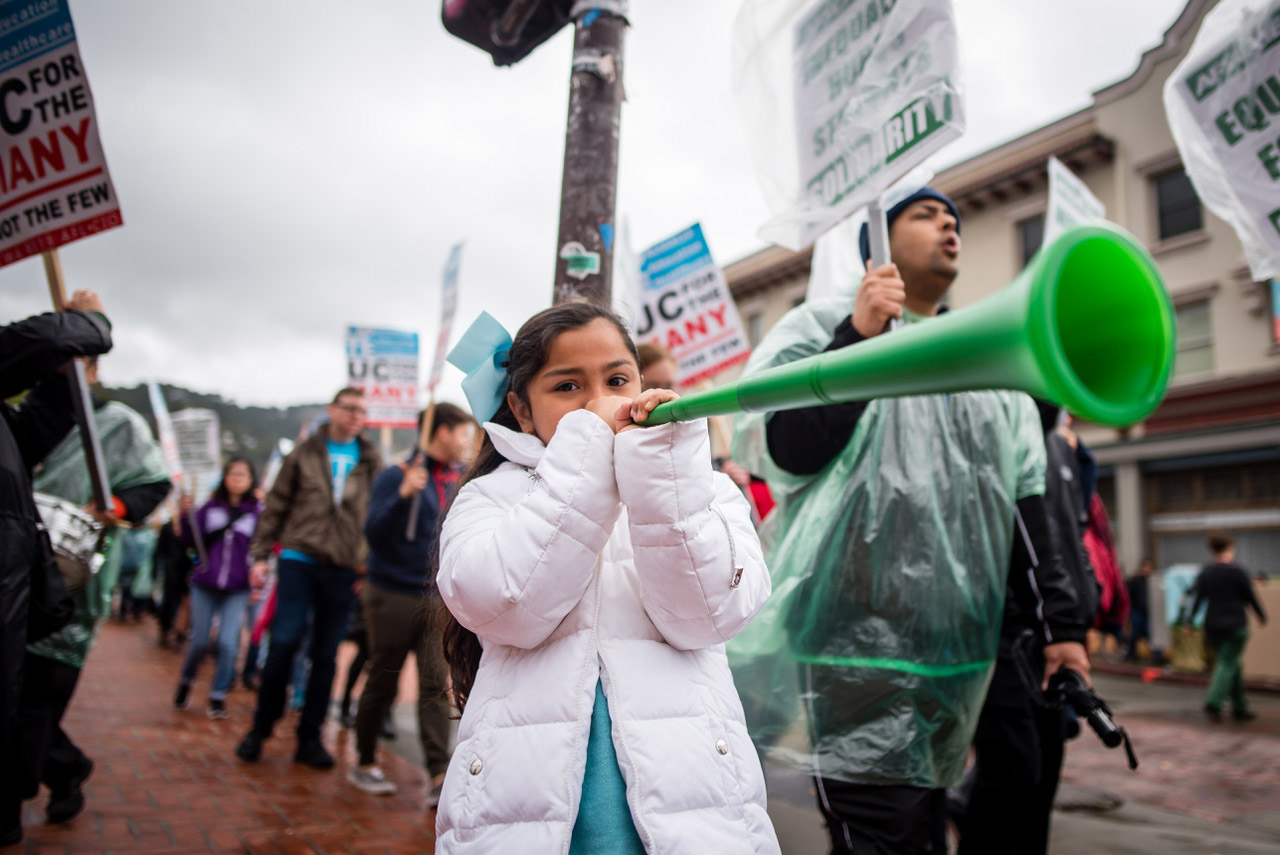 Crystal Bruno, 7, blows a horn while walking a noontime picket line on Wednesday. Her mother, Ignacia Bruno, is a custodian at UC Berkeley and a member of AFSCME 3299. Many workers named their desire for their children to have a better life as one of the reasons they were out on strike yesterday.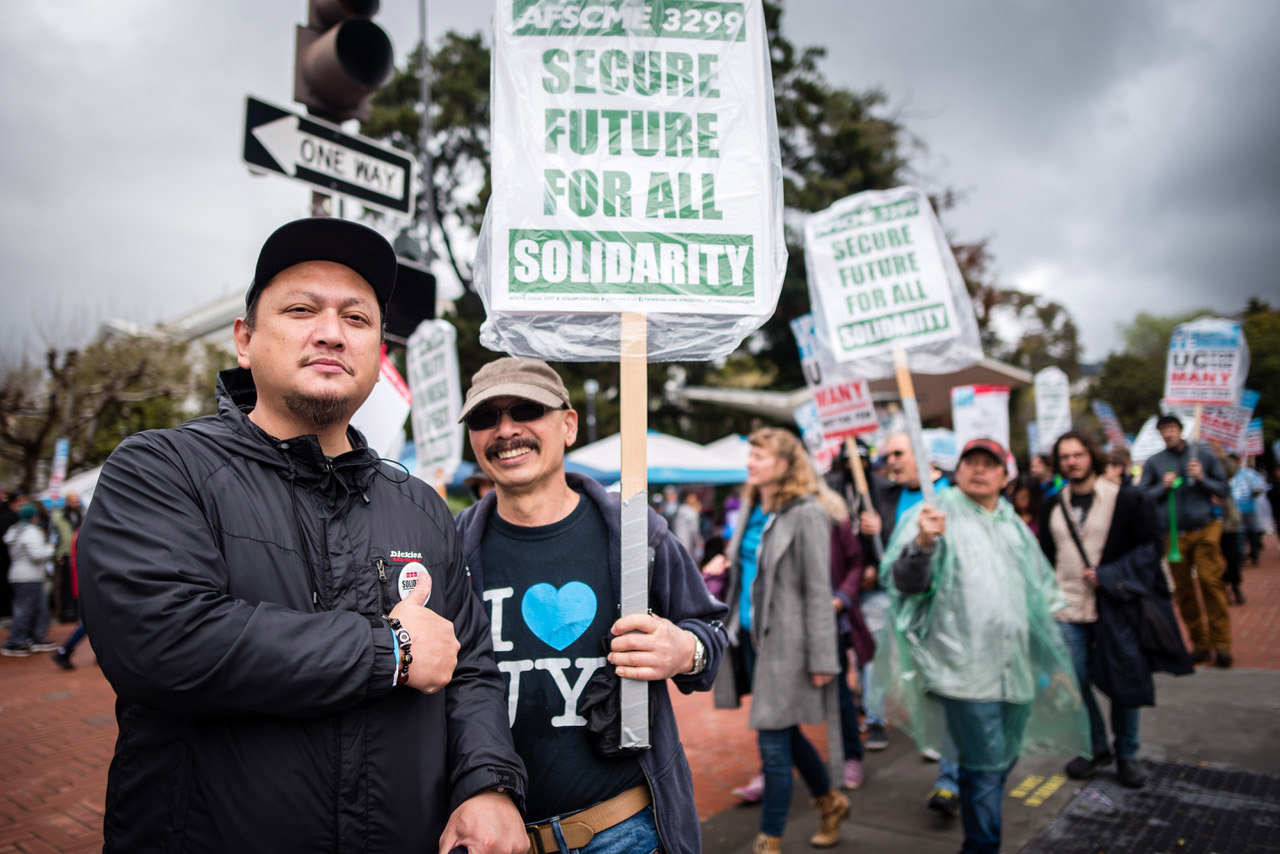 Andre Alvarez and Peter Javier, both of whom work as cooks at UC Berkeley and are members of AFSCME 3299, picket at the main entrance to the UC Berkeley campus on Wednesday.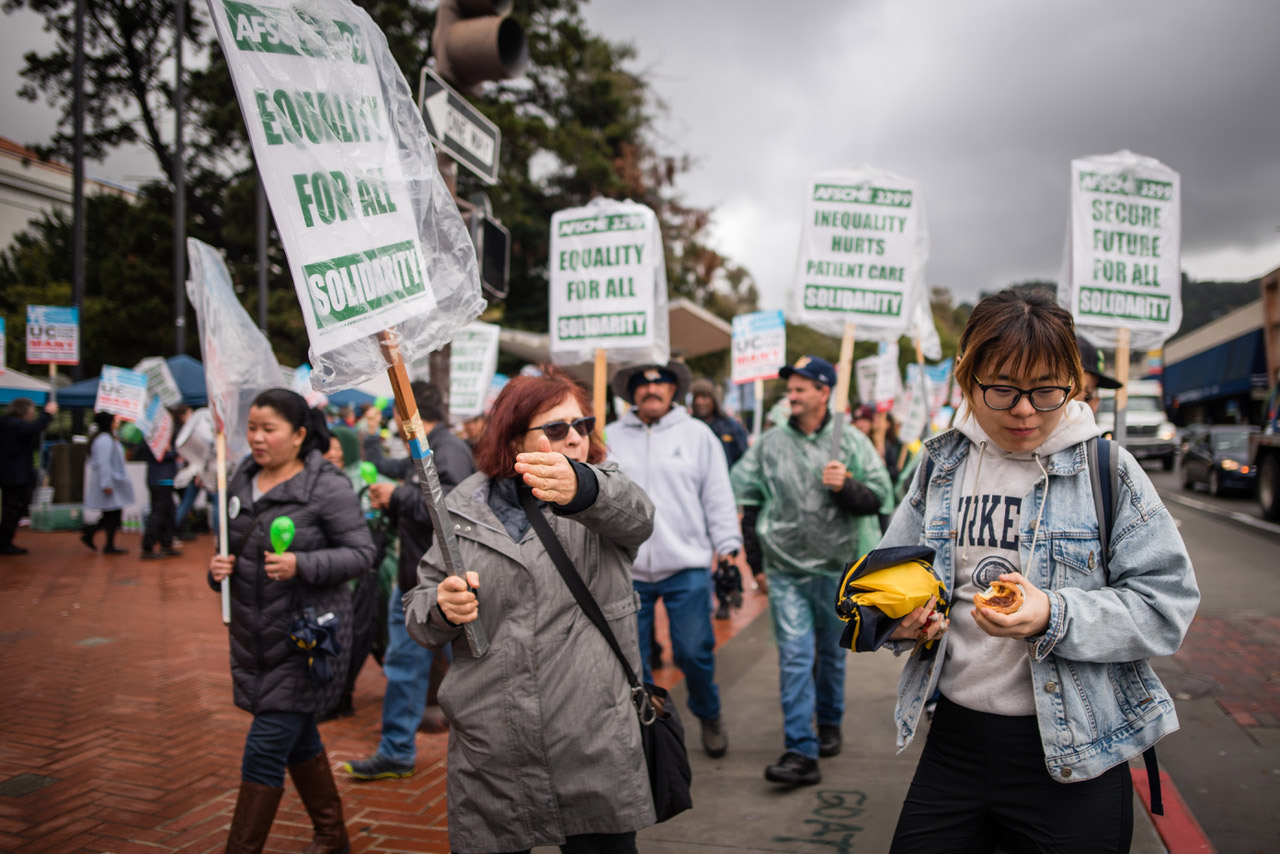 Strikers on the picket line attempted to turn both students and workers away from entering the UC Berkeley campus, asking them to support the workers' struggle and honor the picket line.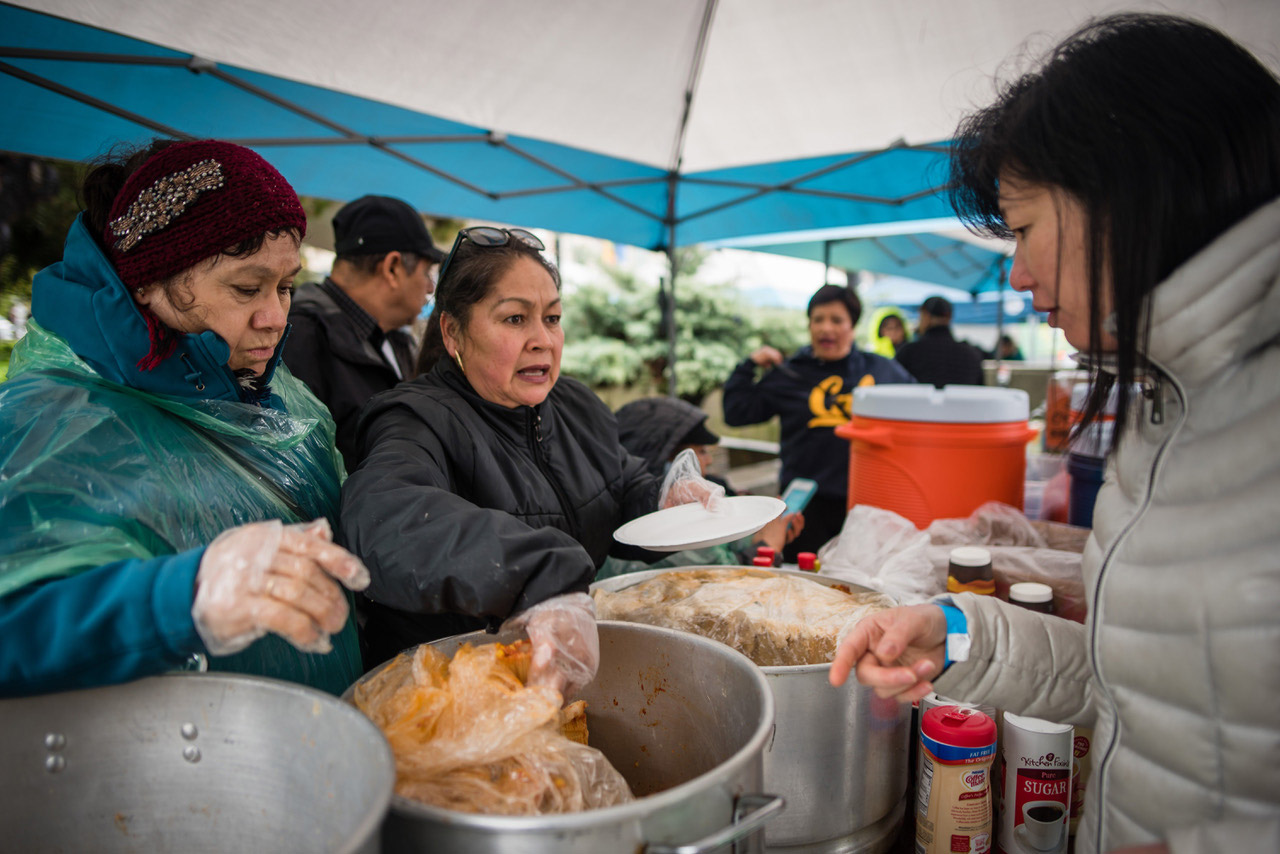 Celia Santillan (left) and Antonia Sanchez (right), both members of AFSCME 3299, feed fellow union members on the picket line on Wednesday. "We have three types of tamales: beef, vegetable, and poblano pepper with cheese. We've also got pan dulce (sweet bread), coffee, and yogurt with granola. It's important to keep people warm on the picket line," said Sanchez.
For full disclosure, the author is a member of another affiliate of the same national union—Communication Workers of America—of which UPTE is also affiliated.
Win a trip for two to Cascais, Portugal!
Celebrate 47 years of In These Times in style! Get your raffle tickets today for your chance to win a vacation for two to Cascais, Portugal!
One lucky raffle winner will receive a $3,000 gift card to cover the costs of two flights, as well as a stay in a 5-star boutique hotel, housed in a 17th century fortress with medieval architecture and décor. You can schedule the trip on your timeline!
All raffle ticket sales support ongoing In These Times reporting, just like the article you just finished reading. Get your raffle tickets now.
The winner will be selected on the night of September 30, at the In These Times 47th Anniversary Celebration. You do not need to be present at the drawing to win.
Brooke Anderson is an Oakland, California-based organizer and photojournalist. She has spent 20 years building movements for social, economic, racial and ecological justice. She is a proud union member of the Pacific Media Workers Guild, CWA 39521, AFL-CIO.