In Protest of a Confederate Monument, UNC Teaching Assistants Refuse To File Grades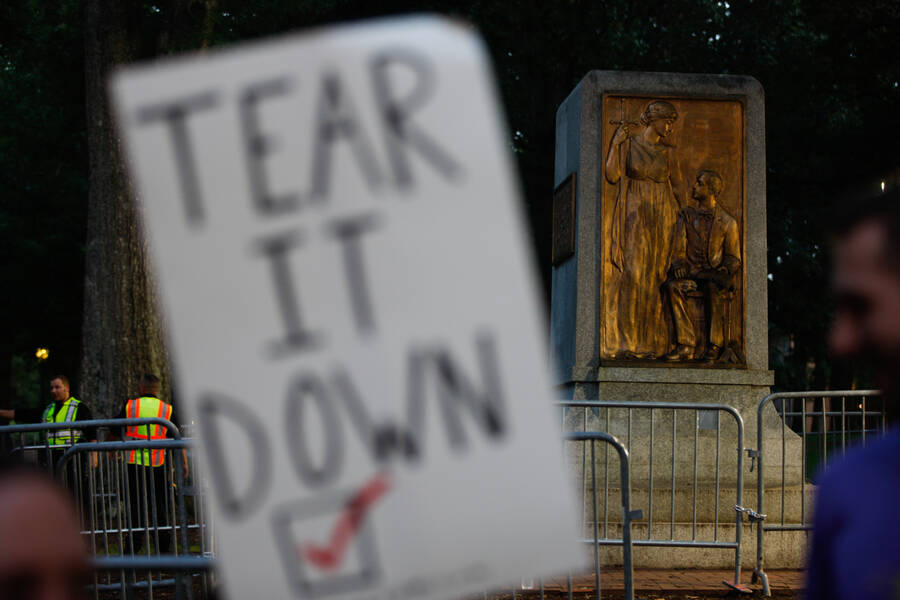 Almost 80 teach­ing assis­tants are on a grade strike at the Uni­ver­si­ty of North Car­oli­na at Chapel Hill (UNC), refus­ing to dis­trib­ute their stu­dents' final marks until the school aban­dons a pro­posed plan to con­struct a build­ing to house an infa­mous Con­fed­er­ate mon­u­ment. The strike is the colu­mi­na­tion of a year of protests against the racist symbol.
Silent Sam is a stat­ue of a Con­fed­er­ate sol­dier that was erect­ed on UNC's cam­pus in 1913 by a white-suprema­cist group called the Unit­ed Daugh­ters of the Con­fed­er­a­cy. Its sup­port­ers claim that the stat­ue is sim­ply a trib­ute to sol­diers. But, in fact, the stat­ue was erect­ed years after the Civ­il War end­ed, as a mon­u­ment to the racial apartheid of the Jim Crow era.
Not­ed white suprema­cist and for­mer UNC trustee Julian Carr gave a speech in 1913 at the ini­tial ded­i­ca­tion cer­e­mo­ny for Silent Sam, prais­ing the racist vio­lence that flour­ished after the war. ​"The present gen­er­a­tion, I am per­suad­ed, scarce­ly takes note of what the Con­fed­er­ate sol­dier meant to the wel­fare of the Anglo Sax­on race dur­ing the four years imme­di­ate­ly suc­ceed­ing the war, when the facts are, that their courage and stead­fast­ness saved the very life of the Anglo Sax­on race in the South," said Carr. He added, ​"today, as a con­se­quence the purest strain of the Anglo Sax­on is to be found in the 13 South­ern States – Praise God."
UNC stu­dents have been protest­ing the exis­tence of the Silent Sam stat­ue for the last 50 years. After Mar­tin Luther King Jr. was assas­si­nat­ed in 1968, stu­dents threw paint on the mon­u­ment and tagged it with graf­fi­ti. The mon­u­ment was the site of numer­ous protests by the Black Stu­dent Move­ment dur­ing the 1970s, and in 1981 the mon­u­ment was van­dal­ized dur­ing the Nation­al Col­le­giate Ath­let­ic Asso­ci­a­tion bas­ket­ball finals.
On April 30 of this year, a grad­u­ate stu­dent in his­to­ry, Maya Lit­tle, was arrest­ed after paint­ing Silent Sam red and dous­ing it with her own blood. Lit­tle released a state­ment explain­ing that she did this to help con­tex­tu­al­ize the stat­ue and call out the school's Chan­cel­lor Car­ol Folt for refus­ing to lis­ten to pro­test­ers' con­cerns. ​"We see the muti­la­tion of black bod­ies, the degra­da­tion of black peo­ple, the cel­e­bra­tion of an army that fought for our ances­tors' enslave­ment," reads Little's state­ment. ​"I see Julian Carr whip­ping a black woman. I see your will­ing­ness to trau­ma­tize, dehu­man­ize, and endan­ger every black per­son on this cam­pus. We see our blood and now you will too."
In August, 250 pro­tes­tors top­pled Silent Sam while chant­i­ng, ​"We believe that we will win!"
The stat­ue hasn't been put back up since it was knocked down. But on Decem­ber 3, UNC's board and Chan­cel­lor Folt released a pro­posed plan to return Silent Sam to the cam­pus: The mon­u­ment would be put in a brand-new build­ing that would cost $5 mil­lion to con­struct and $800,000 a year to keep up.
Up until recent­ly, Samuel Fines­ur­rey was a teach­ing assis­tant at UNC, and he is cur­rent­ly help­ing the strik­ing staff. He has par­tic­i­pat­ed in the resis­tance to Silent Sam for over a year. ​"We have one demand," he told In These Times. ​"Get rid of the pro­pos­al. We're hop­ing the action embar­rass­es the uni­ver­si­ty and they should be embarrassed."
In response to the grade strike, the school's Exec­u­tive Vice Chan­cel­lor and Provost Bob Blouin sent an email through­out the cam­pus accus­ing the teach­ing assis­tants of vio­lat­ing their stu­dents' rights and claim­ing that the action is wide­ly opposed. ​"The uni­ver­si­ty has received stu­dent and par­ent com­plaints," reads the email. ​"Such actions have been inter­pret­ed as coer­cion and an exploita­tion of the teacher-stu­dent rela­tion­ship and in fact are a vio­la­tion of stu­dents' First Amend­ment rights as well as fed­er­al law."
Fines­ur­rey said that the major­i­ty of stu­dents and fac­ul­ty are, in fact, against the build­ing being con­struct­ed — and that Blouin's per­cep­tion of First Amend­ment rights was curi­ous. ​"The build­ing will be a ral­ly­ing point for Nazis, and it would be built across the street from a syn­a­gogue," he said. Accord­ing to Fines­ur­rey, the exis­tence of Silent Sam on cam­pus is a vio­la­tion of the Civ­il Rights Act that pro­hibits black stu­dents from being sub­ject­ed to a hos­tile environment.
Fines­ur­rey said he does­n't believe the school's board is racist, but rather, they lack the moti­va­tion to act. ​"I don't think they're pro-con­fed­er­ate," he said, ​"just cow­ards that want to hold onto their cushy jobs."
"
Michael Arria
is the U.S. cor­re­spon­dent for Mon­doweiss. Fol­low him on Twit­ter: @michaelarria.