Uncle Sam Wants Sustainability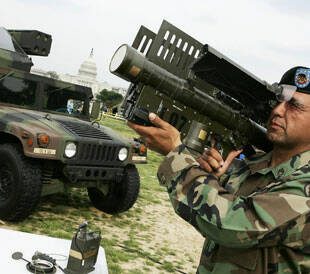 In January, Conscious Choice, a Chicago urban lifestyle magazine released ​"The Chicago Green Report Card." Examining Mayor Richard J. Daley's commitment to a cleaner Chicago, it evaluated the city's environmental progress and issued grades in 11 key areas – such as making Chicago the organic food capital of the Midwest, cleaning up the Chicago River and creating a world-class mass transit system. Conscious Choice editor in chief Charles Shaw coordinated the project, working closely with the city's Department of the Environment.
Enter Major John J. Fittipaldi, a senior fellow at Army Environmental Policy Institute in Arlington, Va. On Jan. 29, Fittipaldi contacted Shaw. He said the Army was intrigued by Conscious Choice​'s 11-category grading system. Recognizing that the system might not apply directly to U.S. military installations, Fittipaldi wondered if the methodology could be adapted to easily and clearly evaluate the Army's progress toward its sustainability goals.
Shaw, however, refused to help, telling Fittipaldi that his methodology was ​"classified." But he did offer five suggestions that would ​"surely guarantee" the sustainability of our armed forces. Shaw called for the United States to: End the use of fossil fuels; withdraw our armed presence from, among other locations, the Middle East and central Asia; stop the use of depleted uranium shells; dismantle the nuclear arsenal; and stop using humvees. Those measures, he believes, will go further toward sustaining the armed forces than the construction of a few green roofs or solar panels on military bases.
"I was trying to show them the hypocrisy of using the word sustainable," he says. ​"Why would I want to make the army a more efficient, sustainable killing machine?"
Shaw's concerns have merit. The U.S. military is the largest purchaser of oil in the world. In peacetime, the U.S. armed forces consume 100 million barrels a year – about the same as Greece. And that figure jumps at least 27 percent during wartime. Uranium 238, which is depleted and used in U.S. armor-piercing rounds and Phalanx missiles, has a half-life of 4.5 billion years – it stays in the human body almost indefinitely. Once absorbed, uranium's radioactivity can lead to cancer or kidney damage, among other health effects (See ​"What We Leave Behind," December 2006). According to the most conservative estimates, U.S. and British forces have left 400,000 pounds of depleted uranium in Iraq since the start of the invasion.
Still, some of Shaw's colleagues feel he missed a valuable opportunity. Alex Steffen, executive editor of the progressive blog World​Chang​ing​.com, can understand why Shaw took his stance, but argues that the military is here to stay.
"Even if we substantially demilitarize – as would be my hope – many will still believe we need a substantial military capable of projecting force around the world," he says. ​"Given that reality, I think it is incumbent on us to do everything we can to make the military's operations as sustainable as possible and its strategy as supportive of positive change as possible."
Steffen isn't alone. While most were supportive, some felt Shaw turned this opportunity into a zero-sum game – comprehensive environmental reform, or none at all. And one question surfaced repeatedly: Why shouldn't we help the military crawl toward sustainability?
The U.S. military is trying to improve its energy efficiency. The Army's pollution-prevention program, P2, states that when ​"timely and cost-effective," limiting emissions and waste is the preferred approach. Quantum Technologies, an alternative-energy firm which is developing fuel-cell technology for General Motors and Ford, has an Army contract to develop mobile hydrogen refueling stations. And, in the wake of Hurricane Katrina, acting Deputy Defense Secretary Gordon England wrote a memo to U.S. military leaders emphasizing the need for fuel conservation.
Yet despite such moves, the United States still refuses to sign onto the Kyoto Protocol. The Pentagon is resisting pressure to clean up current and former U.S. military bases where buried munitions, fuel spills and other waste contaminate the soil and water.
Ultimately, Shaw feels that the military and, by extension, the U.S. government is merely trying to avoid liability and culpability. ​"They see that green is sexy and cool and that people don't like oil corporations right now," Shaw says. ​"They think they can dress themselves up with it."