How Union-Busting Bosses Propel the Right Wing to Power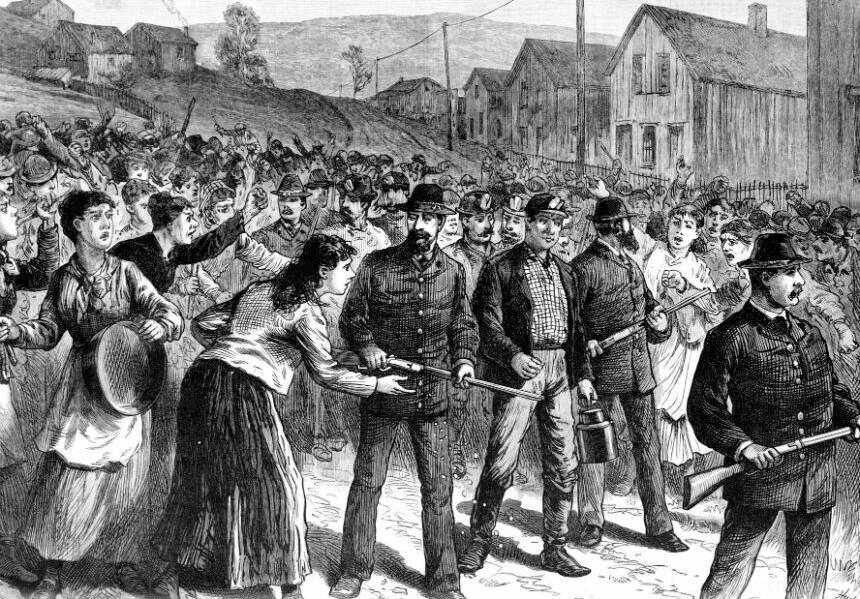 The essays that com­prise Against Labor cov­er a peri­od that stretch­es from the late 1880s to the Clin­ton era. Eliz­a­beth Esch and David Roedi­ger explore the racist assump­tions that were built into so-called ​"sci­en­tif­ic man­age­ment." The men with the stop­watch­es who broke pro­duc­tion down into ever small­er tasks had eth­nic pref­er­ences for each: Lithua­ni­ans for grind­ing steel, ​"Amer­i­can Poles" for forg­ing, nev­er Mex­i­cans for the night shift and so on. A hap­py (for man­age­ment) side effect of this speed up was the sim­mer­ing resent­ment between dif­fer­ent nation­al­i­ties that hin­dered work­place solidarity.
Chad Pear­son shines a light on Pro­gres­sive-era work­er orga­ni­za­tions that were cre­at­ed and propped up by employ­ers to help work­ers resist ​"union monop­o­lies." In oth­er words, they cre­at­ed unions for scabs to break strikes and open up closed union shops.
Robert H. Woodrum looks at the use of the Ku Klux Klan and employ­er-spon­sored vig­i­lan­tism to run union orga­niz­ers out of the Alaba­ma docks and reverse the mod­est gains south­ern work­ers made dur­ing World War I. Michael Den­nis updates the south­ern pic­ture by doc­u­ment­ing the UFCW's sus­tained, large-scale orga­niz­ing dri­ve in non-union Vir­ginia super­mar­kets in the ear­ly 1990s. Already fac­ing enor­mous com­pet­i­tive pres­sure from Wal­mart, the super­mar­kets dug in for a years-long fight with lit­tle con­cern for the law. The sto­ry is a per­fect­ly con­cise exam­ple of just how bro­ken the Nation­al Labor Rela­tions Board (NLRB) was as a venue for pro­tect­ing work­ers by the time Bill Clin­ton took office.
None of these sto­ries are par­tic­u­lar­ly earth-shat­ter­ing rev­e­la­tions to peo­ple who study unions and union-bust­ing. What's most notable is how employ­er tac­tics get recy­cled and adapt­ed from era to era, and that no era was free from union-bust­ing. That's a key point of Against Labor. Edi­tors Feur­er and Pear­son place their col­lec­tion square­ly with­in the new body of schol­ar­ship on the ​"rise of the right."
Con­trary to a pop­u­lar nar­ra­tive that has an activist right wing resurg­ing in the years between Nixon's 1968 elec­tion and Reagan's fir­ing of the air traf­fic con­trollers in 1981, the mod­ern right wing began ris­ing in reac­tion to the New Deal. Many employ­ers sim­ply nev­er accept­ed the legit­i­ma­cy of state inter­ven­tion on behalf of union rights that was enshrined in the orig­i­nal Nation­al Labor Rela­tions Act. These employ­ers — most­ly small and mid-sized firms — act­ed as an advance guard against union rights.
They pressed against the edges of the law, test­ing their abil­i­ty to fire union activists for cause, replace strik­ers, lock­out recal­ci­trant unions and restrict orga­niz­ers' access to the job site. They learned to love mak­ing the NLRB go to court to enforce orders against boss­es' union bust­ing, for in the courts they found far more sym­pa­thet­ic arbiters of management's rights. The biggest holes in labor law's pro­tec­tions of work­ers rights, exploit­ed in the anti-union dri­ves of the 1980s, most­ly come from bad court deci­sions in the post­war years that some peo­ple like to kid them­selves were a gold­en age of labor-man­age­ment cooperation.
Sure, there were employ­ers who talked a good game about their (junior) ​"part­ners" in labor, kept their pen­sions and health­care plans fund­ed and most­ly avoid­ed knock-down, drag-out con­tract fights. But, clear­ly in ret­ro­spect, they were ready to beat down and bust their own unions just as soon as the advance guard of reac­tionar­ies cre­at­ed a polit­i­cal envi­ron­ment where it was possible.
The most fas­ci­nat­ing sto­ry in the col­lec­tion, ​"The Strange Career of A.A. Ahn­er: Recon­sid­er­ing Black­jacks and Brief­cas­es," comes from Feur­er. It tells of a hired gun whose career bridged two very dif­fer­ent eras of labor-man­age­ment rela­tions in the Kansas City area. Schol­ars have referred to the advent of the NLRB as a kind of tran­si­tion from black­jacks to brief­cas­es for anti-union employ­ers. It's com­mon­ly assumed that the Pinker­tons, thugs and com­pa­ny ​"unions," employ­ers' first line of defense against unions in the 1920s, were mus­cled out of the way by a new gen­er­a­tion of lawyers who promised to ​"work the sys­tem" to rep­re­sent their clients' inter­ests at the NLRB. But in Ahn­er we find a direct, lin­eal con­nec­tion between the two approaches.
Ahn­er ran his own detec­tive agency begin­ning dur­ing World War I. For the right price, he would spy on work­ers, plant bombs and frame union activists (he had lots of friends in law enforce­ment at a time when there weren't ter­ri­bly rigid bound­aries between local busi­ness and police). This work con­tin­ued into the 1930s, when he was inves­ti­gat­ed by a Sen­ate com­mit­tee prob­ing how employ­ers were vio­lat­ing the new labor act.
Rec­og­niz­ing that times had changed, Ahn­er improved his image, if not his under­ly­ing phi­los­o­phy. Work­ing with a local priest, he became co-chair of the St. Louis Labor-Man­age­ment Com­mit­tee, which coun­seled con­cil­i­a­tion and arbi­tra­tion. Through this ​"vol­un­teer" work, he lined up con­sult­ing gigs with union­ized employ­ers. Most­ly this was for bar­gain­ing and griev­ances, where union rep­re­sen­ta­tives who knew his his­to­ry would be aghast to find him sit­ting across the table with an air of respectabil­i­ty. But occa­sion­al­ly — even in the 1950's — he was called on for union avoid­ance work, where he pressed the lim­its of employ­ers' rights to their own free speech and to squelch their workers'.
Ahner's sto­ry enrich­es our under­stand­ing of the real roots of today's anti-union­ism. One wish­es Rose­mary Feur­er had expand­ed her research on Ahn­er and oth­ers like him and made that the sub­ject of her book.
It also serves as a warn­ing that today's union-buster will claim to have ​"always" had a ​"pro­duc­tive work­ing rela­tion­ship" with unions when we begin to win again. But the only ​"always" that applies to Amer­i­can cap­i­tal­ists is that they are always against labor.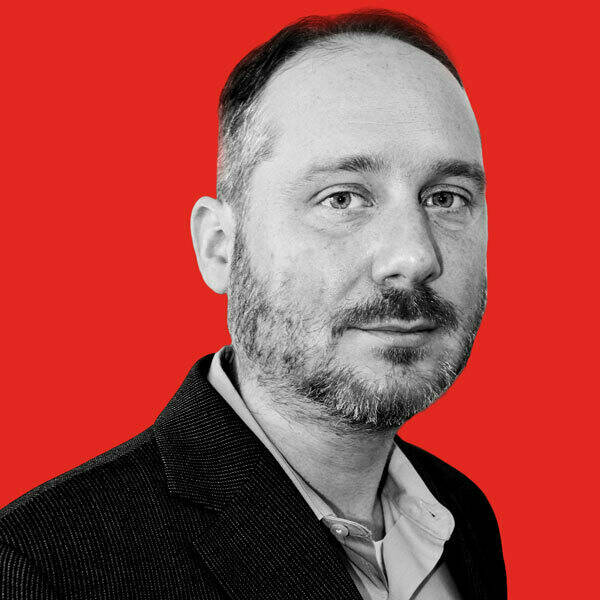 Shaun Rich­man
is an In These Times con­tribut­ing writer and the Pro­gram Direc­tor of the Har­ry Van Ars­dale Jr. School of Labor Stud­ies at SUNY Empire State Col­lege. His Twit­ter han­dle is @Ess_Dog.