Unions Under Siege in Guatemala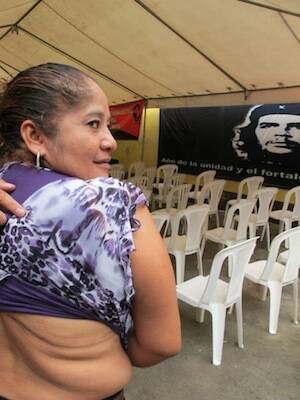 Guatemala is begin­ning to emerge from a grim his­to­ry of mil­i­tary dic­ta­tor­ship and civ­il strife, but its work­ers remain mired in the nation's bloody lega­cy. Even today, as the coun­try hob­bles toward democ­ra­cy and seeks jus­tice for past atroc­i­ties, trade union­ists are still a tar­get of vio­lence, with many killings hid­den under a cloud of gov­ern­ment impunity.
In 2011 and 2012, there were a string of mur­ders of mem­bers of the banana work­ers union, SITRA­BI. Over­all, 64 trade union­ists have been mur­dered in Guatemala since 2007 and hun­dreds have been sys­tem­at­i­cal­ly ter­ror­ized. And the vast major­i­ty of such crimes are nev­er pros­e­cut­ed, let alone pun­ished. Activists believe that union­ists are tar­get­ed because they rep­re­sent work­ers' inter­ests, which puts them this puts them at odds with pow­er­ful cor­po­rate and state institutions.
Fol­low­ing nego­ti­a­tions with the Inter­na­tion­al Labour Orga­ni­za­tion and Inter­na­tion­al Trade Union Con­fed­er­a­tion, the Guatemalan gov­ern­ment reached an agree­ment ear­li­er this year to coop­er­ate with ILO mon­i­tors to address anti-union vio­lence and strength­en labor pro­tec­tions. But the blood­shed has not let up.
In a new report, Pub­lic Ser­vices Inter­na­tion­al, a glob­al labor fed­er­a­tion rep­re­sent­ing pub­lic-sec­tor work­ers, recounts vicious attacks on fel­low unionists:
In March 2013, three mem­bers of PSI affil­i­ate unions were mur­dered just days after an ILO mis­sion vis­it­ed Guatemala to assess the sit­u­a­tion of free­dom of asso­ci­a­tion. On March 8, 2013, Car­los Her­nan­dez, exec­u­tive mem­ber of the Sindi­ca­to Nacional de Tra­ba­jadores de Salud de Guatemala (SNTSG) and leader in sev­er­al peas­ant orga­ni­za­tions, was shot dead by two men car­ry­ing 9mm firearms on motor­cy­cles. San­ta Alvara­do, also a mem­ber of the SNTSG, was kid­napped on March 21 after fin­ish­ing work in the kitchens at the nation­al hos­pi­tal in Toton­i­capán. She was lat­er found stran­gled. Kira Zulue­ta Enriquez Mena, Gen­er­al Sec­re­tary of the Sindi­ca­to de Tra­ba­jadores Munic­i­pales de Nue­va Con­cep­ción in the depart­ment of Escuint­la, was assas­si­nat­ed on March 22 at the library where she worked.
While the cul­prits may be hid­den, union­ists say these are not sin­gu­lar inci­dents of crim­i­nal­i­ty. Labor advo­cates see the killings as a byprod­uct of deep gov­ern­ment cor­rup­tion linked to both drug traf­fick­ing and the busi­ness world. The unions' posi­tion as work­ers' rep­re­sen­ta­tives, they say, makes them a threat to cor­rupt enter­pris­es and offi­cials, leav­ing them exposed to killings by hired criminals.
Speak­ing to In These Times through an inter­preter, Luis Anto­nio Alpirez Guzmán, sec­re­tary of dis­pute res­o­lu­tion with the health work­er' union SNTSG, which has report­ed sev­er­al mem­bers assas­si­nat­ed in recent years, says local activists believe gov­ern­ment offi­cials ​"are not order­ing the assas­si­na­tions, but they are not doing any­thing to avoid them. And they are not tak­ing prop­er action to inves­ti­gate these assas­si­na­tions. There­fore the gov­ern­ment is con­sid­ered an accomplice."
Local and inter­na­tion­al labor groups are some of the few civ­il soci­ety voic­es mobi­liz­ing to demand action amidst the offi­cial silence. Last week, an inter­na­tion­al del­e­ga­tion of labor activists trav­eled to Guatemala to demand full inves­ti­ga­tions of recent mur­ders of trade union­ists and pres­sure the Guatemalan gov­ern­ment to pros­e­cute the crimes. The del­e­ga­tion was coor­di­nat­ed by PSI and includ­ed rep­re­sen­ta­tives from affil­i­ate unions in Europe, Latin Amer­i­ca and the Unit­ed States. PSI Gen­er­al Sec­re­tary Rosa Pavenel­li says via email that a ​"his­tor­i­cal anti-union feel­ing" is ​"present in some sec­tors of the gov­ern­ment as well. As such, a cli­mate of impuni­ty and fear exists."
The PSI del­e­ga­tion has called on Guatemala's wealthy trade part­ners to sus­pend com­mer­cial ties in response to the human rights cri­sis. In par­tic­u­lar, they want Euro­pean gov­ern­ments to sus­pend a key pro­gram that facil­i­tates trade between the two regions, the Euro­pean Union Cen­tral Amer­i­can Asso­ci­a­tion Agree­ment (EU-CAAA), which gives trade pref­er­ences to Guatemalan businesses.
Inter­na­tion­al trade deals are often pro­mot­ed as a way to improve eco­nom­ic and social sta­bil­i­ty. The DR-CAF­TA, a trade deal aimed at pro­mot­ing region­al eco­nom­ic ​"inte­gra­tion," includes a Labor Chap­ter that sup­pos­ed­ly grants abused work­ers a means of legal redress. In 2008, sev­er­al Guatemalan labor unions worked with the AFL-CIO to file com­plaints under the Labor Chap­ter. The U.S. agreed to act as an arbiter to address the com­plaints. But accord­ing to PSI's analy­sis of the nego­ti­a­tions, ​"the gov­ern­ment of Guatemala refused to par­tic­i­pate in arbi­tra­tion and raised claims of pro­ce­dur­al errors." The U.S. has since worked out an enforce­ment plan with the gov­ern­ment, and imple­men­ta­tion is expect­ed in the com­ing months.
But if past is pro­logue, activists are right to be skep­ti­cal that out­side pres­sure will lead to domes­tic accou­tabil­i­ty. Trade deals have his­tor­i­cal­ly proven more of an imped­i­ment to progress than an impe­tus. In sev­er­al neolib­er­al accords bro­kered by Wash­ing­ton, such as trade pacts with Mex­i­co, Jor­dan, and Colom­bia, labor groups have crit­i­cized the labor pro­vi­sions as tooth­less and, in light of the per­sis­tence of rights abus­es under ​"free trade," too weak to encour­age real reform or raise stan­dards. Guatemala has evolved over the past cen­tu­ry from a colo­nial out­post to a proxy bat­tle­ground for Cold War pow­er strug­gles, with a mil­i­tary dic­ta­tor­ship tutored and sup­plied by Wash­ing­ton. The social upheavals of ear­li­er gen­er­a­tions left gov­ern­ment insti­tu­tions and civ­il soci­ety deeply dam­aged. The coun­try is just now embark­ing on a process of jus­tice and rec­on­cil­i­a­tion for vic­tims (though the U.S. gov­ern­men­t's role in past atroc­i­ties still awaits a full pub­lic airing).
Yet the per­sis­tence of anti-trade union vio­lence sug­gests that, who­ev­er is direct­ly respon­si­ble for the killings, the state and econ­o­my still active­ly ben­e­fit from the dis­en­fran­chise­ment of work­ers and civ­il soci­ety. Mur­der is just one extreme exam­ple of the country's many labor crises. Human rights observers and local and inter­na­tion­al labor groups have exten­sive­ly doc­u­ment­ed issues of exploita­tive work­ing con­di­tions, child labor, gen­der dis­crim­i­na­tion and union-bust­ing campaigns.
In addi­tion to demand­ing account­abil­i­ty for anti-union vio­lence, PSI has also urged strength­en­ing of col­lec­tive bar­gain­ing process­es and oth­er labor reg­u­la­tions, par­tic­u­lar­ly for pub­lic sec­tor work­ers, whose rights are threat­ened by cor­rup­tion and a trend of pri­va­ti­zat­ing gov­ern­ment ser­vices. And for all of Guatemala's work­ers, who suf­fer from intense pover­ty and most­ly work in the infor­mal sec­tor, the inter­na­tion­al union del­e­ga­tion crit­i­cized ​"the wide­spread use of out­sourc­ing and short-term con­tracts," which exac­er­bate eco­nom­ic insta­bil­i­ty and ​"lead to fur­ther inequal­i­ties in the work­place and in society."
To solid­i­fy inter­na­tion­al action on labor strife in Guatemala, the SNTSG has called for a labor rights obser­va­to­ry, build­ing on ILO ini­tia­tives to pro­vide sus­tained inves­ti­ga­tions and on-the-ground mon­i­tor­ing of anti-work­er vio­lence and repression.
Alvirez warned that if the blood­shed con­tin­ues, the entire labor move­ment will be irrev­o­ca­bly weak­ened. ​"When­ev­er a trade union leader is killed it has a big impact on the union," he says, ​"because it cre­ates instability."
​"And unions, when­ev­er they lose one or two mem­bers, of course have to focus atten­tion and their time and ener­gy on help­ing fam­i­ly of this per­sons who have been killed, on imme­di­ate issues, instead of con­tin­u­ing with their fight," he explains. The sit­u­a­tion is rem­i­nis­cent of the chaot­ic 1980s and 1990s era, when stu­dent and labor activists were mur­dered on a mass scale, he says. ​"It was a very, very vio­lent time… And we have the impres­sion that we are going back to this peri­od, and that the gov­ern­ment wants to shut us off."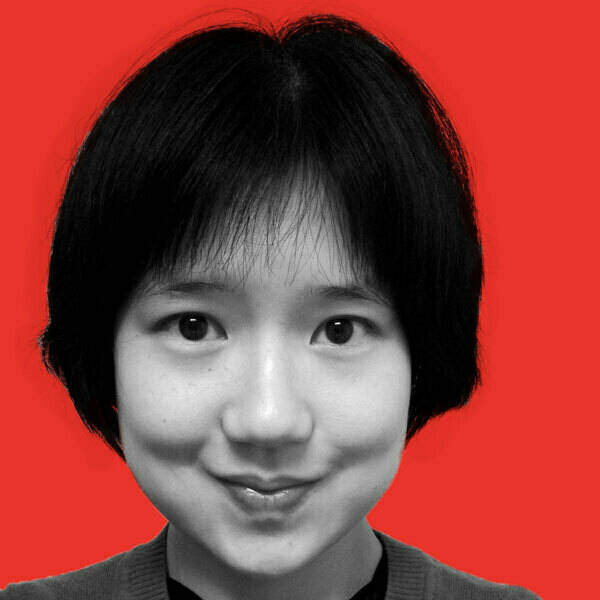 Michelle Chen is a con­tribut­ing writer at In These Times and The Nation, a con­tribut­ing edi­tor at Dis­sent and a co-pro­duc­er of the ​"Bela­bored" pod­cast. She stud­ies his­to­ry at the CUNY Grad­u­ate Cen­ter. She tweets at @meeshellchen.