Unions Work to Turn the Tide
Organized labor rolls out a response to nationwide assaults on workers' rights.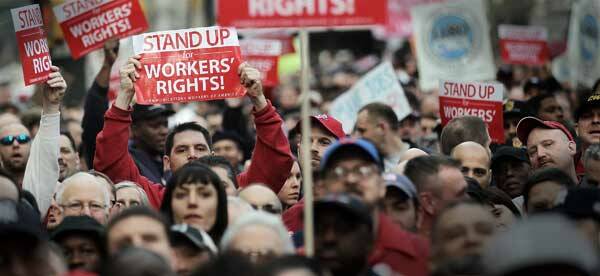 America's unions are con­tend­ing with the harsh­est leg­isla­tive attack on work­ers' rights since the 1947 Taft-Hart­ley Act. Labor strate­gists, their forces in decline, face an urgent ques­tion: What should unions do to defend their exis­tence, and to pro­vide work­ers more pow­er at work and in politics?
Progressives are rightly unhappy with many elected Democrats: Ultimately they failed to take advantage of the financial crisis to shift the country's political paradigm.
The rise of the Tea Par­ty right, reces­sion-induced fis­cal crises and Repub­li­can midterm vic­to­ries – espe­cial­ly in many union­ized Mid­west­ern bat­tle­ground states – set the stage. But Democ­rats' fail­ure to respond ade­quate­ly to the eco­nom­ic cri­sis – in the areas of jobs, home fore­clo­sures and finan­cial reg­u­la­tion – enabled the ascent of the Repub­li­can right. And now Demo­c­ra­t­ic gov­er­nors and leg­is­la­tors, even in states like Mass­a­chu­setts, have joined in the Repub­li­can attack on labor unions and work­ers – par­tic­u­lar­ly pub­lic ser­vice workers.
Union mem­bers and lead­ers are scram­bling to employ old and new defen­sive tac­tics, and at the same time strug­gling to find ways to take the offense. Their respons­es so far sug­gest part of what will need to be labor's strat­e­gy: build­ing broad coali­tions, edu­cat­ing mem­bers and the pub­lic about eco­nom­ic issues and alter­na­tives, nur­tur­ing grass­roots ini­tia­tives, tak­ing direct action and stak­ing out an inde­pen­dence from the Demo­c­ra­t­ic Par­ty while also work­ing to trans­form it.
Above all, unions need to make them­selves a lead­ing part of a broad work­ing- and mid­dle-class move­ment for eco­nom­ic democ­ra­cy and equal­i­ty, or ​"shared pros­per­i­ty" – a move­ment to rede­fine the frame­work of polit­i­cal debate in order to win pro­gres­sive vic­to­ries. The Unit­ed States needs ​"an inde­pen­dent labor move­ment that builds the pow­er of work­ing peo­ple – in the work­place and in polit­i­cal life," AFL-CIO Pres­i­dent Richard Trum­ka said in a May 20 speech. And indeed, the labor move­ment does have a few (if rarely used) alter­na­tives to endors­ing unap­peal­ing Democrats.
Labor needs to with­draw sup­port from Democ­rats who ​"stand aside," as Trum­ka said, or worse, join ​"the wreck­ing crew." And it should work with its coali­tion part­ners to run pri­ma­ry chal­lenges in both Demo­c­ra­t­ic and Repub­li­can pri­maries. In some instances, unions can sup­port groups like the Work­ing Fam­i­lies par­ties in New York, Con­necti­cut, Ore­gon and oth­er states, run their own can­di­dates in non­par­ti­san races with run-off elec­tions (like Chica­go alder­man­ic races) and pro­mote elec­toral reforms that weak­en the two-par­ty stran­gle­hold. With­out elec­toral reforms, the peren­ni­al left pro­pos­al to form a Labor Par­ty is a los­ing propo­si­tion. Even with such reforms in place, build­ing a polit­i­cal par­ty on America's weak union base would be dif­fi­cult at best, espe­cial­ly with­out more inten­sive mem­ber edu­ca­tion. Con­sid­er that 37 per­cent of Wis­con­sin union mem­bers vot­ed for Repub­li­can Gov. Scott Walk­er – though most now prob­a­bly regret doing so.
Oppor­tu­ni­ty knocks
Pro­gres­sives are right­ful­ly unhap­py with many elect­ed Democ­rats: Ulti­mate­ly they failed to take advan­tage of the finan­cial cri­sis to shift the country's polit­i­cal par­a­digm. But all would not be lost if labor and pro­gres­sives can turn the right's cur­rent, increas­ing­ly unpop­u­lar over­reach – from deny­ing work­ers bar­gain­ing rights to dis­man­tling Medicare – into not just Demo­c­ra­t­ic vic­to­ries but an affir­ma­tion of social demo­c­ra­t­ic val­ues and programs.
At the fed­er­al lev­el, cor­po­ra­tions and the right have demo­nized labor's Employ­ee Free Choice Act (or EFCA, nev­er a top Demo­c­ra­t­ic pri­or­i­ty), pos­si­bly ener­giz­ing their anti-union dri­ve in the states. In addi­tion, they've tar­get­ed every appoint­ment to the Nation­al Labor Rela­tions Board and por­trayed the board's com­plaint against Boe­ing as a nov­el seizure of pow­er over cor­po­ra­tions, when Boe­ing had stat­ed clear­ly that mov­ing work from Seat­tle to South Car­oli­na was retal­i­a­tion for past strikes by union­ized work­ers. Beyond chal­leng­ing such attacks, unions are con­sid­er­ing how to pass parts of EFCA, like increas­ing penal­ties for employ­er law­break­ing. And unions and allies have blocked oth­er ini­tia­tives, includ­ing all 14 right-to-work proposals.
Mean­while, from Maine and Flori­da to Michi­gan and Ari­zona, work­ers face a resur­gent right that has used tem­po­rary fis­cal prob­lems as a ratio­nale for cut­ting jobs, pay (main­ly pen­sions), rights of pub­lic work­ers and pub­lic services.
While the rich­est 2 per­cent of the pop­u­la­tion take vir­tu­al­ly all the new income gen­er­at­ed, the share of those earn­ings that big cor­po­ra­tions and the rich pay in tax­es has declined – exac­er­bat­ing the pub­lic fis­cal cri­sis. And they want to pay even less, get more from gov­ern­ment, avoid reg­u­la­tion and assume less respon­si­bil­i­ty for the gen­er­al wel­fare, which they endan­ger. Even so, tax­es on cap­i­tal gains from ris­ing stock val­ues have reduced pro­ject­ed state deficits, such as in Cal­i­for­nia. That's a reminder that bud­get short­falls might have dropped near­ly twice as fast if cap­i­tal gains were taxed like ordi­nary income.
State tax struc­tures are so regres­sive that they cre­ate the cri­sis right-wingers use to dis­man­tle the pub­lic sec­tor. Unit­ed for a Fair Econ­o­my (UFE) pro­pos­es flip­ping the state and local gov­ern­ment tax codes at the halfway point – so that the top quin­tile of house­holds would pay the same share of their income as the bot­tom does now. UFE cal­cu­lates that would gen­er­ate $490 bil­lion annu­al­ly across the nation, more than enough to solve state finan­cial prob­lems and make need­ed investments.
But the right does not want to fund the gen­er­al wel­fare. It wants to turn gov­ern­ment into a provider of police and legal ser­vices for pri­vate order and secu­ri­ty (of property).
The mis­sion to shrink democracy
The right's mis­sion to min­i­mize gov­ern­ment is also a mis­sion to min­i­mize democ­ra­cy. At the same time that they have exploit­ed post-Cit­i­zens Unit­ed polit­i­cal con­tri­bu­tions from cor­po­ra­tions, Repub­li­cans in 13 states have pro­mot­ed laws requir­ing vot­ers to show offi­cial ID cards – a solu­tion to a nonex­is­tent prob­lem that dis­pro­por­tion­ate­ly affects the young, eth­nic minori­ties and the poor – all pop­u­la­tions that are least like­ly to vote Republican.
Unions, by con­trast, fos­ter eco­nom­ic and polit­i­cal democ­ra­cy. As part of the ​"We Are Wis­con­sin" coali­tion, union mem­bers are work­ing hard on a July vote to recall six Repub­li­can state sen­a­tors who sup­port­ed Gov. Scott Walker's anti-union leg­is­la­tion, aus­ter­i­ty bud­get and tax cuts for cor­po­ra­tions and the wealthy. They look for­ward to Democ­rats regain­ing con­trol of the Sen­ate and recall­ing Walk­er next year.
Equal­ly impor­tant, the bat­tles in Madi­son mid­wifed the birth of new local cit­i­zen orga­ni­za­tions. Dane Grass­roots Net­work, a strong­ly Demo­c­ra­t­ic orga­ni­za­tion of for­mer Oba­ma cam­paign vol­un­teers, now plays a key role in the recall elec­tions. The protests uni­fied a cross-sec­tion of state pro­gres­sives; revived direct action as inte­gral to polit­i­cal work; and stim­u­lat­ed unions to rely more on active mem­bers, not staff.
In his May speech, Trum­ka called on unions to use their mon­ey more for edu­cat­ing mem­bers and less for cam­paign con­tri­bu­tions. Many are teach­ing mem­bers about the abus­es of giant banks and cor­po­ra­tions, often through direct action protests attempt­ing to hold them account­able. The Ser­vice Employ­ees union (SEIU), for exam­ple, launched its Fight for a Fair Econ­o­my cam­paign as a nation­wide ​"com­pre­hen­sive plan that tack­les the fun­da­men­tal imbal­ance of pow­er in Amer­i­ca and puts the needs of work­ing fam­i­lies square­ly at the top of our nation­al pri­or­i­ties." In Wis­con­sin, SEIU links the recalls and eco­nom­ic issues. At all lev­els, unions are fight­ing bud­get cuts and demand­ing leg­is­la­tors close cor­po­rate tax loop­holes to finance social needs.
In Ohio, union mem­bers are among the 10,000 vol­un­teers form­ing a new coali­tion – ​"We Are Ohio" – that in May col­lect­ed near­ly all of the 232,000 sig­na­tures need­ed to put a ref­er­en­dum on the Novem­ber bal­lot to issue a ​"cit­i­zens' veto" to a law pushed by Repub­li­can Gov. John Kasich and approved by the Ohio leg­is­la­ture on March 30. That law restricts col­lec­tive bar­gain­ing, weak­ens unions, bans strikes and shifts pen­sion and health care costs to pub­lic work­ers. In May, a Quin­nip­i­ac Uni­ver­si­ty poll showed state vot­ers favor­ing repeal 54 to 36 percent.
Oth­er Ohio unions are com­mit­ted to anoth­er effort, Stand Up For Ohio. Seth Rosen of the Com­mu­ni­ca­tion Work­ers union, describes it as an unprece­dent­ed attempt to build ​"a much broad­er move­ment" involv­ing envi­ron­men­tal, hous­ing, pub­lic pol­i­cy and oth­er pro­gres­sive groups in a coali­tion focused on bud­get and tax issues. Build­ing sup­port through house par­ties and pub­lic gath­er­ings in the state's many small cities, Rosen says, Stand Up For Ohio aims to become an issues-ori­ent­ed coali­tion that ​"offers alter­na­tives to [the Repub­li­cans'] job-killing, income-killing" aus­ter­i­ty proposals.
Union strength comes first from mem­bers, but it also stems from sup­port of pro­gres­sive cit­i­zens who see orga­nized labor fight­ing for them as well, which is what the emerg­ing labor-com­mu­ni­ty coali­tions do. Unions and the AFL-CIO have always tried to incor­po­rate some work­ers not under con­tracts, main­ly retirees. They have also reached out recent­ly to many legal­ly mar­gin­al­ized work­ers – includ­ing domes­tic work­ers, day labor­ers, immi­grants and sym­pa­thet­ic nonunion work­ers through Work­ing Amer­i­ca. The orga­ni­za­tion deliv­ers a suc­cinct pro­gres­sive, work­er-ori­ent­ed polit­i­cal mes­sage to the doorstep (and email inbox) of more than 3 mil­lion mem­bers, mov­ing them to vote much like union mem­bers – that is, much more pro­gres­sive than most nonunion work­ers. There are still more oppor­tu­ni­ties to bring in for­mer union mem­bers, free­lancers, pro­fes­sion­al asso­ci­a­tions and oth­er groups that aren't for­mal unions to expand the labor movement.
Unions face real threats, but their resis­tance – start­ing in Wis­con­sin – has begun to show how they can build a big­ger, more inclu­sive, more pow­er­ful grass­roots move­ment of work­ing and mid­dle-class Amer­i­cans for eco­nom­ic democracy.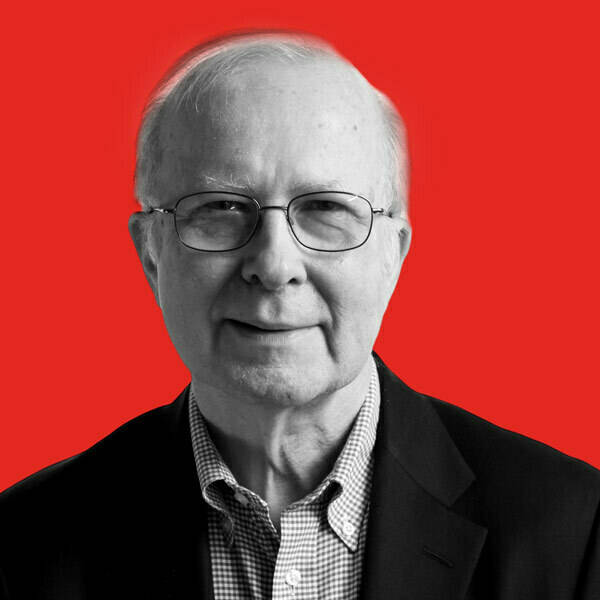 David Moberg, a senior edi­tor of In These Times, has been on the staff of the mag­a­zine since it began pub­lish­ing in 1976. Before join­ing In These Times, he com­plet­ed his work for a Ph.D. in anthro­pol­o­gy at the Uni­ver­si­ty of Chica­go and worked for Newsweek. He has received fel­low­ships from the John D. and Cather­ine T. MacArthur Foun­da­tion and the Nation Insti­tute for research on the new glob­al economy.