The UAW Vote in Mississippi is a Battle for the Soul of the U.S. Labor Movement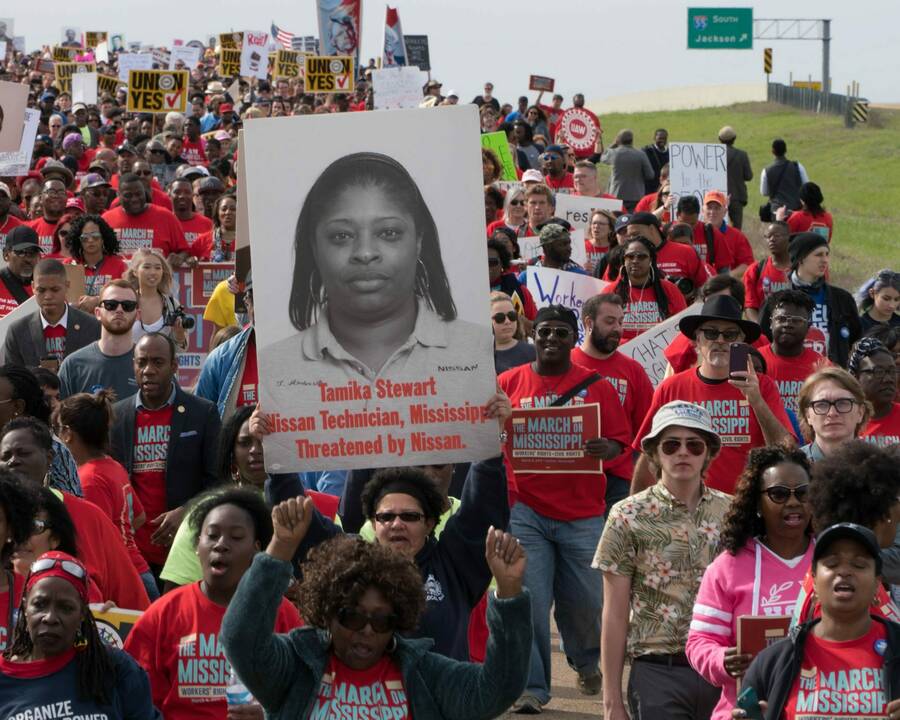 After years of painstak­ing work by Unit­ed Auto Work­ers (UAW) orga­niz­ers to build sup­port for a union at the big Nis­san auto and truck assem­bly plant near Can­ton, Miss., the work­ers them­selves will vote today and tomor­row on whether to accept UAW their col­lec­tive bar­gain­ing voice at the plant.
"I think it [union approval] will pass," UAW pres­i­dent Den­nis Williams told a press con­fer­ence just days before the vote, ​"but we're doing an ongo­ing eval­u­a­tion. We've been think­ing about it for six to sev­en months," rough­ly since the UAW held a large march and ral­ly at the fac­to­ry attend­ed by Bernie Sanders. The union says it is par­tic­u­lar­ly con­cerned about a surge in the kind of unlaw­ful man­age­ment tac­tics to scare work­ers that brought charges against Nis­san this week from the Nation­al Labor Rela­tions Board.
The Can­ton fac­to­ry is one of only three Nis­san fac­to­ries world­wide where work­ers do not have a union. Built in 2003, it is one of a spate of auto ​"trans­plants," or for­eign-owned fac­to­ries built with state sub­si­dies for the past three decades, large­ly in the South and bor­der states.
Many see the upcom­ing vote as anoth­er test of whether unions can thrive in the South, where union mem­ber­ship has his­tor­i­cal­ly been well below the nation­al aver­age. How­ev­er, the bat­tle is far greater. Now the cor­po­rate strate­gies and val­ues of the South have per­sist­ed and influ­enced multi­na­tion­al com­pa­nies, as well as labor rela­tions and pol­i­tics in the North. The Nis­san cam­paign is best con­ceived as a bat­tle for the U.S. labor movement.
Nis­san has not yet respond­ed to a request for comment.
Orga­niz­ing the South
Orga­nized labor, usu­al­ly prod­ded by left­ists in the move­ment, has under­tak­en high-pro­file cam­paigns in the South to orga­nize unions across the racial divides. Such dri­ves were espe­cial­ly promi­nent dur­ing the 1930s-era orga­niz­ing upsurge and the post-World War II ​"Oper­a­tion Dix­ie," which lacked ade­quate sup­port from exist­ing unions and was plagued by inter­nal polit­i­cal divisions.
The UAW has, at var­i­ous times, esca­lat­ed orga­niz­ing in the South, espe­cial­ly when Gen­er­al Motors was con­sid­er­ing relo­cat­ing much pro­duc­tion there in the 1960s — and when the trans­plant growth surged in recent decades.
Despite the short­com­ings of labor's cam­paigns, many union strate­gists think that unions can only reverse their decline by direct­ly tack­ling the racist strat­e­gy of employ­ers and their con­ser­v­a­tive polit­i­cal allies. But employ­ers have many tools to divide work­ers, such as Nissan's employ­ment of tem­po­rary, con­tract work­ers to divide a pre­dom­i­nate­ly African-Amer­i­can workforce.
In recent years, the South has suf­fered key orga­niz­ing blows, includ­ing the big defeat in Jan­u­ary for the Machin­ists' union try­ing to orga­nize the new Boe­ing fac­to­ry in Charleston, S.C., and the lim­it­ed UAW suc­cess orga­niz­ing a skilled trades union at Volk­swa­gen in Chat­tanooga, Tenn. against a sup­pos­ed­ly neu­tral employ­er. Such defeats typ­i­cal­ly inspire fune­re­al chants for labor rights and unions, but sound like par­ty music for man­agers and investors.
Yet, some orga­niz­ers dis­pute that the South is impos­si­ble ter­ri­to­ry. One vet­er­an orga­niz­er with the AFL-CIO, who has over­seen many orga­niz­ing dri­ves in the South and asked not to be iden­ti­fied or direct­ly quot­ed, said that he thought it was not sig­nif­i­cant­ly more dif­fi­cult to orga­nize in the South. It just took more time and more money.
The orga­niz­er cit­ed one suc­cess that defied expec­ta­tions: the cam­paigns over rough­ly 15 years to orga­nize 26,000 work­ers and pre­serve busi­ness at Louisiana's giant Avon­dale ship­yards for a shift­ing cast of cor­po­rate own­ers doing repair and rebuild­ing work main­ly on mil­i­tary con­tracts. Ulti­mate­ly, a decline in mil­i­tary orders led its lat­est own­er to close the ship­yards, wip­ing out the orga­niz­ing victory.
"The unions often do not real­ize it, but they have been win­ning in the South more than in the Mid­west for years," says Kate Bron­fen­bren­ner, a Cor­nell Uni­ver­si­ty labor rela­tions pro­fes­sor who spe­cial­izes in research on union orga­niz­ing. ​"Because [in the South] there are more women work­ing, more African Amer­i­cans, and because there's less high-tech work." Each of those cat­e­gories of work­ers is more pro-union than their coun­ter­parts, thus build­ing in a small the­o­ret­i­cal advan­tage in the South.
The South's poor labor stan­dards are spreading
In the end, it may be that the poor labor stan­dards of the South are spread­ing nation­wide. The ascen­dant con­ser­v­a­tive polit­i­cal pow­er of the new Repub­li­can Par­ty, linked with the more aggres­sive­ly anti-work­er and anti-union poli­cies of big cor­po­ra­tions and finan­cial firms, indi­cate that, in this country's long Civ­il War, the South is gain­ing ground.
Con­sid­er what has occurred from 1983, when Ronald Reagan's ​"morn­ing in Amer­i­ca" ads were on the hori­zon, as well as in 2016, when Don­ald Trump pledged to ​"make Amer­i­ca great again." Then and now, most peo­ple would con­sid­er Michi­gan and Wis­con­sin as typ­i­cal­ly north­ern, in terms of labor con­di­tions and union den­si­ty. Yet over that peri­od, fed­er­al data shows that the per­cent­age of all work­ers in Michi­gan who were cov­ered by union con­tracts dropped from 32.8 per­cent in 1983 to 15.5 per­cent in 2016. For Wis­con­sin, the share dropped from 26.9 per­cent to 9.0 percent.
Unions are los­ing mem­bers and fail­ing to gain new ones at an ade­quate rate to avoid the rough halv­ing of the union share of the work­force over the past 15 years in most of both the South and the North.
Assault on work­ers knows no boundaries
It will be bet­ter for work­ers every­where if the Can­ton, Miss., work­ers vote for the union, but man­age­ment still has the upper hand. Work­ers are still weak and get­ting weak­er near­ly every­where, with par­tial excep­tions, like the Fight for 15 move­ment, which flour­ish­es in near­ly all of the country.
"Right to work" laws threat­en unions nation­wide, by pro­hibit­ing them from charg­ing agency fees to work­ers who do not join the union but ben­e­fit from actions it takes. In recent years, the wide­spread pas­sage of such laws out­side of the South — now extend­ing to half of all states — is a clear indi­ca­tion of the decline in union power.
Work­ers in Can­ton may win a union for a vari­ety of rea­sons beyond the basic propo­si­tion that they need col­lec­tive pow­er to counter the pow­er of their boss­es. Or they may reject the union due to fear engen­dered by Nis­san and its anti-union cam­paign, out of con­ser­v­a­tive polit­i­cal beliefs or for oth­er reasons.
The best union orga­niz­ers — and some very good orga­niz­ers have played a major role at Nis­san — under­stand how impor­tant it is to involve work­ers them­selves as-orga­niz­ers in reach­ing out to work­ers. In addi­tion, orga­niz­ers rec­og­nize it is vital­ly impor­tant to mobi­lize the pro­gres­sive lead­ers and groups in the com­mu­ni­ty for sup­port, and employ a wide assort­ment of tac­tics to min­i­mize the influ­ence of the boss's war on unions — a war con­duct­ed in large part on turf and terms favor­able to the employer.
How­ev­er, if the labor move­ment is striv­ing to with sig­nif­i­cant gains for work­ers, it must cre­ate a pro­gres­sive strat­e­gy for pol­i­tics, work­place orga­niz­ing and cul­ture that focus­es on the work­ing class very broad­ly con­strued, includ­ing mul­ti­ple lev­els of pover­ty, afflu­ence and job his­to­ries. U.S. union orga­niz­ing will need to strength­en and expand its com­mu­ni­ty activ­i­ties to devel­op a broad­er range of strate­gies to defeat racism. With­in such a polit­i­cal con­text, union orga­niz­ing might pros­per — and work­ers might do so as well.
Whether the UAW does or does not win this sum­mer, future suc­cess­ful orga­niz­ing of work­ers in their com­mu­ni­ties and work­places require an alter­na­tive polit­i­cal force that is more sup­port­ive and transformative.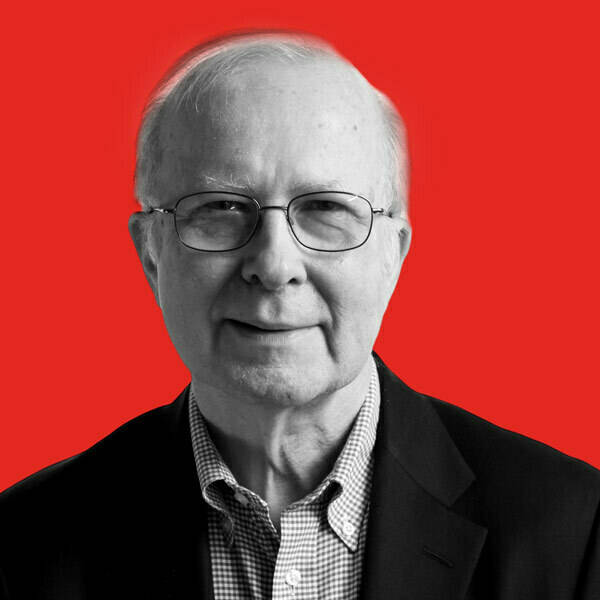 David Moberg, a senior edi­tor of In These Times, has been on the staff of the mag­a­zine since it began pub­lish­ing in 1976. Before join­ing In These Times, he com­plet­ed his work for a Ph.D. in anthro­pol­o­gy at the Uni­ver­si­ty of Chica­go and worked for Newsweek. He has received fel­low­ships from the John D. and Cather­ine T. MacArthur Foun­da­tion and the Nation Insti­tute for research on the new glob­al economy.