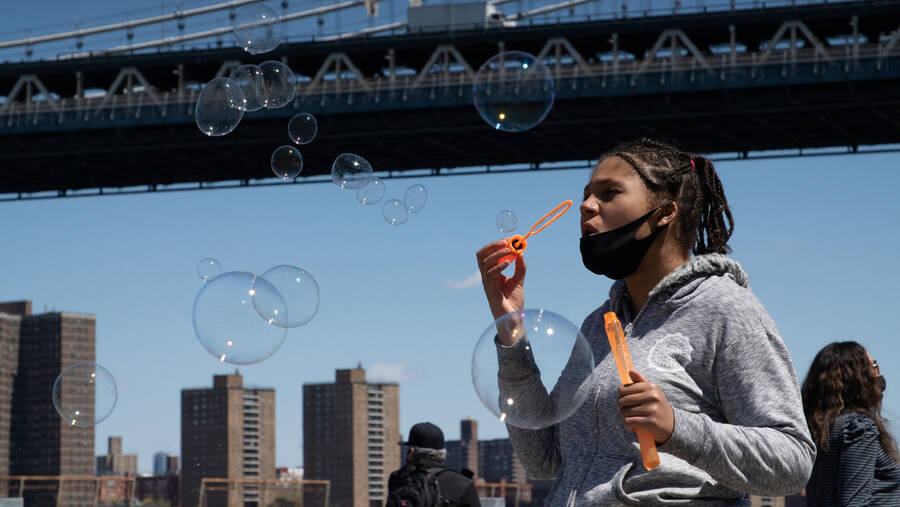 While it's true that every­one has been impact­ed by the Covid-19 pan­dem­ic, the fed­er­al government's response to the cri­sis is fail­ing two groups in par­tic­u­lar: Black and Lat­inx Americans.
We have an opportunity to use the lever of public policy in favor of racial and economic justice.
Reports out of Louisiana have found that while African Amer­i­cans make up a third of the state's pop­u­la­tion, they account for 70% of the deaths. We have seen sim­i­lar dis­pro­por­tion­ate ratios in cities such as Detroit and Chica­go. Black and Lat­inx work­ers are far less like­ly to be giv­en the option to work from home com­pared to white work­ers, increas­ing their risk of expo­sure to the virus. Many ser­vice work­ers, low paid and often with insuf­fi­cient ben­e­fits like health­care and retire­ment, are now deemed ​"essen­tial" to pub­lic health and the econ­o­my. These health risks will go hand-in-hand with eco­nom­ic hard­ship, as the impact of med­ical costs and job loss­es com­bined with the lack of finan­cial assets in these com­mu­ni­ties will lead many to finan­cial ruin.
Shame­ful­ly, out­comes like these are noth­ing new. Amer­i­ca has a long his­to­ry of major dis­as­ters and fed­er­al respons­es that neglect com­mu­ni­ties of col­or, with Black and Lat­inx Amer­i­cans less like­ly to receive aid and the racial wealth gap widen­ing in the aftermath.
But it doesn't have to be this way. We have an oppor­tu­ni­ty to use the lever of pub­lic pol­i­cy in favor of racial and eco­nom­ic jus­tice. We can make sure all peo­ple are sup­port­ed in the cur­rent cri­sis and also ensure they have the finan­cial resilience to weath­er dis­as­ters in the future.
A Just Futures Fund could accom­plish this goal by bring­ing togeth­er two big ideas: uni­ver­sal basic income, where every adult and child would receive a month­ly cash trans­fer to cov­er their basic needs, and Kids' Futures Accounts, which are trust accounts that build wealth for chil­dren in asset-poor families.
Under a uni­ver­sal basic income sys­tem, every adult 18 and old­er would receive $1,000 in cash every month, regard­less of their employ­ment sta­tus or oth­er income. Par­ents would also receive $250 per month for each child. Kids' Futures Accounts would pro­vide every child with an inter­est-accru­ing trust account in their name, con­tain­ing $1,000 at birth. Every year, more mon­ey would be deposit­ed into the child's account based on the wealth of their fam­i­ly, with the amount rang­ing from $2,000 for very low-wealth fam­i­lies to $0 for very high-wealth ones. The child would receive access to those funds when they turn 18, at which point the size of the account could be around $37,000 for chil­dren from low-wealth backgrounds.
Work­ing togeth­er, these poli­cies could have a pro­found impact on people's resilience to get through dis­as­ters, by both lift­ing peo­ple out of pover­ty and build­ing wealth for Black and Lat­inx com­mu­ni­ties that they can rely on in times of need. A recent analy­sis from Bran­deis Uni­ver­si­ty and the Uni­ver­sal Income Project (where I serve as co-direc­tor) found that a Just Futures Fund would cut the pover­ty rate amongst Black par­ents by a fac­tor of six — from 30% to just 5% — and amongst Lat­inx par­ents by a fac­tor of four — from 22% to 5%. It would elim­i­nate pover­ty entire­ly among Black and Lat­inx elders. And it would rad­i­cal­ly reduce the num­ber of peo­ple of col­or liv­ing in asset pover­ty, from 54% to 6% for Black fam­i­lies and 49% to 1% for Lat­inx families.
In terms of pay­ing for such redis­trib­u­tive pro­grams, the Bran­deis / UIP report lays out a num­ber of pro­gres­sive mech­a­nisms that could be enact­ed. ​"The pub­lic invest­ment nec­es­sary to finance a bold and robust Just Futures Fund, sim­ply, is afford­able now by re-bal­anc­ing bud­get pri­or­i­ties and a port­fo­lio shift in pub­lic invest­ments. The major­i­ty of the pol­i­cy cost could be financed for by intro­duc­ing a Trans­fer Repay­ment Tax, which would tax every dol­lar earned by adults receiv­ing Basic Income, up until they've paid back most of the cash trans­fer in taxes…More inno­v­a­tive, equi­table, and sus­tain­able financ­ing mech­a­nisms also should be explored, like a sov­er­eign wealth fund cre­at­ed from fos­sil fuel rev­enues, car­bon air rights; restor­ing pub­lic own­er­ship of com­mon resources; a wealth tax; a finan­cial trans­ac­tion fee; a reformed Estate Tax; a reformed Cap­i­tal Gains tax; a Social Wealth Fund financed by a share of cor­po­rate equi­ty; more pro­gres­sive indi­vid­ual income tax; and clos­ing cor­po­rate tax loopholes."
To be clear, this is not a whole­sale solu­tion to the racial injus­tice we so often see in response to major dis­as­ters. But by pro­vid­ing Black and Lat­inx com­mu­ni­ties with far greater finan­cial resilience, a Just Futures Fund can equip them to over­come the greater obsta­cles they face dur­ing these dis­as­ters, while at the same time we push for a more equi­table pub­lic response.
The Covid-19 pan­dem­ic has laid bare how the social con­tract we have today is fail­ing so many mem­bers of our soci­ety, espe­cial­ly com­mu­ni­ties of col­or. This is the moment to build a safe­ty net that paves the way to a just future for all Americans.
Jim Pugh
is the co-direc­tor of the Uni­ver­sal Income Project.