Universal Programs, Not Reparations, Are Needed To Counter Racism's Effects
The racial wealth gap is real and pernicious, but reparations are not the answer.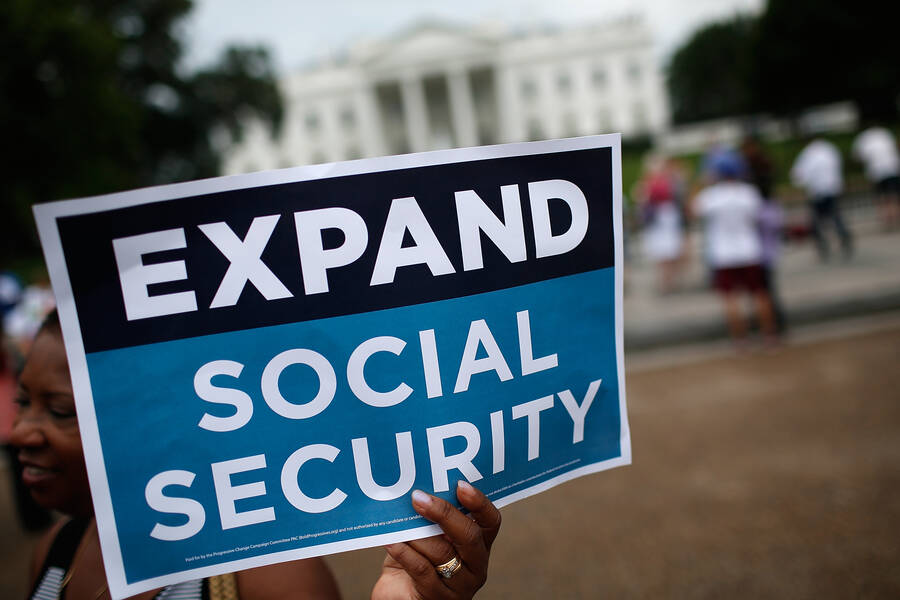 In his famous essay on repa­ra­tions, Ta-Nehisi Coates invoked the pol­i­cy as a way of ​"set­tling with old ghosts." But, while it is always valu­able to reck­on with the crimes of his­to­ry, we believe pub­lic pol­i­cy should focus on weak­en­ing the struc­tures of racial­ly strat­i­fied, inter­gen­er­a­tional pover­ty that per­sist in present times. It may sound coun­ter­in­tu­itive, but the best way to do this is not through repa­ra­tions but through uni­ver­sal, race-neu­tral programs.
A universal approach to reducing poverty would address the full spectrum of economic pain in America without separating Americans into categories of deserving and undeserving poor.
There is a clear moral case for resti­tu­tion to the descen­dants of slaves. But while cer­tain racial­ly tar­get­ed pro­grams have helped lev­el the play­ing field — affir­ma­tive action pro­grams and leg­is­la­tion like the Com­mu­ni­ty Rein­vest­ment Act of 1977 and the Fair Hous­ing Act of 1968 come to mind — uni­ver­sal pro­grams to address pover­ty are more equi­table and less divisive.
Con­sid­er the fact that the aver­age house­hold wealth of African Amer­i­cans and Lati­nos is actu­al­ly very sim­i­lar. Cash trans­fer pro­grams aimed only at African Amer­i­cans would cre­ate sig­nif­i­cant inequal­i­ty between America's two largest eth­nic minor­i­ty groups, which would inevitably fos­ter resent­ments. And while a small­er per­cent­age of whites live in pover­ty than African Amer­i­cans or Lati­nos, the demo­graph­ic rep­re­sents the largest total num­ber of indi­vid­u­als in pover­ty, which is sure­ly wor­thy of redress.
A uni­ver­sal approach to reduc­ing pover­ty would address the full spec­trum of eco­nom­ic pain in Amer­i­ca with­out sep­a­rat­ing Amer­i­cans into cat­e­gories of deserv­ing and unde­serv­ing poor.
One of the main sources of inequal­i­ty in the Unit­ed States is de fac­to racial seg­re­ga­tion. For years, research has shown that seg­re­ga­tion leads to worse edu­ca­tion­al out­comes for black stu­dents, which cor­re­lates with low­er incomes, reduced finan­cial lit­er­a­cy and high­er incar­cer­a­tion rates. Deseg­re­ga­tion efforts are cred­it­ed with nar­row­ing black-white edu­ca­tion­al achieve­ment gaps, par­tic­u­lar­ly in the South, yet many school sys­tems in Amer­i­ca remain stub­born­ly segregated.
Law­mak­ers could look to zon­ing reform or bus­ing as ways to ensure racial and socioe­co­nom­ic diver­si­ty in pub­lic edu­ca­tion, to ensure that the dele­te­ri­ous effects of school and neigh­bor­hood seg­re­ga­tion are not falling dis­pro­por­tion­ate­ly on the shoul­ders of black chil­dren. But these poli­cies need not be race-specific.
Wake Coun­ty, N.C., embarked on an ambi­tious school inte­gra­tion plan in 2000. The coun­ty, acute­ly aware of polit­i­cal chal­lenges that have hemmed in the abil­i­ty of local gov­ern­ments to deseg­re­gate by race, decid­ed to inte­grate stu­dents based around socioe­co­nom­ic sta­tus instead. The inte­gra­tion of the nation's 15th largest school dis­trict appears to have worked: One 2012 paper found that Wake Coun­ty had one of the small­est black-white test score gaps in the coun­try, rel­a­tive to areas with sim­i­lar expec­ta­tions based on demo­graph­ic factors.
Wake County's exam­ple sug­gests that pol­i­cy based on socioe­co­nom­ic sta­tus, rather than race, can be less polit­i­cal­ly polar­iz­ing while effec­tive­ly reduc­ing racial disparities.
Only 26 per­cent of Amer­i­cans sup­port a pro­gram of cash-based repa­ra­tions for the descen­dants of Amer­i­can slaves. But a clear major­i­ty sup­ports some kind of expan­sion of Medicare that would be avail­able to all Amer­i­cans, and an expan­sion of Social Secu­ri­ty—both of which could help close the racial wealth gap. The poli­cies would ben­e­fit African Amer­i­cans, who are dis­pro­por­tion­ate­ly unin­sured (11 per­cent, as com­pared to 7 per­cent of white Amer­i­cans) and have low­er aver­age sav­ings at retire­ment ($20,000 per fam­i­ly, as com­pared to $112,000 per white fam­i­ly). But the poli­cies would equal­ly ben­e­fit oth­er racial demo­graph­ics. Lati­nos, for exam­ple, are unin­sured at an even high­er rate (19 per­cent) and have even small­er retire­ment nest eggs ($18,000 per family).
Anoth­er pol­i­cy that could help reduce the wealth gap is cham­pi­oned by Sen. Cory Book­er (D‑N.J.) as well as some repa­ra­tions advo­cates. Booker's race-neu­tral baby bonds plan would pro­vide every new­born Amer­i­can with a guar­an­teed amount of gov­ern­ment seed mon­ey when they turn 18, no mat­ter their race or background.
It is unclear that a race-based pro­gram could actu­al­ly set­tle with ​"old ghosts," but it would cer­tain­ly cre­ate new specters that would haunt us in the here and now.
This piece is a response to ​"The 2020 Can­di­dates Are Dodg­ing the Repa­ra­tions Ques­tion." For a response to this piece, read, ​"Write Black Amer­i­cans a Check Already."
Zaid Jilani and Leighton Wood­house
are copro­duc­ers of the pod­cast ​
"
Extreme­ly Offline," which brings peo­ple from duel­ing polit­i­cal tribes togeth­er for con­struc­tive conversation.