50,000 University of California Workers Are Still on Strike. One Key Reason: Outsourcing.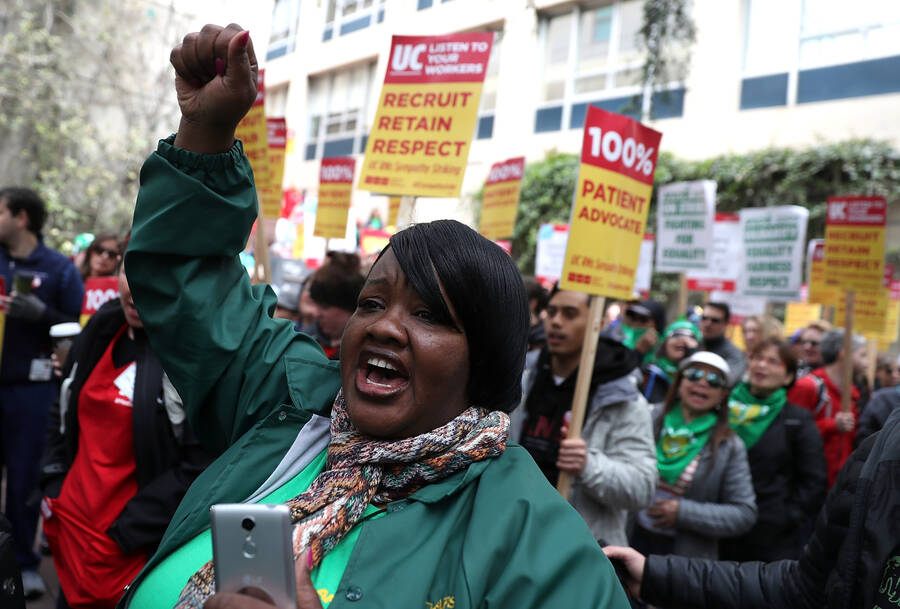 On the heels of public sector union walkouts in West Virginia, Kentucky, Oklahoma and Arizona, University of California employees are now out on a three day strike, citing concerns over outsourcing as well as insufficient pay and benefit increases. The striking UC employees are members of the American Federation of State, County and Municipal Employees (AFSCME) Local 3299.
In mid-April, 97 percent of AFSCME Local 3299 members voted to authorize the strike after receiving what the union says is an ​"insulting" contract settlement offer from UC officials. Currently, there are over UC workers on strike at campuses across the state. These workers include maintenance and food service workers, as well as UC hospital staffers.
Scott Gilliam has been an interventional angiographer at UCLA's Reagan Medical Center for 18 years, where he helps treat and diagnose disease in connection to blood vessels. In a phone conversation from the picket lines, Gilliam tells In These Times that he joined the walkout because he is fed up with UC officials not addressing key labor issues, including inequality. For Gilliam, what that looks like is outsourcing.
"In all departments across UC," Gilliam says, administrators are ​"trying to save money by taking jobs from us." While he hasn't directly experienced outsourcing, Gilliam says he's seen many nurses subjected to the practice. In a recent article in UCLA's Daily Bruin newspaper, nurse Lucia Brandt similarly stated that UC nurses are being replaced by ​'per diem" staff who are ​"hired on a day-to-day basis at different hospitals."
Brandt called the hospital's push to outsource nurses not only a sign of ​"disrespect" for current employees, but also a threat to their central mission: providing safe and consistent patient care. As a show of solidarity, members of the California Nurses Association have joined AFSCME 3299 members on the picket lines.
John de los Angeles, communications director for AFSCME Local 3299, agrees that outsourcing is a major issue at play in the current walkout. De los Angeles tells In These Times that state auditor Elaine Howle recently cited the UC system for the use and misuse of outsourced workers. ​"UC calls them temporary workers," de los Angeles says, stating that some of these ​"temporary" workers have been employed by the UC system for 20 years — which he calls a strategy to avoid paying benefits and living wage jobs.
"UC has been actively hiring contract workers over directly employed workers simply because they are cheaper," de los Angeles states, noting that this has resulted in the displacement of ​"large amounts of workers." Howle's 2017 report looked at 31 contracts between UC and its workers from 2011-2016. One of her key findings was that in 2016, the University of California San Francisco outsourced the IT work of over fifty contracted employees on the premise that such an effort would save the school millions of dollars.
Yet administrators did not keep tabs on the cost-savings and also could not show whether or not they had followed proper state guidelines for the outsourcing of jobs. Although UC officials stated, for example, that outsourcing jobs saved the ten-campus system $269 million in 2015-2016 alone, Howle's team of audit investigators ​"could find no evidence to support $109 million of the claim." Howle also found that UC officials were shortchanging low-wage contract employees on salaries and benefits by paying them far less than their UC counterparts.
Janet Napolitano, current president of the UC system, acknowledged in the wake of Howle's report that the findings were accurate, but told reporters that workers hired after 2015 are now being paid comparable wages. Still, many outsourced UC staffers have described unfair and unsafe working conditions, as well as wage theft, ​"abuse" and an overall undermining of workers' rights.
But de los Angeles says that UC officials will not even acknowledge that outsourcing is a problem, and instead have publicly worked to keep the conversation around boilerplate labor issues such as wages and benefits. Claire Doan, spokesperson for the UC President's Office, has towed a hard line towards striking workers in the media, telling the Los Angeles Times that the walkout has done nothing but "'hurt the care we provide our patients and the services for our students.'"
Doan has also characterized AFSCME Local 3299's demands as an unrealistic pitch for "'excessive raises and benefits'" and insists that the UC offer of a three percent annual wage increase over the next four years is comparable to what other UC employees receive. De los Angeles, however, is quick to point out that giving a 3 percent pay increase to one of UC's top-level administrators who already earns a six-figure salary is far different than providing the same three percent raise to a low-wage worker.
One UC chancellor, Samuel Hawgood of the San Francisco campus, saw his pay jump in 2017 from $795,675 to just under $820,000, thanks to UC's three percent pay raise policy. ​"Our workers have trouble keeping up with the cost of living," de los Angeles says," while top administrators are getting raises beyond what most would consider fair."
Sarah Lahm is a Min­neapo­lis-based writer and for­mer Eng­lish Instruc­tor. She writes the Midwest Dispatch column for the Progressive magazine, and her work has appeared in other local and national outlets.