Unveiling Muslim Feminism
Muslim women's bodies are too frequently used to symbolize the state of Islam in Iran, and the degree to which it associates itself with the West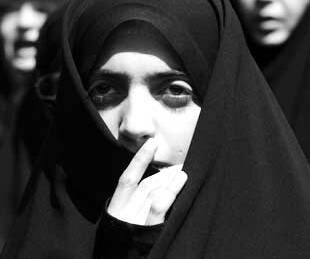 The cov­er of the July 21 Econ­o­mist tout­ed an arti­cle about Iran's push to devel­op nuclear weapons. But the accom­pa­ny­ing pho­to, fill­ing the cov­er along with the article's title, ​"The Rid­dle of Iran," pre­sent­ed a sea of fig­ures in black chadors, floor-length cloths used by some Mus­lim women to cov­er them­selves – despite the fact that the arti­cle said not a word about Iran­ian women. The rid­dle of Iran, the pho­to sug­gest­ed, is the way that it teeters between moder­ni­ty (the devel­op­ment of nuclear weapons) and antiq­ui­ty (the omnipresent chador).
By using the image of the cov­ered Mus­lim women to ques­tion the moder­ni­ty of the Iran­ian state, the Econ­o­mist reflects an entire his­to­ry of West­ern inter­ac­tions with Mus­lim women. As Nima Naghibi argues in Rethink­ing Glob­al Sis­ter­hood: West­ern Fem­i­nism and Iran (Uni­ver­si­ty of Min­neso­ta Press), Mus­lim women's veiled or unveiled bod­ies are fre­quent­ly used to sym­bol­ize the Iran­ian state as a whole, and par­tic­u­lar­ly the degree to which the state asso­ciates itself with the West.
Rethink­ing Glob­al Sis­ter­hood is a book that not only tears apart stereo­types and assump­tions about the sig­nif­i­cance of Mus­lim women's dress, but lev­els harsh cri­tiques against those fem­i­nists who invoke ​"glob­al sis­ter­hood" as their cause while per­pet­u­at­ing colo­nial atti­tudes of supe­ri­or­i­ty toward their veiled ​"sis­ters." West­ern-mind­ed Iran­ian nation­al­ists and lib­er­al fem­i­nists have gen­er­al­ly viewed the veiled woman as a sym­bol of a prim­i­tive era, but Naghibi argues that the real­i­ty is more complex.
The inter­pre­ta­tion of ​"hijab" (mod­est cloth­ing) has var­ied great­ly between cul­tures, class­es and time peri­ods. In ear­ly 20th cen­tu­ry Iran, for exam­ple, mid­dle- and upper-class women often wore a chador and facial veil. Full con­ceal­ment was a sign of high­er class sta­tus, because it indi­cat­ed that one did not have to work in the fields. (Peas­ant women tra­di­tion­al­ly wore sim­ple, loose cloth­ing with a headscarf.)
As Iran sought stronger iden­ti­fi­ca­tion with West­ern val­ues in the 1930s (under the rule of Reza Shah Pahlavi), the veil became seen as a mark­er of a trib­al past, and ​"mod­ern" mid­dle-class women dis­card­ed it. But by the 1960s, the sym­bol­ism had again reversed. Unveiled women were asso­ci­at­ed with a sin­ful, cor­rupt West, and women veiled them­selves to pro­claim their virtue and, more, impor­tant­ly, to protest against the Pahlavi dynasty. Fol­low­ing the shah's ouster, many women removed their veils, which sparked a back­lash from those men who believed women should not have a choice in their dress; the women respond­ed by tak­ing to the streets of Tehran for sev­er­al days of women's rights demonstrations.
Naghibi also exam­ines the ways the state has reg­u­lat­ed Iran­ian women's dress in order to pro­mote or reject an asso­ci­a­tion with the West. In 1936, Reza Shah Pahlavi (the first of Iran's two emper­ors) banned veil­ing, as part of an attempt to ​"mod­ern­ize" Iran. Women who resist­ed the ban had their veils ripped from their bod­ies. Naghibi sug­gests that the 1936 ban was, in many ways, quite sim­i­lar to the ban on unveil­ing that would be imposed in 1983. Both pieces of leg­is­la­tion, at their roots, attempt­ed to use women's bod­ies to pro­mote a par­tic­u­lar form of nation­al­ism, whether West­ern­ized or anti-impe­ri­al­ist. ​"Beneath these two polar­ized rep­re­sen­ta­tions," she writes, ​"lies a desire to pos­sess and to con­trol the fig­ure behind the veil by unveil­ing or re-veil­ing her."
Naghibi sug­gests that the vis­i­bil­i­ty of Mus­lim women – whether veiled or unveiled – has caused a great deal of anx­i­ety for West­ern fem­i­nists, who have large­ly ignored the indige­nous pres­ence of Mus­lim women's activism. Dur­ing the Con­sti­tu­tion­al Rev­o­lu­tion (1905Ð1911), for exam­ple, Iran­ian women par­tic­i­pat­ed in protests, act­ed as couri­ers and even took up arms. Naghibi argues that such actions threat­en fem­i­nists' per­cep­tions of them­selves ​"as lib­er­at­ed and mod­ern in con­trast to impris­oned and back­wards Per­sian women, and … as lead­ers of the inter­na­tion­al women's movement."
Sev­en­ty-five years lat­er, lit­tle had changed. The fem­i­nist writer Kate Mil­let gushed about the Iran­ian women's demon­stra­tions in 1979: ​"It's a whole cor­ner, the Islam­ic world, the spot we thought it would be hard­est to reach, and wow, look at it go!" It was as if the only pos­si­ble read­ing of the sit­u­a­tion, for Mil­let, was to see the demon­stra­tions as the direct result of West­ern feminism's influ­ence, rather than some­thing Iran­ian women were seek­ing on their own and for themselves.
Mil­let had been one of a hand­ful of West­ern fem­i­nists (includ­ing Bet­ty Friedan and Ger­maine Greer) who vis­it­ed Iran in the ​'70s and invoked the sol­i­dar­i­ty of ​"glob­al sis­ter­hood." But their incur­sion, Naghibi argues, actu­al­ly under­mined women's strug­gles in Iran, both by encour­ag­ing the growth of an elite fem­i­nist move­ment that neglect­ed low­er class and rur­al women, and by cre­at­ing an asso­ci­a­tion between fem­i­nism and the West – an asso­ci­a­tion that made it easy for the women's move­ment to be crushed in post-rev­o­lu­tion­ary Iran, when any­thing West­ern was seen as counter-rev­o­lu­tion­ary and dan­ger­ous to the state.
Naghibi's cri­tique of ​"glob­al sis­ter­hood," a con­cept preva­lent among fem­i­nists since the ​'70s, is by no means new. Fem­i­nists of col­or have been argu­ing for decades that women's expe­ri­ences dif­fer great­ly between class­es and eth­nic­i­ties – to say noth­ing of the fact that the van­guard of such a ​"sis­ter­hood" has tend­ed toward the white and mid­dle-class. But today, Naghibi writes, the ​"dis­course of sis­ter­hood" in the West has led to ​"a merg­ing of inter­ests between lib­er­al fem­i­nism and a xeno­pho­bic nation­al­ism. … [an] uncrit­i­cal sup­port of the Bush and Blair admin­is­tra­tions' rhetoric of the ​'us/​them' divide, the ​'civ­i­lized world ver­sus the terrorists.' "
In Novem­ber 2001, Lau­ra Bush deliv­ered a tear-jerk­ing appeal dur­ing the week­ly pres­i­den­tial radio address to save the women of Afghanistan from their impris­on­ment under the Tal­iban. She invoked the famil­iar rep­re­sen­ta­tions of the ​"oppressed Mus­lim woman" and the ​"civ­i­lized West­ern woman" who needs to inter­vene on her behalf. For fem­i­nists who rec­og­nize such appeals for what they are – win­dow dress­ing for impe­ri­al­ist ambi­tions – it is time to rethink glob­al sisterhood.