Protest Over Medical Services Sparks Prisoner Uprising At Controversial Private Prison in Texas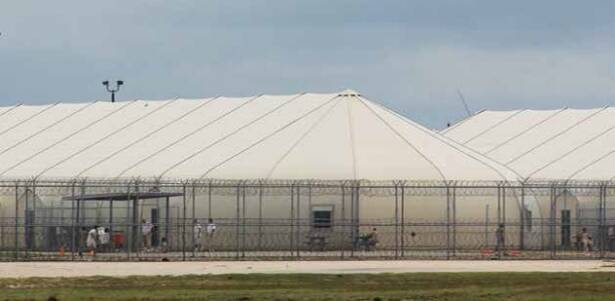 An uprising by prisoners at a much-criticized private prison in Texas has left the facility ​"uninhabitable." Thousands of federal prisoners from the Willacy County Correctional Center in Raymondville, Texas, will be moved to other facilities according to Reuters
The disturbance began early on Friday at the Willacy county correctional center in Raymondville, Texas, which primarily holds individuals who have entered the United States illegally. The prison, which is run by the private company Management & Training Corp, is located about 40 miles (64 km) from the Mexican border.

The unrest began when prisoners refused to come to breakfast or report for work in a bid to protest problems with medical services at the facility, the Express-News newspaper and local broadcaster KGBT-TV reported.

The inmates broke out of their housing structures and converged in the recreation yard, setting fire to several kevlar domes, or tents, that serve as prison housing, the paper said.

By Saturday evening, the disturbance was largely under control, but the prison had suffered sufficient damage to require the transfer of as many as 2,800 inmates, according to a statement from US bureau of prisons published by KGBT. The process of moving the inmates is expected to continue into next week, the statement said. Continue reading…
The prison is one of 13 ​"Criminal Alien Requirement" (CAR) prisons in the United States. Managed by private companies on behalf of the Federal Bureau of Prisons, the facilities are mostly used to hold low-security non-U.S. citizens convicted of immigration offenses or drug-related crimes.
As reported here at The Prison Complex, the ACLU last year released a damning report describing Willacy as ​"a physical symbol of everything that is wrong with enriching the private prison industry and criminalizing immigration."
"Believe it or not I care" is a Management & Training Corporation (MTC) company slogan on display at Willacy County Correctional Center in Raymondville, Texas. But a new report by the ACLU is calling that slogan into question. Last summer, 30 prisoners at the facility were placed in isolation units ​"for refusing to leave the recreation yard and return to their dormitories after prison officials ignored their complaints of toilets overflowing with raw sewage," according to the report. Continue reading…
Management & Training Corporation, the company that runs the facility, was subject to a lawsuit filed two years ago by prisoners at its East Mississippi Correctional Facility. Photos taken as part of a tour of the prison, showed charred door frames, exposed electrical wires, and blood soaked cell floors. According to the ACLU ​"many of the mentally ill prisoners are undertreated, leading to extreme behavior like throwing excrement, swallowing shards of glass and cutting their flesh with sharp objects."
George Lavender
is an award-winning radio and print journalist based in Los Angeles. Follow him on Twitter @GeorgeLavender.