Nur­to Mohamed Nor Issak, 59, doesn't want to talk about the coconut trees she lost after the U.S. air strike three years ago. She wants to talk about her son who was killed. Who cares about her trees? Based on Issak's rec­ol­lec­tions, the strike was like­ly one of the two car­ried out April 1 and April 2, 2016, near where Issak lives, in Janale — about 60 miles south­west of Somalia's cap­i­tal, Mogadishu.
Strikes have created a climate of paranoia, as civilians suspect each other of being targeted members of al-Shabab.
The Bureau of Inves­tiga­tive Jour­nal­ism esti­mates as many as 29 peo­ple were killed by the air attacks. The Pen­ta­gon claims the April 2016 strikes were self-defense against fight­ers with the mil­i­tant Islamist group al-Shabab who ​"posed immi­nent threats to U.S. and part­ner nation forces in Somalia."
Issak is adamant that her son was not with the mil­i­tants and that she told him ​"not to mix with al-Shabab."
The rea­son I'm speak­ing with Issak, though, is that — regard­less of her son's alleged asso­ci­a­tion with al-Shabab — her coconut trees are still decap­i­tat­ed and her income deplet­ed, three years hence.
Issak says the strike hit her sug­ar­cane and coconut tree plan­ta­tion, which stretched about 7 acres. Al-Shabab bans smart­phones in the vil­lages it con­trols, but Issak man­aged to use one to take pho­tos of the dam­age. ​"The coconut trees lost their heads," she says. In the pic­tures, the tree trunks are stark against the blue sky, masts with­out sails.
Before the strikes, Issak had 240 coconut trees whose biweek­ly har­vest brought her about $250 — rough­ly $6,000 a year. Live­stock and crops are the main sources of liveli­hood in Soma­lia — as they are for Issak, who says less than a quar­ter of her trees sur­vived. U.S. Africa Com­mand (Africom) gen­er­al­ly uses pre­ci­sion-guid­ed muni­tions — often Hell­fire mis­siles with a 20 – 80 pound war­head, not large enough to cause mass destruc­tion of a farm. But Issak says the strike set the grass under her trees on fire, caus­ing the trees to decay (which coconut tree experts tell In These Times is plausible).
Issak has lost much with the dec­i­ma­tion of her trees, but it's her son she miss­es most. He was a strong, sup­port­ive son with busi­ness plans, she says. He could have done so much with the farm. She still has the bloody T‑shirt he was wear­ing when he died.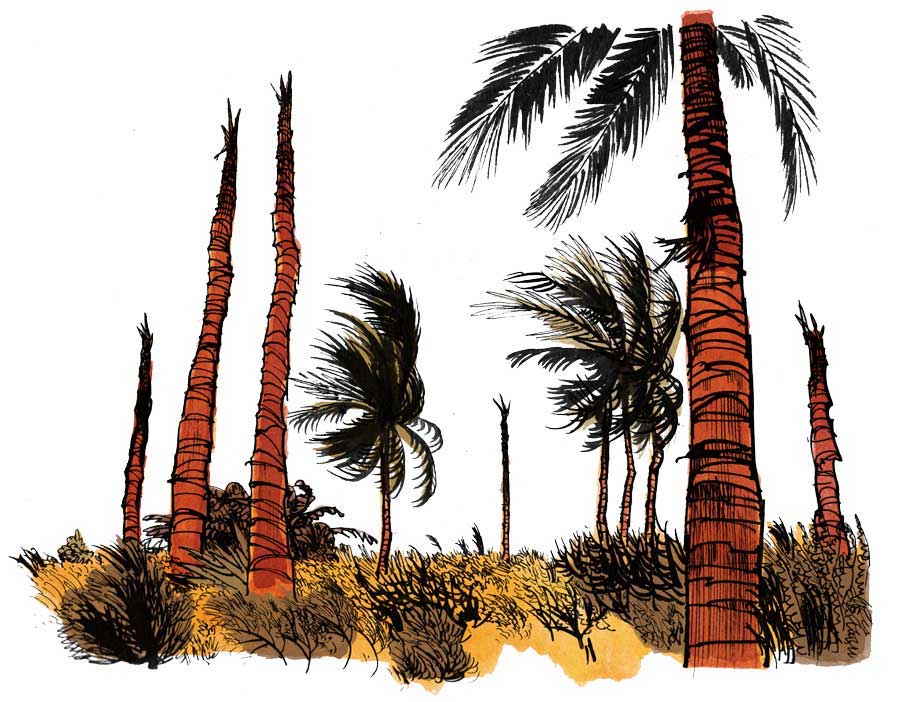 (Illus­tra­tion by Matt Rota)
The Unit­ed States began its cam­paign of ​"pre­ci­sion" strikes against al-Shabab (and, more recent­ly, ISIS-Soma­lia) in 2007. In the past three years, Africom says it has car­ried out 148 strikes, killing between 900 and 1,000 peo­ple. Africom long main­tained that all of the deaths were tar­get­ed ​"ter­ror­ists." This year, Amnesty Inter­na­tion­al has inves­ti­gat­ed six U.S. air strikes and con­clud­ed they caused 17 civil­ian casu­al­ties. Africom has since admit­ted that one strike (not one cov­ered by Amnesty) did result in two civil­ian deaths.
Such strikes — often referred to as ​"sur­gi­cal" — can tar­get a spe­cif­ic room in a house from thou­sands of feet away. But a bomb is still a bomb, and the impacts rever­ber­ate phys­i­cal­ly, psy­cho­log­i­cal­ly and politically.
Fol­low­ing my own find­ings that U.S. air strikes were con­tribut­ing to civil­ian dis­place­ment, along with infor­mal reports from Soma­li sources and NGOs who said strikes were spurring al-Shabab recruit­ment, I trav­elled to Soma­lia for In These Times to inves­ti­gate the strikes' civil­ian impacts.
I spoke with Soma­lis liv­ing in ter­ri­to­ries con­trolled by al-Shabab whose prop­er­ty or vil­lages were hit by air strikes, as well as ana­lysts, activists and pol­i­cy­mak­ers. I found that U.S. air strikes in Soma­lia have dam­aged farms, homes and live­stock. Strikes have also cre­at­ed a cli­mate of uncer­tain­ty and para­noia with­in the com­mu­ni­ties they hit, as civil­ians start sus­pect­ing each oth­er of being tar­get­ed mem­bers of al-Shabab. Al-Shabab has react­ed to the strikes by harass­ing vil­lagers, accus­ing locals of being U.S. spies or forc­ing them to choose between fight­ing for al-Shabab and flee­ing home.
"Our research has found that when a Somali's farm or prop­er­ty is the scene of an air strike, that per­son is seen as sus­pi­cious and can be tar­get­ed for repri-sals," weapons inves­ti­ga­tor Bri­an Cast­ner, who worked on Amnesty International's Cri­sis Team to report on civil­ian casu­al­ties from U.S. air strikes in Soma­lia, tells In These Times.
U.S. air strikes have dri­ven recruit­ment for ISIS and the Tal­iban, and experts say al-Shabab is like­ly to use them in the same way. Rose­lyne Omon­di, the asso­ciate direc­tor of research at the HORN Insti­tute in Nairo­bi, Kenya, told Pub­lic Radio Inter­na­tion­al that air strikes feed into al-Shabab's claims that it is defend­ing the coun­try against for­eign invaders. ​"If this con­tin­ues, we can expect more rad­i­cal­iza­tion," she said.
Thir­teen peo­ple told me they lost prop­er­ty, lost assets or were forced from their homes after U.S. air strikes. Some of the dis­placed had fled because al-Shabab tried to recruit them, some­times cor­ner­ing them for hours and return­ing numer­ous times over days or weeks. Oth­ers felt they could not return because al-Shabab would accuse them of spy­ing, putting their lives at risk.
"Pre­ci­sion weapons with a lim­it­ed area of effect are able to min­i­mize col­lat­er­al dam­age, but it can­not be guar­an­teed there will be none," explains Chris Cobb-Smith, a for­mer Roy­al Artillery offi­cer with the British army who has served as a UN weapons inspec­tor. Cobb-Smith cur­rent­ly sits on the board of Air­wars, an orga­ni­za­tion that tracks civil­ian harm from air pow­er. ​"There is always a mar­gin of error — human, mechan­i­cal or poor tar­get­ing intel­li­gence with a direct or indi­rect impact on non­com­bat­ants. There will invari­ably be blast and frag­men­ta­tion dam­age, with the result­ing sociopo­lit­i­cal outcomes."
I met one man, for exam­ple, who is now dis­placed but orig­i­nal­ly from a vil­lage called Bagh­dad, who said shrap­nel hit a tree, which sent bark fly­ing and injured his eye.
Anoth­er man, Abd­i­fa­tah, in his 20s, described how his life changed after a U.S. air strike hit his vil­lage in Octo­ber 2017. (Abd­i­fa­tah is a pseu­do­nym, used in fear of retal­i­a­tion from al-Shabab.)
Before the strike, al-Shabab had already killed Abdifatah's father. After the strike, al-Shabab tried to recruit Abd­i­fa­tah and refused to let him clear the brush from his land, the thick foliage offer­ing bet­ter pro­tec­tion from aer­i­al assaults. Abd­i­fa­tah couldn't use his farm­land any­more, couldn't work, couldn't do any­thing. Vil­lagers who refused to join al-Shabab as fight­ers were required to pay the group increased fines, and were told the mon­ey went to ammu­ni­tion to ​"defend you from the enemy."
Abd­i­fa­tah then moved to a new (undis­closed) loca­tion for his own safe­ty. He is stay­ing with extend­ed fam­i­ly, unem­ployed and bored. Some­times he sells khat, a chew­able stim­u­lant. He sneaks back to vis­it home about once a month.
Soma­lia, like Iraq, Afghanistan, Yemen and Syr­ia, is a front in the many-pronged War on Ter­ror that began after the attacks on Sept. 11, 2001, and has con­tin­ued through three U.S. pres­i­den­cies. In Soma­lia (as else­where), the attempt has arguably cre­at­ed ter­ror­ists where they didn't pre­vi­ous­ly exist.
In the heady days after 9⁄11, the Bush admin­is­tra­tion moved quick­ly and vio­lent­ly against any orga­ni­za­tion deemed to be affil­i­at­ed with al Qae­da, and some in the U.S. for­eign pol­i­cy com­mu­ni­ty became con­vinced that one al Qae­da ally was the Islam­ic Courts Union (ICU), a coali­tion of reli­gious courts that had formed amid the chaos of Somalia's civ­il war. The ICU imple­ment­ed Sharia law in the ter­ri­to­ries under its con­trol and grad­u­al­ly expand­ed, even­tu­al­ly tak­ing much of Soma­lia, includ­ing Mogadishu in 2006.
But by then the Unit­ed States was hes­i­tant to send sol­diers into anoth­er coun­try giv­en the engage­ments in Iraq and Afghanistan. It was also cau­tious about the optics of enter­ing Soma­lia after the 1993 Bat­tle of Mogadishu, depict­ed in the film Black Hawk Down, in which hun­dreds of Soma­lis and 18 Amer­i­can sol­diers were killed, some of the white bod­ies dragged through rub­bled city streets. So the U.S. decid­ed on a more tan­gen­tial tac­tic for Soma­lia and sup­port­ed its region­al part­ner, Ethiopia, in an inva­sion in Decem­ber 2006.
It is unclear if Ethiopia, a major­i­ty Chris­t­ian nation that had long-term ter­ri­to­r­i­al griev­ances with neigh­bor­ing Soma­lia, con­vinced the Unit­ed States that the ICU was a friend to al Qae­da, or if the Unit­ed States strong-armed the Ethiopi­ans into invad­ing. Of the Ethiopia‑U.S. dynam­ic, Hus­sein Sheikh-Ali, who was the nation­al secu­ri­ty advis­er and coun­tert­er­ror­ism advis­er to the cur­rent and for­mer pres­i­dents of Soma­lia, says, ​"I believe it was mutu­al con­vinc­ing." He believes that Ethiopia want­ed to stake itself as the key Amer­i­can ally in the region, and Wash­ing­ton want­ed to see if there might be more suc­cess with a lighter-foot­print coun­tert­er­ror­ism strat­e­gy fol­low­ing the full-on push into Iraq and Afghanistan.
The ICU strong­ly denied any ties with al Qae­da, and Sheikh-Ali says there was ​"absolute­ly no" affil­i­a­tion (although he says some indi­vid­u­als with­in ICU were sym­pa-thet­ic to glob­al jihadist movements).
"We've made a lot of mis­takes, and Ethiopia's entry in 2006 was not a real­ly good idea," then‑U.S. ambas­sador to Ethiopia (now ambas­sador to Soma­lia) Don­ald Yamamo­to said in 2010.
Ethiopia's push into Soma­lia excit­ed the ICU's armed wing, al-Shabab, which, in 2012, pledged alle­giance to al Qae­da. Oppo­si­tion to the Ethiopi­an occu­pa­tion helped al-Shabab rad­i­cal­ize and grow into a full-blown insur­gent move­ment in oppo­si­tion to the UN‑, African Union- and U.S.-backed Soma­li gov­ern­ment. Even­tu­al­ly, al-Shabab cap­tured most of the south of Soma­lia, includ­ing Mogadishu and key ports. With U.S. and inter­na­tion­al sup­port, the African Union army in Soma­lia (Ami­som) was orga­nized in 2007 to defeat the insur­gents, retak­ing Mogadishu in 2011.
The Oba­ma admin­is­tra­tion waged a cam­paign of air strikes on al-Shabab from 2012 to 2016, in the name of fight­ing al Qae­da. It did so with­out con­gres­sion­al approval, cit­ing the 2001 Autho­riza­tion for the Use of Mil­i­tary Force, which allows the White House to bypass Con­gress' war­mak­ing pow­ers to pre­vent future attacks by the archi­tects of 9⁄11.
The efforts of Ami­som and the Soma­li Nation­al Army (par­tic­u­lar­ly its spe­cial forces unit, Danab), com­bined with the U.S. strikes, appear to have geo­graph­i­cal­ly con­tained al-Shabab — but I have not found any­one will­ing to sug­gest al-Shabab has been defeated.
The con­sen­sus is that al-Shabab sim­ply reacts and morphs in accor­dance with its envi­ron­ment, using hav­oc and con­fu­sion to its own advantage.
In 2013, Sheikh-Ali, then Somalia's coun­tert­er­ror­ism advi­sor, worked with U.S. gov­ern­ment offi­cials to iden­ti­fy and strike ​"high-lev­el tar­gets" in al-Shabab, with the aim of debil­i­tat­ing oper­a­tions and sow­ing dis­trust among lead­er­ship. A Sep­tem­ber 2014 U.S. strike suc­ceed­ed in killing al-Shabab's leader, Ahmed Abdi Godane, but ​"we were wrong" about the effects, Sheikh-Ali says. The group has shown ​"unbe­liev­able resilience."
Sheikh-Ali still believes Amer­i­can air sup­port is a nec­es­sary tool for pres­sur­ing the mil­i­tants, but he's con­cerned there is no strat­e­gy to lim­it al-Shabab's polit­i­cal influ­ence. ​"I don't believe [the U.S. nor the Soma­li gov­ern­ment has] the vaguest idea of how al-Shabab oper­ates," he says.
Al-Shabab con­tin­ues with a steady drum­beat of bomb­ings in Mogadishu and else­where in Soma­lia — and occa­sion­al­ly in neigh­bor­ing coun­tries, espe­cial­ly Kenya.
Two months after inau­gu­ra­tion, in 2017, Pres­i­dent Don­ald Trump signed a direc­tive des­ig­nat­ing parts of Soma­lia as ​"areas of active hos­til­i­ties" (AAH) for six months — a pol­i­cy shift which the Pen­ta­gon had been advo­cat­ing. Accord­ing to Africom's top offi­cer, Gen. Thomas D. Wald­hauser, the ​"AAH" des­ig­na­tion is intend­ed to give the mil­i­tary ​"a lit­tle more flex­i­bil­i­ty" to respond more quick­ly by air to move­ments on the ground, instead of going through a chain of inter­a­gency vet­ting before an attack. It also widens the scope of its tar­gets. Pre­vi­ous­ly, a tar­get had to present a direct threat to the Unit­ed States to war­rant a strike; with the new des­ig­na­tion, Africom could tar­get any­one it con­sid­ered a mem­ber of al-Shabab.
No mon­i­tor­ing group has been able to pro­vide a full tal­ly of air strikes, but a sur­vey of press releas­es on Africom's web­site — where some (but not all) U.S. strikes are list­ed — is telling. Before 2017, the state­ments announc­ing strikes are few and far between. By mid-2017, they start com­ing fast. Africom report­ed 35 pre­ci­sion strikes in Soma­lia in 2017, up from 14 in 2016. By 2018, the num­ber increased to 45. To date in 2019, Africom has report­ed 54.
As U.S. strikes have increased, so have explo­sions and assas­si­na­tions by al-Shabab; the group has adapt­ed to the uptick by plant­i­ng more bombs, assas­si­nat­ing politi­cians and busi­ness lead­ers, and engag­ing in less exten­sive ground fight­ing. Al-Shabab is con­sid­ered respon­si­ble for one of the worst ter­ror­ist attacks in his­to­ry: two truck bombs that killed between 500 and 1,000 peo­ple at a busy inter­sec­tion in Mogadishu on Oct. 14, 2017. This August, the group killed the may­or of Mogadishu in a hotel bombing.
Ana­lysts across the polit­i­cal spec­trum have become crit­i­cal of the War on Ter­ror in gen­er­al and air strikes in par­tic­u­lar. ​"After 18 years of the War on Ter­ror, there is no evi­dence that U.S. mil­i­tary oper­a­tions lead to a decrease in ter­ror­ism," says Khury Petersen-Smith, a Mid­dle East fel­low at the Insti­tute for Pol­i­cy Stud­ies. ​"What we do have evi­dence of is the fact that orga­ni­za­tions like al-Shabab, like ISIS, like al Qae­da, emerge or flour­ish in the con­text of polit­i­cal insta­bil­i­ty. U.S. mil­i­tary oper­a­tions only con­tribute to that."
But U.S. oper­a­tions in Soma­lia have large­ly escaped scruti­ny. ​"The mis­takes the U.S. has made in Iraq and in Afghanistan are well known," says Bill Rog­gio, a for­mer sol­dier and senior fel­low at Foun­da­tion for Defense of Democ­ra­cies, which strong­ly sup­port­ed the Bush administration's War on Ter­ror. ​"The U.S. is also mak­ing mis­takes in Soma­lia, but it's not going noticed because we don't have a sig­nif­i­cant pres­ence on the ground."
Mag­gie Sey­mour, a for­mer U.S. Marine Corps major and intel­li­gence offi­cer who wrote her dis­ser­ta­tion on U.S. coun­tert­er­ror­ism pol­i­cy since 9⁄11, says, ​"Pre­ci­sion air strikes are much like the over­all wars in the Mid­dle East: lit­tle rel­a­tive effort on behalf of the U.S. and almost no pub­lic knowl­edge, but major impacts on the pub­lic of what­ev­er coun­try we are strik­ing." Sey­mour goes on, ​"I'd ven­ture to say that the over­whelm­ing major­i­ty of U.S. res­i­dents' knowl­edge of Soma­lia extends no fur­ther than what they've seen in Black Hawk Down. … I sus­pect that our administration(s) know that and that fur­ther enhances the appeal of strikes — low polit­i­cal risk."
Infor­ma­tion about what appa­ra­tus is track­ing the col­lat­er­al dam­age of U.S. air strikes in Soma­lia is hard to come by. Nei­ther Africom nor the State Depart­ment replied to the ques­tion, ​"Does the U.S. gov­ern­ment have any mech­a­nism to track how peo­ple are impact­ed by air strikes, i.e., track dis­place­ment, loss of live-stock, etc.?"
For­mer Oba­ma admin­is­tra­tion offi­cials told me that, in the­o­ry, var­i­ous depart­ments in State, intel­li­gence agen­cies and the mil­i­tary would be fol­low­ing the impact, at least by read­ing reports from think tanks and local and inter­na­tion­al media, but they couldn't say more. From inter­views with oth­er sources, I began to sus­pect that no agency is sys­tem­at­i­cal­ly watch­ing the effects.
"We have asked [Africom], both in per­son and through a for­mal writ­ten request, for what steps they do to inves­ti­gate the results of their strikes gen­er­al­ly," says Amnesty's Cast­ner. ​"In both cas­es, they have referred us to their gen­er­al, pub­licly avail­able man­u­als for how to deter­mine whether civil­ian casu­al­ty alle­ga­tions are cred­i­ble. As far as we can tell, they don't fol­low up on the ground, with vic­tims' fam­i­lies or with vil­lages generally."
Africom spokesper­son Desiree Frame told In These Times that Africom ​"com­plies with the law of armed con­flict and takes all fea­si­ble pre­cau­tions dur­ing the plan­ning and tar­get­ing process to min­i­mize any risk of civil­ian casu­al­ties and col­lat­er­al dam­age," not­ing that al-Shabab uses civil­ian areas as shields. Frame added that the strikes ​"have dis­rupt­ed al-Shabab com­mand and con­trol, lim­it­ed free­dom of move­ment and dis­rupt­ed cred­i­ble ter­ror­ist plots." In regards to reports of prop­er­ty destruc­tion, increased al-Sha-bab recruit­ment and dis­place­ment, Frame respond­ed, ​"We don't have any­thing to cor­rob­o­rate this information."
Accord­ing to Joshua Geltzer, a White House Nation­al Secu­ri­ty Forum senior direc­tor for coun­tert­er­ror­ism under Oba­ma from 2015 to 2017, it appears ​"from the out­side" that, under Trump, inter­a­gency com­mu­ni­ca­tion about the poten­tial for back­lash from air strikes has decreased. ​"If any­thing, [for­mer Nation­al Secu­ri­ty Advi­sor] John Bolton appears to have delib­er­ate­ly shriv­eled that process by favor­ing direct appeals to [Trump] for favored pol­i­cy out­comes over a delib­er­a­tive, White House-coor­di­nat­ed series of inter­a­gency con­ver­sa­tions," Geltzer says.
Mon­i­ca Matoush, the House Armed Ser­vices Com­mit­tee major­i­ty spokesper­son, notes there has been ​"a string of depar­tures, leav­ing a gap in lead­er­ship" in U.S. Spe­cial Oper­a­tions, the Amer­i­can forces on the ground in Somalia.
While Petersen-Smith agrees the U.S. mil­i­tary should be more trans­par­ent and account­able, he warns that ​"focus­ing on account­abil­i­ty alone assumes that the U.S. will con­tin­ue these ongo­ing oper­a­tions, which shouldn't be happening."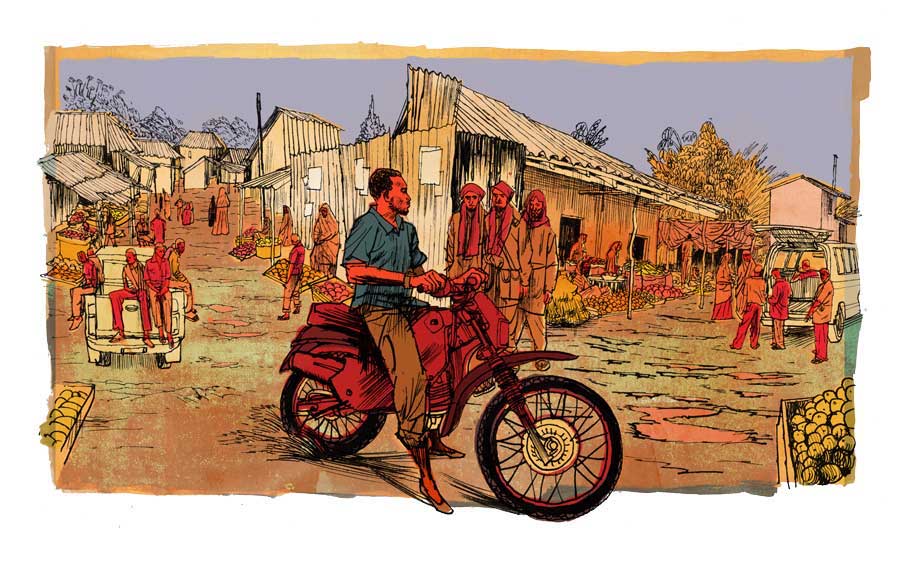 (Illus­tra­tion by Matt Rota)
Anoth­er man I meet, Ibrahim, a for­mer motor­bike dri­ver, is on the verge of tears through­out our inter­view. He can't live at home any­more because al-Shabab has been pres­sur­ing him to join since he was hurt in an air strike in 2016. ​"They would say, ​'You see what these peo­ple did to you, you bet­ter work with us,' " he recalled. Ibrahim spent a month recov­er­ing from his wounds.
Three months after the strike, al-Shabab approached Ibrahim at the Janale mar­ket while he was look­ing for work. Even­tu­al­ly they told him he could no longer ride the motor­bike if he wouldn't join. He sold the bike and moved to Mogadishu, where he's lived since. As recent­ly as a month ago, the group tried to approach him again.
Anoth­er man, Has­san (whose name has been changed for secu­ri­ty), tells me, "[al-Shabab has] become more like hye­nas," describ­ing how al-Shabab became intense and para­noid after the strike on the farm that killed his father. Before the strikes, Has­san says, it was rare for al-Shabab to accuse peo­ple of being spies; after­ward, it hap­pened regularly.
A day after Hassan's father was killed, three al-Shabab mem­bers called Has­san to offer their con­do­lences. Has­san became wor­ried; he didn't know the men and didn't want their sym­pa­thy. Four days lat­er, he was called to an al-Shabab office with many sol­diers sta­tioned out­side. Inside, he says a man with a pis­tol told him, ​"Your father was inno­cent. He was just a cit­i­zen. They tar­get­ed him because of his faith, because of his Soma­li-ness. … In order to recall the blood of your father and revenge for him, you work with us, you fight with us and for the cause of Islam."
Has­san said he wouldn't join. He was giv­en an hour to leave home. It was clear he had to make a choice, ​"either work with us or leave," Has­san recalls.
Today, Has­san lives in a makeshift house in a most­ly gov­ern­ment-con­trolled town out­side Mogadishu. He still pays tax­es to al-Shabab if he pass­es through an area they con­trol. Since he's left his farm, he works as a porter. The work is unpre­dictable and mon­ey is tight. His chil­dren attend­ed Quran­ic school in his old vil­lage. Now, they don't go to school at all.
Anoth­er young man told me that, after strikes, al-Sha-bab has start­ed ​"per­suad­ing" chil­dren to join. Because peo­ple don't want their neigh­bors to know they have chil­dren in al-Shabab, they say their off­spring have gone to Mogadishu to find work.
Dahir Abdi Qoriy­ow, 47, oper­at­ed the gen­er­a­tor on 51-year-old Dr. Tahiil's (name changed for secu­ri­ty) farm in Bas­ra, a com­mu­ni­ty about 20 miles out­side of Mogadishu. Qoriy­ow was killed in a U.S. air strike that hit the farm Dec. 8, 2018.
After the attack, Africom released a state­ment and inter­na­tion­al media cov­ered the strike. Amnesty Inter­na­tion­al also inves­ti­gat­ed, inter­view­ing 18 peo­ple who knew Qoriy­ow, con­clud­ing he was not a com­bat­ant. Africom has denied the entire­ty of Amnesty's findings.
Shrap­nel struck Dr. Tahi­il in the head and hand, and he spent the fol­low­ing three months in a hos­pi­tal. Today, he lives in a small place in Mogadishu, near the hos­pi­tal. He says he can't go home, even though he wants to.
Dr. Tahi­il says he was the only doc­tor in his vil­lage, but he is wor­ried that al-Shabab con­sid­ers him a spy because he left. He used to see four to five patients per day, sev­en days a week.
"Many peo­ple left. … The peo­ple are afraid," he says. ​"They expect a war. These peo­ple are not fight­ing peo­ple; they are peace­ful people."
Since the increase in air strikes exac­er­bat­ed the con­flict, peo­ple are aban­don­ing pro­duc­tive farms in al-Shabab-con­trolled areas, such as the fer­tile ter­ri­to­ry of Low­er Sha­belle, where Issak and Dr. Tahi­il are from.
Air strikes turn res­i­den­tial areas into war zones. ​"The place becomes a front line," says Abbas Has­san Osman, a com­mu­ni­ty elder, of his own vil­lage. ​"The peo­ple can­not live there. They were forced to leave."
In These Times obtained video footage of the large­ly aban­doned vil­lage of Bagh­dad. In the two grainy videos, the small mobile phone cam­era scans around over-grown brush that's almost as tall as the frag­ile hous­es, lean­ing over.
"If you go to my farm, the small grass will become like trees," Nur­to Abdulle Malas tells me, explain­ing how high it would have grown in the vil­lage she fled. Three of Malas' cows were killed by fly­ing shrap­nel in a strike. Al-Shabab had pre­vi­ous­ly loot­ed 70 of her cows. Each cow had a name, Malas says. For her, their deaths illu­mi­nate the sense­less­ness of the strikes. ​"The cows were killed like the humans," she told me. ​"You can accuse the human, but not the animal.
"These peo­ple who make the air strike have no idea the impact they will have on us," Malas adds.
Accord­ing to the UN Human Rights Coun­cil and the Nor­we­gian Refugee Coun­cil (NRC) in 2018 and 2019, the num­ber one cause of dis­place­ment in Soma­lia from areas where the U.S. is con­duct­ing strikes is ​"conflict/​insecurity," although the NRC does not dif­fer­en­ti­ate between gen­er­al con­flict and U.S. air strikes.
"Our val­ues in for­eign pol­i­cy must be guid­ed by the same ideals we have at home: respect for human rights, equal­i­ty under the law and peace," Rep. Ilhan Omar (D‑Minn.), who sits on the House For­eign Affairs Com­mit­tee, tells In These Times. ​"Whether in Soma­lia or around the world, we must pri­or­i­tize diplo­mat­ic and eco­nom­ic engage­ment — not air strikes and vio­lence. I am very con­cerned that an overem­pha­sis on mil­i­tary engage­ment and lack of account­abil­i­ty will alien­ate lead­ers on the ground and under­mine U.S. stand­ing in the region."
"Direct­ly or indi­rect­ly, the Unit­ed States has been car­ry­ing out dead­ly mil­i­tary oper­a­tions in Soma­lia for over a decade and gained noth­ing sub­stan­tive," Sadia Ali Aden, a human­i­tar­i­an and activist, tells In These Times. ​"By all accounts, the U.S. al-Shabab-based pol­i­cy in Soma­lia is a fail­ure. Though many of their lead­ers are killed, al-Shabab is more lethal today than ever before."
Issak, who lost her son and her coconut trees, is pen­sive when asked whether she thinks air strikes will get rid of al-Shabab. She's not sure. The mil­i­tants are every­where — you couldn't pos­si­bly car­ry out enough strikes to kill them all, she rea­sons. Issak told me she thinks Soma­lia would be much bet­ter with­out al-Shabab, but she notes there were ​"enough prob­lems" before they came. She com­pares the sit­u­a­tion in Soma­lia to try­ing to put out a fire: You stamp it out one place and it pops up some­where else.
Skyler Aik­er­son con­tributed fact-checking.
This sto­ry was sup­port­ed by a grant from the Leonard C. Good­man Insti­tute for Inves­tiga­tive Reporting.