Dueling Corporate Interests Await Pending Updates to Organic Animal Welfare Standards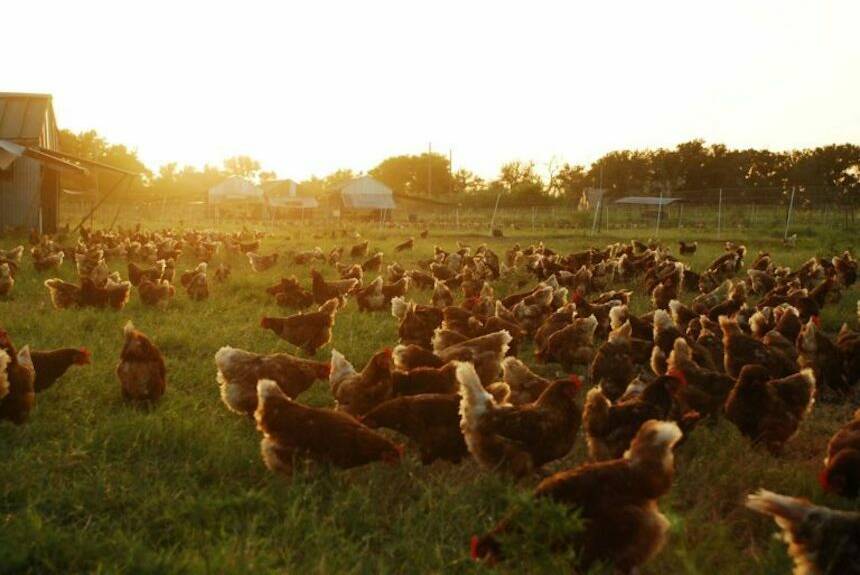 One of the pend­ing reg­u­la­tions released in the final days of the Oba­ma admin­is­tra­tion, and put on hold by the Trump White House, was an already con­tro­ver­sial rule that pits legit­i­mate fam­i­ly-scale organ­ic farm­ers against the oper­a­tors of ​"fac­to­ry farms" — indus­tri­al-scale oper­a­tions accused of vio­lat­ing exist­ing organ­ic ani­mal wel­fare stan­dards. A new­ly released analy­sis by The Cor­nu­copia Insti­tute, an organ­ic indus­try watch­dog, explains what is at stake and why eco­nom­i­cal­ly pow­er­ful forces in organ­ics are squawk­ing over new space require­ments pro­posed for chickens.
The Organ­ic Live­stock and Poul­try Prac­tices Rule was pub­lished in the Fed­er­al Reg­is­ter on Jan. 19, and amends cur­rent organ­ic live­stock and poul­try pro­duc­tion require­ments. The new rule adds pro­vi­sions for live­stock han­dling, avian liv­ing con­di­tions, trans­port for slaugh­ter and expands and clar­i­fies exist­ing require­ments cov­er­ing live­stock care and pro­duc­tion prac­tices. It includes man­dates for the care of cat­tle, hogs, and poultry.
"The new rule­mak­ing was in response to a more than decade-long con­tro­ver­sy about con­cen­trat­ed ani­mal feed­ing oper­a­tions (CAFOs), or fac­to­ry farms, con­fin­ing as many as two mil­lion lay­ing hens on a sin­gle ​'farm' with­out the legal­ly man­dat­ed access to the out­doors," says Mark A. Kas­tel, Senior Farm Pol­i­cy Ana­lyst at The Cor­nu­copia Insti­tute. ​"This rule nei­ther solves the prob­lem nor makes any fac­tion in the indus­try happy."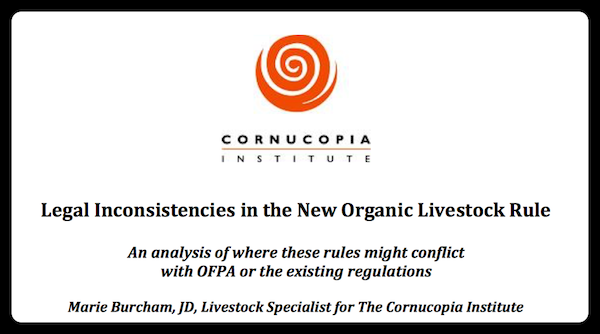 To view the Insti­tute's recent analy­sis, click here.
Weak rec­om­men­da­tions
Farm­ers who pro­duce eggs or raise chick­ens for meat and abide by the require­ments for out­door access, or go even fur­ther and rotate their ani­mals on high qual­i­ty pas­ture, felt betrayed by weak rec­om­men­da­tions to the USDA that came out of the Nation­al Organ­ic Stan­dards Board (NOSB), a con­gres­sion­al­ly man­dat­ed USDA advi­so­ry pan­el. At the time, the rec­om­men­da­tions were shep­herd­ed through by the employ­ee of one of the major organ­ic egg pro­duc­ers, Organ­ic Val­ley. [Note: The chief legal coun­sel for Organ­ic Val­ley is cur­rent­ly board chair of the pow­er­ful indus­try lob­by group, the Organ­ic Trade Association.]
The NOSB rec­om­men­da­tions, which were incor­po­rat­ed into the pend­ing rule, call for approx­i­mate­ly 2 ft² per bird out­doors. In addi­tion, although cages remain banned, mul­ti-lev­el ​"aviary sys­tems" are allowed. These sys­tems are not required to pro­vide more than approx­i­mate­ly 1 ft² per bird indoors. For com­par­i­son, Organ­ic Val­ley requires 5 ft² per bird of out­door access for their farm­ers pro­duc­ing eggs, and Euro­pean Union organ­ic reg­u­la­tions require 43 ft² per bird.
"Our analy­sis indi­cates that the inad­e­qua­cy of these rules puts them in direct con­flict with exist­ing reg­u­la­to­ry lan­guage that requires farm­ers to estab­lish and main­tain year-round live­stock liv­ing con­di­tions which accom­mo­date the health and nat­ur­al behav­ior of the ani­mals," says Marie Bur­cham, a Cor­nu­copia researcher and an attor­ney with train­ing in envi­ron­men­tal and ani­mal law.
For poul­try, to avoid undue stress that can cause aggres­sive behav­ior and injuries to flock mates, birds need ade­quate space to engage in ​"for­ag­ing behav­ior." This includes scratch­ing and peck­ing at the ground for seeds, inver­te­brates, grass, and weeds. ​"When deprived access to ade­quate, high-qual­i­ty out­door space birds can become aggres­sive, which leads con­fine­ment-based egg pro­duc­ers to trim the ani­mals' beaks. This prac­tice makes it more dif­fi­cult for birds to for­age, and isn't need­ed on pas­ture-based farms. Unfor­tu­nate­ly, it's still viewed as nec­es­sary and allowed under the new reg­u­la­tions," says Burcham.
The USDA announced last Wednes­day that the new rule would be delayed for 60 days, until May 19. Indus­tri­al egg lob­by groups are hap­py to see this rule tabled. The con­ven­tion­al egg indus­try, which has invest­ed in ​"organ­ic" con­fine­ment egg pro­duc­tion, is call­ing on the USDA to rescind the rule for good. ​"After mak­ing cam­paign con­tri­bu­tions to key mem­bers of Con­gress, and lob­by­ing for the rule's demise, there is a chance these big-indus­try groups will get their wish. With the exten­sive new require­ments for poul­try, includ­ing lay­ing hens, con­ven­tion­al egg pro­duc­ers who dip their toe into ​'organ­ic' agri­cul­ture will find it more cost­ly to oper­ate," says Burcham.
Doing it the right way no mat­ter what
The con­tro­ver­sy came to a head after the USDA failed to enforce reg­u­la­tions requir­ing ​'all' organ­ic live­stock to have access to the out­doors. The agency was allow­ing major egg pro­duc­ers a loop­hole by rec­og­niz­ing small porch­es with con­crete floors and ceil­ings as sat­is­fy­ing the required ​"out­door" space. ​"In most instances, even if a court would accept that an enclosed struc­ture was ​'out­doors,' these minute porch­es typ­i­cal­ly only hold 1 – 3 per­cent of the birds," says Kas­tel. ​"Thus, 97 per­cent of the birds are being ille­gal­ly con­fined and the USDA has refused to take action. Their fail­ure to do so is eco­nom­i­cal­ly injur­ing the major­i­ty of law-abid­ing and eth­i­cal organ­ic farmers."
While the largest con­ven­tion­al egg indus­try play­ers are fight­ing the new rule because it will dis­al­low porch­es, more mod­er­ate-sized oper­a­tors who typ­i­cal­ly keep around 20,000 birds to a build­ing (as well as the Organ­ic Trade Asso­ci­a­tion) are delight­ed and push­ing for imple­men­ta­tion. ​"Two square feet of space, with­out ade­quate doors, and accom­pa­ny­ing reg­u­la­tions that would actu­al­ly encour­age the birds to go out­side, will do noth­ing to change cur­rent indus­try prac­tices that result in the con­fine­ment of the vast major­i­ty of organ­ic chick­ens," says Bur­cham. ​"The pro­pos­al for 2 ft² out­doors and 1−1.5 ft² indoors, depend­ing on the build­ing design, will encour­age busi­ness as usu­al for mod­er­ate-sized oper­a­tions while seri­ous­ly dis­rupt­ing their fac­to­ry farm com­peti­tors." Due to lack of enforce­ment by the USDA, Cor­nu­copia has pro­duced research reports and asso­ci­at­ed brand score­cards, includ­ing one for organ­ic eggs. The score­cards help eaters iden­ti­fy farms and com­pa­nies that are adher­ing to both the spir­it and the let­ter of the law, but many of the iden­ti­fied oper­a­tions go well beyond the regulations.
"Whether this rule is imple­ment­ed or not, we will not be chang­ing our prac­tices at World's Best Eggs," says Cameron Mol­berg, an organ­ic egg pro­duc­er from Elgin, Texas who has earned one of the top rat­ings on Cornucopia's organ­ic egg score­card. World's Best Eggs rota­tion­al­ly pas­tures 30,000 chick­ens in mul­ti­ple mobile coops that are fre­quent­ly moved to fresh grass. ​"We are already sell­ing a prod­uct that is pro­duced to stan­dards far above what is cur­rent­ly required or pro­posed by the USDA," says Mol­berg. ​"But if these rules go into effect, and/​or the USDA con­tin­ues to fail to enforce the organ­ic law, the real losers are the con­sumers who are hun­gry for authen­tic­i­ty and a bet­ter egg."
("Show­down at the Organ­ic Cor­ral" was orig­i­nal­ly pub­lished on Cor­nu­copia News. An addi­tion­al source of quotes cri­tiquing the pend­ing organ­ic ani­mal hus­bandry rule can be found at Cor​nu​copia​.org. Texas farmer Cameron Mol­berg is a for­mer board mem­ber of the Texas Organ­ic Farm­ers and Gar­den­ers Asso­ci­a­tion and was one of the country's top rat­ed egg farm­ers on The Cor­nu­copia Institute's score­card, pri­or to his elec­tion to serve on the nonprofit's board of direc­tors.)
[If you like what you've read, help us spread the word. ​

"

Like" Rur­al Amer­i­ca In These Times on Face­book. Click on the ​

"

Like Page" but­ton below the bear on the upper right of your screen. Also, fol­low RAITT on Twit­ter @RuralAmericaITT]
The Cor­nu­copia Insti­tute
, a Wis­con­sin-based non­prof­it farm pol­i­cy research group, is ded­i­cat­ed to the fight for eco­nom­ic jus­tice for the fam­i­ly-scale farm­ing com­mu­ni­ty. Their Organ­ic Integri­ty Project acts as a cor­po­rate and gov­ern­men­tal watch­dog assur­ing that no com­pro­mis­es to the cred­i­bil­i­ty of organ­ic farm­ing meth­ods and the food it pro­duces are made in the pur­suit of profit.