The National Organic Program Is Getting a New Boss, Here's Why That's Long Overdue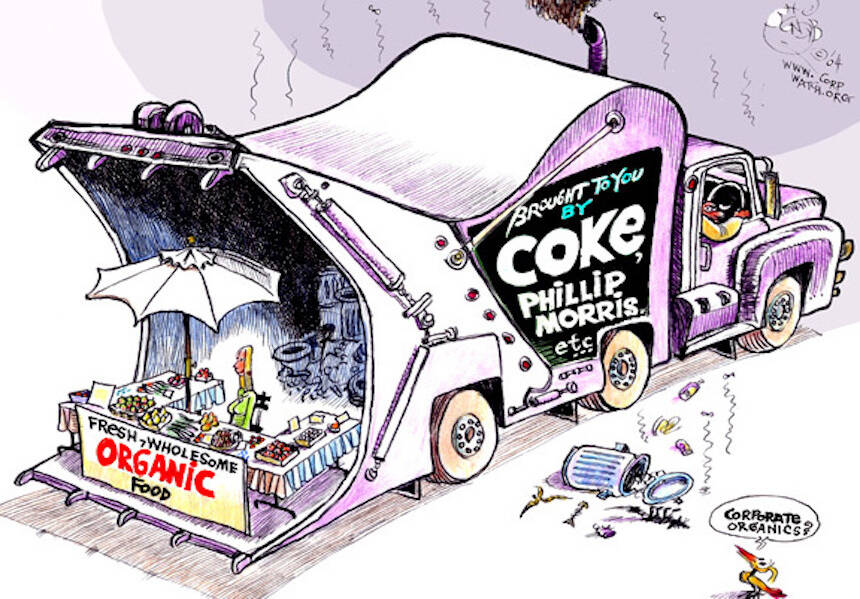 On Sep­tem­ber 10, Miles McEvoy, deputy admin­is­tra­tor of the USDA's Nation­al Organ­ic Pro­gram, announced his res­ig­na­tion at the end of the month. He has held the post since ear­ly in the Oba­ma admin­is­tra­tion. Includ­ed in his res­ig­na­tion let­ter was a list high­light­ing his top 10 accom­plish­ments as leader of the program.
After the Bush USDA was wide­ly con­sid­ered to have delayed imple­men­ta­tion of the organ­ic stan­dards (12 years after con­gres­sion­al pas­sage of the Organ­ic Foods Pro­duc­tion Act, or OFPA), McEvoy took over, with some fan­fare, giv­en his back­ground in organ­ic cer­ti­fi­ca­tion. Ini­tial­ly, The Cor­nu­copia Insti­tute was among those cheer­ing his appointment.
But McEvoy, a dar­ling of the pow­er­ful indus­try lob­by — the Organ­ic Trade Asso­ci­a­tion — instead shift­ed pol­i­cy dur­ing the Oba­ma-Vil­sack USDA years to favor the cor­po­rate agribusi­ness­es that have acquired most of the lead­ing organ­ic brands (Dan­non, Dean Foods, Kellogg's, Pur­due, Coca-Cola, Gen­er­al Mills, etc.). As a result, the USDA became a big cheer­leader for Big Organic.
McEvoy failed to enforce many tenets of OFPA, caus­ing eth­i­cal, law-abid­ing fam­i­ly farm­ers extreme finan­cial dis­tress. Since April of 2015, The Cor­nu­copia Insti­tute has for­mal­ly request­ed that he be removed from his position.
When McEvoy announced his retire­ment to the organ­ic com­mu­ni­ty, he includ­ed a 10-point list of his accom­plish­ments. How­ev­er, while he was rear­rang­ing the prover­bial deck chairs on the Titan­ic, more con­cerned with ​"process" than whether organ­ic farms and the food they pro­duced were actu­al­ly organ­ic, he missed the most impor­tant big pic­ture impacts.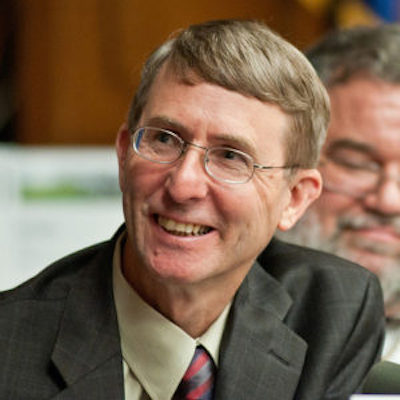 Pri­or to head­ing the Depart­ment of Agri­cul­ture's organ­ic pro­gram in 2009, Miles McEvoy led the Wash­ing­ton State Depart­ment of Agri­cul­ture Organ­ic Food Pro­gram. (Image: usda​.gov)
The fol­low­ing is The Cor­nu­copia Insti­tute's own list of Miles McEvoy's top ​"accom­plish­ments":
1. Fail­ing to enforce organ­ic pas­ture laws on organ­ic fac­to­ry farm dairies. This caused some real organ­ic dairy farm­ers to sell their cows, be forced out of busi­ness, or return to con­ven­tion­al pro­duc­tion because of falling prices, quo­tas or no mar­ket at all for their milk. This also robs con­sumers pur­chas­ing fac­to­ry farm milk of the ben­e­fi­cial fats and nutri­ents found in real organ­ic dairy products.
2. Allow­ing the largest indus­tri­al pro­duc­ers of ​"organ­ic" eggs to con­fine their birds and cor­ner the mar­ket (i.e one ​"farm" has over two mil­lion birds). Shut out of the mar­ket, thou­sands of farm fam­i­lies could not diver­si­fy their incomes by pro­duc­ing organ­ic eggs and poul­try because the USDA failed to enforce exist­ing ani­mal wel­fare stan­dards. The fac­to­ry farm eggs rob con­sumers of the most fla­vor­ful, nutri­tion­al­ly dense eggs.
3. Facil­i­tat­ing a stealth attack on organ­ic veg­etable and fruit pro­duc­ers by qui­et­ly per­mit­ting the country's largest cer­ti­fiers to allow giant agribusi­ness­es to label crops grown with­out soil (hydro­pon­ic con­tain­er pro­duc­tion) as ​"organ­ic." Unknow­ing con­sumers of hydro­pon­ic pro­duce were robbed of the most fla­vor­ful, nutri­tious fruits and veg­eta­bles and real organ­ic veg­etable farm­ers were squeezed out of the market.
4. Ignor­ing the doc­u­ment­ed con­cerns of NGOs and farmer-owned grain coop­er­a­tives for over a decade regard­ing the expo­nen­tial increase in imports of alleged organ­ic com­modi­ties from coun­tries with endem­ic lev­els of com­mer­cial fraud—until the dam­age was done to both farm­ers and the rep­u­ta­tion of the organ­ic label after a damn­ing indict­ment of the fraud in the Wash­ing­ton Post ear­li­er this year.
5. Spear­head­ing a change that gut­ted the pro­vi­sions of the Organ­ic Foods Pro­duc­tion Act that called for all syn­thet­ic/non-organ­ic ingre­di­ents to sun­set after five years, on behalf of the cor­po­rate organ­ic sec­tor (sub­ject to a cur­rent legal challenge).
6. Stack­ing the NOSB with mem­bers of the pow­er­ful indus­try lob­by group, the Organ­ic Trade Asso­ci­a­tion. Cor­po­rate exec­u­tives were giv­en seats des­ig­nat­ed by Con­gress for inde­pen­dent stake­hold­ers, includ­ing seats for indi­vid­u­als who ​"own or oper­ate an organ­ic farm." This rad­i­cal­ly under­mined the diver­si­ty that Con­gress had intend­ed to buffer organ­ic rule­mak­ing from cor­po­rate influ­ence (also being chal­lenged in fed­er­al court).
7. Mate­ri­al­ly reduc­ing pub­lic par­tic­i­pa­tion in the Nation­al Organ­ic Stan­dards Board (NOSB) process by reduc­ing the time allot­ted for indi­vid­ual pub­lic tes­ti­mo­ny dur­ing their semi­an­nu­al meetings.
8. Ignor­ing or revers­ing many impor­tant votes of the NOSB, includ­ing pro­hibit­ing the hexa­ne extrac­tion of algal oil (DHA) (which is still found in some organ­ic infant for­mu­la) and allow­ing the use of con­ven­tion­al dairy whey pro­tein con­cen­trate, even after a unan­i­mous vote by the NOSB to remove it.
9. The NOSB vot­ed unan­i­mous­ly, in 2012, to begin a review process of ​"inert" ingre­di­ents. ​"Inert" ingre­di­ents fre­quent­ly com­pose as much as 99 per­cent of pes­ti­cide prod­ucts. Although organ­i­cal­ly approved pes­ti­cides are com­mon­ly botan­i­cal­ly based, oth­er syn­thet­ic inert ingre­di­ents can poten­tial­ly be dan­ger­ous. Under McEvoy the USDA sat on their hands, ignor­ing the law and doing noth­ing to imple­ment the NOSB rec­om­men­da­tion, instead of pro­tect­ing con­sumer interests.
10. The NOP, dur­ing McEvoy's tenure, has sided with cor­po­rate agribusi­ness and the country's largest cer­ti­fi­er, CCOF, ille­gal­ly allow­ing tox­ic chem­i­cal con­t­a­m­i­na­tion in farm inputs, includ­ing com­post. Numer­ous per­sis­tent her­bi­cides includ­ing aminopy­ralids and bifen­thrin unknow­ing­ly make their way onto organ­ic farms, dam­ag­ing sen­si­tive crops and organ­ic farm­ers' liveli­hoods, and poten­tial­ly con­t­a­m­i­nat­ing our food.
As McEvoy exits, the rep­u­ta­tion of organ­ics has been injured, sales growth has flat­tened, fam­i­ly-scale farm­ers are being forced out of busi­ness, a grow­ing per­cent­age of new, exem­plary pro­duc­ers are increas­ing­ly opt­ing not to become cer­ti­fied organ­ic, and con­sumer con­fi­dence has been shaken.
That's the track record of the last eight years at the USDA's Nation­al Organ­ic Pro­gram. Where will Miles McEvoy end up as he goes through the revolv­ing door as a for­mer fed­er­al reg­u­la­tor? Stay tuned to see if he is finan­cial­ly reward­ed for his ​"accom­plish­ments."
In the mean­time, The Cor­nu­copia Insti­tute will con­tin­ue to research and pub­lish indus­try sec­tor reports and score­cards enabling con­sumers and whole­sale buy­ers to choose and reward the tru­ly eth­i­cal brands in the organ­ic movement/​industry.
True organ­ic agri­cul­ture pro­tects the envi­ron­ment, treats domes­tic ani­mals humane­ly, and pro­duces safe, nutri­tion­al­ly supe­ri­or food. The good news is that the vast pre­pon­der­ance of fam­i­ly-scale organ­ic farm­ers, and the inde­pen­dent­ly owned, eth­i­cal food proces­sors and mar­keters that part­ner with them, can be trust­ed. It's worth the effort to do the extra research nec­es­sary to iden­ti­fy them, and it's worth stay­ing engaged in the organ­ic sausage-mak­ing that takes place in Washington.
The focus now turns to Son­ny Per­due and the Trump USDA. The lega­cy of the past two admin­is­tra­tions, Repub­li­can and Demo­c­ra­t­ic, in terms of respect­ing Con­gress' man­date in cre­at­ing a fair and lev­el play­ing field in the organ­ic indus­try, has been abysmal. Let's see if Sec­re­tary Per­due and Pres­i­dent Trump can suc­cess­ful­ly drain the organ­ic swamp.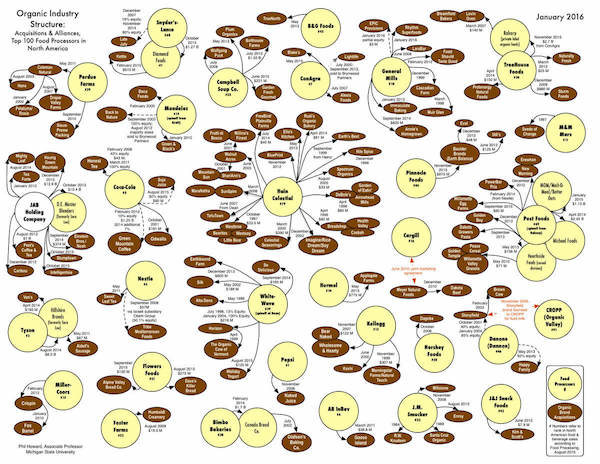 For more infor­ma­tion about ​"Big Organ­ic," click here. (Image: foodrev​o​lu​tion​.org)
"Will Some­one New at the Helm of the USDA's Nation­al Organ­ic Pro­gram Steer the Ship Towards Congress's Intent — Pro­tect­ing Farm­ers and Con­sumers?" was orig­i­nal­ly pub­lished on The Cor­nu­copia Insti­tute's web­site and is repost­ed on Rur­al Amer­i­ca In These Times with permission.
About the authors:
Lin­ley Dixon, senior sci­en­tist at the Insti­tute, has a Mas­ters in Soil Sci­ence from West Vir­ginia University's organ­ic farm project and a PhD in Plant Pathol­o­gy from the Uni­ver­si­ty of Flori­da. Her fam­i­ly oper­ates Adobe House Farm, a mixed veg­etable farm in Duran­go, CO.
Mark Kas­tel is a vet­er­an of agribusi­ness giants Inter­na­tion­al Har­vester, JI Case, and the FMC Cor­po­ra­tion. He made the shift to organ­ic agri­cul­ture after pes­ti­cide poi­son­ing. Pri­or to cofound­ing The Cor­nu­copia Insti­tute almost 14 years ago, he spent more than 15 years run­ning MA Kas­tel and Asso­ciates, a polit­i­cal and busi­ness devel­op­ment con­sul­tan­cy ben­e­fit­ing the fam­i­ly farm community.
The Cor­nu­copia Insti­tute
, a Wis­con­sin-based non­prof­it farm pol­i­cy research group, is ded­i­cat­ed to the fight for eco­nom­ic jus­tice for the fam­i­ly-scale farm­ing com­mu­ni­ty. Their Organ­ic Integri­ty Project acts as a cor­po­rate and gov­ern­men­tal watch­dog assur­ing that no com­pro­mis­es to the cred­i­bil­i­ty of organ­ic farm­ing meth­ods and the food it pro­duces are made in the pur­suit of profit.