Vampire Princess of Persia
Not your kid sister's vampire flick.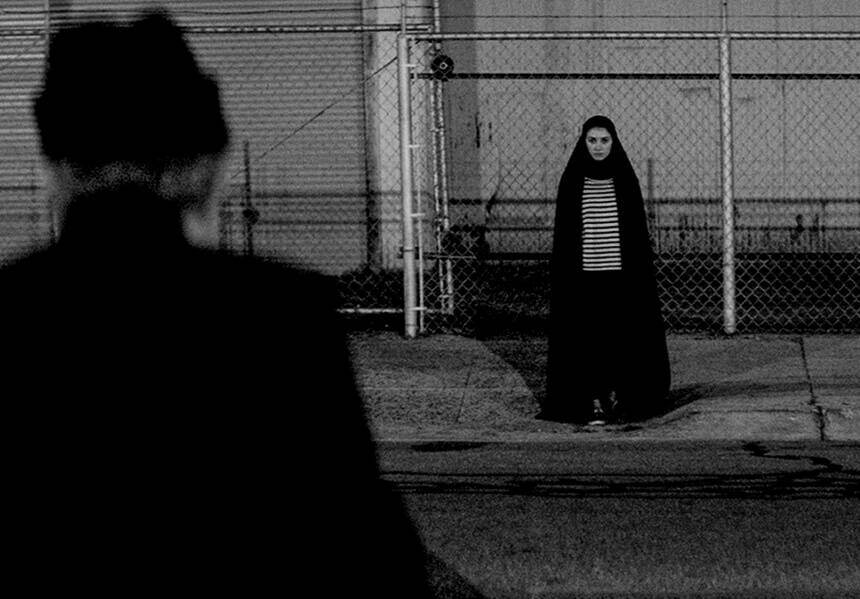 We have come to expect certain things from the contemporary movie landscape — a numbing degree of homogeneity, a dread of unresolved endings, a preference for thoughtless action over drama. Even indies and imports are starting to seem stamped from a handful of templates. Not so Ana Lily Amirpour's A Girl Walks Home Alone at Night. In her debut film, Amirpour has dared to create her own little movie universe, the kind of low-budget achievement that's rare these days. Here's a go at describing what it is: an ironic-retro Iranian punk-feminist vampire metathriller romance.
A fascinating aspect of this hip urban odyssey is its relationship to Iranian culture and Sharia law—without the film really being Iranian at all.
That's not to say it's something completely new — in the best postmod-punkette tradition, Amirpour's film borrows and homages all over the place. A Girl Walks is filthy with the cinephilic self-consciousness you found in Jean- Luc Godard in the ​'60s, Wim Wenders in the ​'70s, and Jim Jarmusch and Aki Kaurismäki in the ​'80s and ​'90s.
With no ado, we're dumped into Bad City, an unnamed, fringe Iranian metropolis where vice and squalor run rampant, shot in inky black and white. Oil rigs rock day and night, and a large ravine is filled with bodies. But this is not at all a scary film, despite splats of menace and the uncanny backwardaction- played-forward trick Francis Ford Coppola used in Bram Stoker's Dracula. Coolness is the reigning climate, and the iconography — old cars, cassette tapes, desert-town industrial ruins — is pure kitsch.
We meet a vicious pimp (Dominic Rains), a bedraggled hooker (Mozhan Marnό), an aging junkie (Marshall Manesh), his good-hearted James Dean-ish son (Arash Marandi), and The Girl (Sheila Vand), a bob-haired and big-eyed pixie in a black chador who, when she's not dancing in her postercovered room, is out hunting on the night streets, because she's a vampire.
These satellites orbit each other and randomly collide; blood gets spilled, of course, but Vand's lonely bloodsucker preys only on men and can only seem to close the deal with men who deserve it. In the meantime, Marandi's hero, dealing with the drug debts his wastrel father has racked up, struggles to negotiate adulthood and ends up obliviously flirting with and romancing The Girl — unaware that his fate balances on exactly how nice he really is.
A fascinating aspect of this hip urban odyssey is its relationship to Iranian culture and Sharia law — without the film really being Iranian at all. Amirpour is of Iranian heritage but was born in England and raised in the United States, and although the entire cast speaks Farsi, the film was shot outside Bakersfield in the San Joaquin Valley. It's a forgotten, empty, desolate landscape, very American and used here for its Hollywoodized iconicity. But it's ​"Iran," and so proscribed activities proliferate. Lovers touch when no one (except us) is looking, and a seemingly defenseless woman can occupy the city at night and turn the table on gender predation.
Iran's taboos on open displays of affection and women in public spaces have made this creation of an alternate ​"Iran" necessary, as it was in Shirin Neshat and Shoja Azari's acclaimed Women without Men (2009), shot in Morocco. (Other Persian filmmakers, including New Wave giants Abbas Kiarostami and Mohsen Makhmalbaf, simply went elsewhere and never returned.) But being American, Amirpour is committed to dragging the various cultures together and scrambling them up.
Amirpour's flair for the ecstatic manifests perfectly in one huge, hypnotic, three-minute-long shot: The Girl, letting her hair down in her apartment with Marandi's swoony loverboy, sways, listening to a throbbing pop song with her back to him. He doesn't know she's a vampire, so he slowly comes up behind her, and she gradually turns, pushes his head back to expose his throat … but then instead decides no, and nuzzles her face into his chest. Odd as it is, the movie reeks of the jukebox romanticism of an early Roy Orbison record.
Undeniably, part of the fun of A Girl Walks is to see a youngish moviehead flex her muscle and carve out a place for herself in the droughted landscape. Think of it — a new vampire movie, of all things, that you're glad you'd seen.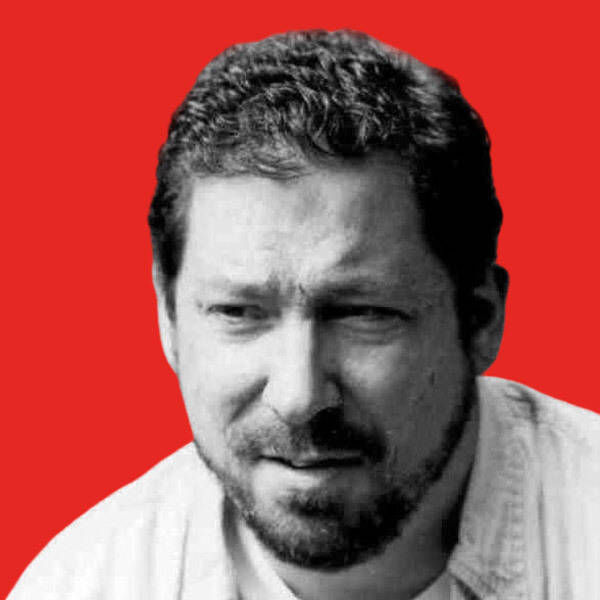 Michael Atkinson
is a film reviewer for
In These Times.
He has written or edited many books, including
Exile Cinema: Filmmakers at Work Beyond Hollywood
(
2008
) and the mystery novels
Hemingway Deadlights
(
2009
) and
Hemingway Cutthroat
(
2010
). He blogs at
Zero For Conduct
.