Vermonters Marched 65 Miles for Climate Justice
Vermont could become the first state to ban future fossil fuel infrastructure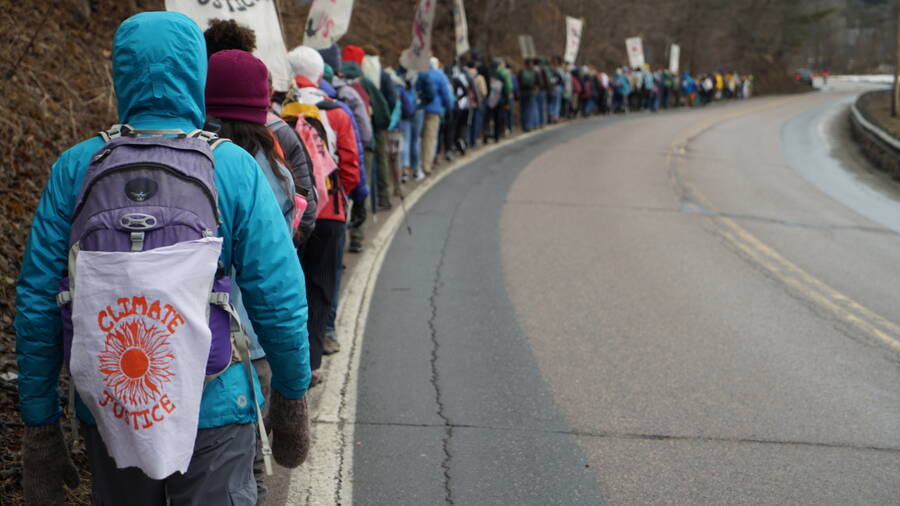 MONT­PE­LIER, VT. — On April 9, after a five-day, 65-mile walk from Mid­dle­bury, approx­i­mate­ly 350 activists, from tod­dlers to octo­ge­nar­i­ans, stood silent­ly with their fists in the air at the Ver­mont State House to demand leg­is­la­tors ban fos­sil fuel infra­struc­ture development.
In 2018, 37 Bristol residents sued Vermont Gas and the town select board for not holding a public vote regarding the pipeline construction. On March 18, the town voted to cease their agreement with Vermont Gas.
The walk, called Next Steps, was orga­nized by 350Vermont (350VT), a non­prof­it that advo­cates for cli­mate jus­tice, to per­suade state leg­is­la­tors to pass bills H.51, S.66 and H.175. Bills H.51 and S.66 would ban future fos­sil fuel infra­struc­ture statewide, while H.175 would ban the use of emi­nent domain (seiz­ing pri­vate prop­er­ty for pub­lic use) for fos­sil fuel projects. 350VT and its allied walk spon­sors, includ­ing Migrant Jus­tice, Sier­ra Club-VT Chap­ter and Sun­rise Mid­dle­bury, hope Ver­mont will fol­low Port­land, Ore., and Port­land, Maine, which passed sim­i­lar mea­sures in 2015 and 2018, respectively.
The fight comes at a moment when many states are at odds with the fed­er­al gov­ern­ment over pipeline con­struc­tion. One Trump admin­is­tra­tion exec­u­tive order tries to accel­er­ate fos­sil fuel projects by lim­it­ing state envi­ron­men­tal reviews. If the bills pass, Ver­mont will become the first state to ban such construction.
While leg­is­la­tors were in ses­sion upstairs, around 90 young peo­ple marched into the lob­by of the state­house car­ry­ing pussy wil­lows gath­ered dur­ing the walk. Pro­test­ers had tied paper tags to the plants with their writ­ten demands for cli­mate jus­tice, which they read aloud.
"Please pre­serve Ver­mont to assure our chil­dren will know clean air and water, not des­per­a­tion, despair, drought and pol­lu­tion," one read.
Ver­mont Gas Sys­tems' 41-mile pipeline, fin­ished in 2017, deliv­ers fracked gas from the Tran­sCana­da Main­line in Alber­ta to Mid­dle­bury. Pro­test­ers marched through the areas that could be affect­ed by future dis­tri­b­u­tion lines in Addi­son County.
Events were planned along the route to cel­e­brate ongo­ing cli­mate actions, includ­ing an inter­faith cer­e­mo­ny in Geprags Park in Hines­burg, where the ini­tial push­back against the Ver­mont pipeline began while it was still under con­struc­tion. In 2016, activists protest­ed the last 2,000 feet of the pipeline, tem­porar­i­ly delay­ing its con­struc­tion. That same year, mem­bers of the grass­roots group Pro­tect Geprags Park brought pho­tographs to a local pub­lic util­i­ties com­mis­sion meet­ing show­ing the unfin­ished pipeline was not dug deep enough, vio­lat­ing fed­er­al reg­u­la­tions and putting the sur­round­ing wet­lands at risk. The plain­tiffs claimed that the pipelines could ​"pro­duce explo­sions with cat­a­stroph­ic effects" if dam­aged. An ongo­ing inves­ti­ga­tion will deter­mine whether the con­struc­tion fol­lowed state safe­ty standards.
The Next Steps walk passed through Bris­tol on its sec­ond day to cel­e­brate the suc­cess­ful block­ing of planned dis­tri­b­u­tion lines there. In 2018, 37 res­i­dents sued Ver­mont Gas and the town select board for not hold­ing a pub­lic vote regard­ing the con­struc­tion. On March 18, the town vot­ed to cease their agree­ment with Ver­mont Gas.
"The orga­ni­za­tions that are cre­at­ing most of the prob­lem are absolved from any respon­si­bil­i­ty … that's injus­tice," said Melanie Brotz, 55, an artist from Burling­ton whose work appears in pam­phlets for 350VT. Brotz walked all five days and was joined by her 17-year-old daugh­ter for four. ​"We've seen some of the effects here, like super extreme weath­er sit­u­a­tions. We have to think about everyone."
Brotz refers to the walk as ​"a kind of spir­i­tu­al pil­grim­age," adding, ​"There were a lot of church­es that were sup­port­ing us."
Tara Bossard-Kruger, 14, of Dum­mer­ston, walked all five days and notes the ener­gy and pas­sion of the crowd. At the end of a tir­ing day, peo­ple weren't moan­ing and groan­ing, she said. ​"They would be singing … and planning."
Julie Macu­ga, 27, 350VT's extreme ener­gy field orga­niz­er, hopes the bills will pass but argues Ver­mont still needs stricter water qual­i­ty laws and should pro­hib­it the use of emi­nent domain for fos­sil fuel projects.
After the ral­ly at the state­house, pro­test­ers gath­ered for a clos­ing cer­e­mo­ny inside Christ Epis­co­pal Church in down­town Mont­pe­lier, where Bev­er­ly Lit­tle Thun­der, 72, a mem­ber of the Stand­ing Rock Lako­ta tribe, gave open­ing remarks. Lit­tle Thun­der, of Hunt­ing­ton, is a long­time vol­un­teer with 350VT and the Peace and Jus­tice Cen­ter, and walked all five days. She pre­vi­ous­ly walked from San Fran­cis­co to Wash­ing­ton, D.C., in the 1978 Longest Walk for Native Amer­i­can rights.
"If we don't start act­ing real­ly soon, there will be noth­ing there for these chil­dren. … The young peo­ple rec­og­nize that and are will­ing to put them­selves in a place of dis­com­fort to bring atten­tion to it," Lit­tle Thun­der said.
End­ing with a prayer, Lit­tle Thun­der remind­ed her fel­low activists: ​"Blis­ters heal, but the Earth cannot."
Olivia Box
is a grad­u­ate stu­dent at the Uni­ver­si­ty of Ver­mont study­ing nat­ur­al resources.