Veronica Mars and the Case of the Disappearing Feminism
The movie version of Veronica Mars keeps the wit, but not the politics that once made the TV series great.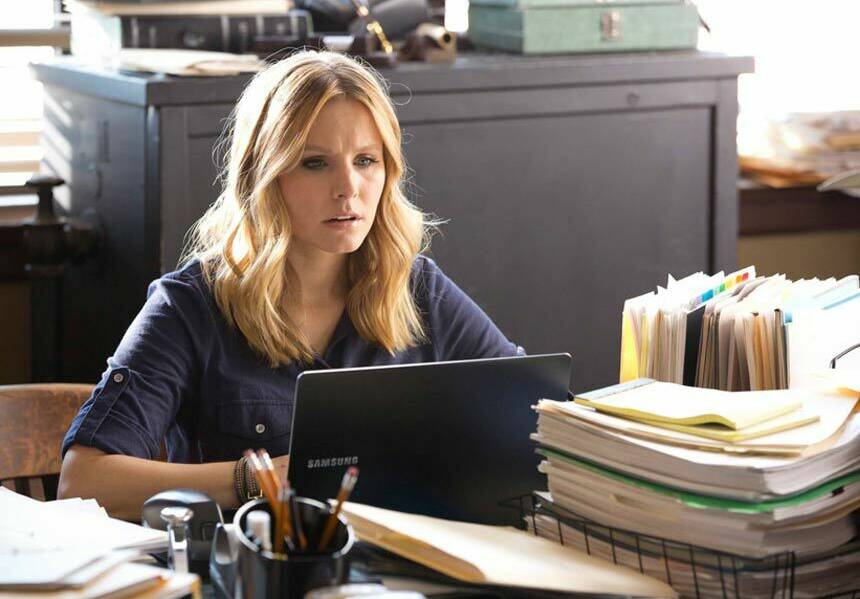 It feels cru­el to nit­pick the Veron­i­ca Mars movie. Its very exis­tence is a heart­warm­ing suc­cess sto­ry: A cult-hit teen dra­ma, cut down in its prime, is res­ur­rect­ed sev­en years lat­er due to fan inter­est and a $5.7 mil­lion Kick­starter campaign.
The core appeal of Veronica Mars ended long before the show did, when showrunner Rob Thomas chose to muddy, dilute, or just plain disavow the show's initial feminism. Unfortunately, Thomas' movie version continues this downward trend.
And the result is, pre­dictably, $5.7 mil­lion worth of fan-ser­vice: A long, ram­bling, star-cameo-crammed excuse for fans to revis­it their favorite char­ac­ters and learn how their lives turned out. If that requires two sep­a­rate high-school-reunion dance sequences that serve no more pur­pose than to update us on the life choic­es of queen-bee Madi­son (Aman­da Noret) and mis­un­der­stood motor­cy­cle-gang mem­ber Wee­vil (Fran­cis Capra), so be it. If it requires a two-minute scene con­struct­ed entire­ly to wedge James Fran­co into the movie, hey, that's how these things go. If the movie feels like a two-hour-long Veron­i­ca Mars episode designed to wrap up hang­ing plot threads from the series finale, well, that's exact­ly what Veron­i­ca Mars fans were ask­ing for when they gave Rob Thomas their mon­ey. So who are we to complain?
I am going to com­plain any­way, albeit gin­ger­ly. For I am a for­mer Veron­i­ca Mars super­fan, drawn to the show not only by its noir atmos­phere and crack­ling dia­logue, but by its sur­pris­ing­ly pro­gres­sive and girl-friend­ly premise: A teenage girl becomes a pri­vate eye to bat­tle the clas­sism and rape cul­ture of her home­town. But for me, the core appeal of Veron­i­ca Mars end­ed long before the show did, when showrun­ner Rob Thomas chose to mud­dy, dilute, or just plain dis­avow the show's ini­tial fem­i­nism. Unfor­tu­nate­ly, Thomas' movie ver­sion con­tin­ues this down­ward trend.
But before I rain all over your parade, let's pause to remem­ber the good times — name­ly, the first sea­son of Veron­i­ca Mars, which, despite its unlike­ly Mean Girls Noir take on teen dra­ma, is one of the best sin­gle sea­sons of TV I can name. The sto­ry starts thus­ly: Veron­i­ca Mars is a teenage girl, liv­ing in the eco­nom­i­cal­ly divid­ed town of Nep­tune, Cal­i­for­nia. Half of the town is pop­u­lat­ed by celebri­ties and dot-com bil­lion­aires; the oth­er half strug­gles to make ends meet. And, in what was prob­a­bly the show's most implau­si­ble plot twist, the teenagers of Nep­tune all attend the same pub­lic high school. Veron­i­ca is a for­mer pop­u­lar girl — not wealthy but nev­er­the­less accept­ed by the rich stu­dents because of her father's posi­tion as the town sher­iff — whose best friend, a wealthy girl named Lil­ly Kane, has been mur­dered. Veronica's father lost his job after accus­ing the wrong wealthy man of Lilly's mur­der; the Mars fam­i­ly lost what lit­tle mon­ey they had; Veron­i­ca became a social out­cast, drubbed out of the clique so vicious­ly that Veron­i­ca was drugged and raped at a par­ty host­ed by her for­mer friends. Oh, and some­where in the mid­dle of all this, Veronica's father became a pri­vate inves­ti­ga­tor, and Veron­i­ca joined the fam­i­ly busi­ness. The two cas­es she most longs to crack: Her friend's mur­der, and her own rape.
Class war, a com­men­tary on rape cul­ture, and one girl's quest to avenge anoth­er: What, I ask you, was not to love? Add in Kristin Bell's fan­tas­tic per­for­mance as Veron­i­ca — the woman does hard-bit­ten like no one's busi­ness, and can wrap her mouth around ridicu­lous­ly wordy one-lin­ers like ​"our tantric love-mak­ing is remark­able for its still­ness and tran­quil­i­ty" with­out break­ing a sweat — and you had what seemed to be one of the all-time greats of pro-fem­i­nist TV. Veron­i­ca had been vic­tim­ized, but she wasn't a vic­tim; she was tough and assertive, with­out ever being a two-dimen­sion­al ice queen or straw fem­i­nist; she had agency, intel­li­gence, wit, a firm grasp of class pol­i­tics, and a rage against the machine (par­tic­u­lar­ly the sex­ist, lady-vic­tim­iz­ing parts there­of) that seemed poised to make her a fan­tas­tic role mod­el for girls everywhere.
And then came Logan Echolls (Jason Dohring). Ini­tial­ly, he's intro­duced as every­thing that was wrong with Nep­tune — a billionaire's son and ​"psy­cho­path­ic jack­ass" who spouts racist, clas­sist and sex­ist insults, tor­ments Veron­i­ca, and makes home­less peo­ple fight each oth­er for his own per­son­al amuse­ment. Dohring got the role by play­ing his audi­tion scenes with Bell ​"as if I had raped her." Then he becomes, for rea­sons unknown to God or man, Veronica's main love inter­est in the series. His big­otry and out­bursts of ran­dom vio­lence are quick­ly excused with a sto­ry about his abu­sive upbring­ing, plant­i­ng him firm­ly inside an ancient (and objec­tion­able) tor­ment­ed-bad-boy arche­type. And Veron­i­ca Mars became one more sto­ry inform­ing girls that it doesn't mat­ter if your boyfriend is a big­ot who fre­quent­ly erupts into vio­lent rages and occa­sion­al­ly spends a whole year of his life inflict­ing harass­ment and emo­tion­al abuse upon your per­son, because he's, like, real­ly sad inside.
As Logan began to pull more and more of the show's screen time, actu­al mar­gin­al­ized peo­ple began to slip out of focus. Wee­vil, the work­ing-class Lati­no bik­er with a heart of gold, had prac­ti­cal­ly dis­ap­peared from the show by the third sea­son: His only plot lines were about the doomed quest to find him a plot line. Veronica's ​"best friend," Wal­lace — a boy she found taped to a flag pole in the pilot, who had the dubi­ous dis­tinc­tion of being the show's only major black char­ac­ter — wan­ders off into the back­ground, at some point, and nev­er quite finds his way back. As for female char­ac­ters, well: Out­side of the very dead Lil­ly Kane, it would be hard to find a woman that Veron­i­ca actu­al­ly likes, let alone spent time with. They all seemed to be bitch­es (Madi­son the queen bee, Kendall the ​"gold-dig­ger"), vic­tims (Meg the coma patient, Park­er the shaven-head­ed rape sur­vivor, Lil­ly Kane), or ditzes (stream-of-con­scious­ness-spout­ing motor­mouth Gia Good­man, Madi­son again). The only ray of light comes in the form of ​"Mac" Macken­zie, a com­put­er hack­er and sort of Wil­low Rosen­berg Lite, who occa­sion­al­ly pops in to help Veron­i­ca with com­put­er-relat­ed prob­lems. By the end of Sea­son Three, the show's gen­der pol­i­tics reversed them­selves so entire­ly that Veronica's main antag­o­nists actu­al­ly includ­ed a group of ​"cam­pus fem­i­nists," por­trayed as uni­form­ly humor­less, unkempt, stri­dent women who sex­u­al­ly assault­ed uncon­scious men in order to make a polit­i­cal point. Mean­while, Dick Casablan­cas (Ryan Hansen) — an attempt­ed rapist who acci­den­tal­ly drugged Veron­i­ca Mars — was a beloved fan favorite who seemed to get all the good lines.
Veron­i­ca Mars: The Movie is a chance to cor­rect course. But, rather than doing so, it dives head­first into the black hole that is the Veronica/​Logan rela­tion­ship, from whence no light nor screen time for oth­er char­ac­ters can escape. Logan has been accused of mur­der­ing his girl­friend — not for the first time, which would seem to say some­thing about his desir­abil­i­ty as a part­ner; near­ly every woman to see this man naked has wound up dead — and Veron­i­ca is deter­mined to res­cue him by find­ing the real killer. In order to do this, she gives up on years of law school, a job at a top New York firm, a sta­ble rela­tion­ship with a man who adores her, and more or less all of her stat­ed life goals. The show works in some wit­ty com­men­tary about self-destruc­tive­ness and peo­ple repeat­ing their bad habits — Veron­i­ca com­pares her attrac­tion to Nep­tune and/​or Logan to an addict's inabil­i­ty to resist a fix — but it's hard to ignore what's hap­pen­ing here. This movie is the sto­ry of how Veron­i­ca Mars, Fem­i­nist Role Mod­el, threw away her career for a boy.
As for the rest of the char­ac­ters — and the greater con­text of class inequal­i­ty and dis­crim­i­na­tion that Veron­i­ca Mars once seemed excep­tion­al­ly smart about tack­ling — well, they're most­ly ditched in favor of the rela­tion­ship stuff. Wal­lace, Wee­vil and Mac get cameo roles that amount to about five min­utes of screen time apiece; hard­ly more time than it takes for Madi­son to show up and get punched in the mouth by Veron­i­ca. There are glim­mers of the com­men­tary that once made this show intrigu­ing: Veron­i­ca wit­ness­es Neptune's police depart­ment harass­ing and bru­tal­iz­ing young black men for being in the wrong neigh­bor­hood, and Wee­vil, after hav­ing gone straight and start­ed both a busi­ness and a fam­i­ly, is shot and framed for attempt­ed car­jack­ing while try­ing to help the wrong para­noid white lady. But they're only glim­mers, sub­sumed into the greater quest to heal Logan's tor­tured soul. And the female char­ac­ters out­side of Veron­i­ca are noth­ing to brag about: Logan's girl­friend, a pop star who is also a cheat­ing drug addict and mur­der vic­tim, fits both the ​"bitch" and the ​"vic­tim" slots. For the ​"ditz," we spend a lit­tle time with an obsessed fan of Logan's girl­friend. And, for straight-up ​"bitch," we've appar­ent­ly set­tled on poor, ditzy Gia, who even­tu­al­ly also becomes a vic­tim, thus scor­ing her­self a rare win at Veron­i­ca Mars Female Char­ac­ter Bingo.
I admit I may be ask­ing too much from this fran­chise. The dia­logue is still impres­sive and hilar­i­ous, spin­ning out pop cul­ture ref­er­ences and absurd­ly com­pli­cat­ed put-downs at a mile a minute. (Veron­i­ca, con­fronting drunk Cana­di­ans at a karaōke bar: ​"Like you're the Bare­naked Ladies?" Logan: ​"Shhh. I think they might be.") The actors — includ­ing Dohring, who real­ly isn't to blame for how log­i­cal­ly insup­port­able his char­ac­ter has become — are still so invest­ed and skilled that they can make the whole thing slick­ly watch­able. Even the James Fran­co cameo is sur­pris­ing­ly non-irri­tat­ing. There's a lot on offer here, and a lot to enjoy. But I can remem­ber when this wasn't just a slick­ly watch­able, wit­ty, enjoy­able sto­ry: when it seemed to aim for some­thing much larg­er, and more chal­leng­ing, and more admirable. Unfor­tu­nate­ly, much like Veron­i­ca her­self, Veron­i­ca Mars has let its ambi­tions slide. It's giv­ing the peo­ple what they want — and what they paid $5.7 mil­lion to see. But it could have, and should have, giv­en us so much more.