As Tenn. Workers Gear Up for Another Union Campaign, Local Media Shows Anti-Union Bias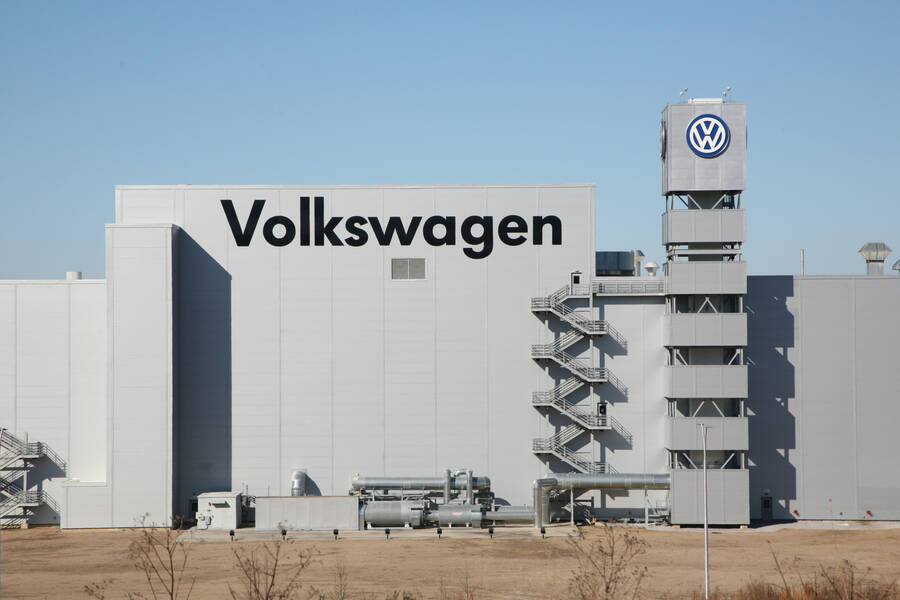 In the lead-up to anoth­er Unit­ed Auto­mo­bile Work­ers (UAW) vote at Volk­swa­gen in Ten­nessee, the region's paper of record is once again pro­vid­ing tac­it aid to anti-union efforts.
On Tues­day, the Chat­tanooga Times Free Press (CTFP) pub­lished an arti­cle announc­ing that the UAW had filed for anoth­er union elec­tion in the Chat­tanooga plant. The arti­cle quotes Patrick Sem­mens, vice pres­i­dent of the Nation­al Right to Work Legal Defense Foun­da­tion (NRTWLDF), which — for six decades — has been a lead­ing advo­cate for the destruc­tion of pub­lic and pri­vate sec­tor unions. In the arti­cle, Sem­mens says the NRTWLDF rep­re­sent­ed Volk­swa­gen work­ers in 2014 to ​"pro­tect their rights" — and then announces that the orga­ni­za­tion is will­ing to pro­vide free legal rep­re­sen­ta­tion to anti-union Volk­swa­gen work­ers again.
The fol­low­ing day, the CTFP pub­lished anoth­er arti­cle that exten­sive­ly quotes Semmen's col­league John Raud­abaugh — a high-paid NRTWLDF staff attor­ney who was active­ly involved in the organization's 2014 cam­paign against the UAW.
In both arti­cles, the CTFP quotes NRTWLDF employ­ees talk­ing about the ongo­ing cor­rup­tion scan­dal in the UAW, but omits the employer's own crim­i­nal behav­ior. In 2016, the Nation­al Labor Rela­tions Board issued a unan­i­mous deci­sion that Volk­swa­gen was vio­lat­ing fed­er­al labor law by refus­ing to nego­ti­ate with the skilled-trades unit that the UAW had suc­cess­ful­ly orga­nized in 2015.
Addi­tion­al­ly, the paper fails to pro­vide any basic infor­ma­tion about union­iza­tion, such as the fact that union work­ers enjoy a high­er medi­an week­ly income and more paid vaca­tion hol­i­days than non-union work­ers and are more like­ly to have a defined ben­e­fit pen­sion plan. Union employ­ers, mean­while, con­tribute more to cov­er the costs of health­care ben­e­fits.
This infor­ma­tion should be of val­ue and inter­est to CTFP read­ers, since they live in a state with one of the low­est union den­si­ty rates and high­est lev­els of pover­ty.
Again and again, the CTFP relies on the NRTWLDF as a sound­ing board for anti-union talk­ing points while fail­ing to pro­vide cru­cial back­ground infor­ma­tion on the NRTWLDF's polit­i­cal agen­da, finances or con­nec­tions to a busi­ness-backed net­work of anti-work­er organizations.
These arti­cles are the most recent exam­ples of a long-run­ning pat­tern of anti-union bias at the CTFP— and such biased report­ing only adds to the chal­lenges that the UAW faces in the lead up to the union's third rep­re­sen­ta­tion elec­tion at Volk­swa­gen in about five years.
Sins of Omission
A 2014 analy­sis of region­al news cov­er­age by Media Mat­ters for Amer­i­ca found that both the CTFP and the Knoxville News-Sen­tinel were ​"omit­ting crit­i­cal con­text in their cov­er­age of the union vote" and there­by ​"aid­ing these antiu­nion efforts." The analy­sis showed that in at least 25 news reports the CTFP pub­lished in the month lead­ing up to the union elec­tion, ​"not one of those reports acknowl­edged that union­iza­tion enjoys major­i­ty sup­port among the Volk­swa­gen workers."
Those aren't the only cru­cial facts that the CTFP has been omit­ting in its report­ing on the union drive.
Both Sem­mens and Raud­abaugh have spent years work­ing for the NRTWLDF, an arm of the Nation­al Right to Work Com­mit­tee (NRTWC).
A 2014 exposé on NRTWC and NRTWLDF by the Cen­ter for Media and Democ­ra­cy, an award-win­ning inves­tiga­tive watch­dog group, described the orga­ni­za­tions as ​"a pow­er­ful instru­ment of the cor­po­rate and ide­o­log­i­cal inter­ests that want to keep wages low and silence the voice of orga­nized labor in the polit­i­cal are­na." The exposé details the enor­mous finan­cial resources that are fun­neled to both orga­ni­za­tions from bil­lion­aires, like the Koch broth­ers and the Wal­ton fam­i­ly, through their dark mon­ey foun­da­tions and non­prof­its.
Addi­tion­al­ly, NRTWLDF is also an affil­i­ate mem­ber of the State Pol­i­cy Net­work, a nation­al web of cor­po­rate-financed ​"think tanks" that dri­ve an extrem­ist right-wing pol­i­cy agen­da in state gov­ern­ments through­out the country.
Yet, this vital back­ground infor­ma­tion is miss­ing in CTFP report­ing, and not just when quot­ing NRTWLDF employees.
The paper wrote a sto­ry in 2013 detail­ing how the NRTWLDF launched an out­reach cam­paign to Volk­swa­gen work­ers ​"on Face­book, offer­ing free legal aid if they're feel­ing pres­sured to join the UAW" — and detail­ing how ​"employ­ees who feel pres­sured can request free legal aid from the foun­da­tion by call­ing or going to its web­site." This sto­ry failed to pro­vide any con­text for why the NRTWLDF was involv­ing itself in the orga­niz­ing dri­ve, who was fund­ing it, and what their polit­i­cal agen­da is.
The same is true for oth­er sto­ries that cen­tral­ly focus on NRTWLDF efforts in Chat­tanooga, such as a 2014 sto­ry detail­ing the organization's fil­ing of a com­plaint with the Depart­ment of Labor against Ger­man labor unions allied with the UAW — and a 2015 sto­ry high­light­ing the organization's crit­i­cisms of the UAW's skilled trades elec­tion at Volkswagen.
Time after time, the paper has report­ed on NRTWLDF activ­i­ties while con­spic­u­ous­ly omit­ting any sub­stan­tive back­ground infor­ma­tion about the organization.
"Not­ing the ties between NRTW and the wider right-wing move­ment and, more impor­tant­ly, the fund­ing behind NRTWC and NRTWLF is incred­i­bly impor­tant in report­ing on their activ­i­ties," David Armi­ak, a researcher and writer at the Cen­ter for Media and Democ­ra­cy, tells In These Times. ​"NRTWC and NRTWLDF are fund­ed to attack work­ers' rights. This is cen­tral to the mis­sion of the organizations."
Anti-union oper­a­tive, not neu­tral expert
In the case of Raud­abaugh, the CTFP has attempt­ed to paint him as a dis­in­ter­est­ed labor expert, not as a paid anti-union operative.
It does this by cen­tral­ly char­ac­ter­iz­ing Raud­abaugh as a for­mer Nation­al Labor Rela­tions Board mem­ber and uni­ver­si­ty pro­fes­sor, pro­vid­ing the mis­lead­ing impres­sion that he is a neu­tral author­i­ty on unions rather than the long­time employ­ee for a nation­al­ly rec­og­nized union buster.
As I doc­u­ment­ed in a 2015 sto­ry for the Insti­tute for South­ern Stud­ies, from August 2013 to Novem­ber 2015 the CTFP print­ed 16 sto­ries that quote Raud­abaugh. Eleven of those sto­ries failed to men­tion that he is a staff attor­ney for NRTWLDF. Coin­ci­den­tal­ly, on the very day that the report came out, the CTFP print­ed anoth­er sto­ry quot­ing Raud­abaugh, again omit­ting the fact that he is a NRTWLDF staff attorney.
The most recent CTFP arti­cle quot­ing Raud­abaugh does even­tu­al­ly men­tion that he is ​"also an attor­ney for the Nation­al Right to Work Foun­da­tion," but like most of the oth­er arti­cles involv­ing NRTWLDF, the paper fails to pro­vide any infor­ma­tion about the organization's agen­da or fund­ing sources.
Even more dis­turb­ing, the sto­ry fails to men­tion that Raud­abaugh was one of NRTWLDF's attor­neys pro­vid­ing free legal rep­re­sen­ta­tion to anti-union Volk­swa­gen work­ers in 2013 and 2014. Far from being a dis­in­ter­est­ed expert, Raud­abaugh was inti­mate­ly involved in the broad­er cam­paign by third-par­ty groups to keep work­ers in Chat­tanooga from unionizing.
Solic­it­ing and then pro­vid­ing direct legal assis­tance to the union's oppo­si­tion at Volk­swa­gen should qual­i­fy as impor­tant infor­ma­tion when eval­u­at­ing the opin­ions of some­one like Raud­abaugh, but such omis­sions are com­mon for the CTFP.
Up to old tricks
The CTFP mast­head dis­plays the mot­to, ​"To Give the News Impar­tial­ly, With­out Fear or Favor." But the paper has rou­tine­ly car­ried water for NRTW, as it did in Tuesday's arti­cle, when it broad­cast the group's call for anti-union work­ers to con­tact them for free legal rep­re­sen­ta­tion — effec­tive­ly serv­ing as the kick­off announce­ment for the renewed anti-union campaign.
"NRTWLDF's call for work­ers to con­tact them for ​'free legal assis­tance' is part of a nation­al strat­e­gy to attack work­ers' rights through lit­i­ga­tion. In oth­er words, the legal assis­tance is in no way free," Armi­ak said. ​"It comes at the expense of one's right to union­ize and, by exten­sion, one's right to a liv­able wage, health­care, paid leave, a safe and healthy work envi­ron­ment, and many oth­er things unions col­lec­tive­ly fight for."
The 2014 UAW elec­tion in Chat­tanooga was a nail biter, and the union lost by a nar­row mar­gin. The UAW had to not only face down out-of-state hired guns like NRTW, but Tennessee's Repub­li­can-dom­i­nat­ed polit­i­cal estab­lish­ment, pow­er­ful busi­ness com­mu­ni­ty, and a hos­tile local media that failed to dis­close piv­otal infor­ma­tion about who was behind the broad anti-union cam­paign that mired the city.
The UAW has request­ed that the union elec­tion be held on April 29 and 30. As the union orga­niz­ing dri­ve heats up, work­ers hop­ing for a fair shake in the media will have to look to news out­lets oth­er than the CTFP.
"If a jour­nal­ist or news out­let choos­es not to char­ac­ter­ize an anti-work­er orga­ni­za­tion such as NRTWC or NRTWLDF as such, or if it choos­es not to inform read­ers of their fund­ing sources, then it is cer­tain­ly pro-busi­ness and anti-work­er," said Armiak.
Chris Brooks
is a staff writer and labor edu­ca­tor at
Labor Notes,
where he cov­ers the Unit­ed Auto Work­ers. He is a mem­ber of the Nation­al Writ­ers Union (UAW Local
1981
).