Volkswagen Workers in Tennessee Won't Give Up the Fight for Unionization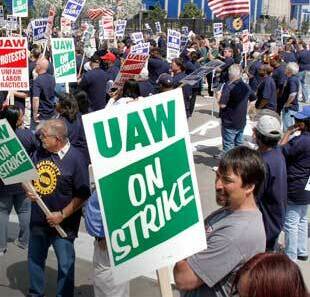 For the third time in five years, auto work­ers will vote on whether to form a union at the country's sole Volk­swa­gen plant, locat­ed in Chat­tanooga, Tennessee.
On Tues­day, the Unit­ed Auto Work­ers (UAW) filed for an elec­tion to rep­re­sent all 1,709 of the plant's hourly employ­ees, request­ing that the elec­tion be held on April 29 and 30.
The union's first attempt in 2014 failed after a slim major­i­ty of work­ers vot­ed no, fol­low­ing a bar­rage of threats by politi­cians and busi­ness-backed anti-union groups.
In the sec­ond attempt, a group of 160 skilled-trades work­ers in the plant in 2015 vot­ed to join UAW Local 42. But that small­er unit has yet to secure a first contract.
Now the union is mov­ing for­ward with an elec­tion at the 1,400-acre Chat­tanooga facil­i­ty after it says it signed up 65 per­cent of the hourly work­ers, includ­ing skilled trades, on union cards.
Work­ers in the plant are like­ly to face anoth­er onslaught of threats and lies from politi­cians and anti-union groups. As of yet, the com­pa­ny has not com­ment­ed on whether it will remain neu­tral this time around.
First attempt
The UAW has long sought vol­un­tary recog­ni­tion from Volkswagen.
Under the Co-Deter­mi­na­tion Act in Ger­many, where Volk­wa­gen is based, employ­ees and rep­re­sen­ta­tives of labor hold half the seats on the automaker's inter­na­tion­al Super­vi­so­ry Board, pro­vid­ing the union with allies in the cor­po­rate hierarchy.
In 2013, two years after the Chat­tanooga plant opened, Volk­swa­gen appeared eager to part­ner with the UAW to orga­nize the first Ger­man-style ​"works coun­cil" in the U.S.
In the­o­ry, such a works coun­cil would con­sist of rep­re­sen­ta­tives from both labor and man­age­ment and would meet to make col­lec­tive deci­sions per­tain­ing to pro­duc­tion goals, work­ing con­di­tions, work pace, and oth­er plant issues. The idea was that this works coun­cil would oper­ate along­side a union, with a col­lec­tive bar­gain­ing agree­ment cov­er­ing only a hand­ful of top­ics includ­ing wages and benefits.
But Ten­nessee Repub­li­cans, who con­trolled the governor's office and both leg­isla­tive hous­es, weighed in on the oth­er side, threat­en­ing to torch hun­dreds of mil­lions of dol­lars in gov­ern­ment assis­tance promised to the com­pa­ny if it chose to rec­og­nize the union vol­un­tar­i­ly. VW bowed to polit­i­cal pres­sure and refused to rec­og­nize the UAW with­out an autho­riza­tion election.
How­ev­er, the com­pa­ny did enter into a 22-page neu­tral­i­ty agree­ment with the union.
This deal had some down­sides for the UAW. The agree­ment barred orga­niz­ers from vis­it­ing work­ers at home to talk about the union and assess their sup­port. A non-dis­par­age­ment clause pro­hib­it­ed the union from pub­licly orga­niz­ing around the issues that work­ers faced in the plant.
Still, the UAW enjoyed a degree of employ­er neu­tral­i­ty that would have been unimag­in­able at Nis­san, Toy­ota, Mer­cedes-Benz, or BMW. VW didn't fol­low the typ­i­cal anti-union play­book of threats, promis­es, and cap­tive-audi­ence meetings.
But if the com­pa­ny large­ly sat out the fight, cor­po­rate inter­est groups were more than hap­py to pick up the slack and fight against the union them­selves. Anti-union con­sult­ing groups backed by a host of fun­ders from anti-tax oper­a­tive Grover Norquist to region­al busi­ness­es flood­ed Chat­tanooga with anti-union news­pa­per edi­to­ri­als and radio ads, pur­chased bill­boards, and pro­duced videos on social media.
The anti-union groups also orga­nized local events fea­tur­ing promi­nent com­mu­ni­ty lead­ers includ­ing the head of the local Tea Par­ty, state leg­is­la­tors, and a right-wing pro­fes­sor at a local col­lege. Work­ers attend­ing these event were pro­vid­ed copies of the neu­tral­i­ty agree­ment, which many work­ers saw as a secret deal between the com­pa­ny and the union, and were told that the UAW had already sold them out by agree­ing to keep labor costs and pro­duc­tion ​"com­pet­i­tive" with oth­er companies.
For­mer U.S. Sen­a­tor Bob Cork­er promised that Volk­swa­gen would expand pro­duc­tion and bring more jobs to Chat­tanooga if work­ers vot­ed down the union.
In the end, the union lost by a vote of 712 to 626, with 89 per­cent of the 1,500-worker unit par­tic­i­pat­ing in the election.
Sec­ond try
Fol­low­ing that loss, the UAW char­tered the ​"mem­bers-only" Local 42 and con­tin­ued to push for vol­un­tary recog­ni­tion, which was not forthcoming.
Even­tu­al­ly the union set­tled for anoth­er elec­tion, this time lim­it­ed to a small sub­set of the work­force: 162 skilled-trades employ­ees whose job is to main­tain machines in the plant.
This was made pos­si­ble thanks to the Nation­al Labor Rela­tions Board's 2011 Spe­cial­ty Health­care rul­ing, which gave unions greater lat­i­tude to deter­mine which work­ers to include in the bar­gain­ing unit. Rather than hav­ing to run an elec­tion cov­er­ing every hourly employ­ee, the union could focus on the area of the plant where it had always had the great­est lev­el of support.
In 2015, this main­te­nance unit vot­ed 108 to 44 in favor of orga­niz­ing, giv­ing the UAW its first union elec­tion vic­to­ry at a for­eign-owned automak­er in the U.S. South.
In direct vio­la­tion of fed­er­al labor law and any pro­fessed claim to union neu­tral­i­ty, how­ev­er, Volk­swa­gen refused to bar­gain with the new­ly orga­nized unit. The com­pa­ny con­tin­ued to file appeals as the case wound its way through the NLRB and the courts over sev­er­al years.
Then Don­ald Trump was elect­ed president.
Trump appoint­ed an anti-union major­i­ty to the Labor Board, which over­turned the Spe­cial­ty Health­caredeci­sion. Fol­low­ing the Board's rever­sal, the D.C. Cir­cuit Court ruled that the UAW elec­tion should be hand­ed back to the Trump Labor Board for review—all but guar­an­tee­ing that the UAW's elec­tion win would be overturned.
Round three
The Chat­tanooga plant cur­rent­ly pro­duces the Pas­sat, a mid-sized sedan, and the Atlas, an SUV.
Volk­swa­gen recent­ly announced plans to spend $800 mil­lion and hire 1,000 more employ­ees at the fac­to­ry, part of a planned expan­sion aimed at pro­duc­ing a line of elec­tric vehi­cles for the North Amer­i­can mar­ket by 2022. Those plans could help to alle­vi­ate fears that the plant will close in reac­tion to unionization.
Auto Work­ers could def­i­nite­ly use some good news. The UAW, one of the most pow­er­ful pri­vate sec­tor unions to emerge from the indus­tri­al orga­niz­ing of the first half of the twen­ti­eth cen­tu­ry, has been severe­ly weakened.
The union has lost two-thirds of its mem­ber­ship over the past four decades. It has made mas­sive con­tract con­ces­sions to employ­ers. And a recent cor­rup­tion scan­dal has rocked the upper ech­e­lons of the union's leadership.
The union has lost sev­er­al high-pro­file orga­niz­ing dri­ves, includ­ing a rout in the 2017 elec­tion at Nissan's plant in Can­ton, Mississippi.
A sin­gle elec­tion vic­to­ry won't com­plete­ly reverse the UAW's prob­lems — but a win in Chat­tanooga could pro­vide a foothold in the South.
First, though, Chat­tanooga work­ers will have to face down the inevitable onslaught of anti-union attacks.
As UAW Orga­niz­ing Direc­tor Tra­cy Romero told Volk­swa­gen work­ers at a recent meet­ing in Chat­tanooga: ​"The politi­cians, they're com­ing in. The bill­boards, they're going up. The radio ads, they're com­ing after us.
"So it's not just about sign­ing that card. It's about know­ing that they are will­ing to take action and stand up and fight inside of that facility."
This arti­cle first appeared on Labor Notes.
Chris Brooks
is a staff writer and labor edu­ca­tor at
Labor Notes,
where he cov­ers the Unit­ed Auto Work­ers. He is a mem­ber of the Nation­al Writ­ers Union (UAW Local
1981
).