Walmart, Nike and Others Decline to Back $40 Monthly Wage Hike in Cambodia's Garment Industry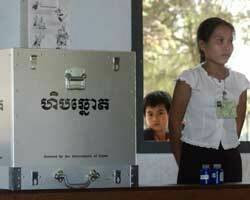 Major West­ern retail­ers sourc­ing cloth­ing from Cam­bo­dia — a coun­try marked by author­i­tar­i­an rule and reg­u­lar­ly ranked as one of the world's worst coun­tries for work­ers — are declin­ing to endorse a pro­posed hike in the gar­ment industry's min­i­mum wage that amounts to rough­ly $40 a month.
Like many of its neigh­bors in South­east Asia, Cam­bo­dia is a pop­u­lar spot for Amer­i­can and Euro­pean brands to sub­con­tract pro­duc­tion of tex­tiles and shoes. It offers easy mar­ket access and, above all, cheap labor. Against that back­drop, gar­ment and footwear exports have more than dou­bled over the past decade — with sup­pli­ers pulling in con­tracts from top-name cor­po­ra­tions like Wal­mart and Nike.
But the indus­try is not with­out con­flict. In recent years, its over­whelm­ing­ly female work­force has led mass strikes and protests to demand high­er wages, and sev­er­al work­ers were killed in a police crack­down in Jan­u­ary 2014. Fur­ther ten­sion looms.
This month, labor unions rep­re­sent­ing hun­dreds of thou­sands of gar­ment work­ers pro­posed a hike in the indus­try-wide min­i­mum wage from $140 a month to $179.60. They've been met with stiff oppo­si­tion from the fac­to­ry own­ers' lob­by, the Gar­ment Man­u­fac­tur­ers Asso­ci­a­tion in Cam­bo­dia, which coun­tered with its own month­ly min­i­mum wage offer of $144.20. Many West­ern brands, too, have declined to endorse the unions' proposal.
In These Times reached out to six of the top U.S. and Euro­pean brands with con­tracts in Cam­bo­dia — Wal­mart, Nike, Adi­das, Levi Strauss & Co., H&M and Gap Inc. — ask­ing for their posi­tion on the unions' pro­posed min­i­mum wage hike. None of them endorsed the pro­pos­al. Wal­mart and Nike did not respond; Adi­das, Levi's, H&M and Gap all high­light­ed their sup­port of ongo­ing negotiations.
"H&M wel­comes a reg­u­lar and trans­par­ent min­i­mum wage set­ting process for the Cam­bo­di­an gar­ment indus­try," said Ulri­ka Isaks­son, a spokes­woman for the com­pa­ny. ​"We strong­ly hope that the par­ties will nego­ti­ate in good faith and reach an accept­able agree­ment for all."
In 2014, H&M was part of a group that sent a let­ter to a Deputy Prime Min­is­ter in Cam­bo­dia, say­ing that work­ers ​"have the right to a fair liv­ing wage."
Work­ers' rights advo­cates believe that the U.S. and Euro­pean brands should take a strong stance today.
"They should back labor unions' pro­posed wages and they do have a respon­si­bil­i­ty," said Irene Pietropaoli, a Myan­mar-based con­sul­tant on busi­ness and human rights. ​"They are under no legal oblig­a­tion to do so, but they clear­ly are key play­ers in this debate and so have an eth­i­cal respon­si­bil­i­ty to show lead­er­ship, to influ­ence the gov­ern­ment when they can, to use their ​'lever­age,' to use the word­ing of the UN Guid­ing Prin­ci­ples (on Busi­ness and Human Rights)."
That land­mark doc­u­ment, craft­ed and endorsed by the UN Human Rights Coun­cil in 2011, calls on com­pa­nies to use their ​"lever­age" to pre­vent ​"an adverse human rights impact" from tak­ing place.
From labor's per­spec­tive, that's pre­cise­ly what's at stake. The Asia Floor Wage Alliance, an inter­na­tion­al alliance of trade unions and labor rights advo­cates that focus­es on the gar­ment indus­try, has cal­cu­lat­ed Cambodia's ​"liv­ing wage" to be $283 a month—far above what local unions are demanding.
How­ev­er, eco­nom­ic inter­ests get in the way of such a rate, explained Auret van Heer­den, senior advi­sor with the NYU Stern Cen­ter for Busi­ness and Human Rights and for­mer pres­i­dent of the Fair Labor Association.
Sup­pli­ers are reluc­tant to hike wages because, for one, there's no guar­an­tee their buy­ers will absorb the high­er labor costs. What's more: gar­ment fac­to­ries typ­i­cal­ly oper­ate on short-term con­tracts, last­ing just a few months. If a fac­to­ry own­er decid­ed to uni­lat­er­al­ly raise pay, he risks los­ing future busi­ness. A buy­er might react by sourc­ing else­where in Cam­bo­dia — or by sim­ply find­ing cheap­er labor abroad, in say, Bangladesh or Myanmar.
"A lot of the sup­pli­ers, pri­vate­ly, are accus­ing buy­ers, brands, of being real­ly part of the prob­lem because they're cut­ting their prices on the one hand and they're expect­ing them to absorb more costs on the oth­er hand," said van Heerden.
Of course, the brands them­selves could sim­ply sign longer-term con­tracts guar­an­tee­ing high­er wages — but they don't. And, at the moment, van Heer­den explained, they're like­ly reluc­tant to get involved in the min­i­mum wage debate for fear of upset­ting their busi­ness and polit­i­cal part­ners in Cambodia.
"If the brands do weigh in, they're going to cer­tain­ly antag­o­nize gov­ern­ment and the indus­try asso­ci­a­tion, and they're going to antag­o­nize their own sup­pli­ers, frankly," van Heer­den says. ​"So they're going to step on three sets of toes and not going to get any cred­it from the unions unless they want to sort of put them­selves in bed with the unions, which is not a posi­tion they want to be in either. I can under­stand why they'd want to stay out of it."
Erik Loomis, his­to­ry pro­fes­sor at the Uni­ver­si­ty of Rhode Island and author of Out of Sight: The Long and Dis­turb­ing Sto­ry of Cor­po­ra­tions Out­sourc­ing Cat­a­stro­phe, believes the brands could eas­i­ly swal­low a wage hike.
The com­pa­nies' lat­est fil­ings with the U.S. Secu­ri­ties and Exchange Com­mis­sion paint a gen­er­al pic­ture of finan­cial health and siz­able prof­its. They also show, in recent years, that some of the retail­ers haven't hes­i­tat­ed to pour bil­lions into so-called share repur­chas­ing pro­grams — mas­sive invest­ments in their own stock designed to inflate val­ue and ben­e­fit share­hold­ers. Last year, Wal­mart autho­rized a $20 bil­lion buy­back plan; Nike, for its part, recent­ly com­plet­ed a four-year $8 bil­lion buy­back spree; in Feb­ru­ary, Gap Inc. rolled out a com­par­a­tive­ly mod­est $1 bil­lion plan.
"Adding $40 a month to the min­i­mum wage is real­ly peanuts for these large com­pa­nies," said Loomis. ​"Let's step back here. It's $40 a month, not $40 a day or $40 a week. We are talk­ing about a cou­ple of dol­lars per work­er per day."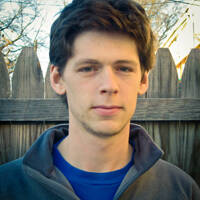 Cole Stan­gler
writes about labor and the envi­ron­ment. His report­ing has also appeared in The Nation, VICE, The New Repub­lic and Inter­na­tion­al Busi­ness Times. He lives in Paris, France. He can be reached at cole[at]inthesetimes.com. Fol­low him
@colestangler
.