Next Wave of Walmart Worker Actions Kicks Off with California Strike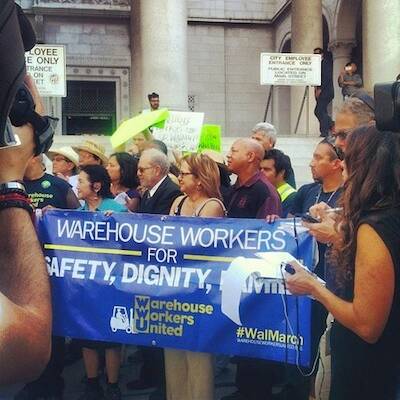 Outside a Walmart distribution center in Mira Loma, Calif. yesterday, a few dozen striking workers were joined by throngs of chanting supporters to protest alleged retaliation against workers who complained about safety hazards.
Today, hundreds of supporters joined them at the warehouse, where law enforcement officers arrested six community leaders for acts of non-violent civil disobedience. Among those arrested was a local clergyman who sat down in the road in front of the warehouse, temporarily blocking trucks approaching the loading docks.
The strike is one of more than a thousand protests, walkouts, and other actions workers in the Walmart retail empire are planning over the next week, culminating on the big ​"Black Friday" shopping day. After an initial round of lengthy warehouse strikes and quick retail strikes in late September, a new surge started with one store in Richmond, Calif.; then three stores last week in Dallas. Yesterday, workers walked out at one store in San Leandro, Calif., followed today by workers at six stores in Seattle.
Strikers at the southern California warehouse allege that the staffing agency Warestaff retaliated against participants in a two-week strike over safety issues in late September and early October. According to Warehouse Workers United (a workers' center in the Inland Empire complex of southern California distribution centers), Warestaff has shortened many strikers' work weeks from the usual 30 to 40 hours down to as little as 8 hours, even as it hires new workers. Organizers believe Warestaff was acting under orders from Walmart; Warestaff is contracted by NFI Transportation, which operates the giant Mira Loma transportation hub exclusively for Walmart.
Yesterday's strike was launched a day early in response to what organizers saw as a new round of retaliation by Warestaff. On Monday, Warestaff sent a large group of workers home early, even though workers estimated there was a sizeable line-up of 150 trailers that needed unloading. Then the company told most of the strike cadre to stay home Tuesday. When they learned about the lost workday, the core of the strike leaders decided to start their walkout a day early but to continue with a strike and supporter rally on Thursday.
The issue of retaliation hits close to home for David Garcia, one of yesterday's picketers. Until about a month ago, he worked alongside these strikers, and he was among the leaders of the September strike.
One day in October, he says, he called the distribution hub's ​"command center" to report that the ramp between the truck trailer and the warehouse floor had buckled and was dangerous to workers and forklift drivers. But, according to Garcia, management did nothing — so he called back an hour later to report the danger again, adding that management would be responsible if anyone were injured. In response, Garcia alleges, his supervisor gave him a disciplinary warning, which he refused to sign — then, accused of threatening the command center operator, he was fired and threatened with arrest if he came on the property.
Garcia suspects that his firing is also related to his leadership in the September strike, which seems to have frightened the company: NFI has been busy — even this week — fixing ramps, installing fans, providing clean drinking water and making other improvements that strikers had demanded. NFI may also be anticipating citations coming from Cal/​OSHA for health and safety violations. A state inspector reportedly told a warehouse worker that a round of citations is imminent.
Garcia is not the only member of the first strike cadre who no longer works for Warestaff. After the company cut their hours, some of the initial strikers had to take jobs elsewhere to support their families.
But a strong core of workers from the first strike persists, augmented by growing support among workers for both Warestaff and other subcontractors, according to WWU organizers. Organizers believe that Warestaff employs about half of the estimated 300 workers at the distribution center; several dozen turned out for Wednesday's action.
These actions are among a growing number of coordinated walkouts and protests by workers in Walmart's warehouses and retail stores, in protest of both working conditions and employer retaliation.
Workers at Walmart's largest warehouse in Elwood, Ill., successfully struck for three weeks this fall. On Wednesday, they filed charges with the National Labor Relations Board alleging illegal retaliation against protected collective action. The defendants included not only Roadlink Workforce Solutions, the earlier strike target, but also three other contract staffing agencies. Since the strike, workers for those firms have also begun to organize.
Next week, on Black Friday, the post-Thanksgiving shopping extravaganza, workers organized by OURWalmart at potentially hundreds of Walmart retail stores are expected to walk out, disrupting one of the most important retailing days of the year. OURWalmart is a non-union association of retail workers formed with assistance of the United Food and Commercial Workers. Warehouse workers and other supporters plan to join them in rallies at the store demanding change at Walmart.
The company may have inadvertently swollen the protest by announcing this week a plan to raise the health insurance premium for retail store ​"associates" by 8 to 36 percent next year (after both cutting coverage and significantly raising premiums last year). The hike comes at a time when most big corporations are increasing employee premiums by only 5.5 percent.
Much as they are fighting for reliable hours, higher pay, better benefits and safer workplaces, Walmart workers who have joined this new wave of protest also see their efforts as a fight for even bigger goals. As Mira Loma striker Javier Rodriguez said from the picket line, ​"I'm fighting for my children, my family, the future."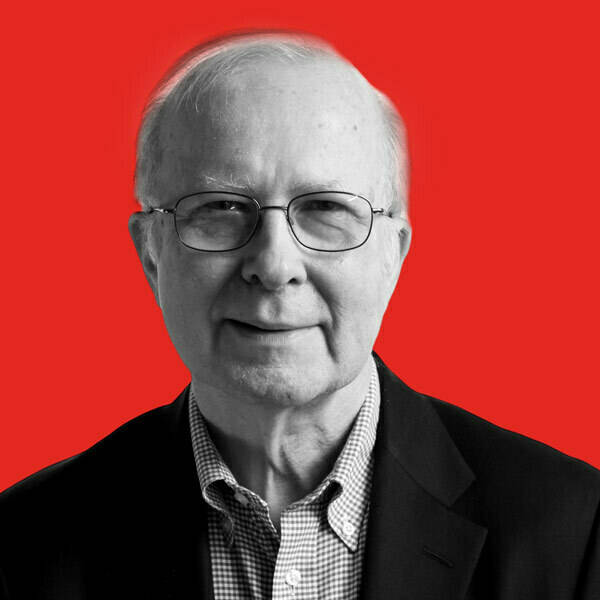 David Moberg, a former senior editor of In These Times, was on staff with the magazine from when it began publishing in 1976 until his passing in July 2022. Before joining In These Times, he completed his work for a Ph.D. in anthropology at the University of Chicago and worked for Newsweek. He received fellowships from the John D. and Catherine T. MacArthur Foundation and the Nation Institute for research on the new global economy.