Want to Stop Trump? Take a Page From These Dockworkers, and Stop Work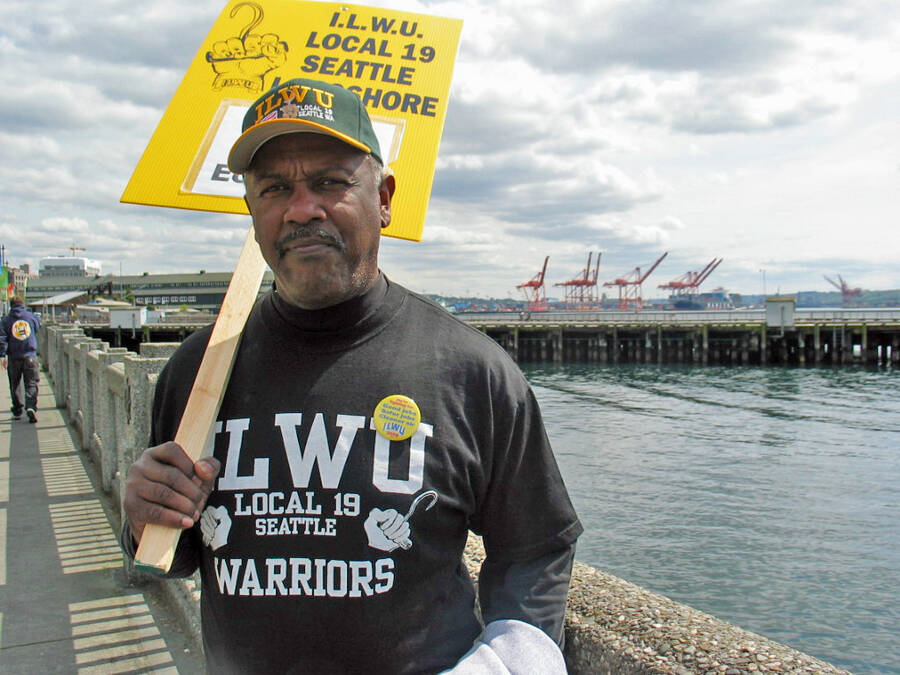 On the day of Don­ald Trump's inau­gu­ra­tion, many Amer­i­cans wrung their hands. Some took to social media to express their dis­con­tent while oth­ers protest­ed. But, per­haps, the most dra­mat­ic and impor­tant action was tak­en by dock­work­ers in Oak­land, Cal­i­for­nia: They stopped work­ing. Their strike demon­strat­ed the poten­tial pow­er ordi­nary peo­ple have on the job, when organized.
Long­shore work­ers, who load and unload car­go ships, chose not to report to their hir­ing hall. As a result, ​"Oak­land Inter­na­tion­al Con­tain­er Ter­mi­nal, the largest con­tain­er facil­i­ty at the North­ern Cal­i­for­nia port, was shut down Fri­day," accord­ing to the Jour­nal of Com­merce. It also report­ed that all oth­er Oak­land con­tain­er ter­mi­nals were essen­tial­ly shut down, too.
Cru­cial­ly, these work­ers did not first come togeth­er to protest Trump. They belong to the Inter­na­tion­al Long­shore and Ware­house Union (ILWU), one of the strongest and most mil­i­tant unions left in the Unit­ed States.
The ILWU, found­ed in the 1930s, rep­re­sents logis­tics work­ers up and down the West Coast of the Unit­ed States, in Alas­ka, Hawaii, British Colum­bia and Pana­ma. For some 80 years, the union has fought for equal rights, democ­ra­cy, eco­nom­ic equal­i­ty and a vast array of oth­er social jus­tice caus­es. ILWU Local 10, which rep­re­sents work­ers in the San Fran­cis­co Bay Area, often has been at the fore­front of those fights.
ILWU mem­bers refused to load scrap met­al intend­ed for Japan because it had invad­ed Chi­na in the 1930s. The ILWU con­demned the racist, apartheid régime in South Africa and Local 10 mem­bers peri­od­i­cal­ly refused to unload South African car­go, includ­ing in the face of fed­er­al injunc­tions and employ­er pres­sure. They also refused, in 1978, to load U.S. mil­i­tary aid for Augus­to Pinochet, a Chilean mil­i­tary gen­er­al who led a coup against a demo­c­ra­t­i­cal­ly-elect­ed, social­ist pres­i­dent, Sal­vador Allende. On May Day 2008, the ILWU shut down Pacif­ic Coast ports to protest the U.S. wars in Iraq and Afghanistan.
Activists take the lead
One key ele­ment of ILWU pow­er is its job dis­patch sys­tem. In the after­math of its leg­endary Big Strike of 1934, which briefly became the San Fran­cis­co gen­er­al strike, the union basi­cal­ly won con­trol over job dis­patch. Quick­ly, work­ers imple­ment­ed a ​"low man out" sys­tem, which enshrined the idea that the per­son with the fewest num­ber of hours worked be the first one dis­patched. Such social­ism in action should not be sur­pris­ing from a union whose found­ing mem­bers includ­ed social­ists, com­mu­nists and Wob­blies, the name for mem­bers of per­haps America's most rad­i­cal union, the Indus­tri­al Work­ers of the World. The ILWU also inher­it­ed the Wob­bly mot­to, ​"An injury to one is an injury to all."
Today, though some work­ers are assigned to spe­cif­ic com­pa­nies on a long-term basis, many still are dis­patched via hir­ing halls. This sys­tem gives work­ers incred­i­ble pow­er because they decide when to report for work, cre­at­ing the pos­si­bil­i­ty for work­ers to coor­di­nate not show­ing up. The result, as seen on Fri­day, was to shut down the port of Oakland.
Obvi­ous­ly, many work­ers, nation­wide, do not oper­ate under a dis­patch sys­tem. But they can still orga­nize some­thing sim­i­lar with­out tech­ni­cal­ly call­ing a strike.
At the end of 2014, New York City police offi­cers coor­di­nat­ed a ​"vir­tu­al work stop­page," nick­named the ​"Blue Flu." And last year, Detroit pub­lic school teach­ers, enraged by the awful con­di­tions stu­dents and teach­ers suf­fer from because of a lack of state fund­ing, orga­nized an effec­tive ​"sick­out." In oth­er words, work­ers need not offi­cial­ly ​"strike," or even belong to a labor union, to engi­neer a shutdown.
Impor­tant­ly, Friday's action was not orga­nized or endorsed by the ILWU lead­er­ship. Since its incep­tion, the ILWU has stood on the left tip of the U.S. labor move­ment, but even this union has become more con­ser­v­a­tive dur­ing the past few decades. Nowa­days, rank-and-file activists in Local 10 often take the lead.
"

There is power"

Like most unions and work­ing peo­ple, the ILWU oppos­es much of Trump's anti-labor agen­da, which pro­motes ​"right-to-work" (more accu­rate­ly right-to-work-for-less) leg­is­la­tion, con­demns pub­lic sec­tor unions, seeks to pri­va­tize pub­lic schools and reverse the Oba­ma administration's actions on pay­ing more work­ers over­time, reduc­ing wage theft and ensur­ing work­er safe­ty. Trump's pro­posed labor sec­re­tary, for one, has made his anti-work­er posi­tions clear. (That said, Trump's oppo­si­tion to the Trans-Pacif­ic Part­ner­ship is welcome.)

Nor have Bay Area long­shore work­ers for­got­ten Trump's insult of Oak­land. The pres­i­dent once said, ​"There are places in Amer­i­ca that are among the most dan­ger­ous in the world. You go to places like Oak­land. Or Fer­gu­son. The crime num­bers are worse. Seriously."

To resist Trump's agen­da, Oak­land long­shore work­ers shut down their work­place and remind­ed us of the poten­tial of orga­nized labor. As the old song, writ­ten by Joe Hill and sung by Utah Phillips, declares, ​"There is pow­er, there is pow­er in a band of work­ing folks, when we stand hand-in-hand. That's a pow­er, that's a pow­er that must rule in every land."
Peter Cole
is a Pro­fes­sor of His­to­ry at West­ern Illi­nois Uni­ver­si­ty and Research Asso­ciate in the Soci­ety, Work and Devel­op­ment Pro­gram at the Uni­ver­si­ty of the Wit­wa­ter­srand in Johan­nes­burg, South Africa. He is the author of Wob­blies on the Water­front: Inter­ra­cial Union­ism in Pro­gres­sive Era Philadel­phia and the award-win­ning Dock­work­er Pow­er: Race and Activism in Dur­ban and the San Fran­cis­co Bay Area. He also is the founder and co-direc­tor of the Chica­go Race Riot of
1919
Com­mem­o­ra­tion Project (CRR
19
). He tweets from @ProfPeterCole.