DC Transit Wanted to Give Special Transport for White Supremacists. This Union Said Hell No.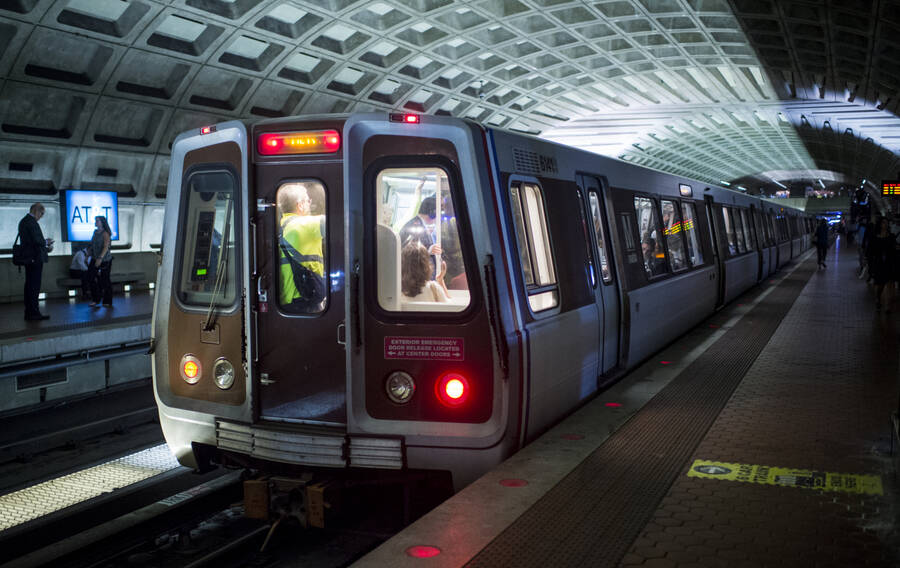 The Washington, D.C. metro system ditched a potential plan to provide separate trains for white nationalists attending a ​"Unite the Right" rally in Lafayette Square after its largest union refused to participate. That rally is scheduled for August 12 and is organized by the same racist group behind last summer's Charlottesville protest, an event where dozens were injured and Heather Heyer, a 32-year-old paralegal, was killed after purposely being run over by a car.
The Metro's alleged plans were exposed by Amalgamated Transit Union Local 689 (ATU 689) after sources informed the union that an idea was being floated to provide three private rail cars and a police escort to the white nationalists. ​"More than 80 percent of Local 689's membership is people of color, the very people that the Ku Klux Klan and other white nationalist groups have killed, harassed and violated," said union president Jackie Jeter in an August 3 statement. ​"The union has declared that it will not play a role in their special accommodation."
Jeter also pointed out that the union had gladly provided transportation to other political events in Washington, D.C., like the Women's March and the March for Life, but viewed the ​"Unite the Right" rally as a distinct case. ​"We draw the line at giving special accommodation to hate groups and hate speech," reads the statement.
In response to the union's declaration, Metro Board Chairman Jack Evans put out his own statement, insisting that the plans weren't official. ​"As we do for all events of this nature, Metro is working collaboratively with law enforcement to ensure safe travel for our customers and employees," said Evans. ​"While details of the plan are security sensitive at this stage, I can tell you that it has *not* been finalized."
But just one day later, on August 4, Evans said the plan was dead and pushed back against the implication that the Metro had ever contemplated protecting racists. ​"Metro will not be providing a special train or special car for anyone next Sunday," Evans said, adding: ​"We're not trying to give anyone special treatment. We're just trying to avoid scuffles and things of that nature."
The controversy comes at a critical time for the labor movement. This year has seen successful rank-and-file-led teacher strikes throughout some of the red states that delivered the White House to Trump, while the AFL-CIO has come out in support of some of the president's trade policies. Asked recently if the AFL-CIO would consider endorsing Trump in 2020, the federation's president Richard Trumka didn't rule the possibility out. ​"We will consider every candidate," he said.
A spokesperson for ATU 689 told In These Times that the union was not making any further comment beyond its August 3rd statement, but admitted that they viewed the Metro's decision as a victory.
A number of counter-protests are planned for August 12 in Washington, D.C. to confront the white supremacists, including a large demonstration in Freedom Plaza which is just a few blocks from Lafayette Square. ​"All of their rallies are resistance to our progress. They are not simply debates," Black Lives Matter organizer Makia Green told USA Today. ​"White supremacist rallies have left a trail of blood in D.C."
Did you know?
Many nonprofits have seen a big dip in support in the first part of 2021, and here at In These Times, donation income has fallen by more than 20% compared to last year. For a lean publication like ours, a drop in support like that is a big deal.

After everything that happened in 2020, we don't blame anyone for wanting to take a break from the news. But the underlying causes of the overlapping crises that occurred last year remain, and we are not out of the woods yet. The good news is that progressive media is now more influential and important than ever—but we have a very small window to make change.

At a moment when so much is at stake, having access to independent, informed political journalism is critical. To help get In These Times back on track, we've set a goal to bring in 500 new donors by July 31. Will you be one of them?
"
Michael Arria
is the U.S. correspondent for Mondoweiss. Follow him on Twitter: @michaelarria.
Here's how you can help
In These Times is funded entirely by readers like you, but through the first half of 2021, reader donations are down 20% compared to last year. If that continues, it could spell real trouble for In These Times. We're running a short fundraising drive (from now until July 31) to get things back on track. Will you chip in?