WashPost's Support of Trans-Pacific Partnership Is In Line with a Tradition of Contempt for Workers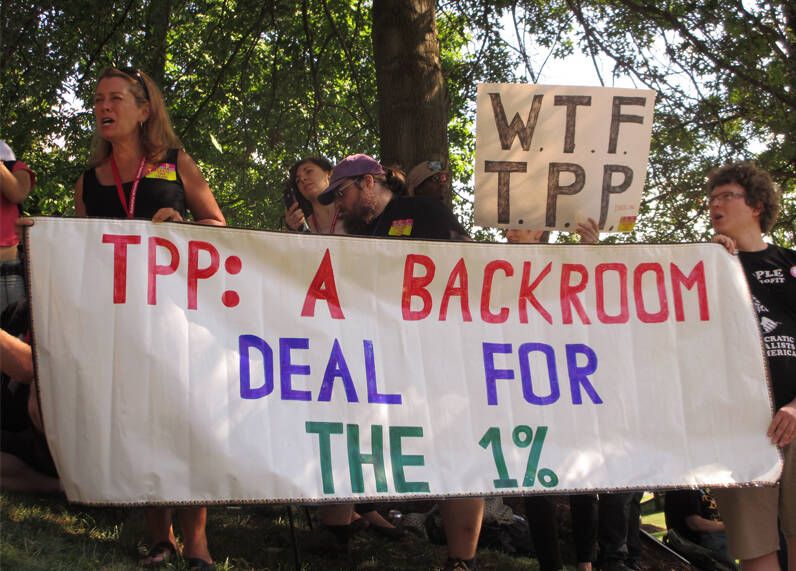 The Wash­ing­ton Post has estab­lished itself over many decades as a major mouth­piece of elite opin­ion. Its edi­to­r­i­al pages argue strong­ly for the inter­ests of the wealthy, with scarce­ly con­cealed con­tempt for peo­ple who have to work for a liv­ing. (They do sup­port alms for the poor, hence they are OK with pro­grams like food stamps and TANF.)
This atti­tude has been shown many times over the years, but per­haps nev­er more clear­ly than in its edi­to­r­i­al on the bailout of Gen­er­al Motors and Chrysler, where it fumed about auto work­ers who earned $56,650 a year. By con­trast, it was an ardent sup­port­er of the Wall Street bailout, which was large­ly about help­ing peo­ple who make this much mon­ey in a day.
In fact, the Post helped to con­ceal one of the major scams that was used to pass the bailout: the claim that the com­mer­cial paper mar­ket was shut­ting down. When peo­ple were say­ing that the econ­o­my was at the edge of col­lapse fol­low­ing the Lehman bank­rupt­cy, the com­mer­cial paper mar­ket was the most imme­di­ate issue.
Many large prof­itable com­pa­nies (e.g. Ver­i­zon or Boe­ing) were depen­dent on issu­ing com­mer­cial paper to meet their month­ly bills such as pay­roll, util­i­ty bills and pay­ments to sup­pli­ers. If these com­pa­nies could not get the cred­it need­ed to make these pay­ments, the econ­o­my real­ly would col­lapse. What most of the coun­try, and almost cer­tain­ly most mem­bers of Con­gress, did not know at the time the bailout was approved was that Ben Bernanke and the Fed sin­gle-hand­ed­ly had the abil­i­ty to sup­port the com­mer­cial paper market.
The week­end after Con­gress approved the TARP, Bernanke announced the cre­ation of the Com­mer­cial Paper Fund­ing Facil­i­ty. Con­gress would have had a much more informed debate about whether it want­ed to save Wall Street if it knew the Fed had this pow­er before it vot­ed, but folks like the Wash­ing­ton Post edi­to­r­i­al board didn't want any delays before the Wall Street folks got the money.
The Post, like the rest of the elite, has con­sis­tent­ly had the same ​"make them eat it" atti­tude towards trade deals. When the Demo­c­ra­t­ic pres­i­den­tial can­di­dates crit­i­cized NAF­TA back in 2007, the Post had a lead edi­to­r­i­al singing the prais­es of NAF­TA. After going through the sup­posed ben­e­fits for the Unit­ed States, it told read­ers that NAF­TA had been great for Mex­i­co, caus­ing its GDP to quadru­ple since 1987. Accord­ing to the IMF, the actu­al increase was just 83 per­cent over this peri­od, mak­ing Mex­i­co the worst per­former of any major coun­try in Latin America.
In this vein of mak­ing things up to push trade deals, there was a let­ter signed by 13 for­mer Demo­c­ra­t­ic gov­er­nors that tout­ed the 1.8 mil­lion jobs cre­at­ed by the increase in exports since 2009. (They tell us they have seen these work­ers first-hand.) The gov­er­nors ignored the jobs lost to the much larg­er growth in imports over the last five years. This is is the sort of non­sense the elites are using to push the fast-track author­i­ty that will be need­ed to pass the Trans-Pacif­ic Part­ner­ship (TPP).
The Post made anoth­er con­tri­bu­tion to the TPP cause in an edi­to­r­i­al this morn­ing. It com­plained about those who argue that rules on cur­ren­cy val­ues should be includ­ed in the deal:
The prob­lem is that it's very dif­fi­cult to estab­lish pre­cise­ly, much less in a legal­ly bind­ing multi­na­tion­al agree­ment, ​"cor­rect" val­u­a­tions of major cur­ren­cies or the pre­cise intent behind any par­tic­u­lar pol­i­cy that affects cur­ren­cy val­ues. Both the Fed­er­al Reserve and the Bank of Japan have adopt­ed quan­ti­ta­tive eas­ing in recent years, main­ly to fight defla­tion and revive domes­tic demand, but the effects have spilled over onto their cur­ren­cies. Do the con­gres­sion­al oppo­nents of fast track think both cen­tral banks were manipulators?

The worst alleged cur­ren­cy manip­u­la­tor, Chi­na, isn't even a par­ty to TPP, and it prob­a­bly wouldn't seek to join the treaty for years.
This is anoth­er round of the Bar­bie Doll ​"cur­ren­cy val­ues are hard" sto­ry. As with every issue in the trade deal (check out the rules on patents), there can be com­pli­ca­tions, but the basic sto­ry is pret­ty damn sim­ple. It is not hard for peo­ple oth­er than Wash­ing­ton Post edi­tors to dis­tin­guish between a cen­tral bank buy­ing its own country's bonds (quan­ti­ta­tive eas­ing) and buy­ing oth­er coun­tries' bonds (cur­ren­cy manip­u­la­tion). The lat­ter is also accom­pa­nied by large trade sur­plus­es, which are anoth­er good tell-tale sign for the eco­nom­i­cal­ly lit­er­ate. Fred Berg­sten, the very pro-trade for­mer pres­i­dent of the Peter­son Insti­tute for Inter­na­tion­al Eco­nom­ics, has writ­ten exten­sive­ly on this issue, as have many others.
It is not clear what Chi­na not cur­rent­ly being a par­ty to the deal is sup­posed to mean. The explic­it inten­tion is to incor­po­rate Chi­na into the TPP at some future date. If cur­ren­cy rules are not includ­ed now, is the Post​'s argu­ment that it will be eas­i­er to get them includ­ed after Chi­na has joined?
Of course, an over-val­ued dol­lar is a prob­lem that does not affect every­one equal­ly. It means a loss of man­u­fac­tur­ing jobs and a trade deficit. The gap in demand from a trade deficit is very dif­fi­cult to fill from domes­tic sources, espe­cial­ly when you have folks like the Wash­ing­ton Post edi­tors going nuts over bud­get deficits. In oth­er words, a trade deficit due to an over-val­ued dol­lar like­ly means high­er unem­ploy­ment and low­er wages, since most work­ers will have less bar­gain­ing power.
How­ev­er, an over-val­ued dol­lar is good news for busi­ness­es like Wal­mart who have low-cost sup­ply chains in the devel­op­ing world, and com­pa­nies like GE who have out­sourced much of their pro­duc­tion. It's also good news for busi­ness­es that would rather not have to com­pete to get work­ers with high­er wages. And it is good news for peo­ple with lots of mon­ey who like to trav­el over­seas. For these rea­sons, it is not sur­pris­ing that the Post is not con­cerned about set­ting cur­ren­cy rules.
It is also worth not­ing a won­der­ful­ly wrong infer­ence in the Post edi­to­r­i­al. It tells readers:
The foes of fast track deserve to lose on the mer­its, but they might be inter­est­ed to know that they also appear to be out of step with pub­lic opin­ion. A recent Gallup poll shows that 58 per­cent of Amer­i­cans ​"view for­eign trade as an oppor­tu­ni­ty for eco­nom­ic growth through increased US exports," while only 33 per­cent see it as ​"a threat to the econ­o­my from for­eign imports.'"
Of course, TPP is not most­ly about trade; it is about putting in place a pro-busi­ness reg­u­la­to­ry struc­ture. Stronger patent and copy­right pro­tec­tions (yes, that is ​"pro­tec­tion," as in ​"pro­tec­tion­ism") are like­ly to lead to high prices for drugs and oth­er items, both here and abroad. The lat­ter are like­ly to crowd out the oth­er exports that the Gallup poll respon­ders iden­ti­fied as job creators.
If the Post wants to present evi­dence on pub­lic atti­tudes to TPP, it should tell us the results of a poll ask­ing about a trade deal that was nego­ti­at­ed pri­mar­i­ly by busi­ness inter­ests to impose a more busi­ness-friend­ly struc­ture of reg­u­la­tion on the Unit­ed States and its trad­ing part­ners. The ques­tion should include the fact that the deal will set up an extra-judi­cial legal process to enforce these rules. If the polls shows 58 per­cent sup­port for this TPP-type deal, hon­est­ly described, it will undoubt­ed­ly have a very big impact on Post read­ers and the debate more generally.
This post first appeared at Fair​.org.