For the last five months, com­mu­ni­ty and labor activists, most of them young, have sat down in front of bus­es car­ry­ing peo­ple to deten­tion cen­ters for depor­ta­tion. In Tuc­son, they obstruct­ed and chained them­selves to Immi­gra­tion and Cus­toms Enforce­ment Agency (ICE) bus­es. In San Fran­cis­co, a month after block­ing a bus car­ry­ing depor­tees to deten­tion, ​"Dream­er" Ju Hong — a young immi­grant whose depor­ta­tion was deferred in the White House­'s exec­u­tive action two years ago — chal­lenged Pres­i­dent Oba­ma dur­ing a local speech. ​"You have the pow­er to stop depor­ta­tion," the pro­test­er told him.
In response to these actions and oth­ers like them, the cities of Los Ange­les and San Fran­cis­co have passed res­o­lu­tions demand­ing a mora­to­ri­um on depor­ta­tions; San Fran­cis­co is impos­ing a halt in immi­gra­tion-relat­ed fir­ings as well.
And the pres­sure is only inten­si­fy­ing. Last week, unions and com­mu­ni­ty orga­ni­za­tions closed down an inter­sec­tion in front of a Sil­i­con Val­ley super­mar­ket chain where hun­dreds were fired after an I‑9 audit: an ICE inspec­tion of com­pa­ny per­son­nel records, intend­ed to iden­ti­fy undoc­u­ment­ed work­ers for ter­mi­na­tion. The next day, immi­grant work­ers in one San Lean­dro, Calif. recy­cling facil­i­ty walked out of work when their employ­er and ICE threat­ened their jobs in a sim­i­lar audit.
These protests are a direct response to the depor­ta­tions and fir­ing that have inten­si­fied as a result of the Oba­ma admin­is­tra­tion's immi­gra­tion enforce­ment poli­cies. Over the last five years, thou­sands of work­ers have been fired through immi­gra­tion audits and the use of the E‑Verify data­base. In the same peri­od, about 400,000 peo­ple have been deport­ed every year — total­ing almost two mil­lion. Spe­cial fed­er­al courts, called ​"Oper­a­tion Stream­line," con­vene dai­ly, pass­ing quick judg­ment on the migrants led into the court­room in chains, and send­ing them to prison, jail or pri­vate­ly run ​"deten­tion cen­ters." More than 300,000 peo­ple each year spend some time in these immi­gra­tion prisons.
In Wash­ing­ton, D.C., some orga­ni­za­tions have con­tin­ued to pres­sure Con­gress to take a vote on the Com­pre­hen­sive Immi­gra­tion Reform leg­is­la­tion (S. 744 and H.R. 15). But the actions in the streets hard­ly men­tion the bills. Some grass­roots groups no longer sup­port them at all, because they con­tain increased enforce­ment mea­sures that would make fir­ings and depor­ta­tions even more wide­spread than they already are.
In fact, many com­mu­ni­ty orga­ni­za­tions and unions out­side of the coun­try's cap­i­tal have large­ly aban­doned the idea that Con­gress can or will pass any laws that would end mass depor­ta­tions and safe­guard the jobs and labor rights of immi­grant workers.
These grass­roots pro­test­ers instead want the Oba­ma admin­is­tra­tion to imme­di­ate­ly use its exec­u­tive author­i­ty to stop depor­ta­tions and fir­ings, with­out wait­ing for Con­gress. Even belt­way groups like the Nation­al Coun­cil of La Raza, which until recent­ly insist­ed that the CIR bills were the only way for­ward, have demand­ed an end to mass depor­ta­tions.
At a ral­ly to sup­port the strik­ers in San Lean­dro, work­er Ampara Romo appealed to sup­port­ers, say­ing, ​"I ask every­one to try to change the laws being used against us right now, because they are unjust and cause so much harm to fam­i­lies and our com­mu­ni­ty in gen­er­al." When the recy­cling work­ers went on strike to protest fir­ings, they were call­ing for the right to live as equals, as full par­tic­i­pants in soci­ety, and to work with­out fear.
The unions and groups sup­port­ing them — as well as those around the coun­try — seek an immi­gra­tion reform that ris­es from local­ly based actions and advances toward equal­i­ty. They reject the reforms in Con­gress because they cre­ate a sec­ond-class tier of peo­ple with few­er rights who are sub­ject to fero­cious enforce­ment. These pho­tographs show the deter­mi­na­tion and courage of immi­grant work­ers, their fam­i­lies and allies — going on strike against the prospect of los­ing their jobs, sit­ting down in the street in civ­il dis­obe­di­ence, and demand­ing a rad­i­cal change in immi­gra­tion policy.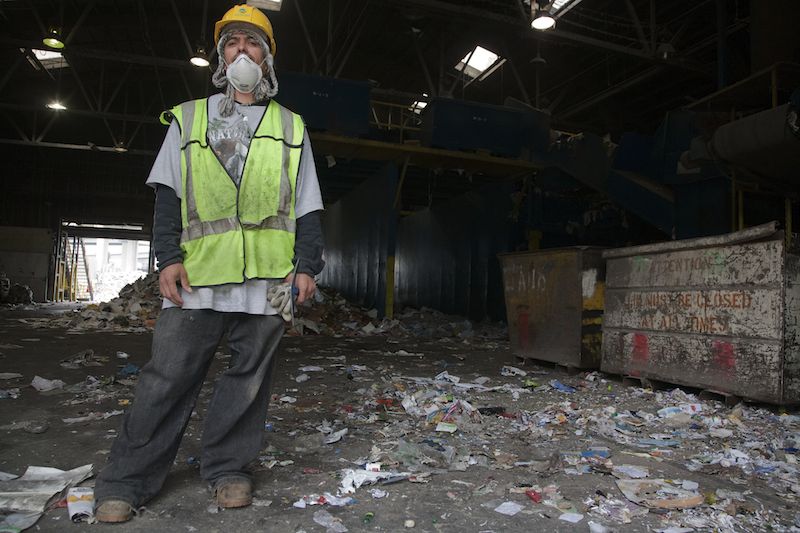 OAK­LAND, CALIF. — Jamie Her­rera is a work­er at a recy­cling facil­i­ty in Oak­land, where employ­ees went on strike on July 30, 2013 to protest bad wages, unsafe work­ing con­di­tions and ICE audits. Pre­vi­ous­ly, Her­rera had been a skilled union work­er at a local foundry. He lost his job there because of an ear­li­er I‑9 audit; the Depart­ment of Home­land Secu­ri­ty accused him of lack­ing legal sta­tus and forced his employ­er to fire him.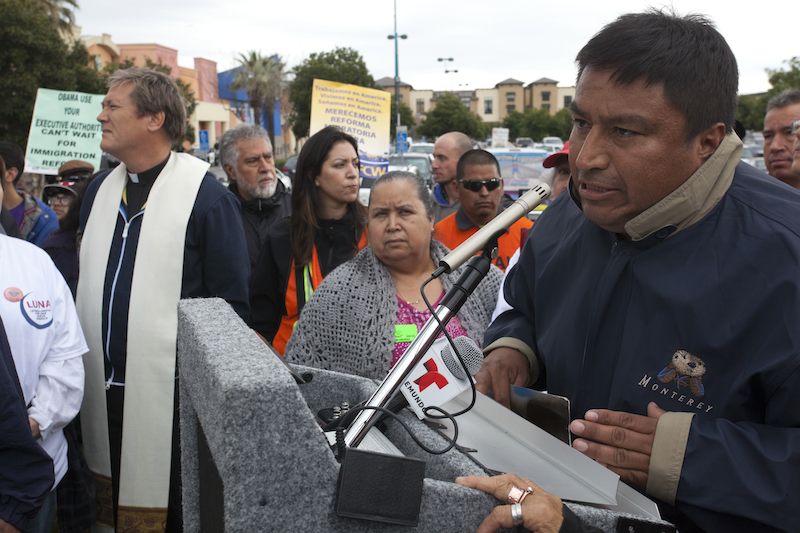 EAST PALO ALTO, CALIF. — Roge­lio Mar­quez was fired from the Mi Pueblo Lati­no super­mar­ket chain in last year's mas­sive I‑9 audit. Accord­ing to employ­ees, Mi Pueblo used the audit and DHS immi­gra­tion enforce­ment actions as a means to ter­ror­ize its work­ers when they began to orga­nize a union. On Feb. 26, 2014, Mar­quez speaks in front of the Mi Pueblo mar­ket in East Palo Alto at the start of a ral­ly demand­ing a mora­to­ri­um on depor­ta­tions and firings.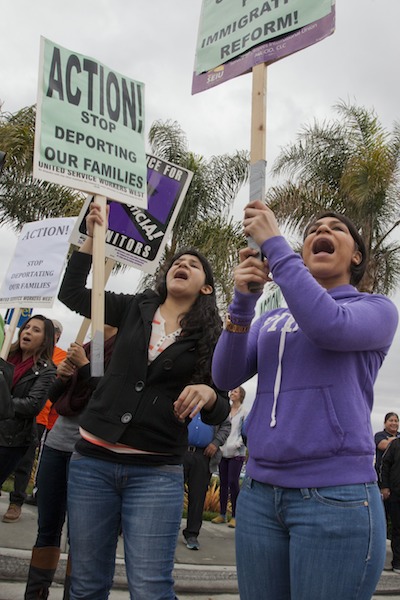 EAST PALO ALTO, CALIF. — The assem­bled crowd of com­mu­ni­ty mem­bers and stu­dents at Mi Pueblo includes many who received tem­po­rary legal sta­tus when Pres­i­dent Oba­ma grant­ed it to the Dream­ers in an exec­u­tive order in 2012. They demand this pro­gram of ​"deferred action" be extend­ed to their fam­i­lies, as part of a broad­er mora­to­ri­um on deportations.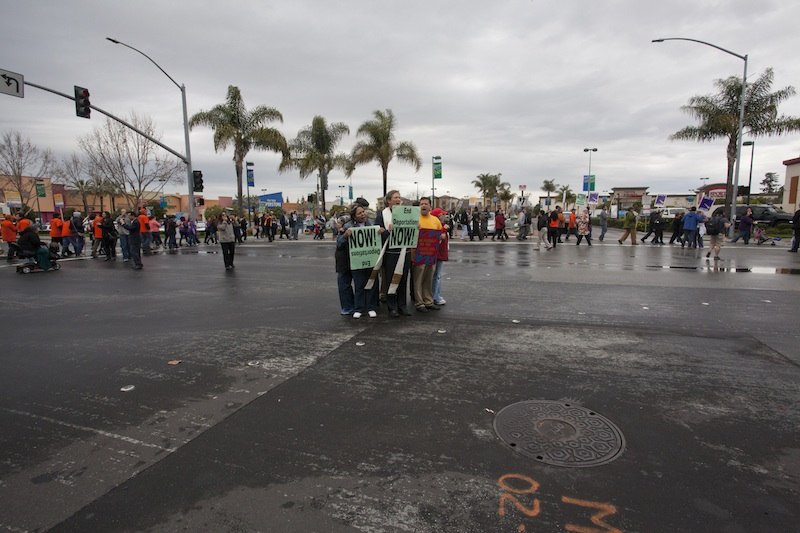 EAST PALO ALTO, CALIF. — Immi­grants, work­ers, union mem­bers, peo­ple of faith and com­mu­ni­ty activists block an inter­sec­tion in front of the Mi Pueblo market.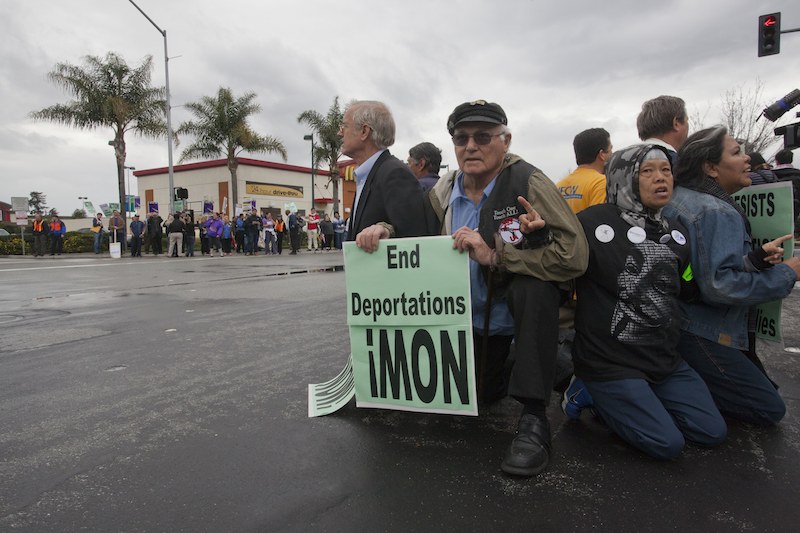 EAST PALO ALTO, CALIF. — In an act of civ­il dis­obe­di­ence, Sil­i­con Val­ley immi­grant rights activists, includ­ing labor orga­niz­ers Fred Hirsch and Ger­ar­do Dominguez, and Father Jon Pedi­go, sit down in the mid­dle of an inter­sec­tion. Com­mu­ni­ty sym­pa­thy for the demon­stra­tors is so strong that the police even­tu­al­ly decid­ed not to arrest anyone.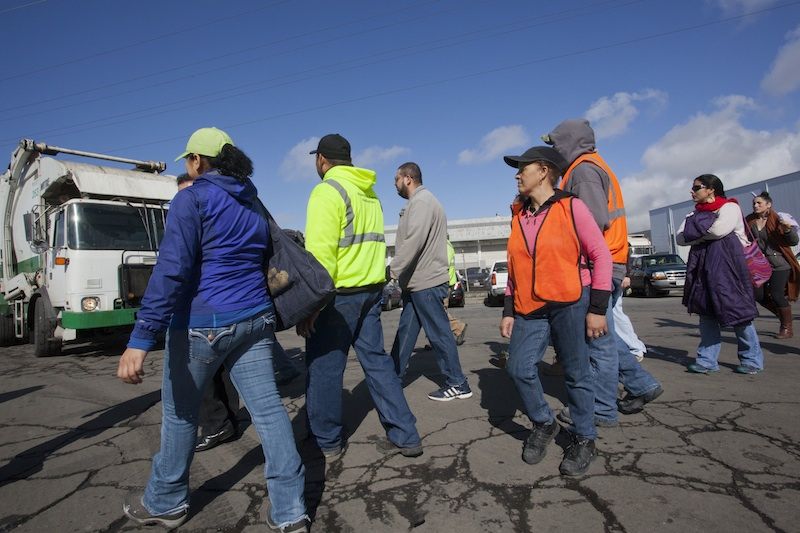 SAN LEAN­DRO, CALIF. — On Feb. 27. 2014, work­ers at a recy­cling facil­i­ty walk out to protest the com­pa­ny's deci­sion to fire employ­ees accused of not hav­ing legal immi­gra­tion sta­tus. They also blocked trucks haul­ing trash from enter­ing the facil­i­ty. Work­ers say the com­pa­ny was pay­ing $8.30 an hour; San Lean­dro's liv­ing wage ordi­nance requires $14.17. After five employ­ees filed a suit over the wage theft, they say, the com­pa­ny used the threat of immi­gra­tion enforce­ment to retal­i­ate. Maria Grana­dos, one of the suing work­ers, points out, ​"One month after we sued them they start­ed call­ing peo­ple into the office to say there were prob­lems with our doc­u­ments. Some of us have been there 14 years, so why now?"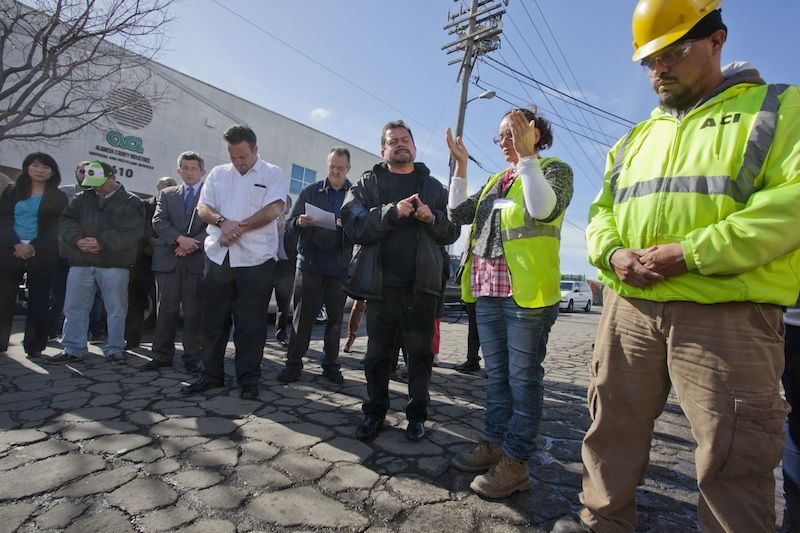 SAN LEAN­DRO, CALIF. — The strik­ing immi­grant recy­cling work­ers are sup­port­ed by com­mu­ni­ty lead­ers from a dozen orga­ni­za­tions and unions. Although the employ­ees had no union con­tract, they were assist­ed in the strike by the Inter­na­tion­al Long­shore and Ware­house Union Local 6 and ILWU orga­niz­er Agustin Ramirez. Accord­ing to the work­ers, the temp agency that employs them threat­ened to fire any­one who par­tic­i­pat­ed in the walk­out, but the work­ers demand­ed the agency respect their right to strike.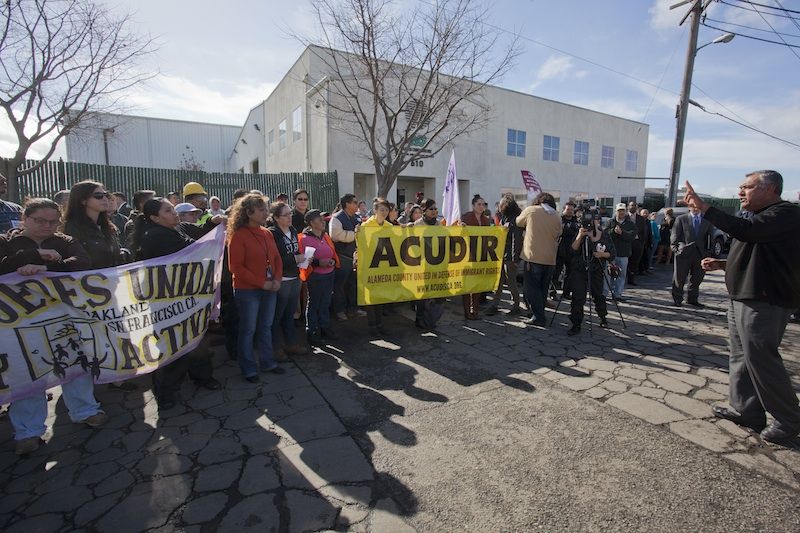 SAN LEAN­DRO, CALIF. — Rev. Pablo Morataya leads work­ers in a prayer to give them courage dur­ing the strike. A bus car­ry­ing fasters from the nation­al Fast for Fam­i­lies cam­paign stopped at the strike to join them. The fasters, who are lead­ing a charge to demand a mora­to­ri­um on depor­ta­tions, spoke at the ral­ly about the impor­tance of stop­ping the fir­ings; in turn, the work­ers demand­ed a mora­to­ri­um on depor­ta­tions as well.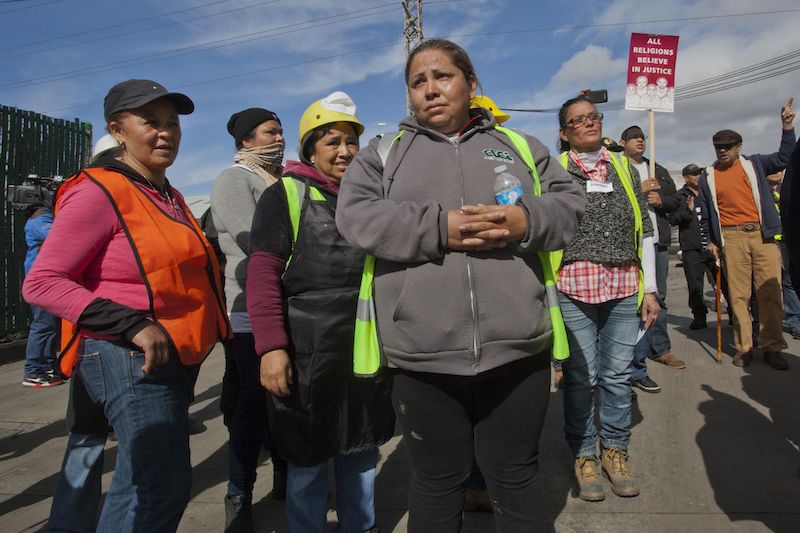 SAN LEAN­DRO, CALIF. — Work­ers and sup­port­ers stand block­ing the com­pa­ny dri­ve­way. After an hour, the com­pa­ny sent them home, but agreed to pay them for the day and allowed them to go back to work the fol­low­ing day. The next week, how­ev­er, orga­niz­ers say the work­ers list­ed as undoc­u­ment­ed in the I‑9 audit were all fired.