The Democratic Party Has Failed—We Need a Radical Vision to Defeat Trumpism
The neoliberal establishment couldn't stop Trump. A campaign for real economic justice can.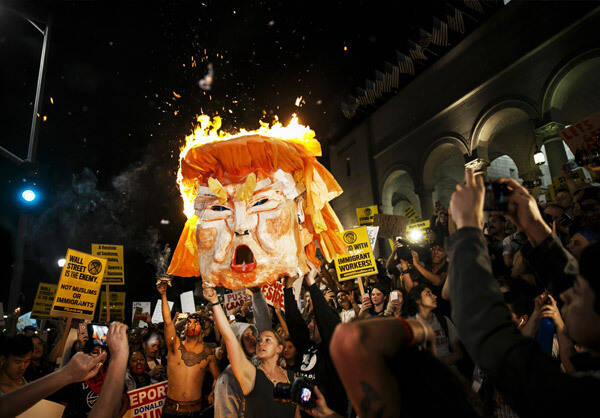 "Why aren't I 50 points ahead?" Hillary Clin­ton asked a group of labor orga­niz­ers in late Sep­tem­ber, when she and Trump were neck and neck in nation­al polls.
It wasn't about a calculation of self-interest; it was about refusing to give consent to their own undoing.
It seemed like a fair ques­tion. Through­out his entire cam­paign, Don­ald Trump utter­ly humil­i­at­ed and dis­qual­ified him­self in new ways almost every day. Tapes of him brag­ging about sex­u­al assault dom­i­nat­ed the final weeks of the cam­paign. How, then, could Clin­ton fail?
The answer is that the major­i­ty of peo­ple in this coun­try are liv­ing in a differ­ent Amer­i­ca than Clin­ton, an Amer­i­ca in decline. For 40 years their wages have been stag­nant even as pro­duc­tiv­i­ty grows. For some groups, even life expectan­cy is now declin­ing. Many who are liv­ing through this have been yearn­ing for some sort of polit­i­cal rev­o­lu­tion for years. Fail­ing that, they would take any chance to burn down the estab­lish­ment that's been lucra­tive­ly man­ag­ing the grad­ual unwind­ing of their way of life and means of mak­ing a liv­ing. Clin­ton offered more man­aged decline, going out of her way to warn vot­ers against dream­ing of big solu­tions. A vote for Trump sym­bol­ized burn­ing it all down.
Had he been the Demo­c­ra­t­ic nom­i­nee, Bernie Sanders would have offered polit­i­cal rev­o­lu­tion, and I believe he would have defeat­ed Trump.
It is hard for some to under­stand the log­ic of tak­ing a hit to one's own self-inter­est to pun­ish an abstract polit­i­cal elite for per­ceived wrongs. Every time this comes up, I think of a for­mer union steel­work­er I met while orga­niz­ing nurs­ing homes in Allen­town, Pa.
He made only min­i­mum wage in the nurs­ing home, com­pared to the upper-mid­dle-class income he'd made as a steel­work­er. But in the ​'80s, a pri­vate equi­ty firm had bought the steel plant. The own­ers milked it for cash for years with­out rein­vest­ing in it, then began to demand huge pay cuts every time the con­tract was up for nego­ti­a­tion, threat­en­ing that if the union didn't con­cede, they'd close the plant. The union mem­bers vot­ed each time to accept the cuts because the alter­na­tive was min­i­mum wage in the ser­vice sector.
It was humil­i­at­ing, he said, to cast those ratifi­ca­tion votes con­sent­ing to his own devaluing.
One year, after the union had vot­ed to accept a 30 per­cent pay cut, the own­ers came back and demand­ed anoth­er dol­lar per hour off. The work­ers final­ly said no. And the own­ers had their excuse to sell off the plant for parts, freed of the few remain­ing restric­tions against sur­prise plant closures.
"How did you vote?" I asked.
"I vot­ed no," he said.
But even with the extra dol­lar cut, he still would have made far above min­i­mum wage. So I asked, ​"Why did you do it?"
"Because when you get up in the morn­ing, you have to be able to look your­self in the mir­ror," he replied.
It was in that spir­it that hun­dreds of thou­sands of vot­ers — many of whom have lived through some ver­sion of the sce­nario I just described — chose Trump in 2016. It wasn't about a cal­cu­la­tion of self-inter­est; it was about refus­ing to give con­sent to their own undo­ing. A vote for Trump could mean a num­ber of things, many of them rep­re­hen­si­ble, but for sig­nifi­cant chunks of vot­ers in key states, it sym­bol­ized a rad­i­cal protest against the establishment.
Peo­ple like the Allen­town steel-work­er weren't any­where on Clinton's pol­i­cy radar. Her infra­struc­ture plan was a drop in the buck­et com­pared even to Sanders' rel­a­tive­ly mod­est pro­pos­al. One of her fre­quent eco­nom­ic talk­ing points was ​"broad-band inter­net for every house­hold," which might have stirred enthu­si­asm in 1996. Her cul­pa­bil­i­ty pre­vent­ed her from con­demn­ing the sta­tus quo, and her ide­ol­o­gy pre­vent­ed her from propos­ing a big fix. Unfor­tu­nate­ly, much of the pro­gres­sive move­ment also seems to be only vague­ly aware of the con­cerns of, let alone the specific thoughts of, Amer­i­cans who are suffer­ing in the decline. And because of that, if Trump figures out how to lead his move­ment while gov­ern­ing — as Oba­ma inex­plic­a­bly decid­ed not to do — then we're in deep, deep trou­ble because we will be utter­ly defense­less against it.
One beau­ti­ful thing about this coun­try is that we have a democ­ra­cy that allows rad­i­cal change, when nec­es­sary, to come peace­ful­ly — if we would ever use it for that pur­pose. Trump used it — less for rad­i­cal change than for a pri­mal xeno­pho­bic scream, one that only 1 in 4 eli­gi­ble vot­ers supported.
That rais­es the ques­tion: Why, over this 40-year decline, haven't the lead­ers and move­ments that rep­re­sent a much more Amer­i­can vision of a mul­ti-racial, mul­ti-eth­nic, just soci­ety used our democ­ra­cy to bring about the rad­i­cal eco­nom­ic shake-up this coun­try needs? Because, over the past half cen­tu­ry, too much of the Left has some­how become part of the decline-man­age­ment estab­lish­ment. Our non­profits, foun­da­tions, advo­ca­cy orga­ni­za­tions and labor unions have, in gen­er­al, bought into the same reli­gion of low expec­ta­tions and nar­row hori­zons as the Demo­c­ra­t­ic Par­ty estab­lish­ment they are sup­posed to chal­lenge. For too long, pro­gres­sive orga­ni­za­tions have main­ly asked peo­ple only to do very small things: Sign a peti­tion (that is nev­er even deliv­ered), donate a dol­lar (that is wast­ed on staff bloat) or con­sent to union rep­re­sen­ta­tion (with­out a move­ment to fight for real change on the job). And in an elec­tion where most Amer­i­cans were yearn­ing for rad­i­cal change, just wait­ing to be asked to do some­thing real­ly big, Clin­ton mocked Sanders' call for polit­i­cal revolution.
The future belongs to a move­ment that demands some­thing huge. Don­ald Trump promised huge and ter­ri­fy­ing pro­grams such as forcibly deport­ing more than 10 mil­lion of our neigh­bors. But he won part­ly because of huge and pro­gres­sive promis­es like rad­i­cal trade reform and rebuild­ing America's ​"means of mak­ing a liv­ing." How will we orga­nize in response? By mere­ly send­ing out more peti­tions and press releas­es? By ask­ing peo­ple to demon­strate their anger at the inau­gu­ra­tion for the benefit of CNN and Fox News audiences?
Let's take a deep breath and start to orga­nize the major­i­ty of the Amer­i­can peo­ple around a rad­i­cal vision for a soci­ety and econ­o­my that works for every­one. Pair that with an uncom­pro­mis­ing vision for a diverse, open and tol­er­ant soci­ety, and you've got a sec­ond Amer­i­can rev­o­lu­tion that can't and won't be stopped.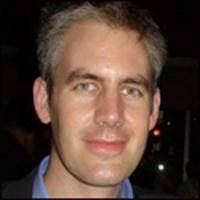 Zack Exley
is a for­mer senior advi­sor with the Bernie Sanders cam­paign and the author, with Becky Bond, of
Rules for Rev­o­lu­tion­ar­ies: How Big Orga­niz­ing Can Change Everything.